Best Female Singers in Asia
The Top Ten
1
Fatin Shidqia - Indonesia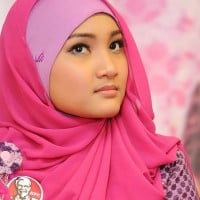 Fatin Shidqia Lubis, better known as Fatin Shidqia or Fatin, is an Indonesian singer and actress who won the first season of the Indonesian version of The X Factor in May 2013.
She's the best, and cute :) vote now ok, please take care, her voice is very nice and last just vote and like her
Fatin? She just 16 Years Old and already win XFACTOR. Her voice so unique and maybe only one from a billion people has it. She's very low profile and love her fans. So, we never doubt if she's one of the best female singer in asia
The new solois who has very unique character. Keep it up, Fatin! =D
She's so young and very talented singer. As a newcomer in music industries she's very phenomenal and has a unique characteristic.

Good Luck Fatin Shidqia
IndonesianPride1
2
Charice Pempengco - Philippines

Jake Zyrus (born Charmaine Clarice Relucio Pempengco, formerly known by the mononym Charice), is a Filipino singer who rose to popularity through YouTube. He is a transgender man.
Charice, and she already prove it!
1. Standing ovations from non Asian audience, each after performance.
2. Chart topping albums(#8 on billboards top 200 albums-track album sales,
#6 on japan oricon album chart, #3 on Korea gaon top album, #3 on Canadian
album sales.
3. Chart topping singles-pyramid is here most successful single so far, reaching #1 on billboards dance club song and #17 on billboards dance singles of the year 2010
4. Singing Americas national anthem at pres obama pre inaugural party
5. Got interviewed by international news channels like bbc cnn voice of america, and appeared on glee, ophra, ellen, kellys and regis show, paul o grady, italian shows etc, japan shows, singapore idol etc...
6. Invited by celine dion's concert and having a duet at Madison square garden.
7. Invited by andrea boceilli concert and having duet at theatro silencio in italy.
Appear in a hollywood movie-alvin and the chipmunks and here comes the ...more
Charice singing talent is a force to reckon with. She capture the hearts of many and ages from 8 to 88. She is steadily shining and legend in the making. Charice is not just a name but a brand in music.
She's very versatile! Amazing young lady.. She sings with convictions.. The emotion is really there... She's international already! I just love her! =)
From the Philippines, Charice has recorded songs in Sweden at the tender age of 12 or 13, and then performed at the tender age of 13 (please correct my age info here) in South Korea, and then at age 13 to the Netherlands, to the U.S.A., to Canada, Italy, and moved on and out the U.S. and the Philippines at age 16, please add more to this, did I miss something here? Charice rendered interviews via television, the radio, etc. In other countries other than the U.S. and the Philippines as well. NEED I SAY MORE!?!? Talking about an international-world sensation, then that would be Charice. Yes, there is the Grammy's, but that's a U.S. based competition. If there is a world GRAMMY, Charice is the winner, hands down. Charice is able to sing live, with a band, with an orchestra, with no props, with no trimmings, and that's what separates her distinctly from the others who supposedly can sing. Madonna, Lady Gaga, Rihanna, Miley Cyrus, and a lot of others could NOT even JUST SING, I mean just ...more
3
Yui - Japan
Go YUI!
You are best singer I've ever seen
I'm proud to become YUI lovers
Yui is the BEST! She is so cute and her voice is so soft. She's so kind and loving to her fans. I'm not a Japanese but I like her! She is my inspiration in music. Ganbatte Yui-san!
Yui's songs are WORTH listening... Actually I think SHE should be in the number 1 position... She will keep on rocking me... WE LOVE YOU, YUI!
I love Yui... There is not one song of Yui which I have not loved. I love her voice, her lyrics are very inspirational... She is also a natural beauty... The first singer who made me listen to more Japanese songs was Yui... Her song LIFE... I'll always love it and I'll always love Yui! By the way, I'm a bangladeshi... Yui: Atashiwa anata o aishite!
With love: Sazuna-chan (That's my pen name)
4
Sarah Geronimo - Philippines

Sarah Asher Tua Geronimo aka Sarah Geronimo or Sarah G. is a world class and multi-talented Filipino singer, actress, dancer, record producer, model, host, coach/judge, commercial/product endorser and tv personality . She can also draw and plays the piano. Sarah is popularly known as the one and only ...read more.
Guys... Just watch her videos in Youtube... Then you will know why she needs to be on top.. I'll guarantee that you will be hooked up with this young, beautiful, talented and humble lady... To see is to believe... Nothing to regret... Just follow all uploaders of Sarah Geronimo's videos.. Especially Ms. O (outrigger85) please do like her videos, since they are worthy... Believe me... I'm not Filipino but who can say that I'll become her avid fun here in my country since then...
Saw her live in concert here in California 2 years ago. She was simply amazing! Waited in line after the show to get her autograph and so I got to see her up close--i was surprised to find she was shy and very humble, and very beautiful; photos of her do not do her justice.
Hi everyone, Sarah Geronimo is the Hottest Female singer and actress in her generation, Her versatility will convince you how great singer she is. Sing and dance, rap, pop, R&B music name it and you will have it. That's how she perform. One of the proof is her latest concert, 24/SG find out, watch and you'll see for yourself! Keep it up!
Sarah Geronimo is an amazing singer, excellent dancer and well-loved actress: A truly world-class total performer. She has conquered not only T.V. through the weekly top-rating musical variety show A.S.A.P. and consistently well-loved drama series, via stage with her record-breaking concert performances, by way of music through best-selling multiple-platinum albums but also in films that consistently broke box-office records. But what really sets her apart is how she transforms magically onstage or onscreen beyond her simple, unassuming, low-key personality. Beyond her passion and dedication for her craft is a loving, caring and humble persona that reaches out authentically to her legions of fans that span the globe and crosses over different cultures and media.

Sarah G, as she is fondly called by her avid followers, is a veritable powerhouse of creativity and charm that transcends her T.V. /Stage/Film persona and made her the epitome of a true-blue Pop Superstar!
5
Gam - Thailand

P'Gam Fighting. You have very Good voice. I know it. You're my best singer.
Her song are very wonderful. I really like it!
Love P'Gam
You're the best singer
When you sing the song The whole world is stop.
I feel free and happy
She has a very powerful voice, and she very friendly with her fans.
She has a very beautiful talent. Love her so much.
In my opinion, Gam is the best female singer from the singing contest in Thailand. Her voice is so powerful. When she sings a song on the stage, she can control everybody there to concentrate at only her.
6
Agnes Monica - Indonesia
She is a best Dancer and singer...
she is a international artist...
THE TRULY TALENTED ASIAN YOUNG DIVA, SHE'S AGNES MONICA! HER TRACK IN ENTERTAINMENT INDUSTRY ESPECIALLY IN MUSIC IS NO MORE TO DOUBT. GO GIRL!
"NO MOUNTAINS TOO HIGH FOR YOU TO CLIMB, ALL YOU HAVE TO DO IS HAVE SOME CLIMBING FAITH. DREAMS NEVER TOO HIGH TO REACH FOR THOSE WHO HAVE FAITH & HARDWORK! " LOVE YA NEZ
I always waiting her performance everywhere
Her voice is have full power
She is the real diva
I love her style, her outfit, her voice, her performances, her beautiful face and cute eyes
she's always believe in GOD
she's have a big dreams and she's always keep believe, and make her dreams happen
she's the Super Multitalented Actress
she's can singing with powerful dance... great!
Agnes Monica is the Best one!
We always keep support you NEZ!
i don't care about haters!
The winner takes it All
Jesus bless you,
7
Datuk Siti Nurhaliza - Malaysia

She's a legend! Name it... Versatile and impressive singer, hardworking businesswoman, musical actress, excellent host, power couple, popular personality, model for various world-known brands, sweet and low-profile village girl... She's no doubt an all-rounder! Tell me who's more collections of awards than her? Tell me who can sing all genres of songs other than her? Tell me who can hit high notes perfectly without screaming like banshee other than her? No doubt! She's the only one and always will be! Cause she's the legend... Siti nurhaliza...
she is superb and very very beautiful inside and out, super voice and I tell ya what ; she just not superb singer, she was Maybeline Model, Jusco Model and she is successful mogul with cosmetic line (Sinplysiti), own her very own production company and perform all over the world, you name it - Rotal Albert Hall London, Japan, Kazakhstan, Australia, China, Indonesia, Brunei and many others and yes of course she is millionaire!
The voice of Asia, she deserved to be the no. 1. Instead of Charice, Siti shows the real Asia's by her East-personality.
She is the voice of Asia, but charice is the voice of the world... Even oprah knows that
Gifted. She resembles the identity, personality, quality and persona of Eastern Woman. No skin revealing clothes neither drama, she showcases only her talent in singing various genre of songs from pop to traditional music. She is the voice.
8
Utada Hikaru - Japan
Her songs are amazing and they have a very nice feel when you listen closely. Simple and clean makes you think of the one you love the most and not wanting them to leave your side not even for a second. Sanctuary lets you escape to that safe haven that's always there but more visible when your with the one you love most. Her songs are amazing and so is her voice.
Great voice and singing skills and she has such a huge vocal range. Her talents were shown even when she was very young.
Utada Hikari is one of a kind artist. Singer, songwriter, arranger, composer, music producer/director. Her music is so unique. Her voice can be soothing and yet has an edge to it. You can see it in her performances that she is really born to perform and create music. She may not be as flashy on stage like others, but you know she really can face the music.
Utada is absolutely amazing. Her voice is so calm and peacefull. Her music relaxes me and I have never been able to find a voice that puts me at ease no matter what she sings
9
Jiew - Thailand
Jiew is one of the best Thai singers. (she is a Young Diva)
she's really better than some of this list which are better top-ranked..
Jiew should be at least in the top 15-20 of "Best Female Singer in Asia".
She can sing all types of music
She can hit the high note(F6), she has 3 octaves.
She has good voice and she has a good looking too.
She use of melisma, fast vocal coloratura, her vocal timbre has a slightly warmer quality
She has a talent in singing, improvising, and running note. Listening to her live show is a real happiness and a bit of excitement since she always surprise audiences by slaying or having a new technique. This is due to the fact that she has a wide nice vocal range, so she can design the song to best suit her style. Love her so much.
10
Shreya Ghoshal - India

Shreya Ghoshal is an Indian playback singer. She has received twelve National Film Awards, twenty Filmfare Awards and eight Filmfare Awards South to date.
She has got a really lovely and melodious voice. Her songs are worth listening to. You will love this bubbly voiced woman. Should have been way too higher on the list, really
She has got amazing versatile voice quality. The number of awards and national awards as well her number of fans on facebook and twitter proves that she is not only best but best of everything. She is as beautiful as her voice and her voice is completely magical. She has more than 3.5 millions of fans in FB which clearly shows her magic in those people. She started off really young and got national award for her first sung. She also was the judge of X Factor India. She can sing in so many different languages that makes her utterly the best. Most of all, being a big celebrity, her personality is so humble and down to earth that no one can resist not loving her. SHE IS SIMPLY awesome..
Shreya's song is very beautiful and highly nostalgic feelings
She is very young talented singer

Her voice is heart touching. This is why she called (MELODY QUEEN). Her voice is great. She is the best play back singer in bollywood and even the world. I thought that she is the greatest singer in the world. There is a freshness in her voice. In her every song there is a magic. Her voice effect on heart. She won many awards in many languages. She sings in many languages such as, hindi, marathi, gujrati, nepali. Etc. She is the best singer in world ever. Her talent is amazing. Her singing has a great depth.
The Contenders
11
Mika Nakashima - Japan
Overrated just because she sang Glamorous Sky in the anime Nana doesn't make her great. I like Hyde's version more anyway.
12
Regine Velasquez - Philippines

Regine Velasquez-Alcasid, dubbed as the Asia's Songbird is a Filipina recording artist, host, producer, philanthropist, commercial endorser, actress, and an Asian pop culture icon. She is widely known for possessing an extensive vocal range.
Without the help of YouTube ever since, still regine conquers Asia with her album listen without prejudice that gone sold more than 2million copies across Asia and hailed as the best selling album in China by a non Chinese artist until the year 1999 hence it was sold 700,000, and no southeast Asian artist can beat the 8.5 million album units sold of regine across Asia, still the voice to beat, THE LIVING LEGEND A STANDARD INDEED, Asia'S SONGBIRD REGINE VELASQUEZ
I think she should be put in the top position in this list considering her countless achievements in singing either in recording or live concerts performances. She is the only singer in Asia or maybe in the world who can sustain the highest note for a long time without any effort at all. And she can still do this even if her voice is in a bad condition. Regine Velasquez deserves the title as the one and only Asia's Songbird.
THE ONE AND ONLY Asia'S SONGBIRD REGINE VELASQUEZ: Regine is widely famous for her effortless and exceptional belting. She credits this from her father's vocal training technique wherein she is submerged in neck-deep waters and she runs through her singing exercises to strengthen her diaphragm and build up her vocal cords and lungpower. This paved the way for a genre of belting for female singers in Philippine music. Regine has a four-octave range and though she seldom uses whistle register she is skillfully adept in hitting very high notes that require head voice using her chest voice. She can run through a series of very high notes using chest voice alone and is able to hit notes in the fifth to almost sixth octave in full chest voice. She is also popular for her ability to go through her vocal acrobatics while hitting her very high notes. She has exhibited her belting and sheer lung power while singing onstage sitting in lotus position and even while being suspended up on a harness ...more
She's really awesome! It could not deny the fact that she's incredible and incomparable singer of all time. Indeed, she was being titled as the Asia's Song Bird because of her very powerful voice and superb power on stage.

13
Maeda Atsuko - Japan
Maeda Atsuko is a fantastic singer. Her songs are really gorgeous and she has a beautiful voice. She is very popular in Japan. She was also a member of popular Japanese music group AKB48.
Acchan is the best
14
Lea Salonga - Philippines

Filipina singer and actress Lea Salonga has released nine studio albums, three live recordings and is involved in at least ten cast recordings.
What the hell she's doing in number 23? I'm an American and some of my british friends freaks out! She should be in number 1! Please, whoever started this, combine all those "singers" on this topic, Google the accomplishments and quality of the voice technically, nothing and no one can compare with this lady.
The most talented and intelligent period!

Awesome theater, musicals singer/actor/performer...

Just simply way above any Asian female singers/artists..
She should be number 1. If there is any other singer who can surpass her achievements (lead roles in plays since childhood, starred in musicals in West End and Broadway, awards at age 19, lead roles in movies in her country and in USA, voice of Disney movies, was Eponine and Fantin in Les Miserables anniversaries, etc), then and only then can she become number 2.
Lea is the best singer of all times. She brings so much honor not only to the Philippines but for the whole of Asia. She is an international star, Asia's Queen of Musicals, the Broadway Diva, the Legendary Lea Salonga and the Philippines National treasure. It's very evident, there's no need for voting cause she already is Asia's best female singer just Google her name and see for it. For me they should automatically gave it to her and recognize her. Her sold out concerts and tours in asia and in different parts of the world and her long list of achievements is already the proof.
15
Aya Hirano - Japan
An amazing singer, she's also the voice actress for Konata Izumi and Haruhi Suzimaya!
16
Tomiko Van - Japan
van, please come to indonesia! Tomiko Van has a beautifull voice and beautifull face too! hhe..
singer of do as infinity and one of the beautiful voices I've ever heard
she did really great in do as infinity

I love Tomiko Van... KAAWAI xD

Your voices is best in my ears.. so sweet
17
Kim Tae-yeon - South Korea

Let's go soshi Let's go!
Sone will be with you forever
i really really like you and yours member
you are so powerful!
i like when you on stage with yous members
Her voice is really powerful and I love the way she hits the high notes
Taeyeon has the wonderfully smooth voice that will send shivers down your spine with she reaches for her high notes. She's got what people call powerhouse vocals that can adapt easily to almost any genre of music. From ballads to dance songs and even Korea trot music, Kim Taeyeon's vocal flexibility and beautiful voice easily makes her one of the greatest singers of our time.
Her ability to emote in her songs is incredible and also she has competent vocal techniques.
18
Anggun - Indonesia

Anggun Cipta Sasmi is an Indonesian-born French-naturalised singer, songwriter, and television personality.
Anggun is the best singer Asia and the reall international singer and still be Asian, anggun is the best selling Asian artis aoutside Asia and still down to earth
She is truly Asian international artist..
She can be famous all across nation in the world..
Not only in Asia

She's the only Indonesian International artist who can still survive and exists in International Career. The Queen of Francophonie Countries...
Anggun is the best selling Asian artist outside Asia, the first Asian female to enter the Billboard USA and UK Top 40. Gain top charts across Brazil, France, Italy, Spain, Sweden, Turkey, Lebanon, Russia, etc (and many Asian countries off course). Tata and Coco still far away from that. May Charice can follow her successor!
19
Stacy AF6 - Malaysia
You are the best STACY ANGIE
Dance SUPERB!
Singing LIVE without miming like agnes monica!
Malaysia's Pop Star is here!
She is talented w0men,
Quality, and sing the high notes...
I'm proud of stacy angie...
He deserves to win...
Keep spirit for Stay-C...
She is a best Dancer and singer...
She is a Asian artist...
The multi talented petite singer of all time. She can sing, the best in dance, she's cute, she's good to all of her fans, she got it all! I LOVE HER!
Stan for Stacy, she can dance and since at once. QUEEN! (King: Shila Amzah). Yes both of them is King and the Queen!
20
Yuna Zarai - Malaysia
She has soothing voice and she's now reside at USA. Her music was amazing.
Obviously she already collaborated with A list singer in the State. Usher, Pharrel, G Eazy, Incubus, Tyler The Creator. Issa joke if shes not the best in Asia!
Yuna should go top ten because she is the most talented singer in Asia.. She wrote her own song! And no she is in Europe and try to Express her music to the world!
Why she isn't number 1 or in the top 10? She is the most successful asian Indie pop singer in the US!
21
Nike Ardilla - Indonesia
she's truly diva... rest in peace m/
She's the best sold 30 million copies album all over the world
Nike ardilla her melodious-voiced singer, have a social life is extremely high, care for others, and beautiful face and her pretty well.. Love you nike ardilla.. Be at peace you are in deep sleep
Shortly after his death it towered Nike name. There is continuing talk about Nike. Nike's Asia Week magazine interprets it in a sentence satire "In Dead She soared" or "In Death He Shines". Every year thousands of fans joined in the Nike Fansclub perform a special ritual on March 19 and December 27 is a pilgrimage to the tomb and commemorate events such as Nike Nike movies playing and singing songs Nike in London, the birthplace and place berpulangnya Nike. A museum was also established at the Jalan Soekarno-Hatta, Bandung. All Nike items stored there, like the clothes during the incident and a replica Nike rooms. In addition, almost all the songs recorded album Nike managed to get the award, especially in terms of sales. In a relatively short time span, he has developed so much popularity and fanaticism fans even beyond what is obtained by the famous singer who has been acting for decades in the world.
22
Namie Amuro - Japan
Namie Amuro is the best soul singer of Japan. I like Namie Amuro songs too. She sang superbly in the songs like Four Season, Never End, Meaning Of Us etc etc.
Amazing Talent... Can sing ANY style. Great dancer as well. Keeps growing as a performer. One of the most powerful voices I have ever heard.
She's the true Queen of Jpop! She knows how to make the best performances and get dances are awesome! Her voice is powerful and she's a role model for me!
She is such a talented and hardworking woman, so inspiring and powerful for 20 years now! In my opinion, she is one of the world's best live performers having that wonderful, powerful voice and fierce dance style. It's a shame that she is not well known outside of Asia. To name just a few of her great achievements:
- youngest artist ever to have won the Grand Prix Award, the highest honor at the Japan Record Awards
- first artist to achieve million-selling albums in her 10's, 20's and 30's
-first female Japanese artist to reach the number 1 position in 5 Asian countries with her album "PAST<FUTURE"
- single "Can You Celebrate? " being the most successful single in Japanese music history
- performed at the G8 summit held in Japan in 2001
- first female Asian artist to perform at the annual World Music Awards in 2010
- nominated the "World's Best Female Artist" at the current World Music Awards! VOTE FOR HER!
23
K.S.Chithra - India
May be a handful of Indians have heard her song... She is a lose to others... She is the nightingale of malayalam cinema... She has the max number of National awards... What else should be there...
undoubtedly she is the best. nobody has such a sweet voice.

She is very beautiful and talented female singer. I believe she is the absolute best of them all. "

you are a great singer chitra - appreciate the efforts you took to mould yourself in a very young age

24
IU - South Korea
Korea's little sister is cute and has the most powerful voice. She can sing such high notes... Example would be the 3 octaves she sings in Good Day
False. That's three high notes, not three octaves. There's major difference.
I believe IU is the best now a days because of her unique bubbly voice. Even though I'm a filipino I prefer to choose IU. And someday or somehow I want to go to Korea just to meet IU
IU is very talented and she posesses a wonderful voice, she also show great potentials in herself by suceeding with her job as a singer at such a young age.
I choose her because she is great. No, more that great. She's awesome! Not only her voice is good, but her attitude, her manner and herself are good too. She's also very cute, and it is naturally cute. I'm a girl but I can say that I really love iu and that's why I choose her.
25
Kyla - Philippines
HER VOICE IS UNIQUE... GREAT VOCAL CONTROL & TECHNIQUES.
AND SHE'S THE ONLY FEMALE SINGER WHO STICKS TO THE RNB GENRE.
TRY TO WATCH HER VIDEOS ON YOUTUBE FOR YOU TO FIND OUT...
Her voice exudes class. Effortless soul and r&b. Her CDs are well thought of and well produced (and yes, even the ones that have covers in it. She does not need best-selling albums to prove that she is a world-class talent Filipinos can be proud of.
Kyla's attack in singing or vocal techniques are very rR. It's like you're hearing a very big soulful voice in a petite lady. When you hear her voice, you'd already know that it is she who's singing. She doesn't dwell on gossips and is a very demure person. I really love all of her songs. I love her voice!
Her voice is elegant, soulful, and very unique. She sings with power and versatility is one of the Philippine's most original artists.

She's drawn Brian McKnight's attention who now calls her his favorite female vocalist.
PSearch List