Kim Tae-yeon - South Korea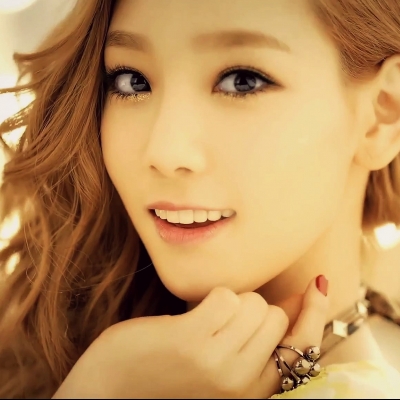 Uploaded by LJJ207
Comments
Top
Popular
Newest
In my opinion, Taeyeon is the BEST singer forever not only in South Korea but also all over the world! Her voice is quite amazing so that I'm really fell in love with her voice. With her absolutely fantastic voice, I can enjoy my better life and relax myself. When I'm in a bad mood, listening to her songs is the best choice that I can't miss.

She would never let me down because she concentrates on singing and works really hard. Now she is not only working in Girl's Generation but also being a solo singer! I have her two mini albums, "I" and "Why". Her new songs are obviously better than before. I will undoubtedly continue listening to her excellent songs and collecting her albums as long as she is keeping on singing!

I strongly believe that she can be a more admirable singer in the future because she is a divine singer in my mind. As a brilliant singer, she will definitely give me more and more strength that I can live in a better life. With her ...more - JerryGuo
No other voice can equal the amount and intensity of emotions Kim Taeyeon's voice convey. Her parts in the Girls' Generation songs may not be the best way to showcase her talent, but she has proven tons of times in her solo songs and featuring's that she can do more than that. She's definitely one of the most beautiful voices, not only in South Korea, but all over the continent.
I absolutely love Taeyeon's voice! It's sweet, powerful, and simply just amazing. Her OSTs are something people should listen to. She really portrays those songs so well. Taeyeon can easily make her voice go from being powerfully heart-wrenching to becoming so innocent. Taeyeon is just amazing.
Kim taeyeon's perfect voice is definitely to die for..
she sings with so much emotion that you sometimes get teary just watching her soulful eyes and soothing voice eps in singing ballads.. And her high notes is a A+. I swear, it really gives me goosebumps..
Kim Taengoo jjang :X:X:X She is the best Kid Leader in this world &! She has a baby face with dorky smiles, but she has a warm heart. And her voice is the most beautiful sound I've ever heard before... I love you, Taeyeon
The best OST singer!
Her voice can totally touch one heart and be immerse into the music!
Mesmerize with her voice! Definitely the best representative as best female singer! #9 Kim Tae Yeon! 9 IS JUST THE BEST NUMBER FOR SOSHI
One of my favorite singers of all time ♥ She can portray the emotions in a song so well, and her voice is really just... She's got the power, the control, and her vocal skills and techniques are really no joke. And she never stops working hard to improve on her singing. I love you Kim Taeyeon, please continue singing and continuing bringing strength and joy to people with your amazing one-of-a-kind voice ♥
TAEYEON IS THE BEST SINGER IN THE WORLD. SHE ALSO NUMBER 1 IN OST SONG. I REALLY LIKE WHEN YOU SING HIGH NOTE. NOBODY CAN'T REACH YOUR HIGH NOTE. SHE IS THE BEST SINGER FEMALE AND OST SINGER. I HOPE YOU CAN BE THE BEST SINGER IN THE WORLD. LOVE YOU (TAENY)
Kim Taeyeon has a great voice! In a recent song, (Missing You Like Crazy), she deploys great emotion and can get you to really feel her emotion. She has a great and powerful voice and she placed a great amount of strength to get SNSD to where they are now! She has pride for what she does and I think that she should deserve this. SNSD HWAITING! TAEYEON HWAITING!
Taeyeon's voice will surly make you fly high high..
The most powerful voice I've ever heard..
You won't understand my words until you go and listen to any song she sang.. And you will know what do I mean..
In a sentence.. " her voice is a miracle"
Kim Taeyeon Slays! She is has the best voice like a angel! Whenever I have a hard day I just play 11:11 (by the way please check it out that song is glorious) her voice just calms me down! Besides she is the only one who can slay and pull off pink hair
Leader of 8 other wonderful singers. All the songs she has sung for in Korean dramas have been excellent and her vocal range has always been excellent and is still improving everyday
Our girls' leader has a voice of an angel here! She should be able to at least get into the top 5! Just listen to her and you'll fall in love with her! Our Dorky Leader Kim Taeyeon hwaiting! It's just Girls' Generation!
She really has a good voice. Even the biggest companies of South Korea voted her as a female idol with greatest voice. She has a lot of emotions while she sings. Watch and her her sing and you'll know what we're talking about.
The little girl with powerful voice! She can sing all kind of music. She has an angel voice and she sing from inner. SHE IS THE RAEL ARTIST.
She sings deeply from her heart, from her soul.
I've seen a fancam video of her singing the OST of Athena "I love you" on stage, she cried while singing, it really touched my heart, and I'm almost cried with her.
Her vocals are amazingg! Go watch it on YouTube and you will know it! She sings with emotions and passion, awesome best singer!
Her voice is amazing. She even was approved by JYP'S own president, Park Jinyoung. It shows how powerful her singing is to even be approved by him despite her being in SM. Her voice makes many people feel so warm due to her smooth voice and the emotions when she is singing expresses her expressions that it would send shivers down your back. She is truly a singer I would accept as one of the best female singers in our time.
She is Leader in number 1 Girls' Group Korea, SNSD. Taeyeon is a very humble person, she was kind to his fans, her voice is very great.
I Love Kim Taeyeon
Hey voice is so amazing especially when she hits those high notes, it just melts you heart... Not only that but she she sings with so much emotion
Kim is by far the best singer in the Far East due to her powerful and explosive voice hitting high notes at the right moment making her number 1
The Voice of an angel. Multi-lingual and amazing in all she does. She has an amazing stage presence and seems to really enjoy being on stage while she is performing.
The reason why I LOVE kim taeyeon is because she is my favorite singer and she is so cute and beautiful. I like the way she sings and when I first heard her song 'I' and saw her do the video of the song and that's how I started liking her. She is also not shy to show the world that she truly loves us. She is funny, and nice. She is into writing her own music. The way I feel about kim taeyeon is so special and happy, because she is a great singer she have great voice. The reason why I feel so special is because she makes some music that makes me feel very special like her song ''I,WHY''. I love you so much and also girl's generation and TTS. And I apologize you to come Pakistan if you read my message. LIVE LONG AND HAPPY LIFE AND BE BLESSED.
Kim Taeyeon is as an amazing singer, she is delightful to hear and her voice is very soothing. She has very strong vocals that can move the world.
The best singer in Asia, best leader, mc, she is the best
I hope sing another ost in a drama soon.
Make a solo please we are waiting for her solo debut I hope his year or 2013.
Fighting taeyeon the best