Best James Bond Girls
The Top Ten
1
Ursula Andress (Dr. No - 1962)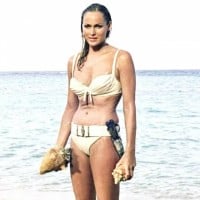 She must be number one and not a rank less.. Ursula is the undisputed greatest and hottest bond girl ever. Just a shot of her in the bikini would prove a lot
She is so pretty and was the first bond gal. She is perfect for her role and for James. She knows to handle her gun and is a great match for bond. She is so so so... Cool!
Honey Ryder, hottest bond girl ever
She did a good job acting, but her character is basically a 10 year old in a 25 year old's body. I guess if you're attracted to that sort of thing (cough cough pedo), that's your right I guess.
2
Famke Janssen (GoldenEye - 1995)

Famke Beumer Janssen is a Dutch actress, director, screenwriter and former fashion model. She played Xenia Onatopp in GoldenEye, Jean Grey / Phoenix in the X-Men film series, Ava Moore on Nip/Tuck and Lenore Mills in the Taken film trilogy.
The only person who I would love to be killed by during a you-know-what affair.
The only girl in everything that you would WANT to kill you!
She is just really really hot
So sexy and someone who I would actually like to be killed by
3
Honor Blackman (Goldfinger - 1964)
Her name is Pussy Galore. Enough said.
4
Lois Chiles (Moonraker - 1979)
I don't get why so many people hate Moonraker? Only last 20 minutes were in space! The rest was phenomenally awesome! And Lois Chiles was the first Bond girl who kicked ass! Not to mention her beautiful face!
She's exactly my type of woman. Beautiful, intelligent, refined.
She's very seductive and a drug of addiction.
5
Eva Green (Casino Royale - 2006)

Eva Gaëlle Green is a French actress and model. She started her career in theatre before making her film debut in 2003 in Bernardo Bertolucci's film The Dreamers.
Probably the most complex Bond girl of them all, fueled by an amazing performance of ever Green. Smart, witty and incredibly beautiful not only James Bond fell in love with her, but the viewers as well.
Fantastic breasts and sultry features
You guys can't be serious about this list she's best by miles
The prettiest woman in the world.
6
Izabella Scorupco (GoldenEye - 1995)
She's damn beautiful.
One of the more three dimensional Bond girls of the Brosnan era.
SHE'S SO HOT AND SEXY
AND ROMANTIC
AND SMART
7
Diana Rigg (On Her Majesty's Secret Service - 1969)
BONDS WIFE! Come on people, this is possibly the only woman Bond has every truly love (and who has not betrayed him).
The final scene makes me cry... Her beauty level is unbelievable
Her face and eyes are amazing and the best
Best Bond girl hands down
8
Jane Seymour (Live and Let Die - 1973)

Jane Seymour, is an English actress, best known for her performances in the James Bond film Live and Let Die; Somewhere In Time; East of Eden; The Scarlet Pimpernel; Onassis: The Richest Man in the World; War and Remembrance; the French epic La Révolution française as the ill-fated queen Marie Antoinette; ...read more.
Jane was just fantastic Bond Girl. Not to mention Beautiful. And why the hell Gemma Arterton is in the top 10? She was so useless in Quantum of Solace and she had like 10 minutes of screen time.
She plays the best and the reason why I voted for her becouse shes butyful.
9
Sophie Marceau (The World is Not Enough - 1999)

Sophie Marceau, born Sophie Danièle Sylvie Maupu (17 November 1966) is a French actress, director, screenwriter, and author. ...read more.
IF YOU SAW THE MOVIE, YOU'LL UNDERSTAND. I WOULD HAVE GONE AGAINST ORDERS TOO.
An interesting twist on the bond girl
Sexy as hell
Any girl that can snap off your shlong with her hoohaa is amazing. Nice cans too!
10
Barbara Bach (The Spy who Loved Me - 1977)
Not just her body, but her face and her attitude is what it is!
Had a crush on het when first saw the film...fabulously sexy cone to bed eyes
By far the best. Look at the scene on the train...
The Contenders
11
Maud Adams (Octopussy - 1983)
Finally, someone who was close too moores age
12
Kim Basinger (Never Say Naver Again - 1983)

Kimila Ann Basinger is an American actress, singer and former fashion model. Following a successful modeling career in New York during the 1970s, Basinger moved to Los Angeles where she began her acting career on television in 1976.
Perhaps the only good performance in the movie.
13
Claudine Auger (Thunderball -1965)
'Thunderball' is a relatively boring film, especially when compared to Connery's five other films. Probably the film's three biggest highlights come from its three main Bond girls, with Domino being, arguably, the most beautiful Bond girl ever to grace the screen. I just try to picture her beautiful face whenever a dull underwater scene is happening.
14
Carey Lowell (Licence to Kill - 1989)
Best Bond Girl by far. She seemed to have quite a special relationship with Bond. She is pretty, but she is also tough and was very helpful in the plot. She wasn't just a bit of eye candy like so many Bond girls are
First modern bond girl.
"Shut the bloody machine off! "
Any bond girl suited for Dalton has got to pack a kevlar vest and a shotgun. really underrated
15
Daniela Bianchi (From Russia with Love - 1963)
Hearts
16
Denise Richards (The World Is Not Enough - 1999)
Maybe not the best Bond girl of them all, but certainly one of the hottest. If not the hottest. Denise Richards at her prime.
Her voice was really annoying though
Ruined the movie
THE HOTTEST
17
Michelle Yeoh (Tomorrow Never Dies - 1997)

Tan Sri Michelle Yeoh Choo-Kheng is a Chinese-Malaysian actress, best known for performing her own stunts in the Hong Kong action films that brought her to fame in the early 1990s.
One Of The Most Underrated
Most Helpful
& One Of The Most Beautiful
18
Tanya Roberts (A View to a Kill - 1985)
Was way too young for senior citizen Moore.

also, JAAMES!
19
Gemma Arterton (Quantum of Solace - 2008)

Gemma Christina Arterton is an English actress. Arterton made her film debut in the comedy film St Trinian's.
20 Anya Amasova (The Spy Who Loved Me - 1977)
21 Jill Masterson (Goldfinger - 1964)
22 Vesper Lynd (Casino Royale - 1967)
23
Olga Kurylenko (Quantum of Solace - 2008)

Ólga Konstantínovna Kurylénko, born Ólha Konstantýnivna Kurylénko, is a French actress and model of Ukrainian origin.
24 Jill St. John (Diamonds Are Forever - 1971)
25 Grace Jones (A View To A Kill - 1985)
PSearch List