Alternative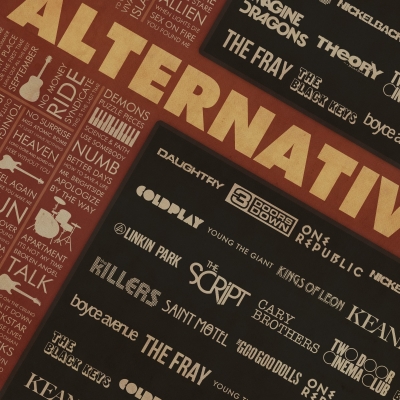 Found on sf.co.ua
Comments
Top
Popular
Newest
Hands down my Fave and the Best Genre when it Comes To Real Music I love Rock & Roll But Nothing Beat Alternative Music

Coldplay, Green Day, ShineDown, Theory Of A Deadman, Default, Fuel, Creed, Evanescence, Rise Against, Finger Eleven, Puddle Of Mudd, My Darkest Days, Avenged Sevenfold, Breaking Benjamin, Alter Bridge, Art of dying, Seether, Paramore, Three Days Grace, Papa Roach, Linkin Park, 3 Doors Down, Nickelback ( I consider then Alternative Rock) And others - Curti2594
Alternative is the best genre because it's the most creative. Look at the MANY famous bands which are considered "alternative" Linking Park, Seether, Three Days Grace, Green Day, Evanescence, My Chemical Romance, Radiohead, Skillet, Nirvana and the list goes on and on... What I also like about Alternative is that you can't find a band that is only "alternative", their music must be influenced by some other genre, for example, Evanescence is influenced by Gothic, Nirvana by Grunge, My Chemical Romance by Emo, Green Day by Punk, Linking Park by Nu-Metal, etc..
Really good, especially if you're forming a band I can't decide on a genre. Alternative usually can be considered to be a genre associated with rock, but really it can be about anything. I'd say it's really a mix of genres at times. Usually the bands or artist creating alternative music has a very unique style like the bands Gorillaz and Twenty-One Pilots. Alternative is a newer genre, but still something great to look into.
Alternative is where it's at. It's alternative because it's unique, special, and we can't really classify it, so you can be sure it's really creative and AWESOME.
I know an alternative band when I hear one. :D

Coldplay (Hurts Like Heaven), Snow Patrol (Run), The Killers (All These Things That I've Done), Florence + The Machine (Howl), Imagine Dragons (Round and Round), Linkin Park (Burn It Down), Of Monsters And Men (Mountain Sound), My Chemical Romance (Welcome To the Black Parade), Evanescence (Bring Me To Life), Talking Heads (Road To Nowhere), Nirvana (Smells Like Teen Spirit), Jimmy Eat World (Sweetness), and so many more! - Wolftail
My favourite artists for alternative genre of music are Coldplay and Linkin Park! I just love their music and especially, Linkin Park, with their aim of message in each song, I just love them! Keep up the brilliant work and grow up your awesome thinking. March forward to your life and be an honest human being
Alternative music is the only "Music Genre" that everyone likes, it includes rock, pop and various genres. The Cure, Radiohead, Depeche Mode, The Killers, Arcade Fire, Foster The People, Two Door Cinema Club... this should be #1 - qwerts
Alternative Rock is THE BEST genre of music out there, in my opinion at least. I don't understand people's love for pop music because I find no meaning in it, but Alternative Rock has a real meaning and doesn't preach about alcohol and drugs. Alternative Rock is true art!
Alternative is extremely expressive and filled with emotion, it helps me express how I feel when I can't figure out how to do so on my own. Bands like Evanescence, Creed, Green Day, Nickelback, Linkin Park, and Three Days Grace have helped me more than I can say, at times they are the only thing that keeps me going.
While alternative can be very bad sometimes (Linkin Park), the genre has spewed out some of the greatest bands of all time such as Radiohead, Joy Division, Velvet Underground, etc. - InsertNameHere
Three Days Grace, My Chemical Romance, Green Day, Breaking Benjamin, Skillet, Evanescence and so many other epic bands. Alternative rules. Although heavy metal, hard rock, and rock are epic to.
Heavy metal can attract the wrong people and nowadays it's just garbage. Alternative has lived on through the years with clever riffs, poetic lyrics and an intoxicating sound that is bound to stick to the listener for a long time. The 90's was the peak of musical quality.
One of those super versatile genres that can sound calm and indie, adult contemporary, louder and more punk, or darker and almost gothic, you can take influence from any genre and still keep your music alternative
So many great, inspirational artists. You won't find a better genre full of better people. Check out Linkin Park, Three Days Grace, Green Day, Evanescence, My Chemical Romance, Panic! At the Disco, Skillet, Fall Out Boy, twenty one pilots, etc. etc. etc. I could go on forever.
Alternative rock had so many big movements including the early Punk to the Grunge movement in the 90's with bands such as Nirvana, Alice in chains others in the huge genre like Red Hot chilli peppers and Radiohead
I know every alternative band ever. Skillet, three days grace, evanescence, my chemical romance, red, the script, panic! At the disco, Shinedown, seether, Linkin Park, alice in chains (i have met them), jimmy eat world, cage the elaphant, thousand foot krutch, switchfoot, ANYTHING! And I am only 10
Alice in Chains, Soundgarden, Sonic Youth, Beck, Nirvana, Pearl Jam, Stone Temple Pilots, Blind Melon, and Jane's Addiction are just some great alternative bands.
Nirvana, The Black Keys, Arctic Monkeys, Arcade Fire, Green Day, Linking Park, Red Hot Chilli Peppers, and many more. This genre is basically the combination of 'Rock & Roll', 'Indie Rock' & Punk Rock. It is indeed the Best Music Genre Ever!
Nirvana. Need I say more? Okay, that's a bit unfair. They're amazing, but you can't forget Green Day, Foo Fighters, REM, Radiohead, Pearl Jam, etc.
Coldplay, Oasis, The Shins, Of Monsters and Men, Beach House, Mumford & Sons, The Replacements, Wilco, Young The Giant. All Alternative. Enough said
I grew up on alternative, with early Linkin Park (my favorite of all time), Three Days Grace, Papa Roach, Seether, Breaking Benjamin, and a ton more. It's safe to say that this is my favorite genre.
YES! Alternative! Alternative adds more to the music, and it jams to me. Most of my favorite rock artists are alternative and I love it. From Linkin Park to Skillet. Yes! These songs are great! - MissRWBY202
Alice in Chains, Nirvana, Stone Temple Pilots, Soundgarden, Pearl Jam, Smashing Pumpkins, Melvins all grunge!
Alternative is so versatile it could be any thing from arctic monkeys to linking park and matt and kim
I love Alternative music my favorite bands are Coldplay and Green Day! It's the only type of music I will willingly listen to.
Related Lists

Best Alternative Bands of All Time

Best Alternative Metal Bands

Best Grunge / Alternative Rock Bands
Best Alternative Songs