House of Anubis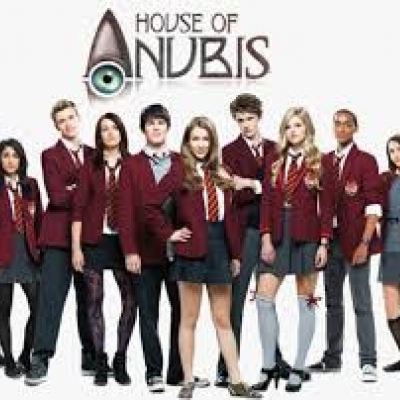 Uploaded by Eraser
Info
House of Anubis is a mystery television series developed for Nickelodeon based on the Dutch-Belgian television series Het Huis Anubis.
Comments
Top
Popular
Newest
This T.V. show has a good plot. Mostly good acting. It makesyou sit on the edge of your seat. I can't remember a T.V. show in Nickoldeons History.
House of Anubis is an incredible show that stands out from the rest of the other shows on Nick. It has a perfectly good balance of romance, drama, mystery, comedy, and suspense. It is directed to an audience for all ages - for kids, tweens, teens, and adults too. It has characters that anybody in the world could relate to easily because of their background stories and the show is also educational in a very great way that keeps the viewers attention to learn about an ounce of Egyptian Mythology, so it is great for anyone who is in History too. The actors and actresses in the show are absolutely outstanding for their performances in each episode - just like the show, they always have a moment or moments that leaves us, the fans, so surprised at how well they can be as their characters and with what they do in their life, they give kids someone to look up to as an idol, a role model, or an inspiration. Some of the cast members are dearly missed in this show, so it's another good reason ...more
This show is unlike anything I've ever seen in Nick. It has an awesome combination of everything that a kid, pre-teen, teen, and some adults want in one program. When I watched the first - the very first - episode of this show I was already trapped by the suspense like a fish on a hook. Honestly! It has a really great plot too! The reason why it's great is because it stands out unlike the other shows in Nick which are pretty much the same. No. This one has twists that the fans never expect it to happen. And the actors and actresses get a TEN for their amazing performances too! And also this show gives us an ounce of Egyptian history too so in a way it's also educational.
My opinion is that House of Anubis is the most fantastic show to ever be on Nick and it would be a HUGE mistake if they even think about cancelling it. This show needs a fourth season because, to be honest, there are some questions left unanswered to the viewers of the Frobisher-Smythes, and because we, the fans, ...more
YOU CANNOT CANCEL THIS SHOW! This show is much more entertaining than other shows on T.V. nowadays. All the children's shows on now are repetitive boring corny sitcoms whose idea of drama is somebody likes somebody else. Every other drama on T.V. can't be watched by children because of vulgar language and explicit themes. This show is funny too! The jokes are in no way corny and they actually relate to the plot. Other T.V. shows throw in random stuff because it's "funny". And there's no laugh track! I could write sonnets about ways this show is terrific! Just an overall amazing show. After each episode I would yell at the T.V. because it was over and I wanted to see more. Then it would bother me all day school and I would count the hours until the next episode. The actors and actresses are terrific. Nathalia, Brad, Jade, Ana, Bobby, Tasie, Burkely, Alex, Eugene, Alexandra, and Louisa are phenomenal. Not to mention Francis(Victor), Mina(Trudy), Paul(Mr. Sweet). Fantastic. We ...more
House of Anubis changed my life. It is amazing. It has everything you want in a show. Drama, mystery, romance, comedy, great script and storyline, cliffhangers, and it's even a little scary sometimes. And it doesn't have that fake laughing in the background. The soundtrack is great. It always fits the mood. The end of every episode is a cliffhanger so it will keep you on the edge of your seat for a week. You will be trying to figure out the mystery too. I always looked forward to it every day. If I was ever down I would think about the fact that the next hoa episode was coming soon. People think it's lame because of the commercials but the commercials are like that because they can't give away too many scenes. All the characters are great. They all have something unique about them that make the show great. They all have hilarious quotes. Another thing is the couples. The couples are so amazing and they belong together like Nina and Fabian, and Patricia and Eddie. You have to watch the ...more
I don't understand why this show is so low on the list. It's the only adult like show on Nick. It has a great story unlike those dumb cartoons. This show is interesting suspenseful and just plain amazing. It is a great combination of romance mystery and comedy. And it puts in just the right amount of each element. It has that hint of danger and suspense that keeps you interested so this should be high at the list. It is the best show on Nick because it has a great story an adult like show unlike dumb cartoons suspense and a perfect mixture of every element this is the best show on Nick and it deserves to be #1
I am absolutely in LOVE with this show! I cannot seem to stop watching it! This show has ALL of the elements teenagers love. It has Drama, romance, comedy and more importantly the mystery. I have watched every single episode at least 3 times. I have NEVER EVER found one swear word, or inappropriate joke. I am SO proud of that! I love Icarly, but one of the episodes was based around pants falling down in an episode! I mean, I would NOT want younger kids to be watching it! I am so proud to say that House of Anubis has never had any sort of that stuff. It is super fun to watch and I am on the edge of my seat every episodes. Love this show! SIBUNA!
I LOVE HOUSE OF ANUBIS! And there should a season 4, because 4 years of school and they only had 3 so by far let there be at lest one more season please people of Nickelodeon. Nick, I know one person does not mean anything to y'all, but I was hooked from day one and this show has lots of people who loves this show a lot, it's a great mystery show that is out there, and I must say that there really ain't many out there in the T.V. world. This both kid and young adult I, myself is 20 years old and I still get dreams about this show and I love it. Its like I am part of the show, and I love it! I know people who loves this show and will be devastated if it ended, Please Nickelodeon, just give it one more season that way they can graduate which will be this 4th season. Please Nickelodeon!
House of Anubis is not only mysterious, but unlike most of the Nickelodeon shows, this show has a point to it. Instead of premiering once a week (like most shows) it premieres almost every night with a new episode. This T.V. show has a mix of drama, mystery, romance, comedy, and it keeps viewers at the edge of their seat. This is one of the best Nickelodeon shows of all time. It uses facts about ancient Egypt, but makes them interesting. I for one, would never, ever, ever like all that ancient Egypt facts, but they use them at moments you least expect it then a great wave of sense comes you and it leaves you in awe. This show is the best show that Nickelodeon has ever made. In the first couple episodes I was kind of bored but then I watched the next episode and I could barley stop watching it and going crazy. This show has some of the best actors of all times. When you think everything in normal, it flips that thought within a minute. This show makes you expect the unexpected. It ...more
I love House of Anubis so much there is so much intrigue and so much drama, romance, and mystery. I love how each season the drama, romance, and the mystery deepens. It really makes you think about the mystery a lot and you eventually start to feel what the characters feel. For example you feel sad when they are sad, you feel happy when they are happy, and you feel afraid when they feel afraid. I think that there should be a fourth season because I love this show and I love the mystery and intrigue that this show creates. I cannot wait to see what will happen in the fourth season if there is such thing as a fourth season of House of Anubis. I hope that Nina Martin, and Amber Millington return and they help solve this year's mystery. I wonder if Robert Frobisher Symthe will succeed with his evil plans, I certainly hope he does not succeed for his own sake and for the sake of the students and the teachers who have been made evil. None this evil thing would have happen had be been awoken ...more
This show is great! It has drama, mystery, suspense, fantasy, romance, comedy and so much more! People of all ages love it and there needs to be a season 4! This show is my addiction and the addictions of a bunch of other people I know. I have been hooked ever since I watched the first episode and I know that's true for millions of other people. It definitely deserves to be in the top 10.
House of Anubis is a show that Nick never really has seen before, and that's what makes it so amazing. It has a mix combination of mystery, comedy, and romance, and also a little drama, which makes it even more amazing. It deserves to be on Nick's top 10. The actors weren't PERFECT in season 1, but as it progressed to season 2 & 3, they have really improved. House of Anubis, for the win!
This show is so good! It has an amazing plot that is always twisting and turning and leaving you on the edge of your seat. The characters are superb and so diverse! There's someone who appeals to everyone. It is full of drama, comedy, mystery and romance and balances each element to perfection. Once I started watching this show I could not stop. It is the kind of show that leaves you on the edge of your seat screaming at the T.V. after each episode! Everyone needs to vote for this show because it deserves to be in the top.
House of Anubis rocks! There should really be a season 4 and season 5 and so on... House of Anubis is the best show on T.V. if there isn't another season I might cry. They give you such hang overs that you want to watch more. They balance out romance, drama, and mystery roll it up into one. Really if you think that Avatar is better than this wow you are so lame. Also The adventures of Jimmy Neutron is so lame it was a hit before but now is now it WAS a big hit now House of Anubis is. Those shows Were a big hit, see there past tense for a reason.
I don't understand why isn't this show in the top ten. This show is for everyone who likes high school drama, Egyptian mythology, treasure hunt and riddles. It's the type of story which if you start watching, you can't just end it. You want more and more. The characters are lovable and interesting. You would want them as friends too! You like Harry Potter, Percy Jackson or any type of adventure/mystery series? You will love House of Anubis. That's for sure.
It is one of my favourite T.V. show and I can't even wait for the new episodes!
House of Anubis is an amazing show. Unlike almost every other show on Nickelodeon this show has drama, mystery, romance, comedy, and real life situations that teens who watch the show can relate to! The actors are amazing and the plot keeps you watching. Since every episode ends with a cliffhanger you won't want to stop. House of Anubis really needs to be in the top ten. Also, people of all ages can watch the show, from kids to teens to even adults! House of Anubis also needs a fourth season because many of us fans would be extremely disappointed if there was not one. In conclusion, House of Anubis is an amazing show that many people love! :D
This show needs a 4th season. It's unlike any other show I have ever seen on Nickelodeon. House of Anubis has a storyline that keeps you interested and on the edge of your seat wanting more, even after a season has finished. It's got just the right balance of drama, mystery, and comedy. You're never wanting them to tune down one of these elements like with other shows. House of Anubis is a show that anyone can get into and enjoy, don't let the first few episodes of Season 1 fool you! The story was just getting started, once it does, it's amazing and you're hooked!
Let's get this show past #13 and into the top 10! Sibuna!
HOUSE OF ANUBIS IS AWESOME ITHAS DRAMA, MYSTERIES AND MORE! That's WHAT MAKES THE SHOW AWESOME TN THERE ARE a lot OF THINGS THAT MAKES THE SHOW AWESOME! HOUSE OF ANUBIS SHOULD BE IN THE TOP 10 BETTER YET #1! EVERY DAY WHEN I GET HOME FROM SCHOOL TH ONLY THING I'm DOING IS THINKING ABOUT THIS SHOW AND WHATS GOING TO HAPPEN EVEN GOT INTO HIEROGLYPHICS AND ANCIENT EGYPTIAN/EGYPT! THERE HAS TO BE A SEASON 4 OR I WILL DIE AND I'm NOT JOKING AND IF THERE's A SEASON 4 NINA AND AMBER HAS TO COME BACK AND FABIAN PATRICIA ALFIE AND EDDIE CANNOT LEAVE OH AND NINA WOULD BE HEAD IF SIBUNA AND HER LOCKET IS TH EMAIN THING (KEY)! I WOULD DIE WITHOUT THIS SHOW ITS CHANGED MY WORLD a lot IN A GOOD WAY! BEFORE THIS SHOW CAME ON MY LIFE WAS BORING AND NOW ITS AMAZING I HOPE THERER WILL BE A SEASON 4 OF HOUSE OF ANUBIS AND NINA AND AMBER COME BACK N FABIAN PARTICIA ALFIE AND EDDIE STAY N NINAS LOCKET IS THEMAIN KEY AND NINA AND FABIAN GET BACK TO GETHER AND ALFIE AND AMBER GET BACK TOGETHER AND PATRICIA ...more
This should be in the top 10 it's the best show on nick ever. At first I saw the commercials and I thought it was some sort of murder story then I went in the club house and the show sounded amazing. I checked it out and it is the best show. Nick has all that pointless comedy but this is an awesome mystery drama with a great plot line it's awesome the best show ever
It should be number one, its like the best show ever! If you don't like it then there's seriously something wrong with you! I love HOA an I bet you do too, No #1 Show! SIBUNA! With The Cast: Nathalia Ramos, Brad Kavanagh, Ana Mulvoy Ten, Jade Ramsey, Alex Sawyer, Eugene Simon, Tasie Dhanraj, Klariza Clayton, Bobby Lockwood, Burkely Duffield, Frances Encell!
I want a Season 4! House of Anubis is a really good show! It is all a mix of Comedy, Mystery, Romance, and pretty much all genres! So nick please have a season 4! HOA is the best! Without Sibuna I don't know what I will watch! Its pretty much the only thing I look forward to during school! Without it a lot of people will be disappointed! So please don't cancele the show!
Thanks!
This show used to be #8 but it got replaced by Victorious. And I can think of a whole long list of reasons why House of Anubis is better than Victorious. Actual drama. Actual romance. Actual mystery. And most of all. ACTUAL COMEDY. The other shows try to hard to be funny and use fake laughter in the background when the script is not even funny its annoying. I'm not finished but enough said. And the people who are like "Oh I saw one episode and it was so lame I had no clue what was going on". Emphasis on the ONE EPISODE. Its not a show where you can just watch an episode and understand it. And if you are judging the show based on the commercials. NO just NO. I agree the commercials make it look like a horrible and lame show but that's because the commercials give away a lot of stuff and the show is a mystery so that's not good.
This show has a well combination of mystery, drama, and romance. It has excellent acting and it makes you sit on the edge of your seat. Also, unlike other young adult mystery shows, it's on four nights a week so you no longer need to wait a whole week. This show has an amazing new plot every season and as soon as you start an episode, you can't take your eyes of it!
If you think House of Anubis is lame, you don't know what your saying. You should watch the show! Just one episode! I watched the first episode I have to admit it was stupid! But I watched another episode and I was hooked! And if you still think House of Anubis is not AWESOME your CRAZY with a capital C. This show is very important to HOA fans! Just vote for House of Anubis JUST one time! PLEASE! PLEASE! PLEASE!
I love house of Anubis! It is the best show! Just because the commercials are lame doesn't mean the show is lame! Give house of Anubis a chance! I know you like other shows but House of Anubis needs support! You are our only chance! Every show is cancelled that you voted for but house of Anubis is still remaining. If house of Anubis is not in the top ten there is no more house of Anubis. People really want another season! What if you were us? You would do anything you could, right? PLEASE VOTE FOR HOUSE OF ANUBIS!