Frankel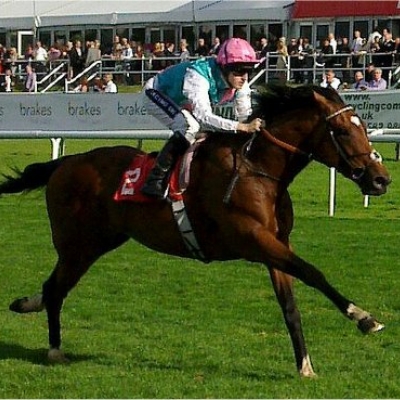 Uploaded by eventer51314
Comments
Top
Popular
Newest
Anyone who saw Frankel win the Quen Ane Stakes at Royal Ascot on Tuesday will not doubt that he is the fastest miler of today and perhaps forever. Over his favourite distance of 7 or 8 furlongs he must be unbeatable. He came in at odds of 11-10 ON so £1 winning for £10 stake. The Bookies knew his form. He has won every one of this 11 races, some quite easily. Punters were saying a bet on Frankel was a better investment than oputting money into a Building Society (Savings and Loan) and that they pay up faster.

After 3 furlongs the kjockey gave him his head and he just powered away. He looks so smooth and gracefully and obviouisly enjoys winning, which he did by 11 lengths.

From the split times for each furlong, it is clear that he accelerated away on the fourth furlong but had slowed down by the fifth and sixth. Perhaps he lacks the stamina for the Derby over a slightly longer course, or perhaos he was so far ahead that the jockey eased him up.

According to his ...more
FRANKEL will remember simply as greatest of the greatest.
Been watching the greats for best part of last 50 years and Frankie has at the time of writing won 12 from 12 (10 group 1's) and has plenty scope as he goes now to the Juddmonte and up to 10 furlongs - can't ever recall seeing ANYTHING quite as good as this fella at the mile and the great thing is he really does appear to be getting even better - They make movies about the great horses in Hollywood and its plain to see how they exaggerate performances etc for dramatic effect, hope I'm still around to see what a director will do to attempt to improve the perfection that is FRANKEL!
Frankel the best we have ever seen! Only the great Brigadier Gerrard would have gave him a race at a mile! When stepped up to a mile & quarter he destroyed them at York & those fortunate to see him will tell you the jockey had a job to pull him up after the race. Henry Cecil & Frankel will never be repeated. Shame he raced at a mile & half but the manner visually that he won his races makes him the best in my book.
There are meany great horses out there present and past and it really is "impossible" to know for sure who is the best but all I can say is watch the "so called greatest of all time" on you tube or by any other means and if you know about horses you will realise that no horse "past or present" had a stride like franker, he ran with ease and won with ease. By natural progression franker is better.
It is very difficult to compare horses running over different distances, eras, ground (grass or dirt) and their jockeys riding tactics and styles. However, Frankel is in my opinion the best horse over a mile the world has ever seen, but is he the best racehorse ever. I say not, to be a true champion the triple crown has to be achieved. You must be able to prove yourself at 1 mile, 1.5 miles and 1 3/4 miles, a feat few manage
Anyone who thinks Black Caviar anywhere near as good as Frankel needs a head check. The former dominated in a back water of racing. Its like saying Glasgow Celtic is the best football team Of all time because its won knows how many Championships against most sides a pub team would beat.
Its frankel what more can I say he set the bar in flat racing the only horses that will succeed him are the horses that he will produce in the future or possibly already has like FAIR ever and many more that have yet to race but in my oppinion he is number 1 and will take over from his father galileo as the leading sire in europe he humiliated group 1 horses on his debut when he won his maiden with ease beating nathaniel a horse that would go on to be a multiple group 1 winner and now his fillies and colts are humliating some very good horses and only 10 or 11 have ran so say what you want about whoever you want it doesn't change that frankel is the champ and will soon be champion sire
Frankel is undefeated with 13 starts from 13 wins he has a great record and he will never lose black cavier wouldn't stand a chance against frankel he should be in the top five he can't be beaten he wins by ten lengths every race
If you think black caviar was a better horse than frankel you are out of your mind. Black caviar was a good horse but it won some rubbish races in Australia and when it came to England (racing standard is much higher) it won the race JUST (less than half a length) against very average horses compared to the superstars Frankel destroyed such as Canford Cliffs. Frankel would of beaten Black Caviar by at least 8 lengths.
This should be no contest Frankel is the best. Henry Cecil, legendary trainer of Frankel, said "He's the best I've ever had, the best I've ever seen, I'd be very surprised if there's been anything better".
By winning in his last race ever, the Champion's stakes at Ascot, frankel completes 14 wins from 14 starts. He had a dreadful start at Ascot, leaving the gate three lengths behind the leader and faced a major challenge from the 2011 winner, the French horse Cirrus des Aigles. On really sodden groun over 10 furlongs, not his favourite distance, he won by just under two lengths.

In the last few furlongs as he had to catch and overtake the field, he made it look as though they were dead in the water. Nobody who has seen him even on video would doubt that he should rank as low as this.
Look at the times! Frankel completed 1 mile in 1:37.56, the Blemont stakes is 1.5 miles and Secretariat completed that in 2:24. That means Frankel has to run the last 4f/half a mile of a race in over 86 seconds to get a slower time than Secretariat, which is impossible! This proves Frankel is the fastest of all time and would beat any opposition if he did compete in the USA and abroad. The best there will ever be!
Americans are so insular... best horse ever by FAR was Frankel - look at his group 1 races..1mile /1 1/4mile he was untouchable, look at the group 1 winners who finished behind him. A true Champion never beaten.. unlike some of the others on this list
Best horse ever to grace the earth! Makes group one racers look like nags! Holds his class against the best by destroying them! (Unlike black caviar who when challenged by the best only won by a nose! Frankel = number 1!
I have watched racing all my life and think frankel was unbeatable over 7 & 8 furlongs. I would have him at number 1. Brilliant horse and the best I will possibly ever see.
The ease at which he won his races is testament to him being the greatest racehorse ever. No horse in history ran away from a top class field in the way Frankel did.
Frankel has just won the Queen Anne Stakes by 11 lengths - he made the rest of the (extremely good) field look like carthorses. Willie Carson stated that he has NEVER seen a better racehorse. 'enough said!
Frankel is well above this ranking, horses are grazing animals and therefore would naturally live on grassy land not on dirt, so why race horses on dirt, where a lot of them poor animals are raced on pain killing drugs. How many foreign racehorses come to the UK, Ireland and France to take on the cream of Europe, next to zero. Most of the above higher racehorses run in fields of five or six runners, of which three or four wouldn't win a seller at Brighton.
Do you people know anything about horse racing 11/10 is just like evens. And the best horse in the world what's that all about they all run on grass dirt sand soft heavy firm ground and different distance so do you mean it was the best at that time. You can say bolt is the faster man because he runs on the same course as the rest.
However has voted for any other horse is a complete clown the mighty frankel disposed of all comers with ease. He was put against top quality opponents at every turn and overcame all. There is a reason he is the highest rated of all time because he is the best of all time.
Had everything you could ever want in a racehorse. Not just the times he set, not just the form and horses he beat or the manner in which he beat them, but the pure majesty, the perfect rhythm and emotion in every stride. The way he made people feel. Superb horse.
Seen him in the flesh for his last race the Champion Stakes at Ascot and he was phenomenal. His win in the 2000 Guineas was the most impressive win I have ever seen, he was so far ahead the jockey eased him up and cantered the last furlong.
This horse is the best horse ever existed, better than secretariat and black caviar, his simply the best. And no doubt he is the fastest horse in the world. With its jockey ryan moore he simply the best horse in the world. And will be unbeaten that's why we call him the wonder horse.
This list is nonsense. No such thing as an out and out best. Too many variables such as age of horse, surface raced on, season of year, race distance etc. There have been a few great horses round the world and Frankel is certainly one of them