Phar Lap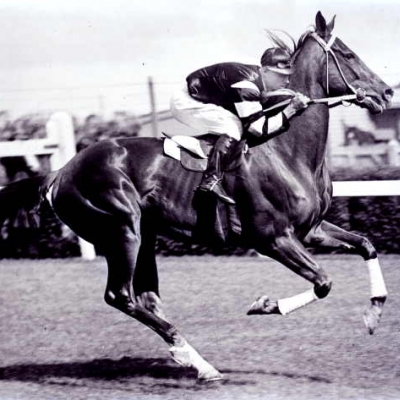 Uploaded by eventer51314
Info
Phar Lap was a champion Thoroughbred racehorse whose achievements captured the public's imagination during the early years of the Great Depression.
Comments
Top
Popular
Newest
simply the best horse ever with out a doubt. 2 cox plates (worlds best weight for age race) a melbourne cup (worlds best staying race) and he did this while winning a race on the sat. the cup on the tues a race on the thurs and a race on the following sat. just to prove it when we took him to America he was poisioned to stop him cleaning up there.
Machine one of the greatest ever besides the carbine would of loved to see them go head to head different eras very similar gene pool there are only a few peoples champs in the movies we got rocky balboa the Italian stallion in real life we got phar lap I mean they tried to kill for gods sake cause they all knew an ass kicking would come every time this bloke hit the track in life sometime you the boot and sometimes you the ass that gets kicked and this bloke was an ass kicking machine
Bobby wad the Boy. Heart as big as gold, carried 58.5kg (129lbs) to win at Tijuana, Mexico, in the Agua Caliente Handicap, which was offering the largest purse ever raced for in North America. Big Red won in track-record time, ridden by Billy Elliot for his seventh win from seven rides. Then some scum poisoned Our Wonder Horse with arsenic.
As stated before, he would be at the top of the list if allowed to race out his life of not poisoned. Always handicapped heavily often carrying twice the weight expected prior to racing, still couldn't stop him from winning. Biggest heart ever. Would have beat Secretariat and Man of War as shown in computer simulations over several distances. Only Americans think an American horse is the best, just like their football teams are called world champions and play no other country's teams. Funny!
Absolutely dominated his opposition in Agua Caliente. Amazing burst on the outside in the back straight. Toyed with them in home straight. His jockey didn't even shake the reins - just whistled to him and won going away from second place-getter by a couple of lengths. A number of respected American horsemen who saw the race said he was the best they had ever seen out of all the great champions who had graced American tracks. First run on dirt track after getting off a ship after Pacific crossing and with split hoof!
Although this proud Australian likes to claim him as well, Phar Lap was actually a New Zealand born horse who was purchased by an American business man, trained and raced in Australia until he went to Mexico and won there, and sadly died. A true continental champion
Yes! It's so good to see Phar Lap being recognised as one of the best racehorses! Because he raced so many years ago, people don't realise how good he was. His heart, like Secretariat's, was twice the size of any other horse's heart. He lost his second Melbourne Cup because of the Aussie Racing cronies stacking weight on him that would have broken any other horse. I am glad he is recognised here.
Phar Lap is the Weight carry expert, Secretariat have never carry weight as heavy as Phar Lap. Phar Lap would beat Secretariat if they ever race. He was on his peak form when he died, just imagine what he would achieve if it wasn't for the tragedy
Where the other greats thrived on certain grounds and distances, he was a freak of nature that broke all rules of conventional horse racing. Had he run in the more high profile american races for longer he would undoubtedly be considered the greatest of all time. His poisoning is a testament to the fact he was a different class to anything else we have seen to this day.
Phar Lap should be at the top of the list, for he is the most well known race horse and is still talked about today.
He crushed all opposition south of the equator on every type of surface from sprints to 2 1/4 miles. His win in the AJC Plate as a 3yo was his Secretariat moment. At one stage he led by 30 lens, bettering every track record beyond a mile before easing down to win by ten and smashing the Australasian record for the distance by over 6 seconds. He endured extraordinary and well documented challenges to race the best the North America could put against him when racing on dirt for the first time, first up, dropping to last in the early stages, circling the field to lead before set a new track record when winning the Agua Caliente. He ran 2f in under 23 seconds during that surge. Legendary jockeys Willie Carson and Eddy Arcaro were there on the day and were effusive in their praise - the greatest horse they'd seen. The cotton wool champions of today could never match his range and toughness.
Was virtually unbeatable once he matured. Shortest priced Melbourne Cup winner in history. Won Australia's best races and also the world's richest race at the time with top weight and smashing the track record after travelling for 6 weeks by ship to North America. Truly one of the all time greatest.
Phar lap is a New Zealand race horse. If secretariat ever had to carry the weight during a race that Phar Lap had to carry... We would not know his name today.. Phar Lap is in a league of his own that is far beyond secretariat... But don't take my word on the subject.. Read the facts
It's true that the kiwis don't get the credit for this phenomenal horse. But lucky for Australians he came here just at the right time during the Great Depression to lift the spirits of many. He wasn't just a great horse but an inspiration. He rode with massive weights & even won a race that had started without him ready! He ran against fields of many other horses unlike Secretariat who raced in G1 races that had only about five horses racing. How would he have run in a Melbourne Cup with 23 other runners. The underbelly of American racing knew that they had no horses to beat him, so they stooped to killing him. RIP great Phar Lap.
I am sorry. But Phar Lap is the fastest horse based on 3 reasons.
1) Won highest % of races he entered in life time
2) Won even when forced carry huge weight.
3) Training & will to win. He was trained to not like
Any horse in front of him. You can see this motivation
By the way he won each race. Never gave up
A position once started the race. Meaning if he
Settled into say 4th at start; would not give up
To 5th at any time and go straight to 3rd, 2nd,
Then 1st.

It was, I believe that made him win regardless
Of distance or extra weight out on him,
None of which Secretariat had to endure.
Carried the biggest weight in the Melbourne Cup. Won over any distance, This horse today would be unbeatable, he was then except for the cheats, that's all that beat him back then. Is and will always be the Greatest Race Horse ever.
Had to leave Australia due to the ridiculous weights the handicapper was given him, how many more big races could he have won will never be known, but his suspicious death ironically immortalised him
Would eat secretariat, war admiral, man of war and every other horse on this list alive absolutely and undeniably the greatest horse ever to burn the track. A straight up screaming track destroyer.
Should be number one. The movie is so sad, everybody thought he was a really bad race horse but turned out to be one of the bests. You can see his body at the melbourne museum
Huge horse, huge history, a true racing star. There is no better than this mighty hero of the depression. Another fine example of New Zealand breeding!
He is an amazing horse that happened to be quite funny stealing the Australian newspaper from his groom he defiantly deserves a lot of recognition after what he has done in the Australian Racing industry and the sport
This was a great horse, abused by the racing world but had the heart of a champion. What a shame to loose this animal to greed.
Its simple no other horse could of done what he did all the weight they piled on him he still won cracked hoof he still won the only way to stop him was kill him and that's exactly what the stupid mob did hope they rot in hell
Beat the best in Australia, New Zealand and the United States. He is rightly up amongst these noble animals. Who was the best? Well, that is a matter of opinion. You cannot say. There are so many candidates.
One of the first true international champions. It is difficult to compare eras but there is no doubt that Phar Lap was the best horse in the world during his era - and by quite a margin too.
he's the best race horse and he's australian I just love him he shouldn't have died.