Top Ten Celebrities Who Like Metal Music
The Top Ten
Jim Carrey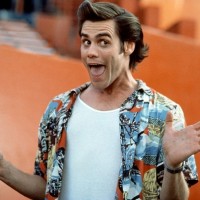 James Eugene "Jim" Carrey is a Canadian American actor, comedian, impressionist, screenwriter, and producer. He is well known for comedic roles in films such as Ace Ventura: Pet Detective, The Mask , Dumb and Dumber, Ace Ventura: When Nature Calls, The Cable Guy, Liar Liar, How the Grinch Stole Christmas, ...read more.
He Wanted Cannibal Corpse To Be In Ace Ventura
In A Deleted Scene He Sings The Song Hammer Smashed Face In Growls And Screams That Parody Death Metal Vocalist's
Nicolas Cage

Nicolas Kim Coppola, known professionally as Nicolas Cage, is an American actor and producer. He is well known for his roles in Raising Arizona, Moonstruck, Vampire's Kiss, Wild at Heart, Honeymoon in Vegas, Red Rock West, Leaving Las Vegas, The Rock, Con Air, Face/Off, City of Angels, 8MM, Bringing ...read more.
Yes, and his son Weston is a black metal musician - Weston was the frontman for the band Eyes of Noctum and is currently working on a solo black metal project called Allone.
This list is awesome. Congrats!
Sir Christopher Lee

Sir Christopher Frank Carandini Lee (1922-2015) was an English actor, singer, and author. He was best known for his villainous roles in films such as Dracula in the Hammer Horror films, Francisco Scaramanga in the James Bond film The Man with the Golden Gun, Saruman in the Lord of the Rings and Hobbit ...read more.
He discovered metal music in his late 70s and even recorded metal albums - he's got a pretty good singing voice. He released his last metal album at 92 (R.I.P). At the age of 87, he was honoured with the Spirit of Metal award at the 2010 Metal Hammer Golden God awards ceremony.
Jack Black

Thomas Jacob "Jack" Black is an American actor, singer, musician and comedian. His acting career has been extensive, starring primarily in comedy films. Black is the lead vocalist of the comedic rock group Tenacious D, which he formed in 1994 with friend Kyle Gass. They have released the albums Tenacious ...read more.
Yes, and he performed the song "The Metal" ("You can't kill the metal, metal will live on")
Lady Gaga

Stefani Joanne Angelina Germanotta, known professionally as Lady Gaga, is an American singer, songwriter, and actress. ...read more.
And she has a song "Heavy Metal Lover".
Yes Its True She Likes Iron Maiden
Demi Lovato

Demetria Devonne "Demi" Lovato is an American singer, songwriter and actress. After appearing on the children's television series Barney & Friends as a child, she received her breakthrough role as Mitchie Torres in the Disney Channel television film Camp Rock and its sequel Camp Rock 2: The Final Jam. ...read more.
I didn't know that! And she's one of my favorite singers. She should write some metal songs.
She likes Lamb of God and Dimmu Borgir.
Wait, she's a metalhead? Wow - NikBrusk
Cameron Diaz

Cameron Michelle Diaz is a retired American actress, producer, author, and fashion model. She rose to stardom with roles in The Mask, My Best Friend's Wedding, and There's Something About Mary, and is also known for voicing the character of Princess Fiona in the Shrek series.
Ha, I didn't know this about her but sounds good.
I just learned she mostly listens to Iron Maiden.
Michael Fassbender

Michael Fassbender is a German-Irish actor of stage and screen whose career includes roles in both independent and blockbuster films, most notably; Hunger, Inglourious Basterds, Shame, X-Men: First Class, Prometheus, 12 Years a Slave, Frank, X-Men: Days of Future Past, and Steve Jobs.
He revealed to be a fan of the big four of thrash metal and also said that he wanted to become a member of a metal band before becoming an actor.
Magneto Likes Metal Music and Metal
Post Malone

Austin Richard Post (born July 4, 1995), known professionally as Post Malone, is an American singer, rapper, songwriter, record producer, and guitarist.
He was in a high school metalcore and covered an Asking Alexandria song, which is available on the internet to listen. He also hangs out with metal Youtuber Jared Dines and reportedly loves Infant Annihilator. There's actually a video of Jared giving him a signed IA vinyl and him being excited about it.
Mike Myers

Michael John "Mike" Myers is a Canadian actor, comedian, screenwriter, director, and film producer, who also holds British and American citizenship.
"Everything I do is autobiographical in some way. 'Wayne's World' was me growing up in the suburbs of Toronto and listening to heavy metal."
The Contenders
Chris Jericho

Christopher Keith Irvine, better known by the ring name Chris Jericho, is a Canadian-American professional wrestler, musician, media personality, actor, author, and businessman, currently signed to AEW.
You Just Made the list!
He's In A Band Called Fozzy And His Wrestling Finisher The Walls Of Jericho Is Named After A Helloween Album
Amy Lee

Amy Lynn Hartzler, known professionally as Amy Lee, is an American singer-songwriter, classically trained pianist and composer. She is also the lead singer to the Arkansas band Evanescence.
Evanescence aren't a metal band - they don't even have a page on Encyclopaedia Metallum and the band's official website classed their genre as "rock".
Well is something obvious, she sing in a nu metal/alternative metal band
This pretty woman with angelic voice likes death metal.
Yeahhh I can tell by her music! Awesome! I love her.
Paris-Michael Katherine Jackson
Paris Jackson is Michael Jackson's daughter. Yep, The King Of Pop's daughter is a metalhead! Her favorite band is Metallica. She goes to live metal shows and I've seen pictures of her with the metal horns gesture.
Margot Robbie

Margot Elise Robbie is an Australian actress. Robbie started her career by appearing in Australian independent films in the late 2000s. She got her big break in 2013 with The Wolf of Wall Street, where she was acclaimed for her performance, and being hailed "the hottest woman I've seen in a while" by ...read more.
Stephen King

Stephen Edwin King is an American author of contemporary horror, supernatural fiction, suspense, science fiction, and fantasy. Many of his most well-known novels include Carrie, It, The Shinning, The Stand, Misery, The Dark Tower series, and Rita Hayworth and the Shawshank Redemption, which was later ...read more.
He likes Metallica, Anthrax, and Judas Priest.
Christopher Lee

Sir Christopher Frank Carandini Lee (1922-2015) was an English actor, singer, and author. He was best known for his villainous roles in films such as Dracula in the Hammer Horror films, Francisco Scaramanga in the James Bond film The Man with the Golden Gun, Saruman in the Lord of the Rings and Hobbit ...read more.
Prince Harry

Prince Henry of Wales commonly known as Prince Harry, is the younger son of Charles, Prince of Wales, and Diana, Princess of Wales.
He likes some old school metal bands.
He's a fan of the big four of thrash.
Snoop Dogg

Cordozar Calvin Broadus, Jr., (born October 20, 1971) known professionally as Snoop Dogg, is an American rapper, actor, record producer, and television personality from Long Beach, California.
I even saw him wear a Metallica shirt one time.
Yeah, he even covered Sad But True by Metallica. - NikBrusk
Never tough he likes metal.
Dave Grohl

David Eric "Dave" Grohl is an American rock musician, multi-instrumentalist, singer, songwriter, producer and film director. He is best known as the former drummer of the hugely popular 90s grunge band Nirvana and the vocalist/guitarist for the alternative rock band Foo Fighters. He has sat behind the ...read more.
He is a fan of Canadian metal band Voivod - not sure if he still is but in an interview he was talking about his younger years and said Voivod blew his mind in the 80s.
Chris Hemsworth

Chris Hemsworth is an Australian actor. He is best known for his roles as Kim Hyde in the Australian TV series Home and Away and as Thor in the Marvel Cinematic Universe films Thor, The Avengers, Thor: The Dark World, Avengers: Age of Ultron Thor: Ragnarok, Avengers: Infinity War and Avengers: Endgame. ...read more.
Jada Pinkett Smith

Jada Koren Pinkett Smith is an American actress, dancer, singer-songwriter, and businesswoman. She began her career with a guest appearance on the short-lived sitcom True Colors in 1990.
She was in a Nu-Metal band called Wicked Wisdom
This is interesting, I didn't expect it.
Jessica Pimentel
Daniel Radcliffe

Daniel Jacob Radcliffe is an English actor who rose to prominence as the title character in the Harry Potter film series.
Mickey Rourke

Philip Andre Rourke Jr., known professionally as Mickey Rourke, is an American actor, screenwriter, and retired boxer, who has appeared primarily as a leading man in drama, action, and thriller films.
Joko Widodo

PSearch List