Top Ten Coolest Actors
Try defining "cool." It's next to impossible to explain verbally. Perhaps the best way is to give an example, and these actors provide the best of those.
The Top Ten
Clint Eastwood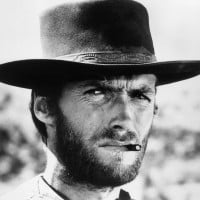 Clinton "Clint" Eastwood Jr. is an American actor, film director, producer, musician, and political figure.
Coolest man on this planet. Clint Eastwood. Who are Chuck Norris, Arnold Schwarzenegger, Sylvester Stallone, Vin Diesel, Jason Stratham or John Wayne?
Clint is one of those "block of wood" actors who manage to pull off a role because of their charisma. You just can't beat "Go ahead, make my day."
A Badass. The coolest actor on the planet.
Great actor, great person.
Sean Connery

Sir Thomas Sean Connery is a retired Scottish actor and producer who has won an Academy Award, two BAFTA Awards and three Golden Globes.
He was the original James Bond. That alone justifies his position.
He made a big impression with just one simple Line:
My name is Bond, James Bond
Good choice for number 1!
James Dean

James Byron Dean was an American actor. He is a cultural icon of teenage disillusionment and social estrangement, as expressed in the title of his most celebrated film, Rebel Without a Cause, in which he starred as troubled teenager Jim Stark.
Coolest person of all time
Rebel Without A Cause
Icon of 'cool'.
Steve McQueen

Terence Steven "Steve" McQueen was an American actor. Called "The King of Cool", his "anti-hero" persona, developed at the height of the counterculture of the 1960s, made him a top box-office draw of the 1960s and 1970s.
Definitely top for me. The motorbike chase in The Great Escape is one of the best scenes in film history!
He's also known as "The King of Cool".
Cary Grant

Cary Grant, born Archibald Alexander Leach (January 18, 1904 – November 29, 1986) was a British-American actor, known as one of classic Hollywood's definitive leading men. He began a career in Hollywood in the early 1930s, and became known for his transatlantic accent, debonair demeanor, and light-hearted ...read more.
He played lead roles in four Hitchcock films (Suspicion, Notorious, To Catch a Thief, and North by Northwest)--more than any other actor except James Stewart.
Harrison Ford

Harrison Ford is an American actor and film producer. He gained worldwide fame for his starring roles as Han Solo in the original Star Wars epic space opera trilogy and the title character of the Indiana Jones film series.
Paul Newman

Paul Leonard Newman was an American actor, film director, entrepreneur, professional racing driver and team owner, environmentalist, activist and philanthropist.
Jack Nicholson

John Joseph Nicholson (born April 22, 1937) is an American actor and filmmaker, who has performed for over 60 years. Nicholson is known for playing a wide range of starring or supporting roles, including satirical comedy, romance and dark portrayals of antiheroes and psychopathic characters. In many ...read more.
Robert DeNiro

Robert Anthony De Niro Jr. is an American actor, producer, and director. De Niro was cast as the young Vito Corleone in the 1974 film The Godfather Part II, for which he won the Academy Award for Best Supporting Actor.
Al Pacino

Alfredo James "Al" Pacino is an American actor and filmmaker. Pacino has had a career spanning more than five decades, during which time he has received numerous accolades and honors.
The Contenders
Humphrey Bogart

Humphrey DeForest Bogart was an American screen actor whose performances in iconic 1940s films noir such as The Maltese Falcon, Casablanca, and The Big Sleep earned him status as a cultural icon.
Just watched the oh so wonderful Casablanca again. This man just oozes cool! "I stick my neck out for nobody."
Bogey might be the most quotable actor ever through Casablanca alone.
Marlon Brando

Marlon Brando, Jr. was an American actor, film director, and activist. He is credited with bringing a gripping realism to film acting, and is often cited as one of the greatest and most influential actors of all time.
Michael Caine

Sir Michael Caine, CBE (born Maurice Joseph Micklewhite, 14 March 1933) is an English actor, producer and author. He has appeared in more than 130 films in a career spanning 70 years and is considered a British film icon. Known for his cockney accent, Caine was born in South London, where during his ...read more.
Michael Caine even managed to be cool when voicing an animated car, but my favourite was his performance beside Steve Martin in Dirty Rotten Scoundrels.
Gene Hackman

Eugene Allen "Gene" Hackman is a retired American actor and novelist. In a career that spanned nearly five decades, Hackman was nominated for five Academy Awards, winning Best Actor in The French Connection and Best Supporting Actor in Unforgiven.
Patrick Swayze

Patrick Wayne Swayze was an American actor, dancer, singer, and songwriter. Having gained fame with appearances in films during the 1980s, he became popular for playing tough guys and romantic lead males.
Robin Williams

Robin McLaurin Williams was an American actor and comedian. Starting as a stand-up comedian in San Francisco and Los Angeles in the mid-1970s, he is credited with leading San Francisco's comedy renaissance. He died in 2014.
Tim Curry

Timothy James "Tim" Curry is an English actor, voice actor and singer, known for his work in a diverse range of theatre, film and television productions, often portraying villainous roles or character parts.
Tony Jay

A awesome actor!
Awesome!
Morgan Freeman

Morgan Freeman (born June 1, 1937) is an American actor and narrator. Freeman won an Academy Award in 2005 for Best Supporting Actor with Million Dollar Baby (2004), and he has received Oscar nominations for his performances in Street Smart (1987), Driving Miss Daisy, The Shawshank Redemption and Invictus. ...read more.
Look! The man!
Colin Fox
Bruce Lee

Bruce Lee was a Hong Kong American martial artist, action film actor, martial arts instructor, philosopher, filmmaker, and the founder of Jeet Kune Do.
Clark Gable

William Clark Gable (February 1, 1901 – November 16, 1960) was an American film actor, often referred to as "The King of Hollywood" or just simply as "The King". Gable is considered one of the most consistent box-office performers in history, appearing on Quigley Publishing's annual Top Ten Money ...read more.
He's also really good in "It Happened One Night". His acting is so cocky and confident, I love it!
Just watch his performance as Rhett Butler in Gone With the Wind.
Will Smith

Willard Carroll "Will" Smith, Jr. is an American actor, comedian, producer, rapper, and songwriter. He is best known for his acting career overall. He has been in many popular movies, These include, but are not limited to, the Men in Black franchise, The Pursuit of Happyness, and After Earth. He is ...read more.
Will Smith, classic
Leonard Nimoy

Leonard Simon Nimoy was an American actor, film director, photographer, author, singer, and songwriter.
Peter Dinklage
PSearch List