Best Male Country Singers of All Time
The Top Ten
1
Johnny Cash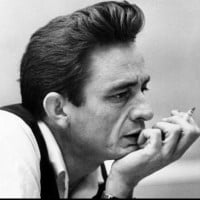 John R. "Johnny" Cash (1932-2003) was an American singer-songwriter, guitarist, actor, and author, who was widely considered one of the most influential musicians of the 20th century and one of the best-selling music artists of all time, having sold more than 90 million records worldwide. He died of ...read more.
Johnny I agree, but who came up with this list? I see some of the all time greats, Hank Williams..Willie Nelson, etc? In what alternate universe is Florida Georgia line on a list and Merle Haggard not seen? Just one of many. As for today's artists, Chris Stapleton is above and beyond anything you hear on the airwaves today. My opinion.
I grew up with his spectacular voice and his great T.V. performances. He was so cool back in them days.
Indeed a boss! No one can stop him but what about Charlie pride?
Hank you to the 11% who voted Johnny #1, this guy deserves to be on the list but really, Luke Bryan, Florida Georgia line, that stuff is a pathetic excuse of country music
2
George Jones
Hard to pick among the best of the great. But at his best, nobody ever did - or ever will - beat George Jones in a singing contest... At least as long as I'm A judge.
I'm a 68 year young country radio and live mobile dj and a charter member of the ACM since 1967. I loved Waylon Jennings as a singer and a person but even the Chief said "if we could all sound any way we wanted we'd all sound like George Jones". Admittedly in his last few years his voice lost much of his rich timber and range but take for example the remake of "He stopped loving her today" which George considered "the way I should have recorded it the first time". I've played it for people who SAY they don't care for country, (that and 50,000 names) and they are in tears before its done. Possum power!
And one of the most fascinating kind funny and intelligent entertainers in ANY genre who ever lived. Today's greatest living country singer: Vince Gill. Thanks!
George had a golden voice that really can't be compared to anyone else. It was distinctive, as was his style. He had an instinct about hit songs...how he found them or if the songs found Jones doesn't matter. He was gifted in many ways and we are truly blessed to have had him around for as long as we did. Your music will always be held up as the gold standard.
Every country music legend will tell you that George Jones is the king! Period.
3
George Strait
Of all the things he has accomplished, #1 songs, albums etc... I believe George Strait has earned the title the king and should be at the top.
George is the real king. There is no singer ever with his current influence. Brooks and Dunn are next.
50+ number ones of quality hits over 4 decades! Enough said.
George is great, but the real king is George Jones.
4
Hank Williams

Hiram King "Hank" Williams, was an American singer-songwriter and musician. His band was called "The Driftin' Cowboys"
Hank was the greatest country singer that ever got behind a microphone, and comparing his songs to johnny cashes copied folsom prison, johnny can't even be in the same room, there's only a few real country artists out there, and hank was the best!
Most influential singer and songwriter of all time. All of the best singers name him as an influence. Hank was the best singer to ever walk the streets of nashville.
Other than Jimmie Rodgers there were ""No"" country singers before Hank who this Englishman started listening to in 1951/2 and just thin he's the greatest.
The pioneer of modern country music and second only to Johnny Cash. Died too young
5
Blake Shelton

Blake Tollison Shelton is an American country singer and television personality. In 2001, he made his debut with the single "Austin".
My wife and I just love Blake. He is so country and does everything he can to promote country music. He has been an advertisement for country music,on the Voice. He has done an excellent job mentoring the country talent that he picks and out of his 5 wins 4 have been country singers and 4 have been runners up and 1 third place. After they are on his team he continues to promote them like taking last years winner Sundance Head on tour with him this year. Above that, Blake has a great voice and always produces top hits and albums. Our favorite is Ol' Red. Unfortunately, Vlake was overlooked for nomination in entertainer of the year and best male vocalist in the upcoming ACM show.
Blake is a genuine one-of-a-kind country music singer and entertainer! He is the complete package and the best I've ever seen in concert! He deserves the highest and best awards country music has to offer.
Blake has the best voice and is SO good live it is astounding! He also has the aw shucks charm and those baby blues.
Love Blake - once I started listening to him I realized the rest just sounded so generic & boring!
6
Willie Nelson

Willie Hugh Nelson is an American musician, singer, songwriter, author, poet, actor, and activist. The critical success of the album Shotgun Willie, combined with the critical and commercial success of Red Headed Stranger and Stardust, made Nelson one of the most recognized artists in country music.
Not a terrible list, but both Willie and Merle Haggard need to be top 20 if not top ten.
7
Waylon Jennings
Waylon, Blake and Eric if that's how it works.
I admit I'm old and can't see well enough to read up. So voted up one for each on those three tonight. Goodnight bc Grandma needs some sleep LOL, 💤
I know my old friend Waylon is already gone, Blake and Eric are both good but Blake would still appreciate me although he's already successful. He's not full of himself enough to forget his old friend, the old mountain woman and other coal miner's daughter LOL. So I have to keep the love for Him going! Sure Eric still has lots of talent but is loving himself enough for him and me both where Blake will always need me. We go way back. I live close to Eric but love close to Blake, just a click away. WAYLON: Has always had the voice to melt my heart so as long as his music lives, he lives on ♥️
No disrespect to Jesse, as they were made for each other, King and Queen of Outlaw County Music.♾
Waylon was like the stallion in the sky. The angels of heaven circle him to honor him as he rides his horse through heaven. And when you hear his music on earth it's like the earth angels are everywhere!
No frills no fancy backup just pure raw talent that sang frome the roots of his soul. no one could change him or his style. he remained true to himself the the very purest country music was ever meant to be NUMBER 1 now and always..none have the courage to follow his footsteps..RIP the true OUTLAW!
Waylon behind Blake Shelton and Luke Bryan? Come on! and I'm sorry but Johnny Cash is behind no one.
8
Garth Brooks

Troyal Garth Brooks is an American singer and songwriter. His integration of rock and roll elements into the country genre has earned him immense popularity in the United States.
Garth Brooks was the first country singer to "crossover" into the mainstream like no one had done it before. I saw him just before he hit national fame at Grahams in Oklahoma City. I remember he dedicated a song to his favorite 3 country singers; George Jones, George Jones and George Jones. At the time I had never heard of him being from Brooklyn and not a real country fan. I was there to dance and was surprised that a crowd was gathering around his band instead of dancing; but I remember saying that he was pretty good for a country singer. Little did I know.
I was introduced to Garth Brooks a couple days before we went to see him in Hamilton, and although country isn't really my cup of tea, I gotta admit that I really liked that concert!
When Garth crossed over he should have kept going. Lost interest in him when he started going wild and breaking guitars on stage.
Love Garth for his generosity to the LGBT community. His support for human rights is unparalleled.
9
Kenny Rogers

Kenneth Ray "Kenny" Rogers was an American singer, songwriter, actor, record producer, and entrepreneur. He was a member of the Country Music Hall of Fame.
Kenny is a great singer. I love his songs, they thrill me. He needs to be ranked a little higher. Come on people vote for him!
Have to agree with your comment. My Mother likes him so he gets my vote.
Makes you know there is always hope in a
All aspects of life!
Kenny is the best of all in my opinion, nobody can embody a song like he does, you feel his pain, soar with his joy, he is just the best
10
Luke Bryan

Thomas Luther Bryan, known professionally as Luke Bryan, is an American country music singer and songwriter.
Luke has an amazing attitude and such great energy on and off stage. He's also an absolutely amazing singer and sounds awesome on the radio and in person his songs are also relatable and inspire so many people to go get there dream so if you ask me he his the best country singer ever!
Luke is the best singer that ever walked the face of this planet! Have you like never heard his songs! He is so sweet and a great father!
How is he not in the Top Ten? I mean, have ANY of you heard "Most people are good" or "Country Girl (Shake it for Me Girl)? Seriously.
Like bryan is awesome. I have been listening to his songs since I was born. Now I'm in fifth grade.
The Contenders
11
Kenny Chesney

Kenneth Arnold "Kenny" Chesney is an American country singer and songwriter. He has recorded 20 albums, 14 of which have been certified gold or higher by the RIAA.
12
Brad Paisley
He has the most beautiful love songs! Yet he also has the best sense of humor and he's so great w his funny songs! He gets what the issues are too and he takes chances... And I love his voice!
Brad has such a gift for his song writing and singing. I'm from the Phila area and wish they would play his music more.
I've been listening to him since I was born. He is absolutely the best! I just love him!

Rebecca
So relatable to his down home feelings!
13
Alan Jackson
Alan writes and sings "REAL" country. His voice is so distinctive...he's up there with George Jones and Randy Travis. Love him!
Absolutely hands down the best country singer/songwriter ever!
Made you proud to be from a small town!
The best country male singer ever!
14
Eric Church
Eric church is best county singer of these days.
Yes he is the complete package. So amazing
He is defiantly my favorite! He's amazing.
He should be number 1!
15
Jason Aldean

Jason Aldine Williams, known professionally as Jason Aldean, is an American country music singer. Since 2005, Jason Aldean has been signed to Broken Bow Records, a record label for which he has released eight albums and 24 singles.
His good songs are written by Brantley Gilbert. Go Brantley Gilbert!
I love your songs. I'm your biggest fan. From Shelby.
Top ten for sure
Come on even Keith urban is top ten aldean should definitely be ahead of him
16
Darius Rucker
He's one of my favorites
17
Kris Kristofferson
Besides been an American hero from the Vietnam war he is also a terrific singer of all times god bless him and all country singers. don't let anybody tell you any different
18
Randy Travis

Randy Bruce Traywick, known professionally as Randy Travis, is an American country music and Christian country music singer, songwriter, guitarist, and actor.
Such a distinctive voice. He, too, can make your mood change.
Real country voice. What is played today is not country.
Makes you know their is a higher power!
Randy is the best thing to happen to country music since george jones
19
Vince Gill
Most talented combined with versatility of all.
He can bring me up or down in an instant.
Most beautiful male voice ever.
20
Glen Campbell

Nobody on this list is in the class of Glen Campbell playing and singing.. It was like a bird flying... He did it with ease.. I miss him already.
Amazing voice and style
21
Eddie Rabbitt
Gone way too young! Amazing singer.
22
Dierks Bentley
I love his song what was I thinking. He should be number three after second Florida Georgia line and first Brantley Gilbert
He is so down to earth and I love his smile.
23
Keith Urban

Keith Lionel Urban is a New Zealand born Australian country musician. In 1991, he released a self-titled debut album and charted four singles in Australia before moving to the United States the following year.
Oh come on. I couldn't be the only one who's commenting and sharing my opinion on Keith.
READ! This isn't a list for only American country singers.
Not sure WHY he isn't #1. Come on, America
He is an amazing guitar player!
24
Hank Williams Jr.
Hank made country music what it is today. They brought electric guitars in country because of him
The man can write music, but he ain't the sharpest knife in the drawer.
He truly lived out the songs he sung.
25
Merle Haggard

Merle Ronald Haggard was an American country singer, songwriter, guitarist, and fiddler. Along with Buck Owens, Haggard and his band the Strangers helped create the Bakersfield sound.
Merle was awesome and unbelievable so many listed above him! Such an unbelievable talent. So happy I was able to see him live in 1991.
Just an Original, maybe the best ever, but very unique, I would call him an
American Idol if not an Icon. Glory on Him.
It makes me sad that he isn't number 1. At least he will be number 1 in my life, always and forever.
Seeing Luke Bryan and Florida Georgia Line above makes me want to commit suicide.
PSearch List