Best Disney Channel Show Theme Songs
The Top Ten
1
Wizards of Waverly Place "Every Thing is Not What It Seems"
I heard it and I couldn't believe this is the theme song usually a good song like this has it's own name instead of being seen on T.V. as a theme song. Selena gomez has such a good voice! Keep up the good work!
It is MAGICAL! I love it so much. It's catchy, fun to list me to and it has a good beat!
Great voice, great acting, great show. The theme song itself is just beautiful.
I love the song. Selena Gomez does have an amazing voice. Keep up the good work Selena
2
Kim Possible "Call Me, Beep Me"
This song s really catchy! The first time I heard it the song was in my head for weeks. I've heard it so many times that I know it by heart now.
This is a classic! Honestly, it should be at the top. It's so catchy that literally EVERYONE knows it by heart!
The theme song should be number 1. Definitely catchy and a classic.
What's with cartoons being so under-appreciated on this list?
3
Good Luck Charlie "Hang in There Baby"
Good Luck Charlie is one of my most passionate T.V. shows that I really care about more than any other Disney Channel show! I am totally obsessed with the theme song, Leigh Allyn Baker ( I am obsessed with her because she is funny and I loved these moments when she was pregnant twice, it was really funny), Bradley Steven Perry, and the adorable Mia Talerico! I cannot offer about her because she is the cutest little Disney star I have ever seen in my entire life! I really am in love with this show so much! I never want to stop watching it like forever! Haha! But really.. I am obsessed about it! When I first started watching it, I became obsessed with it like right away and I became interested when I found it on Netflix once.. So.. It was good! I really want to meet them super badly! It has been my dream to meet Leigh and Mia! I would be like very shocked!
It is cool. I like bridgit mendler. She is cool, nice, pretty, beautiful, generous, kind, smart, helpful.
Bridget Mendler's voice is amazing.
This song always brings my mood up!
4
Hannah Montana ''The Best of Both Worlds''
I always watch Hannah Montana at 9.00pm and when the theme song comes on I always jump out of bed and either sing or dance to it it's why I love it so much it gets me up and of my feet
Best one ever
5
Phineas and Ferb "Today is Going to Be a Great Day"
I love this show. THE fact it going to end makes me sad. But old and new ones there all the best.
This song should be #1 for its nostalgia and catchiness and creativity. I love this theme song!
Why is his number 15?! Should be number 1
6
Liv and Maddie "Better in Stereo"
I love dove Cameron and Liv and maddie they should be first not sixth In my opinion this is the best show that airs on T.V. at the time right now
I'm under the spotlight! (Holler) I dare you come on and follow! You dance to your own beat! I'll sing the melody!
I love it. It is the best liv has a very nice voice.
Better in stereo
I'm up with the sunshine
I love Dove Cameron and this song is the best! Her voice is so beautiful
7
Shake It Up "Shake It Up"
I love the show and the song! Absolutely deserves to be number 1! It just makes you want to get up and dance! Everybody, evrybody, get out on the floor!
Shake It Up? more like Shake It Down, this show is too Inappropriate for all ages.
I love. Shake. It up. Love. You your. The. Best
! This theme song is so catchy
8
Gravity Falls "Made Me Realize"
Seriously, #11? This should at least be in the top 10! It may have no lyrics but the beats and music is so catchy as call me maybe! (I'm so sorry). But still, this song is like an imagination generator. once you hear it it's like your in a journey through your mind and a place of wonders and mysteries, And it gets stuck in your head, in a good way..
The Gravity Falls theme song literally ties up with the theme animation and actually suited the show. Even though there's no lyrics, the theme song still stands out amazingly. Once you hear the theme song you can't get the awesomeness out of your head.
I love the Gravity Falls theme song. It should be higher on this list. It's so magical and mysterious which makes it perfect for the show. I juts love hearing and will never get bored of it.
This should be at least in the top 3. This is the best theme song. No lyrics but catchy. Gives you the feeling that darkness is coming. Every other Disney show sucks
9
That's So Raven "That's So Raven (Main Theme)"

Love it. One of the best in Disney History.
It's so catchy!
10
Austin and Ally "Austin and Ally Theme"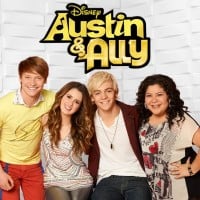 When the crowd wants more I bring on the thunder cause you got my back and I'm not going under cause your my boy your my guard you're the perfect cord and I see our names together on every billboard I'm heading for the top got it online we'll make em say HEY! cause we'll keep rocking OH! there's no way I can make it without do it without you it's no fun when your doing a solo with you it's like whoa! yeah and I know III! own this dream cause III! got you with me there's no way I can make it without you be here without you. whoever tried to type the theme song did it terribly you put your my point it's your my boy not point and put I-I-I got the string It's III! own this dream not I-I-I got the string.
Most editing in a theme song video ever. I seriously love the editors of this show! Ross' singing is also really amazing. That kid has some talent!
I love Austin & Ally. They set a great role model for young disney watchers; while being cute, adorkable, and funny all at the same time. Plus they all are really good singers.
It's so romantic and comedy romandy. and also they are so into music like me. because I'm good at music. And one last thing, their so good at singing, I like every song they sing especially when their singing together.
The Contenders
11
Duck Tales Theme "Ducktales"
How is this NOT #1? One of the greatest and most iconic theme songs of all time?!
12
A.N.T. Farm "Exceptional"
Wasn't super catchy but it had a good message to it.
Should be #1. Obviously the best sung.
China is a good singer
It should be number 1
13
Kickin It "Kickin It"
Woah, all my fave Disney theme songs is here! These are numbered the best in Disney history:

1. 'Raven's Home main theme'
2. 'Hang in There Baby'
3. 'Exceptional'
4. 'Kickin It main theme'
5. 'That's So Raven main theme'
6. 'Shake it Up main theme'
7. 'Hey Jessie'
8. 'Better in Stereo'
9. 'So Far So Great'
10. 'Even Stevens Main theme'

Best theme songs ever created, it can't get any better than this. No show can. You can try, it won't work, I guarantee. Disney, you created awesome themes. thanks
It is awesome and super catchy! I new the whole thing off by heart after watching it once! I love this show and the theme song is my favourite! I can't believe it's only 4th on here!
This is my Favorite theme song Ever from Disney!
Ninja people are awesome
14
Girl Meets World "Take on the World"
This song makes me want to take on the world!
Maya Hart is my favorite character. She's funny and more realistic than Riley. I still like Riley but not as much as Maya.
This my most favorite song ever! I love this show I finished all 3 seasons in 4 days. bought the song on my phone. Why is this down here. Bring it up to number one disney fans. Take on the world!
This is my most favorite song ever! I love this show. I finished all 3 seasons in 4 days. Why is this down here. Bring it up to 1 Disney fans. Today(January 28 2019) this song is 4th. Don't remember to "take on the World"!
So cool. Our country is doing a karaoke 'Take on the world' it's took off so much (Soon it will be in the top 100 charts).
15
My Babysitter's a Vampire "Girl Next Door"
I bought this song iTunes and now I know it by heart. Only because she's the girl next door. Nice but naughty with a heart that's pure.
I didn't even know this show was Disney Channel- but I don't care. I love this show, and its theme song.
I always thought this was catchy. Who sings it?
Most catchy disney theme song of all time!
16
The Suite Life on Deck "Livin' the Suite Life"
This and the suite Life of Zac and Cody are the best Disney Channel T.V. shows ever! (Wizards of Waverly Place's not bad too! ) and their theme songs just make it better!
Oh-ay-oh, this boat's rocking'! It's been a while since I've watched this show but this theme song was by far the most catchy!
Amazing! The first line is so catchy itself "come along with me, and lets head out to sea what this world has for you and for me now"
The Suite Life on Deck's "Livin' the Suite Life" was by far the best theme song of all time!
17
Star vs the Forces of Evil "I'm from Another Dimension"
18
Sonny with a Chance "So Far So Great"
So far, you have been so great, Demi Lovato. Heck, even greater than Sonny With a Chance.
This was a good song
19
Jessie "Hey Jessie"
Yep, fifteen sounds about right. Honestly, Debby's so AutoTuned, and if you listen to the lyrics, some of it sounds really cheesy.
Can be cheesy but it is the sound of childhood. Also we all miss Cam...
Alright, you cannot deny how catchy this song is.
Great show, but I hate how the theme is saying "Hey JesSAY" a billion times!
20
Proud Family "Proud Family Theme Song"

One of the best theme songs so unique and so catchy how can you not sing to it!
21
The Suite Life of Zack and Cody "Here I Am"
I just love it
It's the best Disney Channel series!
It should be higher than High School Musical!
How could this song be at 32?
It's really awesome and I love the suite life of zack and cody I wish there was a fourth season
22
Lilo and Stitch: The Series "Aloha, E Komo Mai"
23
I Didn't Do It "Time of Our Lives"
This song's much better than some stupid Sofia the First song.
24
Cory in the House "Cory in the House"
My favorite anime theme song of all time.
25
K.C.Undercover "Keep It Undercover"
Great theme song. It's not catchy, but it's not annoying. An averagely good tune. I'd put it on my playlist.
I love K.C. Under cover and I really love the theme song!
Love the theme song
This is my jam!
PSearch List