Top Ten Early Punk Bands that Casual Punk Fans May Overlook
These are bands that most punks know but the casual fans may overlook. For the most part I had some current TheTopTens users in mind. I'll add a few more when the list clears. Also, if anyone has any recommendations, please add them.
The Top Ten
1
The Weirdos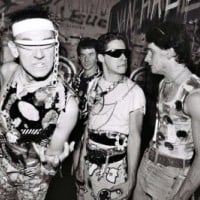 L.A.'s first punk band. First performed in 1977. Named by most punk bands, especially in California, as a major or primary influence. Circle Jerks, The Descendents, Black Flag, D.I., Adolescents, Social Distortion, The Dils are just a small few who name The Weirdos as an influence. Many critics agree that John Denney is one of the greatest frontman in punk history. Kinda of weird that so many bands give The Weirdos their "props" but are overlooked by so many punk fans. I think maybe it was because of timing. They didn't release a full-length album until 1990. Just a lot of singles and a few EPs. The "Neutron Bomb" single with "Solidarity Confinement" on the B-side released in 1978 is considered to be one of the greatest "one-two punch" single in punk history by punk and music critics. Not a hardcore band but more of a The Clash-like tempo. Great music, great lyrics, just a great band that's fun yet dark with great live shows even to this day. I'm super stoked ...more
2
The Saints

I feel that they are severely overlooked being that when people discuss "the first punk bands" they are never mentioned. Everyone brings up The Ramones, The Pistols and The Clash. No one mentions The Saints. "I'm Stranded" LP was released and distributed internationally in February of 1977 (compared to The Sex Pistols' October release of "Never Mind The Bollocks, Here's The Sex Pistols") The single "I'm Stranded" was released prior to the album in 1976. And anyways, when it comes to U.K. punk, Generation X, The Vibrators and I believe The Buzzcocks all had releases before The Pistols. I also think "I'm Stranded" is a better album then "Never Mind The Bollocks". I think people overlook or forget about The Saints because they pretty much abandoned their punk sound after their first two albums.
3
Jello Biafra with D.O.A.

Noticing a handful of Dead Kennedy's fans on the site, I want to add this album in case they overlooked it. "The Last Scream of The Missing Neighbors" is a must listen to Dead Kennedys/Jello Biafra fans. Punk legend and icon Jello Biafra with one of the original hardcore bands in D.O.A. is a killer combo.
4
The Partisans

When talking about U.K. hardcore most bring up G.B.H., The Exploited, Subhumans, Crass, and Discharge (all great bands). I feel The Partisans should be mentioned in the same breath as those other bands. Their self-titled debut LP is a must have punk classic.
5
Subhumans (Canada)

I feel are overlooked due to the popularity of the U.K.'s Subhumans. Their "Death to the Sickoids" single, "The Subhumans" EP, and "Incorrect Thoughts" LP are all great punk rock.
6
N.O.T.A.

None Of The Above. A bit obscure but hardcore and thrash fans should definitely check out their self-titled LP. Besides that most of their albums are out of print and coming from Oklahoma, I think they were overlooked due to the timing of their self-titled albums release in 1985. They only had a little bit of time to "get out there" due to that wave of hardcore dying out in 1986.
7
Adrenaline O.D.

Another hardcore band that I feel is overlooked due to the popularity of the more common hardcore bands. Hardcore and Thrash fans should check out "The Wacky Hijinks of Adrenaline O.D." album released in 1984.
8
The Flesh Eaters

Very different and unique. Definitely not for everyone. They have a Pyschobilly, Blues, Goth, Punk sound going on. Great band nonetheless.
9
Broken Bones

Hardcore and thrash fans should definitely give these guys a try. Especially if you like Discharge and G.B.H. This band "evolved" from Discharge. Their early stuff, in my opinion, sounds like a hybrid of Discharge and G.B.H. Their "Dem Bones" LP and "I.O.U. Nothing" EP are great punk records. They later went full-on crossover thrash so metalheads might want to check both their early and later stuff.
10
Poison Idea

I have this band on here mainly for the many hessians on this site. I feel metalheads, who really dig thrash, may overlook this hardcore punk band. I think head-bangers might dig their "War All The Time", "Feel The Darkness" and maybe even "Kings of Punk" albums. They have one of punk's greatest guitarist in Pig Champion and punk drummers in Slayer Hippy (Feel The Darkness and War All The Time).
The Contenders
11
The Pagans

If you like The Dead Boys, good chance you'll like The Pagans. Great Cleveland, Ohio early punk rock band.
12
The Gears

An early Los Angeles punk bank that flew under the radar a bit. Fun loving punk band with a splash of rockabilly to their sound.
13
The Stitches

Not as early as the other bands from this list but they've been around for 25 years so I think that qualifies. They had a different sound to them during the time all Southern California punk bands were sounding the same (mid 90s). The popular bands at the time like Lagwagon, Strung Out, Pennywise and many more were following the blueprint at the time laid out by Bad Religion and NOFX. But The Stitches still had that 70s sound to them but modernize. Their album 8 x 12 is one of my favorites albums released in the mid 90s. Great album from beginning to the end. One of my favorite bands to see live. Frontman Mike Lohrman is awesome.
BAdd New Item