Top 10 Best Snacks at Disneyland
Not quite looking for a sit-down, or a full meal at the happiest place on earth? Here are a the best snacks in the park.

The Top Ten

1 Turkey Leg

There's a cart in the middle of the park, or at the end of Main Street. There's a cart in Frontierland, overlooking the steamboat ride, and there's a cart in Fantasyland by the Matterhorn. Nothing like them! I can't even eat normal turkey anymore!

That's not a snack. It's a meal!

2 Dole Whip

This ray-of-sunshine treat is found at the entrance of Adventureland in front of the Tiki Room. If that line is less than 20 people long, you jump in it just out of principle!

3 Churro

Possibly the best dessert ever: light, fluffy, with a little crunch, with cinnamon and sugar coated over warm, deep-fried goodness. Get one of these with a hot chocolate (milk) to dip into, and it is dreamy.

Found throughout the park.

It's perfect. Stay away if you don't like to taste something and go, "It's the best thing ever! I can't believe it's so good!" No, seriously! You won't like it! I will sacrifice myself for you by eating it all. Yes, it's not tasty in the least, so leave it all for me! >:(

4 Corn Dog

Only one corn dog stand, at the end of Main Street, by the first aid center and the photo shop. I don't even like corn dogs from anywhere else, but I make sure I don't leave Disneyland without one!

This qualifies as a meal and not a snack. I had one from Corn Dog Castle and it was filling (and so delicious!).

5 Dill Pickle

Found in the fruit/veggie stands. Those things are huge!

6 Cinnamon Roll

Could be considered a meal. They're so big and delicious. But as they are served out of a cart in the middle of the park, I'm going to call this a snack.

7 Ice Cream

I personally love the Mickey head, but all my friends love the chocolate-covered frozen bananas.

8 Pineapple Spear

Big, juicy spears found at the fruit and veggie stands.

9 Popcorn

As abundant as churro stands.

10 Sliced Mango

Fruit stand. Great deal.

The Contenders

11 Frozen Lemonade

12 Fruit Jelly

13 Pizza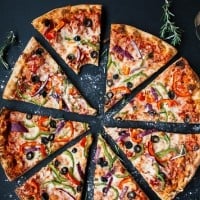 Pizza is a yeasted flatbread generally topped with tomato sauce and cheese and baked in an oven. It is commonly topped with a selection of meats, vegetables and condiments. The term was first recorded in the 10th century, in a Latin manuscript from Gaeta in Central Italy.
14
Pretzels
Anyone who sees Auntie Anne's will crave picking up a pretzel on the spot. This one is, no doubt about it, #1 on the list.
Once anyone sees an Auntie Anne's concession in sight, they will just crave a pretzel on the spot.
15 Elephant Ear
16
Mint Julep
I know it's not a snack per se, but for me, this unique treat from the hidden sanctuary of The Mint Julep Bar is a vacation from my vacation. Also, the ones available at The Blue Bayou have endless refills if you're an addict like me!
17
Funnel Cake
I love funnel cake!
18 Tigger Tail
19 Fried Pickles
BAdd New Item