Top Ten Best NFL Quarterbacks of All Time
The Top Ten
1
Joe Montana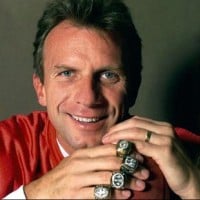 Joseph Clifford "Joe" Montana, Jr., nicknamed Joe Cool and The Comeback Kid, is a retired American football quarterback.
People say it was the system that won. He, Rice and Craig were the system. They were the prototype of a winning system. They won, they worked hard and they played FOR the team to win. Yes there are plenty of players with better individual talents, better arm strength better this or that but Joe had the magic. No matter what the score you always had a chance to win with him. Brady is the closest guy around. One last thing is he didn't lose games. The team might get beat but not because he lost the game. Favre has no place near these guys. He lost too many games himself. Interception and fumbles nice records to have if you play defense but not as a QB.
I have been a Montana fan since the beginning. His love for the game was shown through his play on the field. He definitely deserves the title of #1 quarterback of all time. I have always believed he made other players around him step up their game because of the way he played. I do feel that Peyton Manning should be #2 behind Montana as I feel
Peyton loves the game and shows it through his play. Both have overcome serious injuries to come back more determined to play the game they love the way they did before their injuries. These two superstars are fantastic athletes are definitely positive role models for everyone.
Unlike Tom, he won four rings in four tries. People are going to cry and whine about this next statement, but unfortunately it is true that his team did not get mixed up in the biggest cheating scandal in the NFL either. Ignoring all of that, he is the most clutch QB of all time. You can't really argue that. All respect to Bill Walsh, but Brady has played with Belichick his whole life. But this isn't just a list comparing Montana and Brady. People just automatically go to the ring argument every time. Montana may not be as smart as Manning, tough as Favre, the slipperiness of Elway, or have the arm of Marino, but he was number one in the most important category, which was the clutch. That's what you want out of your quarterback more than anything else.

Pats fans complaining about Stickum should try catching with a pair of modern receivers' gloves before they start in on Rice, too...
I still don't know if he was actually good or was it the west coast offense that dominated the 80s? His stats are decent but nothing incredible. Either way you have to respect his accomplishments.
2
Tom Brady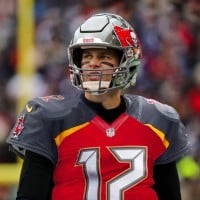 Thomas Edward Patrick Brady, Jr., is an American football quarterback for the Tampa Bay Buccaneers of the National Football League. Brady is known for being the only quarterback in history to win 7 Super Bowls, and is often considered one of the best quarterbacks of all time. Brady is also frequently considered to be the biggest steal in NFL history as a late 6th round pick. He had previously played for the New England Patriots from 2000 to 2019.
I've been studying the NFL quarterbacks since 1965. Bart Starr and John Unitas were clear standouts then but the game is much different today with so much more talent and competition. I didn't think anyone would ever surpass Joe Montana for his coolness, accomplishments, and smooth confident playing style, until Tom Brady started to come back after his 3rd Super Bowl win. At age 30 he plays like he is just getting warmed up. He doesn't have a Jerry Rice, or the consistently strong team around him like the 49ers of the 90's. He makes any receiver, big or small, look like a pro-bowler. His poise, pocket control, ability to read defenses, time control, completion percentages, vision, leadership and competitive passion place him, in my opinion, in a zone surpassing Montana. A fourth Super Bowl win should make it hard to argue against, and the records just keep piling up, and he's still improving into his 9th season.
If Brady plays just a few more years he will DOUBLE every number Montana put up including trips to the Super Bowl. He has already doubled up on some of Joes stats in the Post Season and may also double the total wins while still having a far superior win percentage. Only reason Brady may not be number one is because the media many years ago crowned Manning as the best and Brady made them all look like they had egg on their faces. His accomplishments are without comparison. Joe also played in the warm weather that inflates stats and had many more Hall of Fame players in support. Sorry, Brady hands down the best with no one in second place.
Tom Brady is not the best, he is a good quarterback, but he is spoiled by his offensive line, he blames his mistakes on others, and whines like a baby whenever he gets hit. More on being hit, when he is touched in the pocket he gets frantic and throws a crappy pass. when they won the suer bowl in his earlier years, he had Randy Moss, Wes Welker, Rob Gronkowski, Aaron Hernandez, an awesome o-line, The best head coach in the league (known for cheating), and an outstanding defense. And even one of the best kickers in NFL history, which also won them a Super Bowl. Sometimes folks, it's not all the QB. I think Mr. Manning is the best of all time if you ask me.
It's not hard to see boys and girls, a child can figure this out. (Yes I'm a child).
Tom Brady is closing in on # 1 but he's not quite there yet. He has the the best winning percentage, most playoff wins, 5 superbowl appearances, 3 superbowl win, 50 TD's in one year, 5 TD's in one quarter a 16-0 regular season and 17-7 playoff record. He's frequently done more with less than ANY other QB and when he did good receivers he put up monster numbers.

I know there's always the Manning and Brees argument. But they both make way too many mistakes to be considered top 3. Manning has 209 INT's that's ridiculous! And Brees forget about it. I don't care how many yards or TD's you throw for if you throw that many interceptions then you have average-poor decision making skills. Also Manning is awful in the Post season 9-11 is pretty bad. So Brady hands down has them beat. He'll undoubtedly be #1 if they can win one more SB.
3
Peyton Manning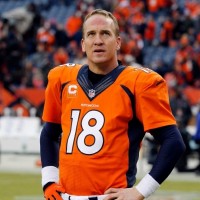 Peyton Williams Manning is a former American football quarterback who played 18 seasons in the National Football League for the Indianapolis Colts and Denver Broncos.
Enough of Tom Brady being better than Peyton Manning that's just crazy. I mean come on Peyton Manning has every thing you need in a quarterback, but Tom Brady his whole career has had a great offensive line, but Peyton Manning a lot of years had the WORST offensive line. Peyton Manning has a stronger, and more accurate arm than Tom Brady. Peyton Manning went to the playoffs 9 times straight tying an NFL record with the Tom Landry's Dallas Cowboys. Peyton Manning also works harder, plays harder, knows the game better, and has been in the league longer. Though Peyton only has 1 ring, and Tom 3 teams need Peyton. Peyton Manning and the colts went 10-6 and a loss to the jets in the Wild Card round who went to the AFC Championship. The Next The Colts went 0-13 before they finally won, went 2-14 overall, had 3 different staring quarterbacks alone that year, and got the number 1 overall pick in the NFL Draft with out Peyton Manning. I bet if Tom Brady was out for a whole season the Patriots ...more
It seems like he beats a record almost ever year. Peyton Manning has a great arm and probably one of the most clutch players ever the only one stopping him from being the most clutch is Montana, and Brady. Back to Peyton's arm he could play a game just throwing hail Mary's and complete 50% of his passes. He also has one most accurate arms ever and a 94.9 rate only Steve Young has a better rate. And in 2004 it was like he couldn't miss a receiver.399 touch downs is amazing he made all players on the colts who they are today. The only one that can possibly beat hi is Joe Montana. Manning needs to be higher on this list come guys vote for Manning.
Look, I'm a girl. I've been a Peyton Manning fan since age 8. That shows how great he is. Growing up in the Manning era, I was a fan of whatever team he's on. He just announced his retirement on Sunday, and I started crying. Peyton is the proof that you can suffer something significant and still go back, better as ever and completely ready. I do think that Peyton is the greatest, the only comparable QB is Joe Montana.
People who constantly compare Manning to Brady annoy me so much. I have great respect for Brady, but let's be honest here, those rings do not make a statement larger than Manning's records. Without Brady, the Patriots still went 11-5. Without Manning, the Colts were 2-14.
Peyton has had a remarkable career and undoubtedly deserves the top spot.
My goodness, when people are able to take personal and emotional bias out of their decision making (which is admittedly a VERY difficult accomplishment) Peyton Manning is clearly superior to all others except perhaps Joe Montana, and even that is arguable. For example, his defeat of the Patriots was stellar and he made it look easy. His performance was heads above Brady's. I do also have to admit I am a Steelers fan so I had to put the emotions aside with gritted teeth to write this. When you see greatness denying it is only a reflection of wistful thinking and flawed beliefs. I mean, after all, none are relatives or give us any of the money they make when they win!
4
Dan Marino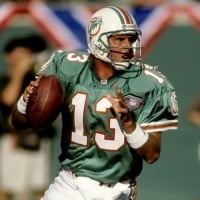 Daniel Constantine Marino Jr. is a former American football player who was a quarterback for the Miami Dolphins of the National Football League.
This was a hard decision to make because there are a lot of great quarterbacks with different styles and from different eras. Why I picked Marino over my other options (Peyton Manning, Drew Brees, or Johnny Unitas) is that he had the least amount of talent around him. Terry Bradshaw had a great o-line and Stallworth and Swann to throw to, of course he won a lot of games, how could the guy miss? Who did Marino have? The guy was great on his own, and that was what made him great. Also, we are in the age of Quarterbacks, yet his numbers are still holding up well (Even though Brees and Brady have passed him). In an age where there are more passing plays, he is still in a lot of top five stat columns. Enough said.
I couldn't agree any more with the comments for Marino. Marino is still the greatest passer of all time. I would pick Marino, Elway, or Manning over Montana, Bradshaw or Brady for any game. The problem with voting on the greatest quarterback of all time is that it leads uneducated people to believe that a greatest player for his position is measured by Super Bowl wins or by Championships. If you ask a number of people who the greatest hockey player is most would say Wayne Gretzky but why? He holds just about every hockey record there is, but he doesn't have the most Stanley Cup wins...Henri Richard does with 11. But if you do say Wayne Gretzky than you should NOT say Joe Montana, Terry Bradshaw or Tom Brady are among the greatest quarterbacks because of the Super Bowl rings. How many people say Bill Russell is the greatest basketball player of all time? Not as many people that say Michael Jordan who only has 6 Championships to Russell's 11 Championships. Watch the games in detail and ...more
Retired first in almost every major passing record for both career and single season, including 4th quarter comebacks. The only reason John Elway is considered the comeback king is because his team considered overtime wins as 4th quarter comebacks, Dan Marino's team didn't, and by definition of comeback, an overtime win isn't a comeback. Dan Marino-36, John Elway-35, Peyton Manning-35, for top 3 comeback leaders, according to Pro-Football-reference. Com. Another Reason Elway is considered the comeback King is because he didn't throw 2 interceptions in the 4th quarter of the super bowl, but John Elway would have never won a superbowl had it not been for Terrell Davis scoring 3 touchdowns vs green bay. John Elway played terrible in the big game, just look at the superbowl stats. Dan marino deserves to be ranked #5 all time, not John Elway
This list is proof positive that you should be required to take some kind of test regarding some kind of knowledge about NFL players of all eras, not to mention actually knowing something about what they accomplished individually.

This list probably needs to be renamed "Best QB'S on teams that have won Super Bowls." For reasons defying all logic, many people do not have a clear understanding that winning Super Bowls is a team accomplishment, and for silly reasons they link great QB's with number of SB wins.

Any list of great players from any position, in any sport, should be overwhelmingly based on individual statistical accomplishments. I'm not saying that Super Bowls/championships should not be considered at all, but it's not the first thing.

I think Marino was the best overall talent and showcased that talent in 1984, a year where he had the best talent around him during his career. Unfortunately, Miami was never able to get him enough help during his time ...more
5
John Elway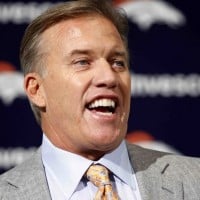 John Albert Elway Jr. is a former American football quarterback and current executive vice president of football operations and general manager of the Denver Broncos of the National Football League.
My opinion, the greatest qb of all time. He took some of the worst teams to the super bowl. Nobody outside of colorado could name 3 people from those teams. When he finally got a running game in the 90s, he got to show off his skills by winning 2 straight super bowls and retiring as super bowl mvp. Denver completely fell apart the next year without him.
Started in 4 super bowls (probably would of been six if he didn't get hurt in that afc championship game against buffalo).
Especially in the early ones, elway was the broncos. Once he finally had the right players around him he won a couple. I don't remember any of the other guys on the list having a game like "the drive". The guy could pull miracles out of the air all the time. If stanford would of stopped cal on that final kickoff we would be talking about that comeback as well. The guy also had probably the best arm that ever played as well, man that guy could put some smoke on it.
It's gotta be Elway! He was the original do-it-all quarterback! Took a terrible team to 3 super bowls and the second he was given a decent team won 2, back to back, in his late 30's. Possibly the most praised college QB ever (P. Manning and A. Luck may challenge that) but to have that kinda hype going into the NFL, and to not only live up to it but surpass it goes to prove Elway should be number one! Montana, P. Manning, Brady, and Marino are the only challengers. Why Favre is on here I have no Idea, he's a great qb, and may win the number games outta stupidity and stubborness but he should be no higher than 6 here.
Elway should be #1. He did the most with the least in history.
Montana had one of the best offenses ever around him throughout. Elway had a medioccre offense (but one with heart) around him for most of his career. Brady also a great offense and defense around him. Can anybody
Even name Elway's receivers until late in his career? (Johnson and Jackson--not bad but not Taylor and Rice). Elway also was spectacular on the field. Look at some old footage--mind blowing.
6
Brett Favre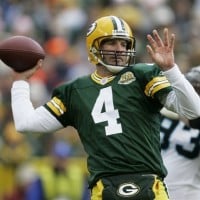 Brett Lorenzo Favre is a former American football quarterback who spent the majority of his career with the Green Bay Packers of the National Football League.
Favre has every record in the football bible. Manning, Brady are looking up at him. Favre was a real football player. you never saw him slide or shy away from a hit unlike Brady or Manning. He was the guy looking to take out a linebacker to get his running back an extra yard. He made all the throws and put passes in impossible spots with the strongest throwing arm I've ever seen for a quarter back or an MLB pitcher. The most exciting player to watch in the history of the NFL. Favre would make the sort of plays that make you go "how did he do that", "What was he thinking when he made that throw'? Good or bad he was fun to watch. Having Favre at quarterback could turn a 4-12 team into a Super bowl contender. It didn't matter how many points this guy was down in a game if you were a fan of the team he was facing you knew it wasn't over till the clock said zero. he was Magic in the 4th quarter. He didn't have all time Receivers like Marvin Harrison, Reggie Wayne, Randy Moss, Jerry Rice to ...more
Nobody has taken more hits and had to win more games on his own like Brett Favre. Yeah he played with a good defense in 96 and 97 but they went to the super bowl. Other than that he played with awful defenses and awful offenses. The packers rode Favre for 16 straight seasons and he carried them. The packers were always in the playoffs and always contending and that's due solely to Favre. He finally played on a decent team when he was 40 and they went to overtime in the NFC championship game. They only lost that game due to the bounty scandal and petersons fumbles. Brett Favre is the greatest to ever play.
Who can still play @ a high level at age 40? 33 TD 7 INT 4200 yards... The numbers do not lie.

Let me ask you this when you say Montana or Elway or Marino... Did any of them have to play 8 games a year in Green Bay? Can you imagine how cold it is up there. I'm from Los Angeles and trust me it is hard to twirl my thumbs when its that cold.

I can also make the argument Montana had Rice and Elway had Terrell Davis. Favre never had a marquee player on Offense, but he was fortunate to play with the great Reggie White for a couple of years. Favre will be great forever.
Argument can be made that he is the G.O.A.T. He set every major QB record when he retired. Wins, TD's Yards, Completions, Attempted passes, Consecutive starts. Superbowl Champion, 5 NFC Title games, 3 NFL MVP awards. Played in NFC Central, North against tough defense's in the 90's early 00's Bucs, Bears Vikings. Compared to Manning and Brady's weak divisions every year. Never had a Hall of fame WR or RB to play with like Montana, Manning, Young, Elway & many other qb's listed in the top 10. Played most of career with below average Packers defenses. Bounty bowl saints game kept him from winning 2nd super bowl with Vikings at age 40. Had the Packers won against Broncos in 98 super bowl and Had the Saints played a up & up title game than Favre has 3 rings instead of 1. Had Mike Holmgren stayed with favre in green bay it would have rivaled brady and bellicheck as far as rings. Favre was by far the most fun to watch and a true competitor that made every team he played for a contender. ...more
7
Johnny Unitas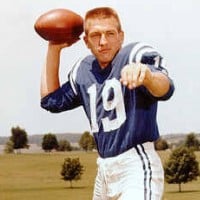 John Constantine Unitas, nicknamed "Johnny U", or "The Golden Arm", was an American professional football player from the 1950s through the 1970s.
Johnny U was the best there ever was hands down. We are not talking passer here, we are talking quarterback. One who directs and leads, that is the definition of a quarterback and there was nobody better. He also called his own plays, who on your list (besides Manning and his audibles) called there own plays? He made everybody better around him. He also knew the blocking assignments of his offensive line, what other QB knows that? And what other QB ever had his initial on the side of their teams football helmet? And still do to this day! But he was a Baltimore guy, not an Indy guy...He made the game simple to him. He said when he thought the defense was thinking run, he passes, and when they thought he was going to pass, he ran. 7th? What a crock. S.I. had that big poll last year (lasted about a month) and Unitas and Montana were the finalists (as they should be) and Unitas won! I believe the people in charge of this poll must be too young to watch Unitas, if you would have, the poll ...more
Unitas in today's game would tear the league up. NOBODY threw precision like he did, he and Berry practiced long after everyone else went home for the day.
Imagine if his receives weren't being mugged all the way down the field as soon as the ball was snapped. Brees beat his record that stood for 50 years 2 weeks ago, it looks like Brady will also do it this year as well. Proof positive the game is geared for QB's wearing skirts. I doubt Brees or Brady could put 10 games together under the tough condoitions Unitas played under.
This man not only had fantastic numbers in the passing game with records that still stand today, but the leadership and unity he brought to the Baltimore Colts was like no other. Quarterbacks today play well with lots of pads and protection by the refs. Unitas played with sometimes broken bones in a brutal scene of hard gridiron. Alongside his toughness and amazing skill was the greatest humbleness and modesty ever seen in a football player.
This list is irrelevant, nobody appreciates the history of football. Johnny U #6? Where is Otto Graham? Where is Bart Starr? I'm surprised Tom and Peyton are below Montana since they're clearly the two greatest! (Sarcasm)

Here is my list:

1. Johnny Unitas (called all his plays)
2. Joe Montana
3. Otto Graham
4. Tom Brady (our generation's Montana)
5. Bart Starr
6. Dan Marino (best arm ever! )
7. Roger Staubach
8. Peyton Manning (not a clutch player)
9. John Elway
10. Steve Young
11. Fran Tarkenton (see Manning)
12. Brett Favre (too many turnovers)
13. Terry Bradshaw (4 rings)
14. Drew Brees
15. Warren Moon (the run and shoot)
16. Troy Aikman (3 rings)
17. Aaron Rodgers
18. Randall Cunningham (amazing)
19. Kurt Warner
20. Jim Kelly (the k-gun)
21. Sammy Baugh
22. Joe Namath (injuries set him back)
23. Ben Roethlisberger (underrated)
24. Dan Fouts
25. Ken Anderson
8
Drew Brees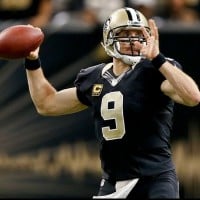 Drew Christopher Brees is an American football quarterback for the New Orleans Saints of the National Football League. He is the only player to have back to back to back 5,000 yards in three seasons straight. Brees also has the all time best completion percentage with 66.95%.
Every year you hear all the commentators say how Brees is getting older and his numbers won't be the same. Wow these guys really need more things to talk about. I think he will finish higher on this list. Has there ever been a more consistence QB than him. Every year incredible numbers without that star receiver. They way he gets everyone into play. Definitely a league MVP for what he does. Rodgers got it the year he should of. 2012 Bounty gate almost every team (all but one Carolina) they lost to that year went to the playoffs or won the Superbowl. I talked to people and said he did this without his head coach. They said the coach didn't mean much. REALLY 7-9 no coach. Your teams needed there coach to beat Brees and the Saints. Brees has brought life to out beloved city that was broken. I am forever thankful.
Unless he gets injured, Brees will probably finish his career in all of the major passing categories - yardage, touchdowns, playoff appearances, playoff victories and Super Bowl appearances and perhaps SB victories. And he's only approaching his prime with a middle-to-just-above average receiving corps and an average defense. Easily better than Roethlisberger (who's had the benefit of a marvelous defense), Tarkenton (who never won a Super Bowl) and Favre (who was erratic throughout his career and the passing records he has can be attributed to his longevity, not so much his talent). Brees' statistics already have surpassed many of Young's and Warner's. Barring injury, Brees will wind up being in the group with Montana, Brady, Manning, Elway and Bradshaw and his statistics are reflecting that as his completion yardage averages between 4,000-5,000 each season and 40 touchdowns. Depending on the talent surrounding him, he may also add one or two Super Bowl rings - as well as SB MVP - to ...more
Drew Brees year in and year out put's up record setting yards in a year on a team that has made it to the Superbowl, once in it's entire career. He has never had even one league nominated number one wide receiver, typically distributing the ball to many that come and go quite frequently. He's put up the most 5,000 + yard passing seasons of any quarterback. He's fourth all time passing yards with 59,005 with three years less than Peyton Manning, five years less than Brett Farve, and one year less than Tom Brady. He currently holds the most accurate career with 66.4%. He has the most accurate season with 72%. He is tied for fourth in career touchdown passes with 416 and he is eighth all-time career passer rating with 95.7. Not to mention that he did most of this after he tore his labrum and returned to the league.
9... 9... 9! Is Dan Marino number 3? YEAH! Who leads Dan in basically every stat, including Super Bowls, Drew Brees. In fact, Brees leads everyone in almost all QB stats. Sure stats aren't everything but then we consider Brady a goat due to his winning. If so then why is Dan Marino even up here. If we rated every player like we did with Dan Marino, Drew Brees would be by far the best. Drew has barely had any star recievers and makes everyone look better than they actually are. The only really star receiver he has had is Michael Thomas. Brady has had Julian Edelman, who is a SUPER BOWL MVP! Plus many others. Also Brees has carried many teams with abysmal defense to great records just from his insane talent. Brees is the greatest player, let alone greatest quarter back, of all time.
9
Steve Young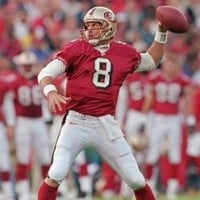 Jon Steven Young is a former professional American football quarterback who played 15 seasons in the National Football League and is best known for his 13 seasons with the San Francisco 49ers.
I hate Steve young and any 49er QB, but objectively this guy was the best I've ever seen, or maybe #2 behind Peyton Manning. He had a strong arm, was tough, was accurate, and could run. His defining highlight was that incredible run against the Vikings. If he was on the team of the 1980's, he would have won 6 Superbowls, not just 4.
In his short NFL Career as a starter. NOBODY Made an impact like Steve did. No one ran with as much guts and instinct and at the same time was intelligent enough to understand defenses like he did. Highest rated QB EVER! Most Accurate QB Ever. Biggest heart ever.
Steve young was only GOOD because of TO and GOAT. Without those two he'd be a Qb that couldn't pass for over 100 yards a game. He would have been somebody like tommy Maddox and Neil o donnel. Jerry Rice can make any guy look GREAT. How would he do with somebody like james thrash or Travis Taylor. I bet ya terrible.
His stats ended up better than Montana's. It was a good change for Young to replace him and lead the team to the super bowl. He should be much higher, and he is probably the most underrated quarterback on the list.
10
Terry Bradshaw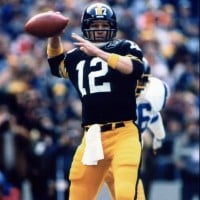 Everybody is like ohh Brady, ohh Brady... How 'bout no! Bradshaw got 4 superbowls when real men played the sport for the passion of the sport, and when a linebacker could knock a QB out of his shoes if he wanted...not this pansy flag football stuff they do now where you can't touch a QB without a flag and a fine...sorry brady fans... Bradshaw is a man of Steel who got it done when football was real! Brady and a lot of other QB's would have been buried by Bradshaw's numbers if he played the game with the current rules... Manning played at the end of the era of real football and he made it through the transition and he is tough as nails too. Brady, Rogers, Eli Manning, and countless others will never hold the respect that all should have for Bradshaw and the QB's from a time when the game was hardcore, and passion fueled it...not just money. I'm out.
Why are people using this section to talk about Roethlisberger? He does not compare to Bradshaw. I watched in person the Steelers destroy my Chiefs at Arrowhead the last year Bradshaw lead his team to the Superbowl. With the exception of Elway, I have never seen a quarterback throw on the run as accurately as Bradshaw. He was tough, gutsy, and could throw the long ball as good as good as the best. Yes, Bradshaw had great receivers, but it takes a great passer to be as accurate as I witnessed in person.
My best quatrterback in the NFL is ben roethlisberger two times super bowl champon, is winning the final of afc championship 2008, aa remember when ben roethlisberger win the game a ravens with a broken nose. And win the super bowl 40 rookie what quart quarterback and won all games a super bowl 40 a away
What? Brett Favre? Tom Brady? Wow, yeah it adds up when you play 20 years of football (Favre), and yeah I'd be a pro too if I knew what the defense was gonna do every play (Brady). Bradshaw is insane. He's a football phenom. And why isn't Arcie Manning on the list?
The Contenders
11
Aaron Rodgers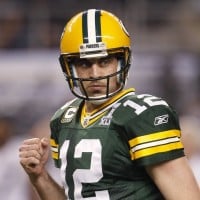 Aaron Charles Rodgers is an American football quarterback for the Green Bay Packers of the National Football League.
Aaron Rodgers has proven his ability of being one of the best QB's and I think the best right now! Jordy Nelson is a loss in the Packers roster, but knowing Aaron Rodgers, he can face through this tough time. Aaron is only 31 and has so many years left in the NFL. When Jordy Nelson comes back next year, the big three, Aaron Rodgers, Jordy Nelson, and Randall Cobb, will be together til 2018. That can make a great impact on the Packers Franchise. Mike McCarthy is one of the best coaches and although he only won one Super Bowl (with Aaron Rodgers), he and Rodgers lead the Packers to the Playoffs from 2009- 2014 and it is still going! Not only is Aaron Rodgers the best QB right now, the Packers have ONE OF the best franchises!
If Brett Favre is a legend in Green Bay, and nobody can deny that, what is bigger than a legend? Oh, I know: Aaron Rodgers is! One NFL title in 4 seasons (so far) as opposed to one in 16. You do the math.
His accurate passes are unique in today's NFL. Other QBs can throw accurate passes too, but they don't even come close to Rodger's consistency. Plus, he can also run when no passing opportunity arises, which makes him the most complete quarterback ever. He should be number 2, second only to Payton Manning!
Like Brees, deserves to be above Tom Brady without a doubt. Rodgers can do well whether the packers are good or bad. He always is top of the league in every stat that matters and there's not a QB in the league you'd rather have at the end of the fourth driving you to the finish (OK, Russell Wilson is up there, but most would pick Rodgers still). Rodgers career is totally extraordinary, and the bogus about only one super bowl ring is incredibly short sighted.
Lowkey this is a meme that he isn't number 1. Rodgers had only one good team EVER and they didn't even show up to the playoffs that year. Rodgers is the reason the packers have any success after 2007. Mark Murphy should open his eyes and see that qbs play less than half of every game. Rodgers is the only QB ever to win a super bowl by himself, and let me explain. Brady has the best coach ever, tons of targets, sick rb's and always a top ten defense, and just an fyi, Brady throws an int for about every 3 tds. That stats awesome right? Well rodgers throws one for about every 4 tds AND has only 3 seasons as a starter without an above 100 passer rating.
12
Roger Staubach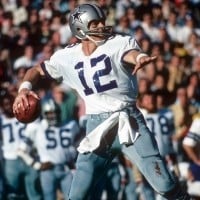 Roger Thomas Staubach, nicknamed Captain America and Captain Comeback, is a former American football quarterback in the National Football League.
Roger Staubach had the Highest Rating when he retired after the 1979 season. Over 30 years later he still has the 2nd highest Winning Percentage for Quarterbacks with 100 or more starts. He played really 8 full seasons & took the Cowboys to 4 Super Bowls. His 9th season as a starter he was injured most of the year & came in to to pull out a Cowboy Victory against the 49ers in 1972. The 2 Super Bowls he lost as a starter he lost to the Greatest Defense of All Time (the Steelers). If Tom Landry would have played Staubach in Super Bowl V against the Baltimore Colts he would of won that one. Defenses in the 70's were allowed to use their hands on the receivers back then, much more than today. Mel Blount of the Steelers might be kicked out of a number of games if they used today's rules in the 70's. It's very hard to say who's the Greatest because of rule changers in each decade, but Staubach takes a back seat to no one. He also run the Football like Steve Young & Michael Vick. He run away ...more
When Roger Staubach was behind center you felt as though you always had a chance to win. My memories of watching him play when I was a kid were created from two different perspectives. The first was as a fan of the Miami Dolphins and completely indifferent to the Cowboys. The second was as a fan of player whose heroics had captured the imagination of a seven-year-old boy who could identify those heroics as both truly individual (in a team sport) and truly spectacular. I wasn't a Cowboys' fan - I was a Roger Staubach fan. What I remember most was his leadership and his ability to run the two-minute drill. Countless games where the Cowboys were down (by more than a field goal) in the fourth quarter with well under two minutes to go and you just knew they were going to win. You knew it, the Cowboys and their fans knew it, and their opponents knew it, You knew that when it came down to crunch time Staubach would drive his team the full length of the field and score the touchdown to go up ...more
Roger Staubach was a true LEADER on the field, and his teams never gave up. He had a positive attitude at all times, and brought that out in his teammates. Beyond that he was an incredibly accurate passer who threw very few interceptions, he was mobile, and he had a strong arm. And, remember - he had to serve FIVE YEARS in the Navy before joining the Cowboys! Had he come in as a younger player his career would have been even more impressive! His last year, at age 38, was one of his very best, if not THE best of his career. He was simply amazing.
This man retired with the highest QB rating of any QB up to that time and threw less interceptions than any full time starter in the 70's when the rules were much tougher on receivers and QB's Montana played with a heck of a lot more Hall of Famers! I respect Joe and John immensly but to have Rog under the likes of Brett Favre does your list no Justice! In my opinion no other QB tops this guy! Then I go with Elway!
13
Troy Aikman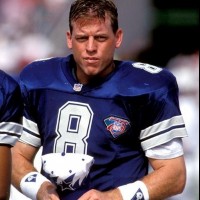 Troy Kenneth Aikman is a former American football quarterback who played for the Dallas Cowboys in the National Football League.
The most accurate quarterback and one of the most completions in nfl history and only played 12 years of football. 3 time Super Bowl winner and over 32,000 yards, 165 Touchdowns, and 2898 completions. Including the bad years when the Cowboys sucked. On his first Super Bowl he completed 22 of 30 passes. He also made 4 touchdowns in the Super Bowl. And the reason why he didn't have the most yards is because he had emmitt smith, the greatest running back of all time
Aikman had weapons around him (Emmitt, Michael Irvin, great defense) but he always stood in and threw regardless of the hit he knew was coming. Super strong arm and great accuracy. Definitely a Top 10. And even though Otto Graham should be on this list, there's no need for Tom Brady so no reason to push anyone else out.
Troy should be in the top 5 of quarterbacks of all time. He may not have the stats that other QBs, but he does have three SB rings and would have added another maybe two if JJ and JJ could have kept their ego's in check. Troy was a great leader and made it clear when he was not happy with the play of others on the Cowboys which they needed. We saw Troy play in Super Bowl 30 in Tempe and very happy to finally beat the Steelers in a Superbowl.
I'm a Steeler fan, but I respect Troy and the dynasty that he came from...the cowboys of the 90's rival the Steelers of the 70's in my book. I can't wait to get our 7th superbowl though...gotta stay ahead of the boys. I don't count the cowboys as America's team...but I always respected the cowboys of the 90's.
14
Otto Graham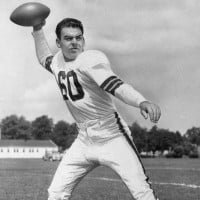 Otto Everett Graham Jr. was an American football quarterback who played for the Cleveland Browns in the All-America Football Conference and National Football League.
His stats look more like ryan leafs, but you can't argue with the fact that he played in the championship game EVERY YEAR of his career. That's insane. Even the great Tom Brady can't claim that. And while his individual stats aren't that impressive, he was a pioneer of the modern passing game and the ultimate clutch qb. He simply has to be in the top ten somewhere.
The greatest forgotten quarterback of all time. Sad times for Browns fans when the possibly greatest passer ever, who played for Cleveland, did so in the pre-Superbowl era that no one seems to care about. The rules have changed and it's difficult to compare different eras, but the one thing the game still needs is toughness in the clutch. You cannot possibly argue that Otto Graham takes a backseat to anyone there.
OTTO GRAHAM, who never missed a Browns game, and the Browns played in their league's championship game in all 10 years of his career. They were 4-0 in AAFC title contests and 3-3 in NFL championship games. Counting the two division playoff games the Browns won, they were 9-3 in postseason play: 5-0 in the AAFC, 4-3 in the NFL. Cleveland won 105 regular season games, lost 17 and tied four. That included records of 47-4-3 in the AAFC and 58-13-1 in the NFL.
Not only did he win a ton, he was more crucial to his team than any modern QB. The guy played offense, defense, special teams, you name it. He didn't win a ton of championships because he was on the Browns team, the Browns were 7-3 in championships for ten years because Graham got them there. Truly an unbelievable athlete.
15
Bart Starr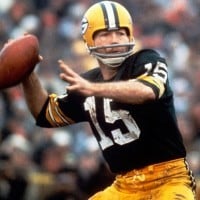 Bart Starr best for all time. No one else has won 5 championship rings. His teams were devoted to him because of his leadership ability. I think he was overshadowed by his coach and did not always get the respect he truly deserved. If you were to ask his team mates they would admit that they took as much leadership from Starr as they did the Bear.
Bart Starr - Most NFL championships (5). 2ND highest QB rating before the NFL changed the rules to make the passer's job so easy and put skirts on the QBs. Called his own plays. Lead his team to 3 consecutive NFL championships which no one else has ever done. He was a winner - that should be way more important than stats. Maybe the most significant play in NFL history (Ice Bowl).
Still has the highest passer rating of all time in post season despite playing mostly just championship games in foul weather (I.e. not padding stats vs 9-7 wild card teams in dome conditions). The most clutch QB of all time, winning 5 Championship games.
Bart Starr was a phenomenal QB. He would be much higher on this poll except that people don't remember him. Only the most hardcore and devoted of NFL fans would have the knowledge of his unbelievable ability.
16
Eli Manning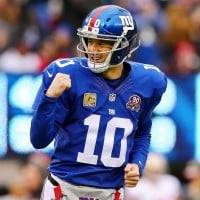 Elisha Nelson "Eli" Manning is a former American football quarterback who played his entire career for the New York Giants of the National Football League. He is the younger brother of former NFL quarterback Peyton Manning.
Eli is top ten. He had to deal with a lot of flack going into the 2007 season being judged by this guy and that guy and not once complained about it and flat out just demolished the competition in Super Bowl 42. As incredible of a catch as it was by David Tyree, it was just as incredible as Eli literally being inches from being sacked only to get back up again and make the incredible play. Say what you want about Brady, a highly praised QB from almost every angle at his prime beaten by a QB who lived in his big brother's shadow for a while and was criticized by everyone.
Eli is way more clutch than half the quarterbacks on this list some of which have not ever won a Superbowl. Not to mention eli has won two super bowl despite being the underdog team in every game. He is also still in his early thirties and has a chance to win more Super bowls and more Superbowl mvps.
He's not the greatest quarterback in terms of pure talent, but he has managed to win where it really counts. He led the Giants to 2 Superbowls over excellent Patriots teams, as well as upsets over great Packers teams on the way to both Superbowls. The win over the 15-1 2011 Packers was particularly impressive.
Luckiest QB of all time. Eli has the record for the worst statistical year for a Super Bowl winning QB. He beat out Trent Dilfer. The rest of his team were good. This list is a joke.
17
Fran Tarkenton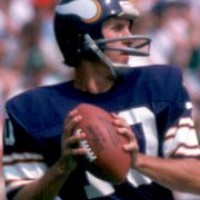 Fran revolutionized the game with his scrambling. He started out playing for the expansion Vikings for 6 years. He was traded to the Giants in 1967. In 1966, the Giants won 1 game. During the next five years he made the Giants exciting and respectable. The 1970 Giants went 9-5 and missed the playoffs by one game. Players on those Giant teams have said that a few of those teams might not have won any games if it wasn't for Fran. Yes, the Vikings of the 70's lost 3 Super Bowls. However, The Vikings were not as good as the Dolphins, Steelers, and Raiders. The main reason why Minnesota lost those 3
Super Bowls was their offensive and defensive lines (for the most part) were blown away. Minnesota could not rush the ball of offense and their defense simply could not stop the run. Fran was not great in those Super Bowls, but he was not the main reason why they lost. Overall, Fran was brilliant at improvising and seeing the whole field. He was a man ahead of his time.
He revolutionized the game with his scrambling. He played with inferior talent during most of his first 11 seasons. A player like Montana may not have been able to take the beatings Fran took in his years with the expansion Vikings. He retired with most passing AND rushing yards for a Q.B.. His teams did lose three Super Bowls, but the Vikings never had the superior team. In addition, in those three S. Bowls, Fran never had a chance as the offensive (and for the most part defensive, as well) lines got blown away. Because of those S.B. loses, he is an under appreciated Q.B. He was an MVP and 9-time Pro Bowler.
Tarkenton was by far the most intelligent quarterback of all time. His knowledge of the game and ability to read defenses brought his position to a whole new level. He was one of the last quartebacks to actually run the offense, calling the plays from the line of scrimmage and making split second decisions while making complex reads at the line of scrimmage. One needs only to see how successful he has been since retiring to know he has an incredible mind.
Fran Should be in the top Ten way ahead of Drew Brees. Fran the man played in the cold dumpy confines of Metropolitan stadium and New York City. Very tough divisions and the guy just played his heart out. No he did not win the Big Game for the Vince Lombardi trophy. Who cares? He is a Viking and the Vikings Hated Vince Lombardi why would they want his name in a trophy case? They wouldn't. Enough said.
18
Jim Kelly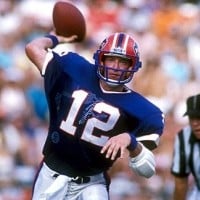 James Edward Kelly is a former American football quarterback who played in the National Football League for eleven seasons and spent the entirety of his NFL career with the Buffalo Bills.
Taken for granted by losing four STRAIGHT superbowls, Jim accomplished a feat that not many can ever or ever will say they have done. To make the big dance four years in a row is an awesome accomplishment for an NFL quarterback, and I don't think it will ever happen again. Not to mention, Jim Kelly only served a 10 year career since he started playing for the Bills in 86 after a stint with the USFL.
Without a doubt in my mind, the best. The Bills were fast and effective with Jim, and hell they are paying for his retirement still to this day. He holds a number of records and made a difference in the league. This man is a hero to a group of people and rightfully deserves it. Jim Kelly is the best quarterback.
Won the AFC championship four times in a row, popularizing the no huddle offense and calling plays with multiple formations as he looked at the defense. One of the GREATEST quarterbacks to play the game hands down.
Probably top 3 if he wins 2 of those 4 consecutive super bowls. The master of the no huddle run and shoot. A true gun slinger who made good decisions and was the most fun to watch.
19
Sammy Baugh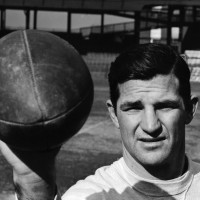 You could basically say he invented the long ball. And that ball he threw was a wobbly animal skinned pumpkin. No one could throw a decent spiral back then. To bad there aren't enough films of him or people would understand. Him and Whizzer White in their eras where untouchable. Probably would be now too.
An accurate thrower. Baughs passing helped change the game. He won a record six NFL passing titles while also setting marks as a defensive back and a punter. He has a college football award named after him which goes to the best quarterback with the best passing statistics each season.
Sammy baugh is the inventor of play action in 1942. Yes, he invented play action and made the league more pass heavy. Was good from his rookie year in 1937 to 1947. One of the goats/evolved the QB position.
An awesome three-way quarterback, playing punter, qb, and free safety!
20
Randall Cunningham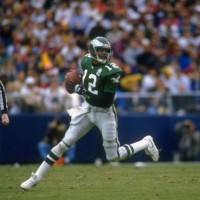 Randall W. Cunningham is a former American football quarterback in the National Football League and current football coach and pastor.
When he was with the Eagles Randall Cunningham was the equivalent of what Michael Vick is today--maybe even better. He didn't run as much later in his career but, he still holds the all-time record for rushing yards by a QB. He was so elusive against the rush. Just plain fun to watch. Vick is a better runner, but Randall was a better passer.
Randal Cunningham had the great skill of being able to run with the ball as well as throw a great pass. He also had this elusiveness that made him a nightmare for the defense.
This is the dumbest rating ever. 33? He's behind maybe 3 quarterbacks, and is DEFINITELY the most athletic quarterback ever.
Not in the top 50 all time. Fantastic scrambler, but overall QB? Maybe 51-60.
21
Ben Roethlisberger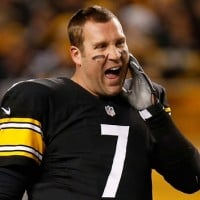 Benjamin Todd Roethlisberger, Sr., nicknamed Big Ben, is an American football quarterback for the Pittsburgh Steelers of the National Football League.
Ben Roethlisberger is the most underrated QB of all time by a long shot. Had he not been falsely accused of sexual assault he would be around 7 on this list. How many QB's can say that they've won two Super Bowls and been to three. He is sixth all time in playoff wins, and unlike his 2004 counterpart Eli Manning he has more than just two seasons with a playoff win, he has five. And that is with a pretty god damn terrible offensive line and back running backs (until recently). And some make the case that he has won with bad play on his part and being carried by a great defense, but what they probably don't know is that his career passer rating is 94, ninth all-time, and 10.5 points better than Eli, who is 36th on the list, and worse than Alex Smith, Ryan Tannehill, and Matt Schaub.
Not sure why he is so low on the list. How many records does he hold? Two super bowel rings under two different coaches with different supporting teammates. How many times has he had a higher QB rating than Brady, Manning, or Rodgers? Last year the Steelers, a team known for their defense, had the number one offense. One could easily argue they wouldn't have without this key contributor. He's top 15, maybe even 10... All time, and still has time to grow higher
Roethlisberger has had the best throwing since the other Qb's on other teams such as Brees Brady and Rodgers, all have false throws and sometimes throw somewhere other than a player. Roethlisberger is the reason the Steelers are ranking in the Top 3 football teams since 2006 or lower than that.
Look at the stats. Ben Roethlisberger cam from Miami of Ohio. He worked his way to where he is now. Two Super Bowls! Only quarterback with 2 or more 500 yards or more in a game. I would definitely take Ben over any younger quarterback such as Kaepernick or Luck. Roethlisberger is definitely in the top 45 best qbs of all time.
22
Norm Van Brocklin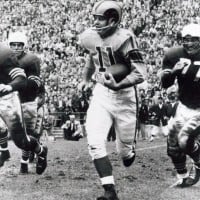 Lead the Eagles to beat the Packers in the 1960 championship game. The only
Time that Green Bay team lost a championship or Super Bowl. That Green Bay team was considered the most dominant of all time. I saw the game live.
The only quarterback to win the championship with different teams and his last championship was with a team that had never been a contender before.
The man who set the record for most yards in a game that to this day still hasn't been beaten.
The "Dutchman" was arguably the best pure passer the game has ever seen.
23
Warren Moon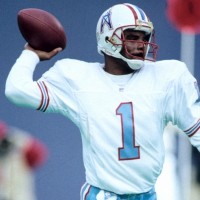 Harold Warren Moon is a former American and Canadian football quarterback who played professionally for 23 seasons. He spent the majority of his career with the Houston Oilers of the National Football League and the Edmonton Eskimos of the Canadian Football League.
The Greatest quarterback in the Canadian Football League.5 Grey cup championships. Not the only great QB to be rejected by the NFL until they played in Canada.
Joe Thiesman, Doug Flutie. MOON has 70,500 passing yards in his Pro Career - regular season, plus playoffs. No One comes Close. Definitely TOP 10
Take half of his CFL stats and his numbers are better than Elways. Had a better winning percentage with the awful Oilers than Steve Young had with the Bucs--and Moon didn't quit on the Oilers. He stayed and made them great. The inventor of the back shoulder throw. HOF in 2 different Football leagues speaks for itself.
Belongs in top ten add 5 grey cup championships add those stats he's number one fantastic player made the ball sing always a perfect spiral.
Top 10 QB at LEAST... Vince Young was a good College QB but shouldn't even been mentioned in ghetto top 100 QB's...
24
Nathan Peterman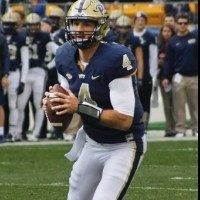 Greatest of all time and no one can doubt it.
He's good alright. Good at passing the ball to the other defenses
25
Jim McMahon
Jim was the best leader of all time. When they looked into his eyes, he made them believe!
One of the greatest bear QB for sure. He was just too fragile.
Better than that
PSearch List