Best NFL Linebackers of All Time
The Top Ten
1
Lawrence Taylor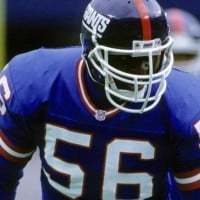 Unreal speed, didn't play middle linebacker and forced teams to actually pay the Left Tackle and made the position the most important on the line. And the LT sometimes needed a TE, RB, FB or LG to guard him every time the guy rushed. Teams respected Taylor every phase of his career. If that does convince anyone, how many times did LEWIS win the NFL MVP, cause the only linebacker to do that was Lawrence Taylor. Finally if you see the linebackers today, many try to be like Lawrence Taylor, fast pass rusher who can stunt and drop in coverage. I never saw the man play but on film it is clear that LT was footballs Lebron James, pure freak of nature.
Lawrence Taylor is the GOAT! I am not saying this because I am a Giants Fan I am saying this because think about it he has so many records the superbowls all the awards the all-star games the pro bowls is in the Hall Of Fame! The NFL did a test! They had three votes Best Giants player Lawrence Taylor best defensive player ever Lawrence Taylor won and best ever player Lawrence Taylor got 2nd!
Lawrence Taylor will always be rated at #1, for many reasons. Coaches send scouts out looking for college players with LT ability. He not only changed the position at linebacker, but made offenses change their game plan to combat his high skill level to get to the quarterback. Bill Parcells was blessed to have a player such as LT. The saying goes " Offense wins games" Defense wins Championships"
I'm a younger guy so in my eyes I would say ray lewis but lawrence taylor is the greatest linebacker all time! Lt was a 10x pro bowler all defensive team 10x he was a 2x defensive player of the year he accumulated 1100 tckles 132 sacks but he set fear into the offense one of his hits would put you sidelined for a couple weeks he was a 2x superbowl champ he set the bar for what linebackers should be
2
Ray Lewis

Raymond Anthony Lewis Jr. is a former American football linebacker who played his entire 17-year career for the Baltimore Ravens of the National Football League.
What Ray does only a movie came close..."win one for the gipper"! HE made other men play better every down. Player with the most years between Super Bowl Wins... Ray. Many claim their franchise has __ rings. Well not any other player has 12 years between wins and never lost a Super Bowl. Best MLB and ILB in NFL history. That plus he sets the Defense. He not only made HIS play, he made OTHERS play. Set them or move them at the right time and right place. The Chess Piece is moved by the mater, just that great. BEST EVER
Ray Lewis is great. Period, His greatness is uncomprehenable, he is such a hard worker, there is not a person on this earth that can out work him, he is the greatest leader to ever live on this earth, he knows he will win even when nobody else does, explains his 2 super bowl rings, one he was MVP, 13 time pro bowler and 2 time defensive player of the year. Greatness is re-invented by Ray Lewis.
Ray defends everything. If you check his achievements they are very similar to LT's The difference is ray didn't need chemical assistance to achieve his greatness and he was a student who also was a masterful teacher and leader. He was faster than Butkus, more team oriented than LT, and had just as much or more desire than M. Singletary whom I feel are the other elite LB's who played the game.
Like he say, and I quote "they praise QB's for the legacy on how they been able to keep offenses consistent for so long, how long has the Ravens defense been in the top 5 and they left one thing here, 52, the most consistent thing the Ravens has ever had!
3
Dick Butkus

One afternoon after the Baltimore Colts played the Bears in Chi, the Colt's team bus was going back to their hotel & it was rear-ended. Without looking up a Colt's player said: 'Butkus'. That's how hard Butkus hit. No LB is close to how he played, most of his last years on two bad knees. Butkus is #1.
Football is a game of heart and ferociousness. Nobody in my opinion ever played the linebacker game quite as tough, ferocious and relentless as Butkus. He was a human freight train as well as covering all aspects of a linebacker's skills superbly. He did it in the pre drug or extreme weight training era too. You young guys, go find some good video of him, it's well worth it. No doubt in my mind he should be #1.
Leave the stat reading and rant watching to those who admire more the paper game or showman types, Butkus embodied the very soul of what a linebacker should be.
I have seen Butkus play and Lewis and Taylor are not in the same league. Butkus had to do it on his own, no help like the other two had. Butkus tackled like no one else. After one game, one asked about the players being treated. The answer was simple, "Butkus".
Enough said.
Butkus utterly dominated without modern high tech training, drugs or championship level teams around him. He did it all on his own for almost a decade and made himself the most feared, punishing hitter ever. Almost a one man offense stopping machine. That alone puts him at #1 in my book but he did it all nearly perfectly and wrote the book for the modern linebacker. There is nobody else quite like him.
4
Jack Lambert

Lambert and Butkus are easily the top two linebackers who ever played! LT was great but he was one dimensional, ok against the run and not good at all in pass protection. For Ray Lewis to be that high on the list is an insult to the great linebackers on this list! Ham is an easy top 5, he is the most perfect technical linebacker of them all. He didn't have quite as hard a hit as some of the others but his hands were like meat hooks once he got a hold of you you weren't going anywhere. No other linebackers were feared like Lambert and Butkus young people must be voting. Butkus changed the linebacker position and Lambert redefined it! Lot of excellent linebackers on here but those two are easily the best!
I loved watching Lambert play. He looked too small to hit hard but man could he ever. He smack talked just a little more than I like to see but he really backed it up with the hard hits and really smart play. He should be up near the top of any list of the all time greatest.
Jack lambert was way better than singletary you don't see singletary in the most feared tacklers list do you?
Hey this guy was scary he played middle linebacker at 215 to 220 pounds and would destroy you incredible.
5
Patrick Willis

Patrick L. Willis is a former American football linebacker who played his entire eight-year career with the San Francisco 49ers of the National Football League.
Why is Patrick Willis down at no. 7 sure is stats aren't as interesting as Ray Lewis' or Lawrence Taylor's but that's because he hasn't been in the league as long think of it this way ever since he's been in the NFL he has been in the pro bowl every year except the Superbowl (7x) and all American from when he started (2007) through 2012 (6x) if you take his size and his speed you'll end up with this destructive linebacker Patrick Willis is the only linebacker that has a chance to catch up with a running back in open field ever since he came to the league he has averages over 100 tackle a regular season with only just under 100 by 3 no linebacker has been a better linebacker than he is and to top it off he still hasn't shown us his best if he doesn't end up in the hall of fame even if it's for his childhood (mother died father was abusive had to take care of his siblings work full time in cotton fields at age ten left home at 17 with his siblings yet still will give his father another ...more
No way p willis is #9 on this list no linebacker is quicker from sideline to sideline like p willis! He has achieved so much with 7 season of straight 100 tackles is a 7 time pro bowler winner of the dick butkus award twice he's only 29 yrs old.. What truely seperates him is his leadership and ability to elevate the linebackers around him look at navarro bowman aldon smith ahmad brooks there all pro bowl linebackers he's the unquestioned leader of the 49ers defense!

Ooh and ray lewis said he sees himself in p willis but p willis a whole lot faster than r lewis
With the combination of speed and power, he is one of the greatest linebackers to ever play in NFL history. Even though he is still in his early years of his career he has the stats to prove how great of a player he is. With the speed of an average NFL running back at line backer gives him the talent to chase down many fast running backs and receivers, which makes him versatile in pass coverage and run game
Sideline to sideline he is the quickest linebacker! When your looking to start your team with a linebacker look no further he averages over a 100 tackles ever since he came in the league but that's not what makes him special its his ability to play man or zone defense he can literraly take out your tight end completely not only that he makes others better look at navarro bowman aldon smith ahmad brooks p willis helped elevate there games to me that's what sets him apart
6
Mike Singletary

Probably the craziest linebacker there ever was, and in a good way. Butkus was intense physically and verbally, but Singletary was intense and on the verge of crazy in mental aspect of how he played. Theisman and others called him "Crazy Eyes" for a reason. Not many have ever had as much heart, passion, and football smarts.
People underestimated him because of his size and considered him strange because of his 'Sammurai accent' and large eyes. But he was one of the greatest defensive players of the 80s, and was the keystone and leader of the Bears' famed '85 defense, perhaps the most dominant defense of all time.
I think he should be the best linebacker of all time because on the field he would ask his guys what they should do and it worked and when the play was made 9/10 it would work. Of the field he was a nice guy like Merlin Olsen.
He was probably the most intelligent linebacker in NFL History and should be #3 his instincts and he had such a great ability to read an offense, and he coach Ray Lewis and Patrick Willis before they were great.
7
Clay Mathews
This is not a good choice. Matthews is still midway through his career, and even though he is dominant at his position today, there are several players who have had a hall of fame, all pro career
Clay is a fantastic linebacker, Tell me what Green Bay Packer play have you heard on defense that Clay isn't there? By far the best along side A.J. hawk.
Clay is great he can lead the team at middle or rush the quarterback on the outside
Do you see this dude you rip people in half I think you and Reylewis should be at the top
8
Ray Nitchske
All great, but with Taylor and Lewis at the top of the list, poll was obviously taken by younger people. Nobody hit like nitchske and butkus
The player of the century listed number 8? This is a joke and not a good one! The only linebacker who is even worthy of mention in the same breath is Dick Butkus. Ray Lewis? Fine player but not in the same league!
He still has many years and can do greater over the years so I definitely wouldn't but him on this list yet there are many other great linebackers!
Ray, was definitely a monster of the day. Anyone that played againest him will tell you that!
9
Derrick Thomas
Could have played at least 4 more years and if he had, with 9 sacks each (easy) would have destroyed the all time career sack record if my math is right. I think that if he had finished his career he would have been number 1 on anyones list. I would like to see a sacks per game stat to compare with the top guys on this list. Keep in mind the Chiefs didn't play a lot of playoff games in DT's career.
Derrick had he had a super bowl win he would had been #1 or had he lived on and played another 4 years easily would have had every sack record. LT is number one only because he played longer I guess. DT will always be the best to me. Ask Ray Lewis he will tell you! RIP DT
With nine Pro-Bowl selections and 1990s all decade selection as just a couple of his accomplishments. He should definitely be hire on this list. RIP.
Fast, Smart, was a serious problem for any offence. RIP
10
Brian Urlacher

Brian Urlacher is a former American football linebacker who spent his entire 13-year career playing for the Chicago Bears of the National Football League.
Of today, sure. But of all time. The guy has already played for a million years and now falcons running back Michael Turner can run over him. The guy is really slowing down and Lance Briggs is moving ahead of him
He had that major injury that put a blow on his speed and career. Yet he remained resilient and finished out as one of the most highly respected LB's in NFL history.
Love this guys game! Great in coverage, better then anyone on this list and didn't play with other hall of famers like Singletary did. Top five on my list! LT BEST OF ALL TIME THOUGH
Maybe not the best all-time, but of modern linebackers he's in the top 3 and should be a first ballot hall of fame inductee.
The Contenders
11
Junior Seau
Played for 20 years. The first ten years of his career, which were his best, they did not keep stats on tackles made, and that is what he did best. So you can more than double his tackle stat numbers at the least. Inspirational to the whole team and any community he was associated with.
I saw Junior in person for many years. It seemed that if he did not make the tackle himself he was almost always involved in making the stop. Also he was somewhat underrated because he played his prime years in San Diego.
How can some of these guys be ranked above Seau. This is one of best to ever do it.
Put him higher because ray lewis is only good because his team and is only famous because his dancing and the only way to prove your a real linebacker is if you die cause of your hits and you will be known please put him higher and even ray lewis won the superbowl because he had a good team but junior lead his team he should be in the top 2 without a doubt and a question
12
Jack Ham

Jack Raphael Ham Jr. is a former American football outside linebacker who played for the Pittsburgh Steelers of the National Football League from 1971 to 1982. He is considered one of the greatest outside linebackers in the history of the NFL.
Best outside backer of all time!

Please look at statistics beyond sacks! Ham did not rush the passer because he did not have to. Mean Joe and the Steel Curtain did that. Jack was as good a tackler as there ever was and the best linebacker and dropping into coverage. 32 interceptions during an era when the ball wasn't thrown 40+ times a game.

Hambis #1 in my opinion!
By far the most technically sound linebacker ever. He is very underrated playing in the same corps as Lambert. The best defense of all time (70's Steelers) had 10 starting Pro Bowlers, Ham included. No linebacker was better in pass coverage than Ham, a great compliment to the tenacious Lambert.
Jack should be in the top10 he's one of the most all around linebacker
Jack Ham is better than #12!
13
Chuck Bednarik
Listed much too low. Chuck Bednarik was an amazingly athletic player and was the greatest linebacker of his era. He also was one of the last players to play 60 minutes. As mentioned before, he also layed out the h.o.fer Frank Gifford who recently died of cte (probably because of that hit! ), which kindled and stroked the flames of the great New York - Philadelphia rivalry.
This guy was one Bad MFer. Left people unconscious on the field. There are many good Linebackers on this list, Nitschke etc.. Ray Lewis was good and I agree better than LT, but you can't count out the older generation - shorter seasons, less rules, and PAIN
He almost killed a guy!
Played both ways.WW11 vet.Toughest guy on the field all the time.
14
Demarcus Ware

He should rank much higher on this list than number 21.
15 Takeo Spikes
16
Joe Schmidt
With all the great players in the game, including all the terrific linebackers, Schmidt was the leader of those great 1950's Lions' NFL Championship teams and the league's 1962 MVP.
17
Derrick Brooks
I may be a TB fan, but this is disrespectful to have Derrick Brooks this low. Not only was he a force well into his later years, he was an ironman who missed very few games in his career. Always gave 110%.
Really? Clearly should be top 5 minimum.
This list is terrible. This is my list 1. Lewis2. Buktus3. LT4. Derrick brooks5. Brian Urlacher
Way too low. Should be in top ten
18 Rob Morris
19
A.J. Hawk
Are you kidding me? Aj hawk? I'm the biggest packer fan alive, and he is not even in the top 1000 linebackers of all time
Who created this list? I'll fight them. Cheesedead is right; he may be okay but is nowhere near even the hall of 'very good.'
20 Aldon Smith
21
Von Miller

Vonnie B'Vsean Miller Jr. is an American football outside linebacker for the Denver Broncos of the National Football League.
He's better then clay Matthews he sacks clay Matthews can't ha
He is an absolute monster and he kills the quarterback.
22
Willie Lanier
Somewhat overshadowed by Butkus, I would put Lanier over every other MLB ever. Huge hitter, sure tackler, great in coverage, and a coach on the field. One of the best players I have ever seen.
Butkus - lambert - then Lanier - that's just the way it is
19 -u gotta ne kidding me - Joe about 3rd after butais and lambert
23
Tedy Bruschi
Someone else said it best! To be a good Linebacker after a stroke says it all! That's in a Pickup game, but to be Good in the NFL is amazing!
YOU DON'T COME BACK FROM A STROKE AND STILL BE AWESOME. HE DID
24 Jerod Mayo
25
Harry Carson
Hugh goal line stands
Captain for life.
PSearch List