Best Tight Ends in NFL History
The Top Ten
1
Tony Gonzalez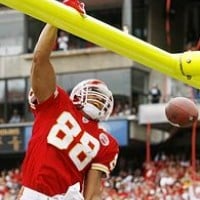 Anthony David Gonzalez is a former American football tight end who played 17 seasons in the National Football League.
He is by far the best Tight End of All-Time. No one can stop him he catches as good as Randy Moss. Runs as good as Darrell Green. He is unstopable.
Holds all Tight End records. Most career yards, touchdowns, and receptions. Enough said.
Amazing output and abilities. Tremendous number of starts and games played.
2
Rob Gronkowski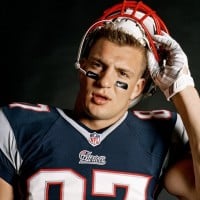 Robert Paxton Gronkowski, nicknamed "Gronk," is an American football tight end for the Tampa Bay Buccaneers of the National Football League. After retiring at the end of the 2018 NFL Season, Gronkowski came out of retirement to play with former Patriots teammate Tom Brady for the 2020 NFL season.
The single most dominant tight end ever in the game. Look at his yards after catch: he would drag two, sometimes THREE defenders downfield for 5, even 7 yards. And who has more clutch catches in big moments (read: playoff and Super Bowls) than Gronk. No one. Oh yeah, one more thing: how many surgeries? And he just kept on ballin...
Biggest TE with skills. New England quietly, has been the franchise that has dominated/revolutionized this position. Russ Francis, Ben Coates, Gronk. Sprinkle in Hasselback and Marv Cook, who were pro-bowlers and its been a great position. But GRONK is cutting edge, he plays too reckless to last test of time though. Everyone should enjoy this character while he's here
He's a beast now, but he's young, gets hurt, and plays for an already great team, see how he does on a team like the cowboy when Jason Witten has been there, he won't get better results than witten.
3
Shannon Sharpe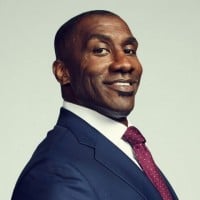 The defense could light you up back then. Gronkowski is not even Top 5. Shannon Sharpe is the GOAT. Also, listen to his HOF speech. Greatest speech ever.
Unlike Gronk who plays in today's game, SS went over the middle knowing full well defenders wanted to take his head off!
4
Kellen Winslow
Kellen Winslow sr is the best tight end of all time at ACTUALLY PLAYING THE POSITION. He had a shorter career than the stats guys with 2 strike shortened seasons as well. His stats were also deflated by having to "share" the ball with Charlie Joiner and John Jefferson/Wes Chsndler. Winslow had speed, size, great hands lmp, and was the best route runner of any tight end ever. The best tight end of all time at ACTUALLY PLAYING THE POSITION is Kellen Winslow sr.
5
Mike Ditka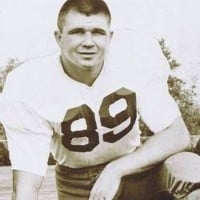 6
Jason Witten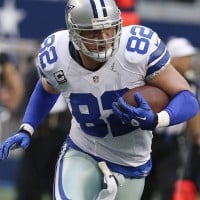 Christopher Jason Witten (born May 6, 1982) is an American football tight end for the Las Vegas Raiders of the National Football League. He played 16 seasons for the Dallas Cowboys of the National Football League (NFL). He played college football for the University of Tennessee, and was drafted by the Cowboys in the third round of the 2003 NFL Draft. Witten ranks second in all-time career receptions... read more
I'm a diehard Eagles fan, and I absolutely LOATHE the Cowboys. But I have always respected Jason Witten. The man is one of the toughest and most durable players that I have ever seen in my life, and watching him tear apart my Eagles for 15 years was very frustrating. There are always individual players that you appreciate on the teams you hate. Witten was that guy on the Cowboys. A great player and a rare class act for an organization filled with degenerates and arrogant loud-mouths. He always torched us and made us pissed off with how he always caught crucial third down passes and touchdowns in the fourth quarter, but he earned our respect as a phenomenal football player. I hope to see you one day enshrined in Canton, Jason. Fantastic career and a fantastic human being.
Will end up with more catches than anyoneone other than about 4 players, 2nd most by tight end. Will end up 2nd all time in receiving yards for tight ends. Is by far the best blocker in the elite 5 te's off all time. How he is not considered number 1 or 2 all time is mind blowing! Only Gonzalez's numbers are higher but terrible blocker compared to Witten. Just too many haters/clueless fans!
7
Antonio Gates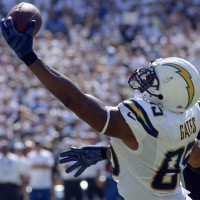 Antonio Ethan Gates, Jr. is an American football tight end for the San Diego Chargers of the National Football League.
I love my chargers and Antonio Gates what a beast when he came out of the gates. A basketball player turned tight end no one had ever heard of that. I think if antonio gates could stay healthy he would be the best tight end of all time hands down.
Antonio Gates is the 2nd best tight end to play and should be way higher
!
He should be higher. He has the second most touchdowns and is amazing.
8
John Mackey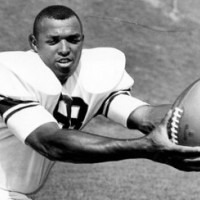 John Mackey was an American football tight end who played for the Baltimore Colts and the San Diego Chargers.
Mackey should be scond only to Kellen. Look at his stats, year in and year out he was the best. In those days if you did not have injuries you where lucky.
Different era, but this guy was a load. Only one I've seen with running like that is NE's Gronk.
9 Ozzie Newsome
10
Dave Casper
"The Ghost" Hands down best nickname for a tight end. And was the Snake's right hand man in Super bowl 11.
Would make the catch surrounded by the enemy!
Ghost to the Post!
The Contenders
11
Jimmy Graham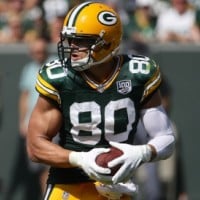 Jimmy Graham is an American football tight end for the Chicago Bears of the National Football League.
The Questions with Graham will be how long can he play and stay healthy and does he keep improving. He was a basketball player who only played 1 year of college football. It took him 1/2 a year to get on the field his first season and he made some great plays. Year 2, he was one of the most dynamic receiving TE's but couldn't block and messed up some routs. Yr 3 he was hurt most of the year but played through it and had a good year. Now in year 4, he appears to be the most unstopable receiving TE in history. He dosn't make rout mistakes anymore and his blocking has improved to mediocre.
Graham should at least be in the top 5, if not the top 10. He's definitely the best tight end in football right now. Definitely not the best ever though.
He is my favorite tight end and he plays for my favorite team the Seahawks
12
Mark Bavaro
Best all around tight end who played in the NFL, not to be confused with the new NFL, which should go ahead and rename itself the TFL (Tag Football League)!
Probably the toughest tight end. Remember him carrying several defenders into the end zone in the superbowl.
13
Charlie Sanders
Rob Gronkowski would have never gotten up if he took some of the hits that Charlie Sanders did back when football was played by men not the game it's become now. One hit like Charlie took in the end zone from Butkus and Gronk would have been done. And Gronkowski's best catch ever isn't even in the top 10 of Charlie's! too bad young people didn't watch football back when it was really football. Just like Brady would have lasted three plays if he got hit the way Johnny Unitas the greatest quarterback who ever lived got hit every single game!
Best hands most difficult catches for tight end... also tremendous ambassador for game
14
Jay Novacek
Great tight end
15
Travis Kelce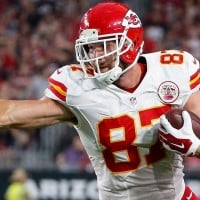 Travis Michael Kelce is an American football tight end for the Kansas City Chiefs of the National Football League.
He held the record for most receiving yards by a tight end in a single season... for almost an hour
Without a doubt the best tight end in football currently.
Best tight end in the league right now.
16
Todd Christensen
Todd is a Hall of Fame candidate as he was one of three tight ends that were dominant in the 80's
Along with Kellen Winslow and Ozzie Newsome. In a run dominated offense by Hall of Famer Marcus Allen. Yet, with QBs such as Marc Wilson...he was able to be a 2 time All Pro and 5 time Pro Bowler. He was sure handed and got the Raiders out of many a jam. He was a Two Time Superbowl Champion.
Bad to the bone
17
Vernon Davis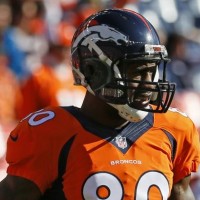 Vernon Leonard Davis is an American football tight end for the Washington Redskins of the National Football League.
Fastest Tight End In NFL History. Not the best but the fastest no doubt...
He is fast. No question.
Fasted of all time!
18
Jeremy Shockey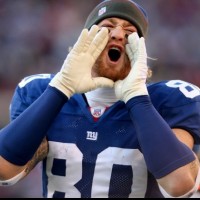 Jeremy Charles Shockey is a former American football tight end. He was drafted by the New York Giants 14th overall in the 2002 NFL Draft.
He was the best with the hits he delivered.
19
Zach Ertz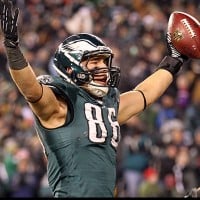 Zachary Adam Ertz is an American football tight end for the Philadelphia Eagles of the National Football League.
20
Greg Olsen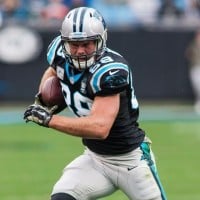 Gregory Walter Olsen is an American football tight end for the Seattle Seahawks of the National Football League.
He is a pivotal part of the Carolina Panthers offense and considering that they went 15-1, he is pretty good. He's also Cam Newton's favorite target so that puts him in a good position.
He is Cam Newton's favorite target in a season in which the Carolina Panthers went 15-1. Show some love!
21
Heath Miller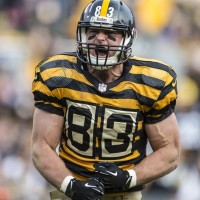 Earl Heath Miller, Jr., nicknamed "Big Money," is a former American football tight end who spent his entire career with the Pittsburgh Steelers of the National Football League.
22
George Kittle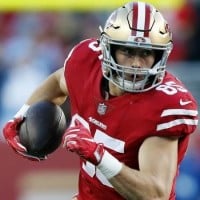 An absolute beast after the catch. Have fun bringing him down.
Best TE currently. if he keeps going at this pace, he's going to be the best of all time.
23 Brent Jones
24
Delanie Walker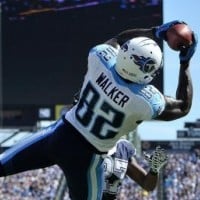 Delanie Walker is an American football tight end for the Tennessee Titans of the National Football League.
25
Kyle Rudolph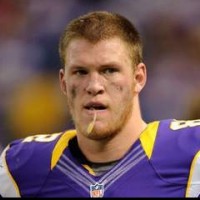 Kyle Daniel Rudolph is an American football tight end for the Minnesota Vikings of the National Football League.
PSearch List