Top Ten Funniest Gaming YouTubers of All Time
The Top Ten
1
DashieGames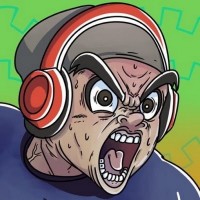 DashieGames (real name: Charly Guzman) is a Dominican-American Let's Player who is known for being loud as hell and excessively swearing.
He has the hands down funniest rages in games ever!
So funny
Definitely DACHIE!
Yes. DACHIE! DACHIE! PLAY FIRE EMBLEM! THAT GAME IS GOOD! PLAY FIRE EMBLEM FATES! YOU SHOULD STICK TO NORMAL PHOENIX MODE! phoenix mode is when a unit dies, s/he comes back to life.
2
SMG4

SuperMarioGlitchy4 (SMG4 for short, formerly Smg4 and also known as Glitchy in Mario in Real Life!?) (born May 24, 1999) is predominantly a Super Mario 64 machinimist. He also uses material from Minecraft, Garry's Mod, and other media.
All of his videos are hilarious because of potty humor and adult jokes. That beats Teen Titans GO!
You should've changed the name of the item to 'Hobo Bros'.
Hysterical channel cannot wait for meta runner
3
Markiplier

Mark Edward Fischbach (born June 28, 1989), known online as Markiplier, is an American YouTube personality. Originally from Honolulu, Hawaii, he began his career in Cincinnati, Ohio, and is currently based in Los Angeles, California.
Whatever horror game he plays, big or small, it gets the most hilarious reactions out of him.
No matter how scary some games he plays are, I'm laughing constantly because this guy is hilarious! - UltimateHybridX
His fnaf series is great - xXIMABEASTXx
4 Keef Crew
5
POiiSED
His scream is one in a million. Headphone warning for those who watch him!
6 MiniLadd
7
CoryxKenshin
Not only funny, but a real chill guy as well.
8
Messyourself
I died watching his mukbang videos - xXIMABEASTXx
9
Jacksepticeye

Seán William McLoughlin, born February 7, 1990, better known by his online pseudonym Jacksepticeye, is an Irish YouTube personality, known primarily for his comedic Let's Play series and vlogs. His most popular series include Happy Wheels, Five Nights at Freddy''s and Fortnite.
I love when he really gets into whatever game he is playing, he likes to do funny voice overs for characters.
TOP OF THE MORNIN TO YA LADDIES - xXIMABEASTXx
10
PeanutButterGamer

I nearly die laughing every time!
The Contenders
11
Game Grumps

These guys make the funniest comments on things. Love seeing their reactions!
The best duo in YouTube gaming. - cjWriter1997
12
VanossGaming

Evan Fong, is a Canadian internet personality and video game commentator with 24 million subscribers. He is best known under his online pseudonym VanossGaming, where he posts montage-style videos on YouTube.
Not only is he a hilarious guy, but very kind to. I can appreciate someone who is nice as well as funny.
13
Angry Video Game Nerd

James Duncan Rolfe is an American actor, comedian, filmmaker, film and video game critic, and internet personality, best known for starring in the web television series The Angry Video Game Nerd, a joint production of Rolfe's Cinemassacre Productions, GameTrailers, and ScrewAttack.
14
JonTron

Jonathan "Jon" Jafari, best known by his internet pseudonym JonTron, is an American comedian, reviewer, and internet personality.
Just watch one of his videos to get a glimpse at his humor. He really makes me laugh!
How could you not include JonTron?
15
chuggaaconroy

Emiliano "Emile" Rodolfo Rosales-Birou, also known as Emile Rosales and best known as Chuggaaconroy, is an American internet personality and prominent Let's Player.
16
ParkerGames

He's one of my favorite characters in Max/Ross's series Butt Knights
17
IBerleezy
Funniest Gaming youtuber. - zeroclubsboii
18 Kelly Eden
19
ProJared

Jared Knabenbauer (born August 28, 1985), better known online as ProJared, is an American YouTube personality. He is best known for his video game reviews and videos related to Dungeons & Dragons. Knabenbauer also worked extensively with various YouTubers outside of his own channel.
20 LordMinon777
21
Yamimash

22
RiskRim

23 Luigikid Gaming
24
Pat The NES Punk

25 Lenarr Young
PSearch List