Greatest Black Sabbath Singers
The Top Ten
Ozzy Osbourne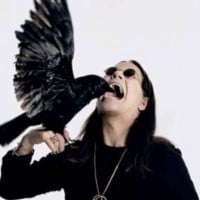 John Michael "Ozzy" Osbourne was born on December 3, 1948. He is also known as ''The Prince of Darkness''. Ozzy is an English singer, songwriter, and television personality. He rose to prominence in the early 1970s as the lead vocalist of the band Black Sabbath. Osbourne was fired from Black Sabbath ...read more.
Osbourne known as the "Prince of Darkness" Osbourne is also known as the "Godfather of Heavy Metal" Osbourne's eerie vocals, early records such as their debut album Black Sabbath and Paranoid sold huge numbers.
Dio has a better voice, but I think he was better solo and with Rainbow. But Ozzy... HE'S THE PRINCE OF DARKNESS! OZZY! OZZY! M/
I love Prince of Darkness Ozzy Osbourne! He's known as the Godfather of heavy metal for a reason and he's one of my rock & roll idols. I love him! Ozzy forever!
The other singers were some what good but the music doesn't sound the same without Ozzy. His voice blends so well with the music! It's why Black Sabbath is what it is today! Everyone else tried but Ozzy surpassed them by far!
Ronnie James Dio

Ronnie James Dio (born Ronald James Padavona; July 10, 1942 – May 16, 2010) was an American heavy metal singer, songwriter and musician. He fronted and/or founded numerous groups including Elf, Rainbow, Black Sabbath, Dio and Heaven & Hell. He is credited with popularizing the "metal horns" hand gesture ...read more.
I agree with all the comments Ozzy dose fit Sabbath more, but Dio has a better voice and vocal range no matter how classic Ozzy is Neon Nights is so under rated and just great. Also i've never heard of any of the others singing with them.
Dio kicks ass compared to ozzy although ozzy Black Sabbath songs are better dio sings way better he's the 2nd greatest metal singer behind rob halford (from the best band ever judas priest)
Ozzy was a legend and there is no doubting early Sabbath were classic and groundbreaking, but I prefer Ronnie's voice and he has a larger vocal range. Heaven & Hell album was my era and also a classic of its time. Dio was also great in Rainbow (but that's another poll!)
Dio's voice was the rarest mix of tone amd power. Please don't compare the two. Ozzy was great at what he did, but not even in the room as being that quality of a singer. Also remember, without Dio, you may not have heard from Black Sabbath again in a meaningful way. We saw what happened when Dio left, I didn't hear good music or singing from them until Dio came back for Dehumanizer. Album Heavaen and Hell helped redefine them.
Tony Martin
Tony is definitely the best singer Black Sabbath has had. His performance in Headless Cross was incredible, and he should have gained more popularity.
Live shows were great with him because he could sing all other's songs with ease. He never became hoarse like that Dio feller would
This band has had good singers but Black Sabbath band with him means Black Sabbath band. in the world of rock singers he has the most powerful voice.
He is the best singer Black Sabbath had I like the cross purposes record he is very underrated and he deserves to be in the third spot at least
Rob Halford

Robert John Arthur "Rob" Halford is an English singer and songwriter, who is best known as the lead vocalist for the Grammy Award-winning heavy metal band Judas Priest and famed for his powerful wide ranging operatic voice.
The greatest vocalist in history, but not the best Black Sabbath singer!
Ian Gillian
Born again is the most underrated Black Sabbath album. Ozzy is not even on the same planet as far as talent goes compared to Dio and Ian. He blows live and throwing buckets of water and being well liked doesn't make you a great singer. He was a great frontman but a mediocre singer.
No one compares to Gillan. He can sing Ozzy's material and Dios.
My second choice after the original Ozzy Osbourne
Dio sucks, Gillan is the best ever!
Glenn Hughes

Glenn Hughes is an English rock bassist and vocalist, best known as a member of Deep Purple and the rock pioneers Trapeze, and his solo career. Hughes was inducted into the Rock and Roll Hall of Fame as a member of Deep Purple. He is acclaimed for his wide vocal range.
Glenn is an all time badass musician the world has ever had the pleasure of experiencing.
Best singer awesome! Only one Lp
Ian Gillan

Ian Gillan is an English singer and songwriter. He originally found success as the lead singer and lyricist for Deep Purple, and the original singer on the rock opera concept album Jesus Christ Superstar by Andrew Lloyd Webber, where Gillan had the leading role (Jesus Christ).
Ray Gillen
Ronnie and Ray were on another level. Tony, Ian and Glenn were on the next. Everyone else was cut rate
If it wasn't for the aids he would have made a great career.
Dave Walker
Dave Walker done a good job with his short tenure with the band in 78 and I like his version of "Junior's Eyes"
Bill Ward

William Thomas "Bill" Ward is an English musician and visual artist, best known as the original drummer for the British heavy metal band Black Sabbath.
Soulful and real. Underrated as a Black Sabbath singer. Possibly overshadowed by his awesome drumming.
The Contenders
David Donato
Dave Donato was with the band around 6 months in 1984 and sang a few demo's one being "No Way Out" which had a memorable riff of Iommi's that didn't see the light of day til 1987 on Eternal Idol in which the song changed to "The Shining"
Ron Keel
Jeff Fenholt
Wasn't in the band. Why is even listed?
Tom Jones

Sir Thomas Jones Woodward is a Welsh singer known by his stage name Tom Jones. He became one of the most popular vocalists to emerge from the mid-1960s.
Well... I didn't knew that... hahaahahaahah
Eric Singer

Eric Singer is an American hard rock and heavy metal drummer, best known as a member of Kiss, portraying The Catman originally played by Peter Criss.
The best Black Sabbath vocalist by far!
He isn't even a black sabbath singer, god whoever put Eric here must be an idiot
James Hetfield

James Alan Hetfield was born on August 3, 1963. He is an American musician, singer and songwriter known for being the co-founder, lead vocalist, rhythm guitarist and main songwriter for the American heavy metal band Metallica.
BAdd New Item