Top 10 Greatest Cities in the World
There are so many great cities, and here are some of the best. I based it on night life, beach's, popularity, culture, sports, etc.

The Top Ten

1 London, England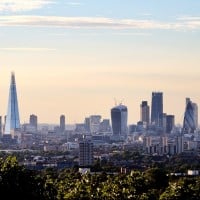 London is the capital and most populous city of England and the United Kingdom. Standing on the River Thames in the south eastern part of the island of Great Britain, London has been a major settlement for two millennia.
An absolutely wonderful place! The British Capital is a bustling city with a historic pedigree. Everywhere you go or dig, there is a piece or moment of history waiting to be discovered. Another center for culture, arts, human experience, transportation, history, shopping, gastronomy, finance, and fashion. Samuel Johnson said: "When a man is tired of London, he is tired of life. For there all is in London, life can afford!".
London is easily the best city on the planet. It beats New York hands down, every single time. The History of Britain is so diverse and stretches much further back than that of the US, and much of the fascinating culture of this is located in London. London's Impressive architecture includes Buckingham Palace, St James's Palace, the Victoria Memorial, Wellington Arch, Big Ben, the Houses of Parliament, Westminster Abbey, the Shard, London Bridge. (The list goes on) All you have to do is watch clips of the Olympics last year and acknowledge the fact that the 2012 games have been labelled the BEST ever. London is the only city to host the games three times. As well as this the world has been fascinated by the Queens Diamond Jubilee and the Royal Wedding. London is where the world lives and watches. Meanwhile in New York...?
I'm not going to put down other cities in my comment, only give the desirable aspects of London. Every street has a history worth telling. I went to a restaurant quite far off the centre of London, and this small restaurant had a whole past linked with royals and medieval practices and it was fascinating. And there's a similar story for most places, too. In London, you feel as if the whole world revolves around you: something is always going on that attracts huge amounts of attention. Walking through London is like walking through a film, with every building a spectacle in its own right - Buckingham Palace is stunning, the government building is perhaps too beautiful for the people within it! And now, the more modern buildings are rising. None of them are plain, rectangular skyscrapers, they are creative and clever, like every other part of London. London is clean, it's safe (in most areas) and there's something for everyone. Whether it's art, fashion, food, shopping, sports, science, ...more
London is just full of tourist attractions (Buckingham Palace, Big Ben etc.) but if you wanted to find somewhere with absolutely no tourists (okay, maybe like 10) where you can get away from the crowds. If you rely on public transport, without a doubt, you can get on a bus. If not, a train, or a taxi! They have places like Oxford Street, where you can buy food and amazing clothes, makeup, perfume, etc. the houses if you want to rent one, cheapest is like 500 then most expensive is probably 3000 if you're buying an average size apartment. The education is outstanding, and for university, (if you vote someone in particular) can be free. Period.
2
New York City, U.S.A

The City of New York, often called New York City or simply New York, is the most populous city in the United States.
Reasons why it's better than London...
Cheaper
Bigger
24/7 subway running more lines
More variety in shopping
Way more Diverse
More iconic
Higher wealth status
More Billionaires
Financial capital of the world in the financial capital of the world country
Bigger and more advanced technology
Has the top restaurant in the world
London may have good universities but NYC universities are ranked higher
Hard to believe but NYC has a higher life expectancy probably due to its lower amount of pollution because the USA is more spread out, the third oldest person in the world lives in NYC
Inventor of Hip Hop/Rap and Disco
Awesome Beaches
More sunny days than London yet colder

NYC may not have the history London has or the culture but NYC being around for only 150 years has grown into one of the best cities in the world and competes with a city (London) that's 1000 years old.

I don't care about history I love the cheap upscale shopping ...more
I voted for New York mainly to go against what has been said here...

Firstly NY is not financial capital of the world London is.

Secondly USA had only been around for about 400 years, England has been colonised for more than 2000 so London has way more history... America has its "glorious monuments" most of which my house is older than.

And of course we have the queen by far the best resident of any city.

London also contains the nought line of longitude which is where all time in any country is measured from, which is why England sits in the middle of the world map.

We have Big Ben, Westminster Abby, Buckingham palace, London eye, The Shard, London dungeon... The list could go on and on and on.
The Tube is more logical than the Subway (in line lay out) but a 24/7 system is amazing.

NYC Street grid is much easier to get around.

Central Park is the greatest city park in the world.

No Queen or King. Ever. The people are celebrated.

Taller more impressive buildings.

Brooklyn > East End

Statue of Liberty symbolizes freedom. Big Ben=Upper class Wealth, Tower of London=Oppression/Prison, Buckingham Palace=Colonial Rule/Oppression, Parliament=Aristocracy/Power, etc.

NYC proximity to mountains, nature and beaches. Thames is gross.

Younger by 1000s of years and just as good if not better than London.

Broadway is and has been the new Globe Theater.

Jazz, Hip Hop and Punk either invented or perfected in NYC. Sex Pistols/The Clash went to Ramones shows, not the other way around.

Less annoying tabloids in NYC.
New York is a good place to see all the history and go camping and take a vacation off. The museum of natural history is the best site I've seen in this city. I could have voted for both New York and London. I think London and New York are both the same. I've visited them both, and I can tell they both are very nice cities. I'm originally from Canada and it's a good excuse to visit good cities like London and New York. It's a good thin I keep my passport so I can travel anywhere I want. Oh, and happy holidays to everyone around the world!
3
Paris, France

Paris is the capital and most populous city of France, with an area of 105 square kilometres and an official estimated population of 2,140,526 residents as of 1 January 2019. Since the 17th century, Paris has been one of Europe's major centres of finance, diplomacy, commerce, fashion, science, and the ...read more.
Paris, la plus belle ville du monde. (The most beautiful city in the world). I never thought that I would have such a crush on a city! It is a like a pretty, sexy girl that every boy or man craves for. The Eiffel Tower, Champs Elysees, Louvre Museum and Mona Lisa, Notre Dame Cathedral, pastries such as Croissants, Macarons, Baguettes. Fashion, luxury, romantic sexiness. One of my most favorite cities in the world!
We have visited this absolutely terrific city 5 times.
Such wonderful, cultural, historical (covering all the last 25 centuries), capital of fashion, of haute couture, of gastronomy, of arts.

Just be careful, only in some crowded touristic places, with some people coming from Eastern Europe (pickpockets, Three-card Monte), Italy (rip off, swindle, fraud) North Africa (drug, counterfeit products).
Always ask French tourist information, what the best.

But anyway it is a dream like USA.
Paris was exactly like I had pictured it from a young age. So vibrant, culturally diverse, bursting at the seams with history. I have visited London as well, and though I adore London, it feels much more crowded than Paris. I highly recommend you check it out at least once in your lifetime. There is so much to see and do. Never thought I would love a city that much.
Amazing city. Easily the most beautiful in the world, and combining all the amenities of a mega-city with the charm of local quartiers. The quality of food, health and transport there bests both NY and London by a wide margin. The cultural offerings in Paris are also the best in the world.
4
Tokyo, Japan

Tokyo, officially Tokyo Metropolis, one of the 47 prefectures of Japan, has served as the Japanese capital since 1869. As of 2018, the Greater Tokyo Area ranked as the most populous metropolitan area in the world.
I've never lived in any of these top cities, but I have visited all.

Unlike in New York or London, or even in my home city of Christchurch New Zealand; I felt completely safe walking around the streets at night in Tokyo. In fact Tokyo has been ranked the safest city in the world with incredibly low crime rates.

Everybody is so friendly, even though Tokyo was the place where I was most obviously a foreigner (and barely spoke the language).

The transport system is impeccable (rush hour is much the same) with the trains running nearly exactly to schedule all the time.

Historically it beats London (New York doesn't even hold a candle to either) with a much richer historical background in the surrounding areas and longer history, although Kyoto is again better for this.

During my month stay in Tokyo, I only once saw rubbish in public, and it was in a little used stairway at the back of a small station. Tokyo is far cleaner than either New York or ...more
In my opinion, Tokyo is the greatest city in the world that keeps one yearning to return time and again. I mean, come on 80,000 restaurants alone with 3 times the Michelin Star ratings than Paris! Safety is paramount, trains ALWAYS run on time, super clean, people are so kind and so many things to do and see. Why wouldn't you want to visit the most populous city on the planet?
My grandparents went there one summer and sent us pictures of the city. I got to say, even in a picture, everything looks dynamic and beautiful. The mountain in the background fits the city very well. And my grands said the majority of the people there are nice. I plan on going to Tokyo one summer. I speak a little Japanese, so I am able to understand a little Japanese.
Historically it beats London (New York doesn't even hold a candle to either) with a much richer historical background in the surrounding areas and longer history, although Kyoto is again better for this.
-
How does a city with barely 500 years of being relevant beat one with 2,000 years of it? Tokyo can't touch London in terms of history.
5
Los Angeles, U.S.A.

It has the best weather in the world, those other places have miserable weather. It is a very beautiful city, center of the world film industry and music industry. Whenever I go somewhere else, it's always wonderful to come home to such a beautiful place. My vote goes to Los Angeles, the greatest city in the world. It is full of history and culture and the people are second to none. And the girls on the beach are the most beautiful. Go sit in the rain and snow, I will bask in the sun in Los Angeles.
The city is nice, but I'm a pretty picky person when it comes to weather. The beach is chilly and often overcast for most of the summer, which sucks, as it's the most scenic part of the city in my opinion. The valley is always clear, which is nice, but you also get murdered by the sun there, which isn't so good. Otherwise, the weather in other parts of the city is pretty consistent, at a nice 80-95 degrees. I guess LA gets my vote. It was one of my favorite places to live.
The entire area has some amazing sights and attractions. The iconic skyline of Downtown LA, the beaches in Santa Monica, Venice, and Malibu (all of them great surfing areas), Hollywood, Disneyland in nearby Anaheim, as well as the surrounding hills and mountains great for hiking, and in the winter, for those who want to hit the slopes, there's ski resorts like Mt. Baldy and Big Bear Lake, both of them are not too far from the area.
LA is not an ugly city at all whoever said that below is totally wrong! LA has to be one of the most unique cities in the world. It is so different from so many places and extremely trendy and high class. It's infested with famous people and Beverly Hills is probably the best neighborhood I've every seen. Highly recommend LA
6
Sydney, Australia

I have lived in Sydney for more thạn 5 years and it is a paradise on earth. The culture is vibrant, the locals are beautiful and the beaches are the best. You can have enjoy the most diverse cuisine from any country in Sydney. What strikes me the most about this city is its harmony with nature, but it never creases to amaze me.
Another thing that makes Sydney wonderful is that it is dynamic and peaceful at the same time! The long stroll on the sand enjoying the sunset inspires my life. Another plus is the safety/well-being with health care system being one of the best in the world, and it is an important factor to be considered right?
I think Sydney should be N.1 I originally come from LA have been living in Sydney for 3 years and the cities in front I have been too except Bangalore.
In Sydney, it normally has beautiful blue sunny skies unlike London.
It is not over populated unlike Tokyo.
Beautiful beaches unlike all of the cities in front.
Nice people, unlike Paris and NYC.
When I was in London, I felt miserable because everyday was cloudy and raining, it was in spring.
When I was in Paris, I felt like crap everyone there were so rude.
When I was in Tokyo, I could hardly move.
Modern. Wealthy. Friendly. It even has a larger population than Paris, Birmingham, Dublin and Los Angeles! It is diverse and has people from all over the world, too! It has many attractions such as the aquarium, Centerpoint Tower, the opera house and the harbor bridge! Fantastic!
From a convict campsite to a truly cosmopolitan global city. A multicultural melting pot, harmonious and vibrant, fast paced and edgy. Sydney is dynamic and creative, down to earth and welcoming. A stunning summer city, the gateway to Australia.
7
Dubai, U.A.E.

Dubai. Home of the world's tallest free-standing building, the Burj Khalifa, and one of the most expensive cities. Not only has the world's tallest building, but the city has a another world wonder, the world's largest shopping mall, The Dubai Mall. This mall has a indoor amusement park like it was six flags, and has a extremely large and cool aquarium, capable of habiting WHALE SHARKS. The city is probably the best city (my opinion). The city has air-conditioned bus stops, one of the world's busiest airports, and home to one of the largest economy growth.
It's full of the greatest cars including the legendary Lykan Hypersport. So much glamor, cars, tech, and dreams. Plus it has the tallest building in the world. If you're over 40 you wouldn't understand. Oh and by the way, as much as I like Paris and some of the Europeans cities (excluding London) they are actually pretty dumpy in like 75% of the city. This town is pretty everywhere!
Dubai is a terrible city. Their skyscrapers are built by slaves for the elites. Racism, as well as discrimination against non-Muslims, gay people, and women are extremely prevalent. Stay away!
Dubai is simply the best city in the world. No questions about about that and if you don't believe me, come see it yourself and experience the greatest place on Earth!
8
Rome, Italy

Rome has a lot of issues, but all cities really do, but what Rome has over the others is that Rome is unique. The history, the culture and the cuisine are iconic. Many of the other cities on this list will rise and fall. Their architecture is a dime-a-dozen. But there's only one Rome and Rome is eternal.
Walking in the narrow streets of the eternal city is always amazing you can breath a unique atmosphere a mix of traditions between past and present but no future! Time is locked in next 100 200 years others capital will change and so many times their skylines but Rome will be always the same that's the beautiful
Rome is the birthplace of western civilization and the greatest city the world has ever known without Rome there is no London, no New York City. Period!
All roads lead to Rome, the greatest city to ever exist. It is the center of the greatest empire to ever exist.
9
Istanbul, Turkey

Istanbul, formerly known as Byzantium and Constantinople, is the most populous city in Turkey and the country's economic, cultural and historic center.
The best city of all times, half european, half asiatic.
Capital of Roman empire, Byzantine empire, Latin empire, Byzantine empire again & Ottoman empire.
Napoleon once said, "If the earth was only one state, then Istanbul would be its capital." Formerly known as Constantinople, it was the fall of this great city to the Ottoman empire that had fostered the the Europeans' interest in discovering America. Arguably it is for that reason alone that this city should be recognized as the greatest city to have ever existed in history. If there was never a motive to discover America, then the most powerful nation of the modern world, the United States of America, would cease to exist. For that matter, Istanbul should be ranked higher than NYC. It is the only city in the world that spans two continents and its strategically economical position lies between a strait and an artificially, yet well-crafted isthmus-bridge.
Istanbul shoul be a lot higher. I lived in Istanbul and I want to go back. Everything is amazing. The people, the food, the buildings and a lot of other things. I can't believe it's on 30.
This city is culturally the richest of all by so far. It has been the capital of three hugest empires in Europe.
10
Berlin, Germany

This city is the city in the world with the most historical events of all time.
It has a wonderful skyline and their people are very nice and serious but they are really wise and know everything about their history.
The Olympic Stadium with 75,000 seats is also worth to be visited.
Paris and London are nothing, when you want to experience great things!
Berlin is by far the best city in the world to live in. This city is very very rich, if not the richest one. There are so many attractions to see. I was often there. I must say it is the cleanest, most beautiful and best, greatest place and city to live in. Berlin must be on place 1 or two. And by the way London is never as good as Berlin or New York! Berlin TOWN OF GODS!
Best city in the world. Lots of history, yet it's balanced out with modern buildings. Very safe, lots to do. Nice warm Summer's to explore the many parks, cold snowy winters to enjoy which gives it a Christmas feeling.
NYC 1 laugh out loud. But in all reality, if you want a good job in a not boring city, Berlin is the place. Source:I live here
The Contenders
11
Chicago, U.S.A.

Chicago, officially the City of Chicago, is the third-most populous city in the United States. With over 2.7 million residents, it is also the most populous city in both the state of Illinois and the Midwestern United States. Chicago is considered one of the most important business centers in the world. ...read more.
Chicago is easily the most affordable city to live in on this top ten list. Amazing architecture and food--and it has the perfect mixture of greenspace among the built environment. Chicago is simultaneously a slow and fast city---and few cities have more museums covering the sciences, humanities, and culture. The city is rich for its museums and art institutes.

The city also has amazing neighborhoods and is relatively easy to travel around. Chicago is the worlds best kept urban secret.
I'm very glad to see Chicago in the top ten, where it should be.
Chicago has something for everyone!
Want to go shopping? Magnificent Mile
Want to see artwork? Art Institute of Chicago
Want to go to the beach? 28 miles of lakefront beaches
You want it, Chicago's got it.
Summer time Chi, better than anything. Go check out the new Maggie Daley park. Chicago has the best food, best museums, best libraries and best architecture.
I've lived here all my life, I've travel the world while I served in the United states Marines, Chicago is indeed the greatest city in the world
12
Mumbai, India

Mumbai is by far one of the most influential cities in the world, both culturally and financially. Apart from being home to Bollywood and a rapidly changing skyline, it's increasing popularity as an economic hub and a tourist attraction has led to plenty of foreign investment. Quite easily the best city in India, it is also the safest Indian city and with improving infrastructure, will soon make join the likes of London, Tokyo and New York as one of the finest cities in the world
The city never sleeps. Here the richest and the poorest live in harmony. There is no discrimination. Beautiful marine drive, bandra, juhu chowpatty are places to be visited any hour of the day. The rains are lovely. Never felt any more safer at any other place even during wee hours of the night. The food is to die for. Definitely the economic capital of India! Love Mumbai
The financial capital of India and a future international economic hub. Mumbai is taking India forward economically and with all the big MNCs setting up base rather than Bangalore and New Delhi (both used to be nice places, but now they've declined because the people do not have the same business mentality and compassion as Bombayites. There's no bias whatsoever, I've lived in Bangalore for 6 years and currently stay in Delhi. I would like to move to Mumbai and live there).
With the new international terminal set to be one of the world's best, improved road connectivity, and existing extensive local railway network, upcoming mass transit system and monorail, two outer ring roads and five new sea-links (apart from the existing one that has raised the benchmark of Indian infrastructure), mumbai's infrastructure is set to become world-class.

With the makeover of the Mumbai Zoo according to world standards, the plantation campaigns of mangroves, the planting of trees along every ...more
Mumbai's the best city in the world no doubt in it...
The most rapidly rising city in the world...
Home to a Lakhs of people of different castes, religions, countries, etc...
The financial capital of INDIA and has the worlds most rapidly rising and making a global mark on the various markets...
Finally... I love mumbai...
13
Hong Kong, China

Hong Kong, officially the Hong Kong Special Administrative Region of the People's Republic of China, is an autonomous territory on the eastern side of the Pearl River estuary in East Asia.
My hometown deserves to be the best ever city. Culture, history, food, transportation... everything, is excellent. And most importantly, people are extraordinarily polite. As you know, Hong Kong is bustling city and when it comes to working time, MTR stations and bus stops are fully filled with tons of people. Nevertheless, I was never pushed by anyone and everybody was queuing. Unlike in China, when the train departs, someone clenched me in my arms, pushing me away. So that's the difference between the qualities of Hong Kong people and people in mainland. I'm not trying to be offensive but only speaking the truth.
Super safe...one of the longest life spans for residents...food that's diverse and awesome...central in Asia, so easy to get anywhere...public transportation that's safe, fast, clean, cheap, and can get you anywhere fast...unbeatable views from Star Ferry or Victoria Peak..just walking down the street is entertainment in itself.
Hong Kong should be in the top 5. It has fair laws for everyone and the culture is good. It should deserve a high place, because it is like a mix of a western and Chinese city
Hong Kong should be at least better than Shanghai. Hong Kong has better people, culture, history and government than Shanghai.
14
Singapore

Whaa Singapore should be first. Its literally almost Utopian. No scruffy people trying to cheat you, zero crime rate, all the buildings, sidewalks, roads, etc, look brand new and futuristic. People are very nice. No traffic because cars are very, very expensive, but it's a small city so just use the trains and taxis which are very cheap. Not crowded either and great sights and air quality. Lots of things to do as well. Heaven on earth.
The only thing that is bad here is the prices. Also if you ever go to Singapore, go to jewel mall! If you like Pokemon it has a pokemon center here.
Best city in the world! The airport is a hub for air travel. It's a City State with lots of trade and a port. It's iconic skyscrapers like the hotel near the Ferris wheel, and how many different cultures there are in a small area.
Not sure why Singapore isn't rated No. 1! Vibrant culture, endless things to do all on top of being one of the safest and cleanest places anywhere!
15
Shanghai, China

Shanghai is one of the four municipalities under the direct administration of the central government of the People's Republic of China, the largest city in China by population, and the second most populous city proper in the world, with a population of 24.18 million as of 2017. It is a global financial ...read more.
There is no such a grand place like the Bund, Shanghai where you could be in the center backed by six-hundred-year-old traditional Chinese architecture, surrounded by various buildings from various countries with various styles and modern skyscrapers. A place with a comprehensive extent of inclusive spirit. A place where the fusion of the primary culture of the East and the West takes place. A place moderately showing its elegance and beauty. A place with infinite possibilities and generosity. A place named Shanghai, the only in the world.
Dude, I am living Dubai. But I am from shanghai. I swear whole shanghai is city but Dubai is just about 1/5 is city rest of them is desert. They just have biggest shopping mall and Burj Khalifa and Burj Al Arab. They don't have any culture, everything they can do is just put money. Not like Shanghai you can go thru the city from traditional to modern. I think you have never been in Shanghai before. They have about 15 lines subway, about two thousands buses. Compare to Shanghai, Dubai is horrible!
Buildings from 2100? Nah, it's a beautiful city, I agree with you on that. But, there are slums in that place. Unfortunately, there is a Shanghai restaurant in the place I live in, in the USA. In the restrooms, they show pictures Shanghai's slums.
Some people like the new buildings, but I think London is good too. In fact, I would prefer London for how advanced THEY ALSO are! New York, eh... Tokyo has the highest GDP of any city in the world, so this means it beats Shanghai.
Still a great city though!
Shanghai is #1 city only to you Chinese people. Most of NON-Chinese people think NYC, London, and Paris are WAY better than Shanghai. People think differently from you Chinese people. When you guys shout for China best, we see only inferiority complex from the low-income economies.
16
Toronto, Canada

Toronto is the most populous city in Canada, the provincial capital of Ontario, and the centre of the Greater Toronto Area, the most populous metropolitan area in Canada.
This is a pretty eco-friendly city with great locations and friendly people. Nice neighbourhoods and a great role model for any other city
I may be a little biased because I do live in Toronto, but I've been to both Toronto and New York City. I think that both cities are quite similar, New York City has Times Square and Toronto has Dundas Square. I think that Toronto is a better city because New York City is an island and has limited space so it will not develop much more. Meanwhile, Toronto is a huge city that still is developing and has plenty of space. Comparing the events, things nearby and prices of both cities, Toronto is much more affordable compared to New York City. So overall, I think that Toronto is a much better city.
Toronto, for such a young city, is definitely a city with culture. There are people from all over the world, there are a bunch of different scenes and yet it still feels in some ways like a nice small town despite it being HUGE. Not New York huge but very big in it's own right. There is something to do everyday, tons of job opportunities, and all kinds of different neighborhoods. If you're the kind of person who wants it all, Toronto is your city, trust me. It's very much a city for everyone, no matter who you are, you will find your people.
I am from London, England.
Toronto is incredible. I wouldn't know where to start, no city has as many amazing and mind blowing things that Toronto has. It has everything, its cheap, friendly, safe. It has the sights, the lakes, the ever so close landscapes of rural Canada.

The only thing London beats it on is the music scene but apart from London and Germany? I would say Toronto has the freshest music scene for underground electronic.

I love this city. And so does everybody that's ever come here on holiday.
17
Moscow, Russia

Moscow is definitely in the top 10. Nowadays, it has more supertalls (>300m - 7) than any other city. The city with its 10 lines motorways lives 24 hours and everything is in move. Plus, huge cultural scenery and restaurants are among the best in the world. As a strong geopolitical and financial center of Eastern Europe and Middle Asia, it must be ranked 6 after NY, London, HK, Tokyo and Singapore.
Mumbai is over Moscow? 40% of Indians (not just in Mumbai) are extremely poor! Moscow is the most luxurious city in Russia! How can Mumbai be OVER Moscow?
A very beautiful and inspiring city! Lots to see and lots to do. Amazing architecture and history. Check out the Moscow metro.. WOW!
100% on top of any european city and getting even greater every year, should be top 5 of the worlds greatest
18
Barcelona, Spain

Barcelona is a city in Spain. It is the capital and largest city of the autonomous community of Catalonia, as well as the second most populous municipality of Spain.
There's no doubt Barcelona is one of the amazing cities in the world. The most beautiful city of the mediterranean region. A perfect mix between History and Modernity. Its old town is stunning. An architecture, specially Gaudi's buildings, unique in the world. Excellent food and a lot of places to have a drink. You can enjoy its sunny days throughout the year and go to the beach. Just few cities can campare with Barcelona.
The architecture of Gaudí is completely unique, and Barcelona is a versatile place where you could enjoy the good weather to practice sport, to visit art galleries & any kind of museum or to learn about history by the many influences which recieved this place. Another advantage is that it is situated near the mediterranean sea to be able to enjoy this place during any season. It have also a giant amusement park in Tarragona at 1 and half hour from the city by car which will become the biggest in Europe in a few years. The only thing which you will probablly don't like are the prices of some places to visit (but they are not as expensive as some favourite cities like Paris). If someday you go there remember that Gaudí was vegetarian and he wouldn't like to see the souvenirs of a bull of "trencadis". There are no bullfights in Barcelona or Catalonia but it is not the same in the rest of Spain.
I'd chosen Madrid because it is a more important financial center, but Barcelona is not far behind and has terrific quality of life too and is by the Mediterranean. Go Spain, my second favorite country in the world!
Not only is this city one of the most beautiful, diverse and clean cities, but its also not expensive to live in, unlike the other cities stated on this list.
Honestly, it deserves to be at minimum top 10, not top 50
19
Las Vegas, U.S.A.

Las Vegas, officially the City of Las Vegas and often known simply as Vegas, is the 28th-most populated city in the United States, the most populated city in the state of Nevada, and the county seat of Clark County.
YES! And for those who think Las Vegas is strictly the strip, YOU ARE THINKING VERY WRONG MY FRIEND. I live in Las Vegas and it is amazing to live here! Cost of living is so affordable, areas like Summerlin, Centennial, Spring Valley area, man you can get a 4-5 bedroom home for the price of 1 in San Francisco, or not even a 1 bedroom. And there is just so many things to do! Shopping centers, (outside of the strip) grocery stores, restaurants, (again, outside of the strip) lots of stuff for the kids too! Go karting, arcades, etc. We even have churches here! And yeah the heat may be a problem but yo we got extreme winters here as well. IT CAN GET FREEZING during the winter. And snow is less than an hour away. I can go on and on about this!
Hell Yeah! they've managed to turn something from a plain desert with almost nothing into a fun cool city.
I think this City is most beautiful and should be number 1
My 2015 visit here got me HOOKED. One day I might move here.
20
Washington D.C., U.S.A.

Washington Dc is great. It isn't too crowded like New York or La and has amazing monuments and luxury there
Located on Maryland's soil, it truly is a significant city and capital.
Power and influence. Very beautiful scenery.
Home of the president it will always win
21
Athens, Greece

Birthplace of Civilization, fantastic vibe, ever so hospitable people, virtually no crime and without doubt the best city to party, love the music, the food and of course is there a building more impressive than the Parthenon still standing after 2,500 years. Oh and there are great beaches within 20 minutes, classical sites everywhere and some of the most chilled out and happy people I've ever seen
I've been to Athens and it was all amazing! It goes from antiquity to modern architecture.
From the Parthenon to the New Acropolis Museum! There is a ton of parties,music and art! But the thing I love the most about it, is its unique culture!
Athens is one of the most historical cities. Athens deserves a better place.
So beautiful, and many historical sites.
22
Miami, U.S.A.

Miami, officially the City of Miami, is the cultural, economic and financial center of South Florida. Miami is the seat of Miami-Dade County, the most populous county in Florida.
Financial district along Brickel avenue is amazing. Bayside park is a great place to explore. Bay side market has interesting stuff. A short boat ride off the coast yields fantastic views. Bridges from Brickel to Virginia Key and then Key Biscayne. Or you can stop by south Beach and enjoy it's beaches and restaurants. Short ride south gets you to the charming Coral Gables. You can get to the Florida Keys quite quickly from Miami. Beaches everywhere. Amazing atmosphere. Amazing city.
This city has the most style and swagger of all the other cities. This city has an amazing tropical climate, the best beach to have ever existed, the skyline is absolutely beautiful, the condos both new and old are amazing, and the best part is the fact that some of most beautiful women in the world live and vacation here.
We have the best beaches, the coolest people, historical areas, and Latin American flair.
Miami is Miami. It has a very nice energy. Cool city. Nice people.
23
Stockholm, Sweden

For those of you who haven't been there! There is no more beautiful place you can visit. Period!
Fell in love since the moment my plane landed, every one is so lovely and the city gorgeous
A GREAT city I must say
A really nice city
24
Manchester, England

Just hands down the most culturally and artistically significant and diverse city in the UK. Greatest city in the world.
Great history, music and sport, should be higher
The Smiths, Oasis, Factory Records, The Haçienda, New Order, The Fall, The Happy Mondays, Bez.

Point proven.
25
Honolulu, U.S.A.

Honolulu is the capital and largest city of the U.S. state of Hawaiʻi. It is an unincorporated part of and the county seat of the City and County of Honolulu along the southeast coast of the island of Oʻahu.
All of the other cities on the list are here only because they are large and famous, not because anyone would actually want to live in them. For example, apparently Moscow is better than Honolulu according to this list, but who would ever want to live in Moscow? It is cold, flat, and crime ridden. Also Shanghai, why would anyone want to live there? It is one of the most polluted cities on earth. Honolulu is the best city because is the most desirable city to live in. Of all of these cities, Honolulu has the best beaches, the best mountains, the best weather, the best scuba diving, and the best surfing.
Here is some reasons why Honolulu should be number 1:Weather, safety rank
And many other reasons. HONOLULU RULES!
Really New York is good that city is crowded and too many Yankees (i'm not racist just hate how they talk real loud good god) honolulu is paradise
PSearch List