Top 10 Metal Bands with Remarkable Guitar Riffs on Most of Their Songs
Metal bands you listen to when you wanna hear many badass riffs and not only 1-2 songs with good riffs.

The Top Ten

1 Iron Maiden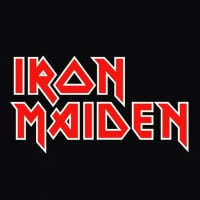 Iron Maiden are an English Heavy Metal band formed in Leyton, East London, in 1975 by bassist and primary songwriter Steve Harris. The most critically acclaimed period for the band was from 1983-1989. With vocalist Bruce Dickinson, bassist Steve Harris, lead guitarist Dave Murray, rhythm guitarist Adrian ...read more.
Favorite riffs: Phantom of the Opera, Children of the Damned, 22 Acacia Avenue, Back In the Village, Aces High, Caught Somewhere in Time, Stranger in a Strange Land, Infinite Dreams, Mother Russia, Childhood's End, Afraid to Shoot Strangers, Fortunes of War, 2 A.M., Futureal, Out of the Silent Planet, Dance of Death, Rainmaker, Brighter than a Thousand Suns, The Reincarnation of B.B., When the Wild Wind Blows.

Edit: I missed out Hallowed Be Thy Name and Fear of the Dark just because they're so obviously good
The Trooper riff blew my mind. Also - Aces High, Fear Of The Dark, Hallowed Be Thy Name, Mother Russia, and many more.
The riffs of fear of the dark and hallowed be thy name are one of the best riffs of iron maiden
They have a lot of great guitar riffs.
2
Metallica

Metallica is an American Thrash Metal band formed in 1981 . The original lineup was James Hetfield (Vocalist and Rhythm guitarist), Dave Mustaine (Lead Guitar), Lars Ulrich (Drums), Ron McGovney (Bassist). The group came into mainstream from their Self-Titled album and the hit single "Enter Sandman". ...read more.
My favorites:
Master Of Puppets
Sad But True
Blackened
Creeping Death
Harvester Of Sorrow
Battery
Damage Inc (the riff before and after the guitar solo)
Metallica had great guitar riffs before the Black Album, on the Black Album, and even after this album. Most of their songs really have remarkable riffs.
Uh, YEAH. Who wouldn't like the riffs in their songs. Even the bad ones have good riffs.
Master of Puppets for example
3
Megadeth

Megadeth is an American thrash metal band from Los Angeles, California. Megadeth was formed in 1983 by guitarist Dave Mustaine and bassist David Ellefson, shortly after Mustaine was fired from Metallica. They have released 15 studio albums to date, and have gone through many lineup changes, with Dave ...read more.
Yes. Megadeth's riffs are amazing. And their solos, of course, complete the chemistry for Dave and Marty as perhaps the greatest guitar duo of all time.
Holy Wars is my #1 metal riff of all time. I also like Symphony of Destruction, Angry Again, Tornado of Souls.
4
Annihilator

Annihilator is a Canadian thrash metal band founded in 1984 by vocalist, guitarist, bassist, songwriter, engineer, producer, mixer and mastering engineer Jeff Waters and former vocalist John Bates.
Fast, technical and melodic riffs. Very often there are several badass riffs in one song. Jeff Waters is a riff master.
Songs - Phantasmagoria, Schizos (Are Never Alone, part I and II), Alison Hell, The Trend, Sixes and Sevens, Imperiled Eyes, 21 - Metal_Treasure
5
Pantera

Pantera was an American Heavy Metal band formed in 1981 by guitarist Dimebag Darrell and drummer Vinnie Paul. The band started out as a Glam Metal act in the 1980s with little success. After discarding their original lead vocalist and enlisting Phil Anselmo, the band signed a major record deal with ...read more.
Mouth For War, Cowboys from Hell, Walk, 5 Minutes Alone, I'm Broken
Actually dimebags riffing is unique
6
Amon Amarth

Amon Amarth is a Swedish melodic death metal band from Tumba, formed in 1992. The band takes its name from the Sindarin name of Mount Doom.
Every one who play electric guitar knows that Amon Amarth have the most melodic riffs in metal
Amon Amarth probably have the most melodic riffs in metal.
Songs - The Pursuit of Vikings, Tattered Banners and Bloody Flags, War of the Gods, Twilight of the Thunder God, Guardians of Asgaard - Metal_Treasure
7
Slayer

Slayer is an American thrash metal band from Huntington Park, California, formed in 1981 by guitarists Jeff Hanneman and Kerry King. They rose to fame with their 1986 album Reign in Blood, and is credited as one of the big four of thrash metal bands, the others being Metallica, Megadeth, and Anthrax. ...read more.
Raining Blood is the most iconic and most copied riff in metal history (credits to Jeff Hanneman, R.I.P.). But I can't put Slayer higher than this because most of their other riffs sound alike. Overall, guitar work / riffs aren't their prime but Raining Blood riff is mindblowing.
Raining Blood and South of Heaven
8
Black Sabbath
War Pigs has cool guitar riffs.
9
Judas Priest

Judas Priest are a British heavy metal band that formed in Birmingham, England, in 1969. They are often referred to as one of the greatest metal bands of all time, and are even commonly called "The Metal Gods", after one of the songs on their 1980 album "British Steel". ...read more.
Painkiller.
10
Children of Bodom

Children Of Bodom was a melodic death metal band from Espoo, Finland. Formed in 1993, the final lineup consisted of Alexi Laiho, Janne Wirman, Henkka Seppälä, Jaska Raatikainen and Daniel Freyberg.
Morrigan by far the best from them in my opinion - bobbythebrony
The Contenders
11
Death

Death was an American death metal band formed in 1983 by Chuck Schuldiner. Death is considered to be one of the most influential bands in heavy metal and a pioneering force in death metal. Its debut album, Scream Bloody Gore, has been widely regarded as the first death metal record, while the band's ...read more.
I am a big fan of iron maiden and megadeth but I am telling you chuck is riff maker
Evil Chuck knows how to do it
12
Savatage

Savatage is an American heavy metal band founded by the brothers Jon and Criss Oliva in 1978 at Astro Skate in Tarpon Springs, Florida.
Their riffs are great (R.I.P. Criss Oliva):
Hall Of The Mountain King, Morphine Child, Chance, Sirens, Surrender, Damien, Scream Murder, Jesus Saves, Dead Winter Dead. - Metal_Treasure
13
Coroner

Coroner is a Swiss thrash metal band from Zürich, formed in the early 80s. They have been called "the Rush of thrash metal" for their increasingly complex style of progressive rock-infused thrash. They garnered relatively little attention outside Europe .
Awesome thrash riffs - Masked Jackal, Tunnel of Pain, Nosferatu, Reborn Through Hate, Arc-Lite - Metal_Treasure
14
Nile

Nile is an American technical death metal band from Greenville, South Carolina, United States, formed in 1993. Their music and lyrics are inspired by Ancient Egyptian/Near Eastern mysticism, history, religion, and ancient art, as well as the works of H.P. Lovecraft.
The breakdown from Cast Down the Heretic makes me want to headbutt a mountian.
15
Iced Earth

Iced Earth is an American heavy metal band from Tampa, Florida. It was formed in 1985 under the name Purgatory by guitarist and main songwriter Jon Schaffer and original drummer Greg Seymour.
Jon Schaffer is a very solid rhythm guitar player and he plays thrashy riffs although Iced Earth aren't a thrash band. Jon Schaffer is also the king of gallops. I like it. - Metal_Treasure
16
Avenged Sevenfold

Avenged Sevenfold is an American heavy metal band, that was formed 1999 in California. Their longest lineup of members was M. Shadows (Vocals), Synyster Gates (Lead Guitar), Zacky Vengeance (Rhythm Guitar), Johnny Christ (Bass Guitar), and The Rev (Drums). ...read more.
They have the incredible skill with making a song an adventure with many twists. Melodic and slow, fast and heavy, played in such harmony you can indulge yourself in every piece and be amazed by at least one part every time
I know people don't like them very much, but I do enjoy their guitar riffs
Why people hate this band? cause they are jealous
17
Primal Fear

Primal Fear are a German metal band formed in 1997 by Ralf Scheepers and Mat Sinner. They play heavy metal, power metal and speed metal. Primal Fear remind of Judas Priest but Primal Fear are faster and heavier. They use twin (dual) lead guitars. Ralf Scheepers voice reminds of Rob Halford.
Primal Fear offer variety - they have different types of riffs.
Songs - All For One, Strike, Diabolus, Road to Asylum, King For A Day, Blood on Your Hands - Metal_Treasure
18
Machine Head

Machine Head is an American heavy metal band from Oakland, California. Formed on October 12, 1991, the group was founded by vocalist and guitarist Robb Flynn and bassist Adam Duce. They have received great critical success especially for their album "The Blackening" which is considered a modern metal ...read more.
19
Mercyful Fate

Mercyful Fate was a Danish heavy metal band from Copenhagen, formed in 1981 by vocalist King Diamond and guitarist Hank Shermann.
20
Kataklysm

Kataklysm is a Canadian death metal band. They call their musical style "northern hyperblast" after an advertisement in M.E.A.T.
21
Gojira

Gojira is a progressive metal band from Bayonne, France. The band was known as Godzilla until 2001. Gojira is composed of Joe Duplantier on vocals and rhythm guitar, his brother Mario Duplantier on drums, Christian Andreu on lead guitar, and Jean-Michel Labadie on bass.
22
Angel Witch

Angel Witch are a British heavy metal band which formed in London, England in 1977 as part of the new wave of British heavy metal movement.
23
Gamma Ray

Gamma Ray is a power metal band from Hamburg, northern Germany, founded and fronted by Kai Hansen after his departure from the German power metal band Helloween.
24
Sabaton

Sabaton is a power metal band from Falun, Sweden formed in 1999. The band's main lyrical themes are based on war and historical battles.
25
Cannibal Corpse

Cannibal Corpse is a American death metal band from Buffalo, New York, formed in 1988. The band is known for their graphic album covers, explicitly violent lyrics and song titles like "I C** Blood" The group got into mainstream after performing the song "Hammer Smashed Face" in the 1994 film Ace Ventura: ...read more.
PSearch List