Top 10 Best Years In Metal Music History
Best years are years when several great bands released some of their best albums and songs.

The Top Ten

1 1986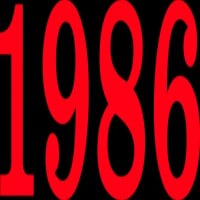 Pretty much the biggest year for the Big Four besides Anthrax, and also thrash metal in general. Plus, there was some good songs and albums from Iron Maiden and Ozzy Osbourne, too.
Peace Sells, Reign in Blood, Master of Puppets, Somewhere in Time, Orgasmatron, Pleasure to Kill and The Ultimate Sin are some of the most important albums to me and all top 3 albums of the respective artists and they all came in this year. Great year for metal.
Metallica, Megadeth, and Slayer wrote the three greatest thrash albums that year (Well, three greatest in the Big Four beside Rust in Peace). Not only that, but Iron Maiden wrote a pretty good album as well.
Raining Blood, Angel of Death - Slayer, Master of Puppets, Welcome Home, Orion, Battery - Metallica, Peace Sells - Megadeth, Pleasure to Kill - Kreator, Merciless Death, Black Prophecies - Dark Angel, and more.
2
1990

A lot of huge albums came out in this year, such as Cowboys From Hell (Pantera), Painkiller (Judas Priest), Rust In Peace (Megadeth), and Seasons In The Abyss (Slayer).
Seasons In the Abyss. Enough said.
Seasons in the abyss
3
1988

Operation mindcrime, justice, seventh son, south of heaven, leprosy, slowly we rot, state of euphoria, so far so good so what, the new order, need I say more?
Color our world blackened!
4
1983

Slayer and Metallica made their debut albums this year, and Iron Maiden made one of their most famous albums. On top of that, there was Bark at the Moon (Ozzy Osbourne), Holy Diver (Dio) and Melissa (Mercyful Fate).
The year of good debut albums (And more stuff).
This is the year it really all began.
5
1984

Maiden and Dio does it. Metallica and Manowar releases support!
Metallica and Iron Maiden made their best albums here.
1984! Metallica, Bathory, Running Wild, Slayer, Venom, Iron Maiden, Judas Priest (though DOTF is not their best work.) and lots more...
6
1992

7
2001

I consider this year the revival of Thrash Metal, since Thrash bands started to make good albums again, some even making albums among their best, this includes mainly, Slayer, Kreator, Sodom, Destruction, Testament, Death Angel reformed, and Megadeth also released album while it wasn't among their best it was a huge improvement over Risk,
Slipknots Iowa album was really good along with System of a Down's second album Toxicity and slayers God Hayes us all.
8
2004

9
1989

1989 was very good for Technical Thrash Metal:
1) Annihilator - Alice in Hell (Alison Hell, Human Insecticide, Schizos Are Never Alone Parts I & II)
2) Coroner - No More Color (Die by My Hand, Tunnel of Pain, D.O.A.)
3) Dead Brain Cells aka D.B.C.- Universe (The Genesis Explosion, Estuary, Exit the Giants)
4) Watchtower - Control and Resistance (this album is a mix of progressive metal, thrash metal and jazz fusion).
Savage- Gutter Ballet a huge diamond and the corner stone of symphonic metal
Toxik - Think This the best tech thrash album
Blind Guardian -Follow the blind. their first really good LP
Kreator Extreme Aggresion. One of the best German Thrash albums
Rage Secrets in a Weird World.One of the great speed power cds

Gamma Ray formed
Overkill released The Years of Decay that year.
Should be way above 2016
10
2002

Pretty good year with albums Arcturus's The Sham Mirrors and Agalloch's The Mantle
The Contenders
11
1991

Lack of Comprehension. Enough said.
12
1982

13
1987

The power metal year
14
1970

Black Sabbath and Deep Purple released the first albums with some proto-metal songs on them. Hard Lovin' Man by Deep Purple was the first speed metal song ever.
Black Sabbath released, the first metal album ever. (Vincebus Eruptum is proto-metal)
15
1995

16
1980

This website is flooded with Milennials. 1980 was THE BEST year for metal. Without these bands the majoriy of heavy metal music wouldn't even exist.
17
2016

2016 (MMXVI) was a leap year starting on Friday of the Gregorian calendar, the 2016th year of the Common Era (CE) and Anno Domini (AD) designations, the 16th year of the 3rd millennium, the 16th year of the 21st century, and the 7th year of the 2010s decade.
Despite the events that year, good albums came along and trash metal started to come back more. Metallica and Megadeth both made good albums, and there was also albums from Metal Church, Anthrax, Testament and Diamond Head.
2016 is a horrible year, without a doubt.

However, there's been a plethora of classical Thrash Metal bands hitting the Metal scene this year. Heck, Metallica's making a comeback after 8 years. Megadeth, Anthrax, Testament, Metal Church and Overkill are producing and have released new material to good chart success and critical reception. Maybe this could be the year where Thrash Metal may finally get its comeback :).
We've lost so many celebrities, David Bowie, Prince, Cgristina Grimmie, I can't count the rest.
It's all too horrible.
And we had the worst shooting ever and we've lost one of our greatest astronauts, John Glenn.

I hope 2017 isn't worse like 2001 where we had 9/11, or else we're dead.
18
1998

19
1996

1996 was good especially for Death Metal:
1) Opeth - Morningrise (Black Rose Immortal, To Bid You Farewell, The Night and the Silent Water)
2) Cryptopsy - None So Vile (Phobophile, Crown of Horns, Graves of the Fathers, Slit Your Guts)
3) Hypocrisy - Abducted (Roswell 47, The Arrival of the Demons/Part 2)
4) In Flames - The Jester Race (Artifacts of the Black Rain, Moonshield, The Jester Race)
5) Cannibal Corpse - Vile (song: Devoured by Vermin)
20
2007

2007 was a common year starting on Monday of the Gregorian calendar, the 2007th year of the Common Era and Anno Domini designations
21
1993

1993 was good for Melodic Death Metal - 3 bands released pioneering albums with Melodic Death Metal songs: Carcass (Heartwork), Dark Tranquillity, In Flames
22
2006

My vote goes to 2006. Why? Well, just have a look at some of the albums we got that year:

The Ruins of Beverast - Rain upon the Impure
Daylight Dies - Dismantling Devotion
Saturnus - Veronika Decides to Die
Insomnium - Above the Weeping World
Amon Amarth - With Oden on Our Side
Agalloch - Ashes Against the Grain
23
2019

God damn. This year was great!
24
2015

2015 was a common year starting on Thursday of the Gregorian calendar, the 2015th year of the Common Era and Anno Domini designations
This should be higher. It was a great year for pretty much every subgenre.

Death Metal:
Napalm Death - Apex Predator - Easy Meat
Cattle Decapitation - The Anthropocene Extinction
Jungle Rot - Order Shall Prevail
Nile - What Should Not Be Unearthed

Black Metal:
Leviathan - Scar Sighted
Venom - From the Very Depths
Deafheaven - New Bermuda
Marduk - Frontschwein
Enslaved - In Times

Thrash:
Slayer - Repentless
Viking - No Child Left Behind

Traditional Metal:
Ghost - Meliora
Iron Maiden - Book of Souls
Enforcer - From Beyond
Satan - Atom by Atom
The Sword - High Country
Enforcer - From Beyond

Stoner/Sludge:
Baroness - Purple
The Sword - High Country
High on Fire - Luminiferous

Prog:
Tesseract - Polaris
Enslaved - In Times
Between the Buried and Me - Coma Ecliptic
Symphony X - Underworld

And much more
25
1994

PSearch List