Most Versatile Guitarists
This List contains the Most All-Rounder Guitarists who can play many number of Guitar Styles, Techniques & Guitar varieties across many Genres of Music...

The Top Ten

1 Richie Sambora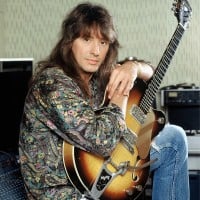 Richard Stephen "Richie" Sambora is an American rock guitarist, producer, singer and songwriter who was the lead guitarist of the rock band Bon Jovi for 30 years. He is known for his work with Bon Jovi from 1983 to 2013. He is a very praised guitarist who played solos for songs like Dry County, Stranger ...read more.
Classical, Country, Pop, Latin, Jazz, Blues, Rock, Metal... You name it, he plays all of them! He's the Greatest Guitarist of All-time...

Just to get a rough idea on Richie Sambora's Incomprehensibly Incredible range of Guitar playing: He is the Lead Guitarist of Bon Jovi for 30 Years & Counting responsible for 12 studio albums, 3 compilation albums, 1 live album, 1 box set, 13 video releases and over 50 singles plus as a Solo Artist responsible for 3 Solo Albums. He has contributed for more than 500 Songs with his Divine Guitar Wizardry.

Just give a listen to: Stranger in this Town, Wanted Dead or Alive, Livin' on a Prayer, Keep the Faith, Dry County, You give Love a Bad Name, Bed of Roses, Always, I'll be there for you, Born to be my Baby, Ballad of youth, One Light Burning, Diamond Ring, Father Time, The Answer, In it for Love, Lay your Hands on me, (It's Hard), Letting you Go, My Guitar Lies Bleeding in my Arms, Thank you for Loving me, Bad Medicine, Runaway, Never ...more
2
Eric Johnson

Eric Johnson (born August 17, 1954) is an American guitarist, songwriter, and vocalist from Austin, Texas. Best known for his electric guitar skills, Johnson is also a highly proficient acoustic, lap steel, resonator, and bass guitarist as well as an accomplished pianist and vocalist.
Cliffs of Dover... To Dusty... And everything else in between. Very sophisticated style. Versatile? Extremely.
3
Jimmy Page

James Patrick Page is an English musician, songwriter, and record producer who achieved international success as the guitarist and founder of the rock band Led Zeppelin.
JP was really the first versatile guitarist along with the guitar gods. His session career went handy for him when he formed zeppelin. He's not only versatile in playing, but versatile on what he is. Guitarist, founding member, composer, producer; who else can say that? He listened to all kinds of music, he played all kinds of music in zeppelin. Blues, rock n roll, country, classical, folk, punk, heavy metal, reggae, are just the very attributes jimmy page had to offer. Whole Lotta love, rock and roll, communication breakdown, heartbreaker, since I've been loving you, stairway to heaven, Bron y aur stomp, the song remains the same, over the hills and far away, houses of the holy, black dog, the rain song, kashmir, dyer maker, all my love, babe I'm gonna leave you, fool in the rain, and Achilles last stand are prime examples. Jimmy page should be #1. There's a reason why he's known as the most influential guitarist.
James Patrick Page should be number 1. He was not only a great player, he was a great writer and producer.
How does Ritchie Sambora beat jimmy page? Jimmy page did the same as Ritchie Sambora, but better since jp influenced him!?
4
Phil Keaggy
I saw GlassHarp when they started out in the Youngstown Ohio area and Phil was clearly the musician for life leader of the sound!
Phil seems to be always seems to create great melodies in whatever he does. It's obvious that he has world class technique, but it is always about the song and the melody. His acoustic work is stunning but I really miss the les Paul work.He early stuff was so creative and years beyond many of the great players at the time. I've never heard anyone with just a Les Paul and an amp create such a soundscape. Blistering runs, sweeps, volume swells, e-bow, weaving in jazz, rock, classical etc. I often wonder what he could have been as a member of a band with a creative group of musicians to keep pushing him.
His early work with trio Glass Harp was really groundbreaking. No one came close to making a Les Paul make the tones and sounds that he could create. Volume swells, sweeps, shred, you name it, all the while being incredibly melodic. And then there's the acoustic... regularly considered one of the best in the world. He's all over the map and hard to pin down, but whatever he does, its ranks up there with the best.
Man! From the days of Glass Harp to all the way to his Solo career, Phil Keaggy has demonstrated an Extraordinary Guitar Artistry. Maker of the Universe, The wind and the wheat, John the Revelator, Salvation Army Band, Make you feel my Love, Addison's walk, Arrow, County Down, Rivulets, Can you see me, Time as so on... What an Incredible Guitarist!
5
Steve Howe

Stephen James "Steve" Howe is an English musician and songwriter. He is best known as the guitarist in the progressive rock group Yes.
Most versatile? Steve Howe has to be at the top of this list!
"America" cover long version. Listen
6
Steve Morse

Steven J. "Steve" Morse is an American guitarist and composer, best known as the founder of the Dixie Dregs; and since 1994, the guitar player of Deep Purple.
7
Mark Knopfler

Mark Freuder Knopfler is a British singer, songwriter, guitarist, record producer and film score composer. He is best known for being the frontman of the British band Dire Straits.
Sultans of Swing, Brothers in Arms, Private Investigations, Telegraph Road, Tunnel of Love, Money For Nothing, Romeo and Juliet, Your Latest Trick, Walk of Life, It Never Rains, On Every Street, Why Worry, Lady Writer, Once Upon a Time In the West, Love Over Gold, Twisting by the Pool, So Far Away, Heavy Fuel... I mentioned only 18 of Dire Straits material Here... See how differently beautiful they sound compared to each other!
8
Buckethead

Brian Patrick Carroll, known professionally as Buckethead, is an American guitarist and multi-instrumentalist who has worked within many genres of music.
Buckethead should be at the top of the list. Does anyone know of a guitarist who can play almost any string instrument equally well. Can anyone name a guitarist who has released more than 200 albums?
Even god himself would've been tired by now, but Bucky has already released a dozen albums in 2015..
I keep listening to more and more of this guy's stuff... it's just incredible how many different genres he can play at an extremely high level... blues, shredding, neuvo-classical, rock Buckethead does it all
From 'Padmasana' to 'Soothsayer', From 'Baptism of Solitude' to 'Final Wars', From 'Mrs. Beasley' to 'Beaten With Sledges', From 'For Mom' to 'The Treeman', Buckethead has them All!
9
John McLaughlin

John McLaughlin, also known as Mahavishnu John McLaughlin, is an English guitarist, bandleader and composer.
10
Don Felder
First lets take the Masterpiece: HOTEL California! Both the Electric (1976) & the Acoustic (1994) versions are Amazingly Versatile and Don Felder is the Master behind it! There are plenty of Eagles songs with lots of diversity. He can play Rock, Blues, Country, Classical & more...
Check the Electric & Acoustic Versions of Hotel California!
End of Story...
The Contenders
11 Pat Metheny
12
John Petrucci

John Peter Petrucci is an American guitarist, composer and producer. He is best known as a founding member of the progressive metal band Dream Theater. Compared to his level of skill, John Petrucci is relatively unknown in the modern music industry.
From heavy shredders to powerful melodies. To jazz, blues like sounds, to classical inspired parts, emotional meldies. This guy can play it all. Just listen to erotomania, the best of times, lines in the sands, hollow years live at budohkan, stream of consciousness, as I am. When the water breaks, universal mind, paradigm shift, biaxident then listen to some of the songs on his solo album like Glasgow kiss damage control, lost without you, and jaws of life. Then you will understand all of his different sounfs and know his versitility.
13 Bill Frisell
14
Guthrie Govan

Guthrie Govan is an English virtuoso guitarist and guitar teacher, known for his work with the bands The Aristocrats, Asia, GPS, The Young Punx and The Fellowship, as well as his solo project Erotic Cakes.
Guthrie has sheer mastery of almost every guitar technique, and a fantastic grasp of the English language. He is a brilliant instructor and is truly modest. Unfortunately not many people listen to jazz.
I can't think of anyone who has such a grasp on various guitar styles.
Ridiculously versatile, just listen to the Aristocrats albums.
15
Glen Campbell

In my opinion the most versatile. Glen played, country, rock, blues, even classical. He was one of the most sought after studio musicians of the 60s.
One man band, needs no backup, play for all the greats including Elvis, beach boys, Neil diamond, part of famous wrecking crew session musician group
16 John Scofield
17
Shawn Lane

Shawn Lane was an American musician who released two studio albums and collaborated with a variety of musicians including Ringo Starr, Kris Kristofferson, Johnny Cash, Willie Nelson, Waylon Jennings, Reggie Young, Joe Walsh, Jonas Hellborg and many others.
First listen to 'Epilogue for Lisa', Next listen to 'Get you Back', Then listen to 'Death Theme' and Finally listen to 'Not Again'!
18
George Harrison

George Harrison (1943 - 2001) was an English guitarist, singer, songwriter, and music and film producer who achieved international fame as the lead guitarist of the Beatles.
Early rock, sitar, slide, modern rock, pop...any song you want. The tune is what matters. The best one to have in a band full of great tunes.
19
Eric Clapton

Eric Patrick Clapton is an English rock and blues guitarist, singer and songwriter. He is the only three-time inductee to the Rock and Roll Hall of Fame: once as a solo artist and separately as a member of the Yardbirds and Cream. He has also been a member of Derek and the Dominos.
20
Randy Rhoads

Randall William "Randy" Rhoads was an American heavy metal guitarist who played with Ozzy Osbourne and Quiet Riot. He was killed in a plane crash.
21
Kiko Loureiro

Pedro Henrique "Kiko" Loureiro is a Brazilian Heavy metal guitarist, best known as a member of the bands Angra and Megadeth.
22
Larry Carlton

Larry Eugene Carlton is an American guitarist who built his career as a studio musician in the 1970s and '80s for acts such as Steely Dan and Joni Mitchell.
23
Jimi Hendrix

Jimi Hendrix (born November 27, 1942 - September 18, 1970) was an American rock guitarist, singer, and songwriter . Although his mainstream career spanned only four years, he is widely regarded as one of the most influential electric guitarists in the history of popular music, and one of the most celebrated ...read more.
24
Joe Satriani

Joseph Satriani (born July 15, 1956) is an American instrumental rock guitarist and multi-instrumentalist. Early in his career, Satriani worked as a guitar instructor, with many of his former students achieving fame, such as Steve Vai, Larry LaLonde, Rick Hunolt, Kirk Hammett, Andy Timmons, Charlie ...read more.
25
Steve Lukather

Steven Lee Lukather is an American guitarist, singer, songwriter, arranger and record producer, best known for his work with the rock band Toto. A prolific session musician, Lukather has recorded guitar tracks for more than 1,500 albums representing a broad array of artists and genres. He has also contributed ...read more.
PSearch List