Il Volo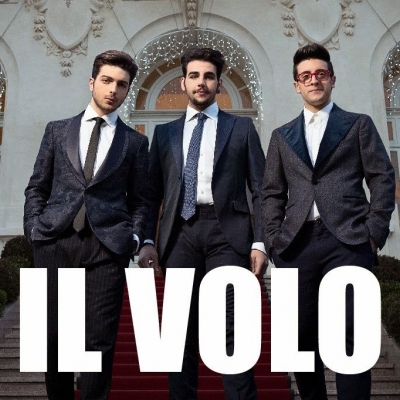 Found on files.wordpress.com
Info
Il Volo is an Italian pop trio, consisting of singers: the baritone Gianluca Ginoble, and two tenors, Piero Barone and Ignazio Boschetto.They describe their music as "popera".
Comments
Top
Popular
Newest
Il Volo are the BEST singers in the world. If you want class then these are the guys for you. These voices are out of this world. Their solos are spectacular but as they said their power is singing together. I have been following them since 2009 the beginning of their careers & have watched them win awards & explode all over the world with their touring, When you see one of their concerts you get pure quality and at the meet & greets after the concert they are so kind to their fans that they want to meet their fans & show them their appreciation. No other performers could honour a city better than Il Volo
Il Volo is well known and much appreciated in Brazil, as well as around the world. Il Volo is not only the most beautiful sound in the music world today, they are also beautiful in appearance and a genuine class act in every way. No one would be better to perform at the Olympics in Rio than the three young men of Il Volo.
These talented health conscious good looking young men who have been named ambassadors to the world from Italy for so many causes deserve to be on the stage to the world. They already have international appeal and recognition. Besides their entertainment value they embody that spirit of competition. The Olympics would be in for such a treat.
Il Volo has brought real and beautiful music back to the world! They make us feel so good inside. They are the most wonderful singers we have had in so long. Such sweet, caring, humble, & beautiful young men. The passion they have in their hearts comes out so powerfully in their songs. They are ambassadors bringing this wonderful style of music to all ages everywhere. They would be perfect to sing at the Olympics! Please include them in the 2016 Olympics! Love them so much!
Love listening to these three wonderful young men sing - 3 voices, 1 soul. They are amazing. Not only are they extremely talented but they are humble, sensitive, caring, appreciate their fans, love their families, sing in three languages, are Ambassadors for Italy. They are the total package. Please vote for them. You will not be disappointed!
These 3 Italian men of Il Volo have been singing together since their early teens. Now in their early 20's, the power & inspiration of their voices combined with the smoothest harmonies have been celebrated in venues all over the world, yet they remain humble, respectful and dedicated. I can't think of a place their voices would soar more beautifully than Olympic stadium.
Il Volo is the perfect hook to rescue culture and good music to these times. They are idols of three generations. Everybody enjoy their way to bring music. This is the best event to show to who doesn't know them, that youth, classical music and contemporaneous songs can be enjoyed.
Il Volo are an obvious choice to perform at the Rio Olympics. Being proficient in English, Italian and Spanish they are a delight to listen to with voices that will astound one.. They are young gorgeous looking, charming. They are from Italian and have sung all over the world and have astonished audiences young and old. Vote for Il Volo and let their amazing voices reverberate around the stadium!
Il Volo is a rare talent in this world. They are three young men of 20, 21, and 22 years of age who sing amazingly individually, and together, it actually makes me believe that magic really does exist. Their harmonies are second to none; the sound is music to my ears, excuse the overused cliché. They are internationally renowned and will most certainly make your jaw drop to the floor when you hear them sing. I've been a fan for four incredible years ever since I heard them on Idol in May 2011.
Any group that can sing in 6 languages and sells out concerts in all of North, Central and South America (even in Brazil) as well as Europe... deserves to sing in front of the world!
Il Volo, young international singing stars, would be the perfect choice to sing at the Oliympics! Their goal is to bring a message of love and peace to the world... and as Italy's Ambassadors are doing so with their sensational voices. They are exemplary role models of exceptional talent... classy, charming, with loads of energy and enthusiasm, and humor! Wherever they go people of all ages love them! They are a perfect fit for the Olympics!
The quality of their voices is amazing. They also are very nice human beings. They share with their fans, always generous and warm. They are the perfect mix between beautiful classical music and respectful, lovely pop. I think they would add a special fancy, classy touch to the ceremony.
Il volo are an international group of singers of immense popularity. Although they are young they have wonderful voices and stage presence. Like the athletes they have worked very hard with great determination to achieve this. They are a great role model for young people everywhere.
Il Volo is a fantastic Operatic-Pop group from Italy. They have such an amazing voice and first of all they are so kind and loyal. They deserve this nomination, they are simply the BEST!
They are an international singing group, with inceridble voices. They can sing in English, Spanish and Italian which would cover almost all Olympic attendees. When their 3 voices come together it is spellbinding. They are professionals, with class. They sing classical pop, which is a breath of fresh air. Being 20, 21 and 22, they are the ages of most Olympians, but their style of singing is loved by all ages.
There are no other singing voices in their age group that are comparable. Perfect pitch, beautiful music and the harmony is impeccable. They have a fan base all over the world. Very handsome young men, 1 baritone and 2 tenors. They would be a great asset to the Olympics.
There is magic when you watch them sing. They truly are international singers who are still humble and down to earth. They love everyone and show it. Their music transports me to another world. They are so unbelievably talented!
Il Volo, young International singers, is the perfect choice! Their goal is to bring the message of peace and love to the world, and as Italy's Ambassadors they are doing just that with their exceptionally beautiful voices! Besides having great talent, they are exemplary role models... classy, charming, full of energy and enthusiasm, and humor! A perfect fiit for the Olympics!
It is a given that this group of artists would honor the Olympics and their voices would set a tone for the games... they would be a perfect choice to sing the opening song..
All said is true, but please also imagine them singing Volare with that arrangement in the Brazilian olympics! Epic!
The finest singers around worldwide right now. Professional, fun & keen sportsmen too. The perfect choice
These are the most talented young men I have ever heard. I have been following them since they started singing. They are sweet, humble and family loving young men. They all are ambassadors for their respective villages in Italy.
Three young wholesome young men with voices straight from heaven. So, so enjoyable.
Awe, what entertainers! The voices are truly heaven sent. Their stage presence is so exciting.
A blend of voices that inspire the world, no matter what age you are!