Top 10 Best Christina Aguilera Songs
The Top Ten
1
Fighter
Look don't get me wrong she has loads of good songs but every artist has one song that is the best of the best and in case Fighter is Christina's best song hands down. Every time I hear I instantly get chills her voice is made for this type of music one of the best pop stars ever in pop music.
I never ever don't feel like listening to this song. It;s just a absolutely powerful song which I can relate to very much. I always try very hard to sing like Christina but she is just like wo... We love you Christina!
I love this song it is so powerful. She is an amazing singer and she has a wonderful singing voice. It is so catchy and I could listen to it every day. I think it is one of my favorite christina Aguilera songs.
It's one of the best songs I have ever heard and I really like the story, because it can be interpretated differently - and that is not something a lot of songs are able to give to their audience! And, offcourse, Christina's voice is amazing.
2
Hurt
Stripped is the best album by Christina Aguilera on her entire music career, but Back to Basics is quite a good album too. Her singles Candyman and Ain't No other Man was an awesome songs.It's kinda reminds me of her Lady Marmalade era. I chose to vote Hurt because it is the most beautiful ballad she ever sung. Beautiful is Christina's most signature song, but I love how she put all her feelings and emotions about her father on this song which is so special especially those who are with the same situations with her.
This means so much, my 9 year-old loves this song, as a 2 year-old used to call it christina and the elephant due to the video, he still knows every word. It reminds me of some of the pain I caused my parents over a past relationship. Number two on my list just below bound to you.
This is definitely her best song ever. Fighter's catchy but her voice is so strained and forced it takes away from it. Hurt is pure magic. Anyone whose body isn't completely covered in goosebumps by the end isn't a real human than.
The song is absolutely fantastic. It is quite simply the most emotionally-fueled song I have ever heard, and along with Christina's flawless voice... This is my favorite ballad of all time. The music video made me ball.
3
Beautiful
This is hard because every single one of Christina's song has some type of magic to it, whether it be her vocals, her lyrics, the message in her video. Every song I want to vote for and they all have their own reason. Beautiful is the classic though. Before it was the "big thing" Christina reached out to people all over the world to tell them not to let anyone get them down. No wonder it became a true classic... Christina.. Always the trend setter.
First song I ever heard by her, best song I ever heard by her. When I heard this, I knew that whatever happens, that I'll always be myself and that's all that matters. Music is like a part of me and when Beautiful played, I knew that I was always going to be what Christina Aguilera thought I was.
It's an amazing song, it is one of the world's most inspirational songs. She doesn't overdo the vocals. This is probably her most well known song. I love her lot, she is the world's best vocalist. She's amazing and so is Beautiful.
It's the song of inspiration for a lot of people I know, including me. Love you for making a such a wonderful song, Christina!
Thank you!
4
Genie In a Bottle

It's so true though, I like the songs but if I had to organize this mabey, 1. Genie in a bottle 2. Your Body 3. Fighter 4. Beautiful as my top four. Though This song can relate to many teens, Preteens, tweens, and young adults. Christina is a very talented artist and her music should be accounted properly
While the lyrics are a product of its time, the way she sings them still gives me goosebumps. Her voice is the best in the business, and this song, in my opinion, is her strongest yet.
It's a song that make you want to dance. The chorus is the best part of all. Maybe it's the reason it's in your head and vert addicted to it.
Its really magical... Something very special about this song I just can't stop listening..
5
Ain't No Other Man
'You're the only one who's ever PASSED EVERY TESTT' oh my god she's the ultimate queen, the best live and truly the most criminally underrated, vocally supreme artist. The voice of generation, is an utter understatement. She's the empress, the diva, and the most versatile. Love you xtina, you're the best
If you look in the books it will show that ain't No Other Man is one of the greatest songs of all time. It has both jazz and pop element. With her vocals it is an amazing song
Well the song has an awesome beat and rhythem to it, and the song is so catchy and makes you want to dance. Christina Aguilera also has an amazing voice, and is a very talented person
This song is just amazing! Her voice makes me go WOW, it's so stunning and this is her best song ever! Amazing!
6
Lady Marmalade
This, is one of those songs you could obsess over. Extremely catchy, the ultimate collaboration, and the amazing vocals create an atmosphere full of love and just jammin' to a great song
An interesting song indeed...
7
Dirrty
This is a great song. Period. While I think some of her other songs are better, I still believe this is a song that you won't tire of.
Is the most rythmic song from Christina, I love her voice, lyrics and video. Her performance is just incredible, it must be some numbers up in the list. LOVE XTINA Forever!
It's really energetic, and is totally Christina's best vocal performance ever alongside Beautiful. It's so underrated
When you want to get DOWN but also want to win a grammy for those SAVAGE vocals at the end of the song!
8
Candyman
This song is good and fun if you were going to a party I advise you to choose this song it's so good oh and the singer herself is fantastic!
Got that oldies American feel to it with some sexy innuendo. Instant classic.
This song is fun, catchy and hints that Christina is still Dirrty!
The video is unique and amazing... THumbs up christina!
9
You Lost Me

This is simply a soul rendered into the most emotional presentation that has ever been performed. Her Saturday Night Live production was unbelievable. I wish I had it on video that I could purchase!
One of her greatest ballads. Collaborating with Sia should be something Christina must keep doing for the rest of her career. Beautiful piece of art
This songs has depth and such meaning to it. The words are quite haunting. I love the way she sings it. You can hear the emotion behind every word and every syllable.
I think this is the best christina song the vocals are just so amazing and the lyrics she puts so emotion into the song and it makes me cry!
10
Your Body
Christina could perfectly unleash her talent and especially her powerful vocals through this song. It was a mixture of wonderful factors that can make of it a success. A beautifully-wrapped gift to all Christina's fans.
I love the song its like woow.
Be4 this I was not listening her. But from when I heard this song I have become a very big fan of her. Please guys vote this song its d best song from her. Just listen it once you'll love it so much.
Why don't people support her Lotus album? I mean there are major hits on the album, much better than Bionic. the album deserve #1 on billboard 200 and this lead single should deserve on top 10. as of now the mv of your body is now vevo certified!
This songs has to be in my top 3, The vocals are great, good upbeat sexy song, and she looks absolutely stunning in the music video. Has to be one of her best!
The Contenders
11
The Voice Within
"Young girl don't cry. I'll be right here when your world starts to fall."-- Those two lines are a masterpiece. Christina made it sounds just right that it feels like whatever you are going through, she will always be right beside you. It is an amazing feeling of connection right there. When I'm sad, lonely, or upset about something, I would sing along with the song and it would magically cheer me up.
Why is this song not first? It's by far her most inspirational song and I listen to it every time a feel down or upset. It can make you cry but also makes you realise that you have something to be happy about and you're not alone.
No! You can't call yourself a Christina fan and rate this song so long. Deserves top of the list. This song has such an inspiring message and the vocals are insane! this song was underrated extremely on it's release however overtime I listen to it I cry! I will always love it
This song is very amazing. It spoke to me. Team Christina all the way. Best song to me... I love everything she does... But she killed this song especially.
12
Reflection
This is one of the few songs that you can actually feel christina aguilera's soul. So deep and touching. It's the song that made me a christina fan.
This is a wonderful song, as wonderful as 'Mulan' story itself. I can't imagine why this song can't hang on the top ten list!
This song was very lovely and it is really the best song for the movie MULAN.
Its AWESOME!
The lyrics are also so meaningful and it's all age appropriate and can teach you a lot
13
I Turn to You

This is one of the best, most emotionally moving and inspiring songs that I have ever heard, and I don't even normally listen to pop music. Her voice is just simply beautiful, so angelic, and the lyrics are about appreciation for that one person who always loves and supports you unconditionally in life and helps you move past all obstacles. It's such a pure, timeless song about true, unconditional love. This is a song that can always give me chills and bring a tear to the corner of my eye.
Her vocals in this song! She has so much soul for a half latina! I love her so much! And her blue eyes in the video are mesmorizing
What? 15th? It should be on top ten..
Just listen to it, you'll agree with me
14
Say Something

Amazing! We haven't heard the softer side of her voice in a long time!
Obvious reason for not voting for this song is that you haven't heard it
15
Not Myself Tonight

I know a lot of people are maybe against the "music video" but the song itself is great and I personally like the music video... I'm a guy if that helps.
Most don't like the song because of the music video but if you remove the video and focus on the song it's just a dirrty sexier version of dirrty.
This song is awesome! She doesn't compromise her great voice either, you can still here her vocally incredible voice.
The music video is just ok not too much provocative compare to all Gaga's music videos and her dirrty mv. I think that's more provocative the dirrty mv
16
Keeps Getting Better
I have no idea how this is down here in 7th. The top 3 should include Genie In A Bottle, Keeps Getting Better and Fighter in that order.
Only 4 percent of the votes? How is this worse than Dirrty (repetitive and annoying)? Should be in the top 2/3.
17
Bound to You

The most beautiful song Christina has ever sung. Just love this track. It's tender gentle and the vocal gymnastics just add to the brilliance of it. My 9 year old agrees but prefers hurt just. It's a gem that most Christina fans will not have heard or passed over, if so please give this a listen
The most beautiful song, I don't understand how it's only number 40. Especially since it's belong a lot of songs of her's that I've never even heard of.
This song is so wonderful, I can't stop listening to it. And her vocals! I wonder why this song is down here. It should at least on the top 15..
Guys why this song is so low! It is amazing and it should be at top 20 at least!
18
What a Girl Wants

You can hear how nice is her voice to listen... In this song. Love it!
19
Feel This Moment
She's got an amazing voice and it is portrayed very well in this song. Her voice doesn't need auto tune... She is the best!
Its definitely worth being in the top 10. You cannot just listen to it once.
Although Christina has a small part still she manages to come in the limelight through her voice. hats off
This one is really Great song by her... Love it!
20
We're a Miracle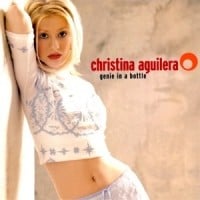 Amazing song, with beautiful words. Used this song as our first dance at our wedding.
21
I'm Ok
This is the most soulful track of Christina.
22
Something's Got a Hold on Me

This song is amazing and vocals here make you stop and say wow, this girl has amazing voice only few can have, some hate her some love her, I love her for sure.
23
Walk Away
Another one of those songs that gets me goosebumps. The song reminds me of a kind of abusive relationship where you should get out but you might not want to. As I listened to this, I felt the weight of the decision whether or not she would/could leave him. The voices inside her head and the conflict inside her heart. All I can say is Christina did an excellent job on this one; it's a heart-wrenching, beautiful journey she took me on every single time I listen to Walk Away.
I discovered this when I was watching a video on YouTube of christina aguilera's highest notes and I gotta tell, this song caught me on the spot, I didn't know it exists, everything about this song is absolutely terrific and lyrically strong.
The best version of this song which I ever heard is live on the Stripped Tour in London. That song is great! Christina gave a great performance when she sings live - mainly in this song!
You have to listen to it a couple of times before actually liking it but it definitely grows on you.. The lyrics are absoulutely amazing and Miss Aguilera did a great job with writing this meaningful song.
24
Car Wash
25
Makes Me Wanna Pray
PSearch List