Top 10 Best Singers in Malaysia
The Top Ten
1
Siti Nurhaliza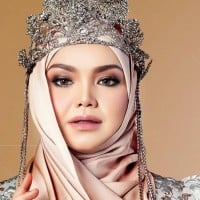 Dato' Sri Hajah Siti Nurhaliza Tarudin SSAP, DIMP, JSM, SAP, PMP, AAP is a Malaysian singer, songwriter, actress and businesswoman with more than 300 local and international awards.
An amazing singer, a huge influence in the industry, she has made an impact in Malaysia, Singapore, Indonesia, Brunei, and Thailand. She is a monster female singer who had a solo concert at the ROYAL ALBERT HALL in London, the first Malaysian singer to do so. She also holds the Asia Birdsong title, known as the Celine Dion of Asia. In Malaysia, no other singer can beat her with her showmanship, voice, and style that communicates with people. She is a very humble person, and all Malaysians know that DATO SITI NURHALIZA TARUDIN always makes other singers' songs her own, which is why she is still on top. She held the most popular regional artist for 10 years and has now made a move to the world level with her new English album. She received 7 nominations in the iTunes Awards this year and has a huge fan base, supported by her own fans club (SITIZONERS). I think there's no one else to be the best top singer in Malaysia now.
2
Stacy
Perfect singer in Malaysia! Best singer alive today. The Queen! Easily better than other singer! Obviously, she could sing and dance very well. The reality show program definitely producing such an amazing talent like her. They test her with variety genre songs and she took the challenge positively and bombing us with her natural superb fascinated performances. Some singer might be very good in singing but that's not enough for me if he or she doesn't know how to dance. And if only they try to dance they seemed to be awkward performance as it's look unnatural. But stacy managed to let us see the natural beauty combination of voice and alive dance in her performances. Laugh out loud! STACY will beat anyone! Anyone, trust me.
She should be on the top. She is versatile because she can sing and dance. She is the dancing queen of the Malaysia. She is not like kpop artist who dances just to show their cuteness and sexiness, but she got more than that. She also can sing live with a good vocal projection eventhough she is dancing at the same time. As her fan, I'm always support her since her debut until now and I can see a lot of improvement.
3
Sudirman Arshad
Sudirman has a unique voice, unparalleled by any other. I'm not saying he was the best vocalist, the thing about Sudirman is, with his dance, persona, and charisma, he was one of Malaysia's best entertainer.
This person cannot be compared with contemporary singer because it is unfair.
4
Ziana Zain
No one in the list stays longer in this industry than her and still be on top of her popularity... Despite no longer leading the chart, she is always been in the radar and often been compared to upcoming new artist...
She the only singer can maintain with her career without new album, new song in the these country. She the only singer can maintain her career after married and got 3 son and 1 doughther. She the 1st malaysian artis that recognise and won internation award. She the 1st malaysian artis that invited by FENDI and 1st malaysian artis become a model for LV and got photoshoot at LONDON.
Known as Asia'S POP QUEEN.. She deserved to be number 1. With her strong chest voice and ability to hit the high notes effortlessly had put Ziana as one of the greatest singer in Asia.
5
Faizal Tahir
The best singer is the one that is giving his/her best in each and everyone performances. Like he mentioned " there are a lot of people with a wonderful voices and they can sing, but it is not easy to be an respected entertainer" keep on the faith FT. Will vote for your till the end.
Very talented. ! He's no just a singer. He is a performer and entertainer. Every will get entertained by him. He always do the best for his fans. Lets vote him if you think he is good in everything. And he also a good father and husband! You guys keep rocking with him!
Faizal tahir a very talented person..
He's my superhero..
Keep voting guys.
Keep supporting him..
Keep voting our big boss,
Faizal tahir deserved to win,
6
Yuna
Has her own indie folk style that is very unique in Malaysian culture. Very inspiring and has a richness in her voice. One of the few that tapped in American music industry. When I found out about her, I was hooked! I started researching about the different culture groups around Malaysia and the surroundings and I'm from Canada. I think shes one of a kind and one day the world will see it too.
In my opinion she's perfect! Her voice is just beautiful and her music makes me cold and relaxing!
I really love this girl. She knows how to sing, play guitar, and she also good in speaking in English. Yuna if you read this, please come to German, come to my house and sing to me. Laugh out loud (=
7
Hafiz
Even if, I can't understand malay songs but listening Hafiz songs makes me really like it a lot. I can't stop myself to listen it again and again.
I really like him as a singer.. He got a golden voice, Hafiz having gifted voice from Allah. And siti nurhaliza..
He's very best male singer in Malaysia... Your should listen to his voice superpower... Best giler lah... Layan... His number 1... Love his voice so much... Laugh out loud...
8
P. Ramlee
Brilliant artiste of many talents. Composer, singer, actor and managed to churn out films with a tight budget. I believe that if he were alive today, he would be able to excel in all the areas that he was good at in his time. Most of all, I miss his positive outlook of life.
Not just great vocals, brilliant song writer!
P Ramlee is the best singer of all time..
9
Adira
She is adorable and good personality.
She has real poise, grace, beauty and talent for such a young and petite girl
I second that chromie! I agree very much with all you say about Adira...everything about her is unique in her own way..her voice is unusually unique...she is also a soft and gentle woman...can tell by her voice
10
Jaclyn Victor
She's clearly the best one.
If you search for the voice, she's the one.
I think no one as great as her is singing, not only in Malaysia but also in Asia.
God bless Her...
All the best in life jaclyn...
Clear voice, high-pitch, melodious sound... Come from her singing...
Awesome voice with action... Best performer on the stage ever!
The Contenders
11
Shila Amzah
She wonderful, when I'm in China back then, she was like idol like kpop star, have bodyguard everything. She was a Muslim Singer inspiration to others
She's becoming phenomenal in not only Malaysia but whole east Asia.
She's the winner of Asian wave 2012 in shanghai, China!
12
Misha Omar
A multi talented STAR! She can sing, act, parody, host, theatre and almost everything.

She have souls in every songs. Her appearance and powerful voice makes her the most wanted in music industry.
Her showmanship is awesome!
She delivers her song( even others song) with her "soul".
Her voice is superb!
My idol...She is the best and has unique attitude
13
Anuar Zain
The way he enunciate his songs make us (the listener) felt like wrapped up in a warm fuzzy blanket.
Childhood dream voice
Love his voice always...
14
Ella
Ratu Rock is Malay for "Queen of Rock" and this is an apt title for this female rock-star. Ella's more well-known hit songs spanned from the 1990s to today. Ella still holds the local record for the bestselling female artist for pushing more than 300,000 copies of her records during the peak of her career. She also became an international icon and one of the 'Richest Artists' in Malaysia.
Ella the queen of rock! Love you "_"
The best in all Malaysia
15 Aizat
16
Syafinaz
I love Syafinaz's voice and her song very much..
Most of Malaysian don't appriciate what local artist have...
Syafinaz unique voices has superb power to swing your heart and soul..
Enjoy very much while listening to her song
17
Ning Baizura
Go Ning Go! We, your fans have faith in you and your voice all the way.

Keep proving all your critics wrong ok?
To me, It doesn't matter what others people think. Ning is my best
18
Najwa Latif
From pakistan I like najwa, s songs... To good...
19
Anita Sarawak
Anita is in her class of her own. To be able to perform at Las Vegas speaks louder than words. She is such an incredible singer and entertainer.
20
Akim Ahmad
He can sing all type of songs. He delivered all the song so great and make it just like his own song. He had a great vocal and all his had it own soul. Plus, he can compose songs and can be a great composer one day.
He had a great vocal and can sing all type of songs. He compose his own songs and all his songs had a soul.
21 Shahir AF8
22
Namewee
No one's said it?
23
Dhilip Varman
He got a wonderful voice
24
Jamal Abdillah
Come on he's the "King of Pop" in Malaysia how can he be so low on this list?
The best singer ever.
The only junky I love.
25 Aiman Tino
PSearch List