Top Ten Farid Bang Albums
Farid Hamed El Abdellaoui, better known as Farid Bang, is a German rapper who released his debut record in 2008 and became very popular in the 2010s, with his first chart topping album being 2013's "Jung brutal gutaussehend 2", a collaboration album with Kollegah.

His musical style can be described as hardcore hip hop and gangsta rap, which uses mostly extremely heavy and dark beats. Bang is known for his multisyllabic rhyming schemes and his use of "spitten" (a technique where you rhyme syllables with themselves but with another meaning), as well as his puns and punchlines. Next to Kollegah and SpongeBozz, he is the most famous rapper in his subgenre, street centered hip hop with a complex lyrical technique.

Farid Bang is the head of the successful music label Banger Musik.

The Top Ten

1 Asphalt Massaka 3
"Asphalt Massaka 3" is just his perfect record. His entire premise is fulfilled to the fullest: the beats are hard, orchestral, and drenched in testosterone, his rhyming and his word play is at a constantly high level. That's everything there is to it, but it's just one awesome showcase of style and professional quality.

5 out of 5.
2
Asphalt Massaka
His debut record is already one of his greatest pieces of music. It has Bang's aggressive voice and knockout punchlines teamed up with a selection of beats that sound like a boxer entering the ring. Occasionally there's a great chorus by an RnB singer. That's all that can be asked for in this subgenre.

5 out of 5.
3
Jung, brutal, gutaussehend
Kollegah and Farid Bang just perfectly match. The beats are darker than Kollegah's yet softer than Bang's, creating a perfect mix of their styles, and lyrically, they are already close to each other. The word play is at an insane level, and so is the flow of both - and it helps that the two are admittedly similar yet with their unique strengths (Kollegah has a wider vocabulary, Farid is more atmospheric) so they come at you as one force of nature.

4 1/2 out of 5. Almost 5.
4
Jung, brutal, gutaussehend 3
2017's "JBG3" feels like repeated punches to the face with iron boxing gloves and when you are about to fade out, it stomps your face. Everything about this record is brutal, not only because it contains disses aimed at about 50 different actual people, but also because of the feel. They really upped the testosterone level with this one. If steroids could be pressed into music and was lyrically complex, this would be it.

4 1/2 out of 5.
5
Killa
"Killa" is Farid Bang's most critically acclaimed album. While most of his albums have average reviews, this one was widely positively received by the music press. At the same time, Germany's hip hop community was divided, and Farid Bang himself later commented on it negatively.
What's different this time? The album is less heavy in its sound and draws from electronica influences. Not only can Autotune be heard, beats also use siren-like synths, techno beats, lots of wild sound effects and industrial samples. Despite it still being lyrically hardcore at the same level, it feels lighter, less epic and more diverse. I like this experiment, it was executed well.

4 out of 5.
6
Blut
"Blut" is your typical Farid Bang jam, with all the heavy beats, hard hitting punchlines and multisyllabic flow. It contains no surprises of any kind, but it's still highly, highly entertaining and contains everything you'd expect.

4 out of 5.
7
Jung, brutal, gutaussehend 2
Although this is probably the most classic album by each artist, as it was the first chart topper of both of them and was credited as starting a new era in German mainstream hip hop (before, Bushido and Sido were the biggest rappers and it was felt their recent works weren't as gripping anymore), with multisyllabic street rap becoming the dominating genre, I don't think it's their strongest work. They are brilliant, of course, they always are, but I think they have done more outstanding work before and after.

3 1/2 out of 5.
8 Platin war gestern
9
Der Letzte Tag Deines Lebens
Yeah, this is solid. The beat work is very listless, and his lyrics are just what you expect. I don't know what's different exactly, it just doesn't have the energy that he usually has. Bang is pretty much like musical wrestling. It all depends on how well he sells his awesome technique, and how hard hitting it comes out. Looking at neutrally, the record has everything his great albums also do. But I just don't feel it. Maybe it's the beats. Where are the bangers (pun absolutely intended)?

3 out of 5.
10
Asphalt Massaka 2
Yeah... this is his biggest slip. Starting off with the cover (there's a bleeding hand coming out of the concrete holding the album's logo), straight on to some cheap sounding beats and some unintentionally funny lines, this one sounds like a few studio experiments pressed onto CD. It's his third album, after the amazing "Asphalt Massaka" and "Jung brutal gutaussehend", but it sounds like a rushed mixtape recorded in between two full albums to not let fans wait as long - but not a full album. It doesn't even feel like an "Asphalt Massaka" album. AM records have hard drum kits and orchestra samples, they feel big, blockbuster-ish. This one has a few electro loops from a free sound library found online. Kollegah's "Alphagene" and "Bossaura" have the same problem, but great rapping, Farid often ends up making you laugh unintentionally ("Farid Bang and you scream out of the telephone / the definition of hetero / topic on the girl's restroom" crooned with autotune).

2 1/2 out of 5.
The Contenders
11
Banger leben kürzer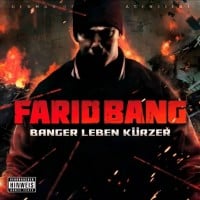 This album is indexed, I unfortunately haven't heard it yet. JBG 1 and 2 also are, but I fortunately found a physical copy of the first one and was able to download the second one which was briefly available on iTunes.
12 Nafri Trap EP, Vol. 1
BAdd New Item