Minnesota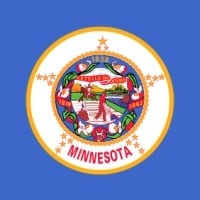 Found on wikimedia.org
Info
Minnesota is a state in the Midwestern United States. Minnesota was admitted as the 32nd state on May 11, 1858, created from the eastern half of the Minnesota Territory.
Comments
Top
Popular
Newest
We can have just as much fun up north as down south. Minnesota is so beautiful all the farms the lakes the Mississippi no one can top that. I don't even anyone would want to live in California yeah it's warm but wouldn't you miss having snow and wood stoves instead of a heater? I know I would. I bet some people down south couldn't survive a week outside in the winter time in Minnesota. Nobody realises how fun living here can be. This year there was still snow in April. WOW! Sometimes the winters can be long here. Now I hoe you've changed your mind about Minnesota. - CountrySweet
I live here it is great! So many exciting things to do here! I love mall of america! It is so big with many things to do there! I like how it is COLD in the winter and warm in the summer! I think a little that Minnesota is unique because of the weather, culture, and landmarks! I love that we have so many lakes it is so cool that we have more than ten thousand of them! We are also connected to one of the biggest lakes in the U.S. A and it is: Lake Superior! And we are the hat in the man in the U.S. A if you look at a map. If you like camping I suggest you coming here! I love Minnesota!
I am so proud that Minnesota is so high on the list. Ma Home state is being represented! Ok, I can currently think of only two downsides to Minnesota. #1. The winters are cold! But hey! It builds character! :) #2. Our Sports teams are awful. I cannot think of any other bad things though! There is something for everyone. For girls: The Mall of America, this place is ginormous. I'm a guy, but even I like coming here! Its awesome! Plus, there is the biggest indoor amusement park you will ever see. For guys: There are a million places you could go to have fun! If you are outdoorsy there is anything you can imagine. Plus the ladies ain't to bad either ;). For Parents: Minnesota has the 8th best school system in the country so this is where you go to give your kids a good education.
To trash all of the states above it, Cali is a bunch of self-centered idiots (School Ranking: 39) NYC is all that is in New York. Florida is pretty nice for vacations, but would you want to live there? ...more
Minnesota is now mentioned quite often. A lot of times in the hit nickoloden T.V. show 'Big Time Rush'

They have the largest indoor themepark in the USA, Mall of America, and also the biggest Waterpark, WaterPark of America.
I love Minnesota. I live there and I will always want to! The winters get cold but it doesn't really matter, because some of the winter days a re beautiful! You can't really predict when summer or spring could come after all the snow. Sometimes you might wait till May for spring. But the summers are wonderful! Minnesota is a GREAT place to live! I wouldn't pick anywhere else!
Minnesota has got the Best hospital in the U.S. the Mayo Clinic. Minnesota also has the Mall of America and has a little of everything in the state. The State has the most lakes of any state. Popular for fishing and camping and Minnesota has such a diverse community. Minnesota has a little bit of everything and would really suggest to vist there. It can get cold but it's not bad. The new U.S. Bank Stadium being almost finished and hosting the Super Bowl in 2018.
Minnesota is hands down the best state in the USA. While the weather may be daunting to some, it isn't always what it seems. There's lots of fun around here and it's not overly crowded like other states are. You get the right amount of heat in the summer and the right amount of cold in the winter.
I live in Minnesota, and the weather is ALWAYS crazy here! Yesterday is was -30 degrees, and now its 45 degrees! There are huge stores all over the state, other ladies, you will love the big malls here, but watch out for the mud and if you fall into one of our +20,000 lakes. Minnesota is the best!
There are many things to do like go to the Water Park of America and the Mall Of America. Also in the winter time you can ski, tube sled and much more
I just realized the twin cities are very close it seems like all 1 city. They equal 6000 square miles, it would be the largest city in the world if it was all 1 city
Minnesota is best state. Beautiful nature and cities. We have the best hockey team ever. It should be #1 instead od California.
Mall of America is in Minnesota and it's the biggest indoor shopping mall in the whole United States! It is HUGE! There is over 520+ stores! No lie! Minnesota is WONDERFUL I love it!
Minnesota's a great state, but it has some crazy weather. It may not snow at Christmas but in June...But all in all it's a great state to live in. The best places to live in are like Eden Prairie and Jordan.
Minnesota is a great state. Minneapolis is the biking Capitol and has many parks and lakes. A great skyline with so many sky bridges u never have to go ooutside. Many great business started like target and General Mills. Minneapolis is one of the cleanest cities in America. They many theatres, Stadiums and restraints you can never be bored.
Minnesota is so fun! Skating, sledding, snow all in winter Summer is so much fun too! Minnesota, land of 1000 lakes. What would I do without you Minnesota.
Minnesota is a amazing state with fishing amazing nature and the mall of America is there and it is a incredible state it should at in the top 5!
Minnesota is just amazing so many this to see and do. When you see those lakes you feel something you have never felt before it is amazing
I Love Minnesota! To be honest, I feel bad for the Californians and Floridans that basically have summer year-round and complain when it gets down to 60 degrees. Please. A nice thing about Minnesota is that we have all four seasons. Winter may suck for a while but its worth it, and it builds character. We have everything, Mall of America is awesome, the people are great, and who needs oceans when you have 11,842 lakes?
Minnesota is amazing it has tons of fun nature parks and we have the moa (mall of America) and In there are so many great thing for everyone
I live in Minnesota and I love it, it's safe there's seasons great schools and the north shore. I love it here
Minnesota is very cleanest, friendliest, happiest and fittest state.
Has a population of about 6mil, not hating on any state, (besides California, cause of the people.)
People are really nice here. Wouldn't leave this place if you told me to go live in Hawaii.
I live here and this place is so cool I never wanted to leave this state and I imagined living here forever.
It actually sucks. If it wasn't for the lyrical jazz song mentioning minnesota it would be ranked 51.