Rappers You'd Like to Rate Most
I think y'all know the drill by now. Anyways feel free to add more rappers.

The Top Ten

1 Eminem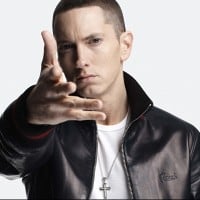 Eminem, born Marshall Bruce Mathers III, is an American rapper, actor and music producer born on October 17, 1972 in St. Joseph, Missouri. Eminem has sold over 300 million records making him the bestselling hip-hop artist of all time. In addition to his solo career, he is a member of D12 and (with Royce ...read more.
9/10, he's one of my favorite rappers and in my top 10, but in order to be a 10/10 you have to have no bad albums. Eminem has terrible albums like Revival (one of the top 5 worst albums of 2017 besides a few mumble rap crap like Teenage emotions and Lil pump), Recovery (it has a few good songs but I would give it a 5, not as bad as Revival but not something I would listen to besides for the songs I like). But he's an amazing rapper and MMLP is probably in my top 10 if not top 5 best rap albums of all time.
9/10
Lose Yourself, Stan, and Without Me are some of the best rap songs ever made. His flow and lyricism are nearly unparalleled. However, he is still responsible for Fack and Revival, so that detracts a point.
I give him a 9/10 I really like some of his songs including Without Me and Real Slim Shady
10/10
He's kind of overrated but my favorite rapper and the first rapper I listened to
2
6IX9INE

Daniel Hernandez, known by his stage name 6ix9ine, also known as Tekashi69 or simply Tekashi, is an American rapper.
1/10
It is very possible to scream in your songs and still sound good, but 6ix9ine has a very loud delivery that, frankly, is very hard to listen to. With his godawful lyrics and sub-par production in his songs, he is honestly one of the worst rappers I've heard recently.
4/10. he has some good songs like Gotti plus the beats on his songs are good , but overall he's a pretty bad rapper who always screams and has no talent. KEKE was saved by the beat and features.
4/10 he is just horrible why does he scream in some of his songs
2/10. He has great beats most of the time and lots of energy but that's all.
3
Andre 3000

André Lauren Benjamin, known by his stage name André 3000 is an American rapper from Atlanta, Georgia, and is most known as one half of the hip-hop duo OutKast. Despite never actually releasing an official solo studio album, 3000 has built up a strong following online among hip hop listeners and often ...read more.
10/10, the better half of Outkast and one of my favorite rappers. An amazing lyricist and storyteller, plus he always delivers good verses when he's featured. - venomouskillingmachine
7.5/10. He was good as one half of OutKast, but he hasn't really done anything since then other than a few guest verses. People on the internet tend to overrate him for some reason, he's good but not goat worthy.
4
Kanye West

Kanye Omari West is an American rapper, songwriter, and fashion designer. He was born on June 8, 1977 in Atlanta, Georgia. After West's parents divorced, him and his single mother moved to Chicago, Illinois. At the age of 10, West temporarily moved to Nanjing, China, because his mother was teaching ...read more.
At his prime (2000s and early 2010s) he was a 10/10 rapper and artist, but overall he's like a 9/10. Yeezus was a pretty mediocre 4/10 album, and JIK was pretty average. On TLOP he didn't even write his own songs, but it was a great album (kinda got carried by features tbh). Still he's not terrible right now and I'd give him a strong 8 to 9/10 which is really good.
Back in his prime, I'd probably give him a 6/10, but nowadays he only gets a 3.5/10.
5
A$AP Rocky

Rakim Mayers, better known by his stage name ASAP Rocky, is an American rapper, record producer, director and actor from Harlem, New York.
At his best, he can be a 7.5/10, but at his worst and laziest he's only about a 3.5/10.
9.5/10, all his albums are 8s or 9s plus he's a great rapper and artist.
6
Cardi B

Belcalis Marlenis Almánzar (born October 11, 1992), known professionally as Cardi B, is an American rapper. Born and raised in New York City, she became an Internet celebrity by achieving popularity on Vine and Instagram. From 2015 to 2017, she appeared as a regular cast member on the VH1 reality television ...read more.
8/10
Pretty good flow, outstanding delivery. Everything she says makes her come across as this charismatic badass queen, and it really works for me. She did take a while to grow on me though. She's overhated.
9/10 I know some of you guys not like her but in my opinion she's not that bad and though if you don't like her I respect your opinion
6/10
She's WAY too overhated here. She has some good stuff and bad stuff, 'enough said
2/10, terrible rapper. Not the worst but she still is trash and has little to no talent.
7
Kendrick Lamar

Kendrick Lamar Duckworth (born June 17, 1987) is an American rapper and songwriter. Raised in Compton, California, Lamar embarked on his musical career as a teenager under the stage name K-Dot, releasing a mixtape that garnered local attention and led to his signing with indie record label Top Dawg ...read more.
As a rapper probably a 9, but as an artist overall I think he's closer to a 10. He has a good flow and some pretty good rhymes, though not necessarily the best in the game. On the other hand, his lyrical content is a force to be reckoned with. Very strong lyrical content. Only main flaw I would say he has as a rapper is his annoying voice.
10/10
Good Kid, m.A.A.d City is an amazing and game-changing album in every way. To Pimp a Butterfly is one of the greatest albums of all time in my personal opinion. Damn was not nearly as good, but it was still an overall great album. He's the best lyrical rapper in the game today, and will be looked at in 20 years the same way we look at Tupac today.
6.5/10. When he first came out he was a promising MC but he watered down his raps to become more mainstream and he is pretty overrated in terms of his lyricism.
9/10, A lot of his albums like Section 80, GKMC, and TPAB are 9s and 10s. But DAMN wasn't that great and to me was a light 7. So I'd give him a 9 which is a pretty good rating
8
50 Cent

Curtis James Jackson III, better known by his stage name 50 Cent, is an American rapper, actor, entrepreneur, investor, record, film, and television producer.
It's hard to rate him because he needs to decide if he wants to be a gangsta rapper or a pop rapper. Either way his lyricism is nothing special and his gangsta songs are mostly good for the Dr. Dre production, and his pop-rap/r&b sex songs are mostly good because of the hooks and features. 5/10.
8/10, not the best but definitely not bad. GRODT was amazing but his later 2 albums not as good, even though The Massacre was still pretty good. He's a gangsta rapper and one of the most popular rappers of the 2000s
8/10, He's pretty good
9 Aceyalone
10
Aesop Rock

Ian Matthias Bavitz, better known by his stage name Aesop Rock, is an American hip hop recording artist and producer residing in Portland, Oregon.
The Contenders
11
Danny Brown

Daniel Dewan Sewell, known professionally as Danny Brown, is an American rapper. He is best known for his individuality, being described by MTV as "one of rap's most unique figures in recent memory".
9/10, his voice was annoying at first but I listened to more of his stuff and now I like it. He has 3 albums which are 9s or 10s and he's very unique, creative, and original. - venomouskillingmachine
4/10, annoying ass voice.
12
Tupac

Tupac Amaru Shakur, also known as 2Pac, was an American rapper and actor born on June 16, 1971 in East Harlem, New York. Tupac sold over 75 million records worldwide and has been referred to in multiple major publications such as Rolling Stone as one of the greatest music artists of all time. 2Pac was ...read more.
9.5/10, he's kinda overrated and he's not the best lyricist but he makes up for it in his poetry and lyrical depth. While I don't think he's the best, he's in my top 10 rappers and is great.
8/10. He's not as lyrical as some of the other rappers from his time, but he's still a great rapper and definitely is not "boring and unlyrical" like some people today try to claim.
9.5/10. Really good rapper.
10/10 The GOAT of rap
13
Denzel Curry

Denzel Rae Don Curry (born February 16, 1995) is an American rapper and songwriter from Miami Gardens, Florida. He released his debut full-length album, titled Nostalgic 64 on September 3, 2013. His second full-length album, titled Imperial, was released on March 9, 2016. His third album, Ta13oo, came ...read more.
6/10. Unlike most I don't really see anything special in this guy. He isn't bad, but he's just failed to impress me. I'm not into his voice and flow for one, he tries to rap fast but he is very sloppy at it in my opinion, and there are other rappers who can rap faster and are better at it. Even on his song with Joey Bada$$, I felt that Joey totally overshadowed him and stole the song. Same thing happened when he featured J.I.D. in a song. Denzel only has a few songs I'd listen to again.

Just my opinion
3/10 he's pretty mediocre and always gets outrapped on his own songs by far better rappers like JID and Joey Bada$$.
8/10 he is really good, however he could still improve
9/10 Great rapper. Love Imperial and Taboo
14
Big Boi

6/10, he's okay but he needs some work. I find myself getting bored during his verses in OutKast songs and highly anticipating Andre's next verse because Big Bwa tends to use the same flow in each and every verse and sometimes repeat the same lyrics. That style is cool for a minute, but gets old after a few verses. And his solo music is okay to downright awful, he has even stooped so far down to the level of collaborating with people like Gucci Mane! Yes, you didn't read that wrong, Gucci Mane! That song he has on the radio "All Night" is so damn annoying, every time it comes on I want to rip my ears out.
What the other person said, he's alright but pretty inconsistent and not someone I care to listen to that much. - DaWyteNight
15
Dr. Dre

Andre Romelle Young (born February 18, 1965), known professionally as Dr. Dre, is an American rapper, record producer, and entrepreneur. He is the founder and CEO of Aftermath Entertainment and Beats Electronics, and previously co-founded, co-owned, and was the president of Death Row Records. Dr. Dre ...read more.
It's hard to rate someone who doesn't write his own lyrics
16 Del the Funky Homosapien
17
XXXTentacion

Jahseh Dwayne Onfroy (January 23, 1998 - June 18, 2018), known professionally as XXXTentacion, and often referred to as X, was an American rapper, singer and songwriter.
0/10
All of his "songs" are clearly manipulative (at least if you look back at the background of the songs), and even by looking at a production standpoint, his songs still suck. They're either lazy-sounding or they're simply cancerous like "LOOK AT ME! "
6/10, I like some of his music (like Sad even though I don't like the lyrics to that one, and Changes which is really good), but I don't think he was a very good person.
18
Trippie Redd

Michael Lamar White IV, known professionally as Trippie Redd, is an American rapper, singer and songwriter.
I haven't listened to him that much but from what I've heard he's pretty average, I've really never heard him actually rap I've only heard him sing for the most part. 5/10. But I'd listen to him over Post Malone, Future, Travis Scott, YoungBoy Never Broke Again, Lil Uzi Vert, Lil Yachty, Cardi B, 6IX9INE, Young Thug, Migos etc.
9/10. His singing is fine, but his rapping and flow are even better. Also good beats and pretty good lyrics.
10/10, I've only heard 2 of his songs, but they are good.
19
Immortal Technique

Felipe Andres Coronel, better known by the stage name Immortal Technique, is an American rapper and urban activist from Lima, Peru. He was born on February 19, 1978
8/10. He's a good rapper with good topics and lyrics but I cannot listen to him for that long because his flow is pretty one-dimensional.
20
The Notorious B.I.G

Christopher George Latore Wallace, born May 21, 1972, better known by his stage name The Notorious B.I.G (sometimes Biggie Smalls or just simply Biggie), is an American rapper from Brooklyn, New York. On March 9, 1997, he was murdered in a drive by shooting in Los Angeles, California at the age of only ...read more.
7.5/10. He's honestly pretty overrated in my opinion. People say he was the king of flow, but Big Pun had a far better flow.
21
Killer Mike

Michael Render, better known by his stage name Killer Mike, is an American hip hop recording artist, actor and activist from Atlanta, Georgia.
7.5/10. Good lyricist but his solo discography is very inconsistent, it's good that he's part of RTJ now so he really has to focus on his lyrics. - DaWyteNight
22
Ice Cube

O'Shea Jackson, born June 15, 1969 in Baldwin Hills, CA, known by his stage name Ice Cube, is an American rapper, record producer, actor, and filmmaker. He began his career as a member of the hip-hop group C.I.A and later joined the seminal gangster rap group N.W.A. After leaving N.W.A in December 1989, ...read more.
5.5/10, highly overrated, never liked him much. Sorry not sorry.
23
Travis Scott

Jacques Webster, better known by his stage name Travis Scott, is an American hip hop recording artist, record producer and musician from Houston, Texas.
3/10 for me. I just cannot see anything good about this guy, other than his production. I am also not a fan of his autotuned vocals. He just seems like a combination of Drake and Kanye West and that is not a good thing.
2/10 These are my reasons
He made Sicko Mode
He mumbles Too much
He's dating that spoiled brat Kylie Jenner
His hair looks like crap - B1ueNew
10/10 he's awesome his song sicko mode was good
9/10 producer
7/10 rapper
24
Logic

Sir Robert Bryson Hall II, better known as Logic, is one of the most influential artists in the rap game today, with amazing lyricism and flow. He was Born on January 22, 1990, in Gaithersburg, Maryland and first gained major fame through making 2013's edition of the XXL Top-10 Freshmen List, and has ...read more.
8.5/10. Great rapper with an amazing flow, but some of his songs are hit or miss.
I'd give him a 8/10 for his flow alone
25
Earl Sweatshirt

Thebe Neruda Kgositsile, better known by his stage name Earl Sweatshirt, is an American rapper, record producer, and disc jockey from Los Angeles, California.
Old earl 8/10
New earl 2/10
PSearch List