Best Trap Metal / Scream Rap Artists
Trap Metal, also known as Scream Rap is a genre of music that combines Trap Rap with some elements of Heavy Metal. Most of the time it's depressing Trap Rap with influences either from nu-metal, industrial metal or sometimes even death metal. Characteristics include heavy bass, screaming, rapping, depressing yet aggressive beats and sometimes electric guitars.

The Top Ten

1 Scarlxrd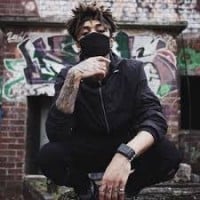 He can rap and scream at the same time and his clothing and tattoos are dope.
He can use the "aye flow" and sound really interesting, very very nice music
Scarlxrd needs to be highly respected in the trap metal community
This man can rap fast and scream good, an absolute GOAT
2
Ghostemane

Ghostemane was in a Hardcore Punk band before he became rapper and I know Hardcore is a punk genre.He really likes a lot of heavy metal especially some of the more extreme genres.He has sampled songs by Metallica,Pantera,Venom and System of A Down(Although for System of a Down some of their songs are more Hard Rock or Alternative).His beats are usually depressing or spooky but some are aggressive as akin to typical Trap Metal/Screamo Rap beats.
His music is just so diverse and ghostemane is also a unique and inspiring person.
He's the best Rapper
3
XXXTentacion

Jahseh Dwayne Onfroy (January 23, 1998 - June 18, 2018), known professionally as XXXTentacion, and often referred to as X, was an American rapper, singer and songwriter.
He puts great emotion into his songs that help make them relatable. He also is definaetly one of the best scream rappers out there and puts pure rage into some of his songs
Most of his songs are Emo Hip Hop or Cloud Hip Hop(With some influences from Grunge and Indie Rock) but many of his older songs are scream rap/trap metal.
4
ZillaKami
Stomps all other artists on this list with the possible exclusion of Ghostemane. Lyrically and Vocally Zilla is incredibly on point and when combined with Sosmula making City Morgue every song is for sure going to be a banger.
Together with SosMula they are a power team and compliment each other very well. I love his personality too.
This guy has the best voice any rapper no doubt
He is the perfect mix of Nu Metal and Rap.
5
$uicideboy$

Ok these guys are more Emo Hip Hop or Cloud Rap than Trap Metal but some of their lesser known songs have characteristics very similar to that of Trap Metal or Scream Rap.But yeah they have more Grunge and Emo influences than Metal influences.
Love these guys!
Best rappers
6
Bones

Bones basically kickstarted this whole "Sad Rap" genre by taking influences from Emo,Alternative and Metal and incorporating it into a mostly spooky Trap Rap style of music.Now while most of the songs that Bones has made are more Emo Hip Hop or Cloud Rap some of his songs are Trap Metal or Scream Rap.
Why wouldn't bones be the best.
He is awesome
7
Killstation
Ok now we're starting to go to the underground of this genre(Well this genre is underground even though XXXTentacion managed to get into the mainstream).Some of his songs are more depressing some of his songs are more angry.
8
PRXJEK
Best screamo rapper I can think of other then x
He makes special really music.
Incredible artist. I have so much respect for him. not only does he dive into the deeper things that most are afraid to talk about but he also puts his whole heart into his music.
I love him so much he is just so amazing and just so inspiring and I have no words to describe how dope he is
9
Lil Mosquito Disease

Denzel Brown, better known by his stage name Lil Mosquito Disease is an American rapper known for his song "Trombone Attacc". He is signed to Flex Entertainment.
10
Sos Mula
I love his voice and energy. He is a great person too.
The Contenders
11
ZOTiYAC
The beat rapper ever
12
Denzel Curry

Denzel Rae Don Curry (born February 16, 1995) is an American rapper and songwriter from Miami Gardens, Florida. He released his debut full-length album, titled Nostalgic 64 on September 3, 2013. His second full-length album, titled Imperial, was released on March 9, 2016. His third album, Ta13oo, came ...read more.
Denzel Curry leans between Aggressive Trap and Trap Metal. He has a song with ZillaKami and X as well as the absolute Trap Metal song called "Black Metal Terrorist" in which he lets out a crazy low scream towards the end.
13
Jasiah
A new Hard Metal trap rapper who song so far are pure fire
His songs don't make mosh pits, they make suicide pits.
I love trap metal
There My favorite Screamo Artists
14
Swerzie
Swerzie is a good trap metal rapper but more pushed to the side and not known that much at all.
15
Lil Peep

Gustav Elijah Åhr, known professionally as Lil Peep, was an American rapper, singer, songwriter and model.
He is my favorite artist in general. I just love everything about him and his music. But the genre of the voting doesn't really fit I just couldn't not vote him.
A great soul to have passed by overdose with inspirational music from the heart.
Best to get high too
16
6IX9INE

Daniel Hernandez, known by his stage name 6ix9ine, also known as Tekashi69 or simply Tekashi, is an American rapper.
A death train
17
ITSOKTOCRY
Not 'Metal' or 'screamo' only two of his songs are metallic sounding: "I've seen satan, he has dreadlocks." and "I've seen god, he has a lazy eye."
He follows more of a 'weird', 'futuristic' and 'psychadelic' flow almost and is one of my favorite artists next to scarlxrd, if I were to recommend any of his songs I would recommend "Pop, lock, and dropdead" and "Bi-polar freestyle".
like I said he is definitely NOT metal, but still a great artist.
Great so far man
18
MC Ride

Not really Trap Metal but he can be can be considered Scream Rap I guess. Although the members of Death Grips like Black Metal from what I've heard
19 GhostofBlu
20 Lil Toenail
21
Rico Nasty

Rico nasty music is great and it's so raw. Her song "Rage" is my favorite so yall should go listen to it. Better yet just listen to the whole Nasty album babies.
22
lowkeylucifer
Well, it's a start
23
Kamiyada+
Kind of good for scream rap
24
Undead Papi
Best New Underground
25
Craig Xen
Nowadays he doesn't do screamo rap as much, but in for example 5 ★ THREAT he for sure is doing screamo rap.
PSearch List