Top 10 Robot Wars Series 4 Competitors
In what many consider to be the best series of Robot Wars (let alone the classic series), the production values improved, and so did many of the competitors. Narrowing this list down to only 10 was tough, but these are the bots I believe stood out the best.

Robots ranked based off design and performance. Also Spoilers.

The Top Ten

1 Hypno-Disc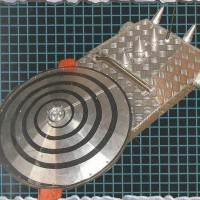 The most destructive bot from the previous series returns even better for this series. Instead of the razor blades the disc now had chunking teeth on them to rip off armour as opposed to just cutting it, and there's a new self-righting mechanism. Unsurprisingly, Hypno-Disc was responsible for the series most destructive fights, particularly it's fight with Splinter, and was looking good heading into the Grand Final. Then, disaster struck when Pussycat sniper shot it's wheel, locking it up, then Shunt put it's axe through the disc, causing terrible damage to the drives.

This was probably the best chance Hypno-Disc had for the title, and had it faced Chaos 2 I reckon it could've won. Oh well, c'est la vie.
2
Chaos 2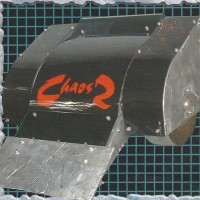 The Series 3 champions returned with pretty much the same robot as before. But as Chaos 2 was so ahead of it's time it really didn't need to change to continue being a dominant force. Even reasonably challenging bots like Steg 2 and Tornado didn't post it much of a threat. It's biggest threats came in the Grand Final, where bots like Stinger and Pussycat took it down to the wire, and even caused it some damage (albeit superficial).

Chaos 2 managed to beat them both, becoming the first UK champion to successfully defend its title.
3
Pussycat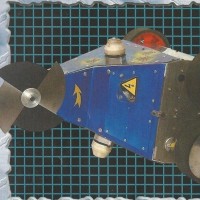 After being disqualified from the previous series for it's hardened blade shattering, Pussycat return with a new set of claws (so to speak). Its new blade with sharpened points was deadly for cutting up armour, and despite its awkward design it was so well driven by the late David Gribble. It caused an upset in its heat by beating Razer, then made it to the Grand Final where it caused an even bigger upset by beating Hypno-Disc in seconds. It fought Chaos 2 for the title, but by this point it was getting tired from all it's battles. The blade stopped about halfway through the fight, and after that it had no answer to Chaos 2's attacks.
4
Panic Attack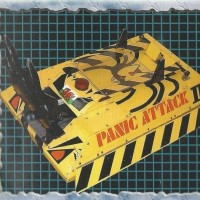 The Series 2 champions return with an even more improved Panic Attack. The sides have skirts to stop flippers getting under it, and most importantly the machine had the gyro stabilizer installed, so Kim Davies had much better control over this bot than he did the previous series. It made it's way through the heat by beating S.M.I.D.S.Y, then beat Spawn of Scutter in the Semi-Finals. It then fought Stinger in the top 8, but lost on a somewhat controversial judges decision, as there really was nothing it could've done to Stinger.
Could they have re-claimed the title if it made the Grand Final? It certainly had a chance.
5
Razer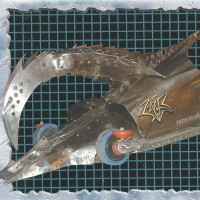 Once again Razer returned as a firm favourite. Its success outside the Robot Wars Championship gave it a high seeding, and it once again showed its 9 tonnes of crush in its first two fights. Plucking up Robochicken and ripping all the wheels off Milly-Ann Bug. However, against Pussycat it took damage early on and got stuck in forward drive, and so Razer suffered heat failure yet again.

Razer was also responsible for a major spectacle at the end of the Southern Annihilator where it destroyed Matilda, much to the entertainment of the crowd.
6
Stinger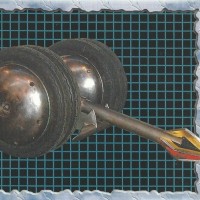 A bot that lost it's first fight in less than a minute in the previous series returns with a new bladed tail. It proved such a difficult design to fight, as it can run any way up, and all the electronics are in the wheels, protected by those big rubber tyres. It also opted for a bladed axe instead of a barbed one, so that it wouldn't get stuck in robots, and could just keep on clubbing them with it's heavy duty weapon. It's awkward design and versatile weapon got it all the way to the Grand Final, where it gave Chaos 2 a very difficult fight. It lost on a narrow judges decision, and finished 3rd overall.
7
Dominator 2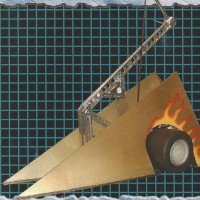 In the previous series this team only competed in the Pinball Challenge. This series they return with an unusual, yet beautiful looking robot. Its metallic gold look with the flame decals was fantastic, but the axe was even better. It could hold on to a robot then push it wherever it wants, or just fill the bot with holes (just look what it did to 101). It also got the quickest KO of the series, immobilizing Henry II in 2 seconds.

It lost in the Top 8 when Pussycat got its saw in and the shell came loose.
8
Wild Thing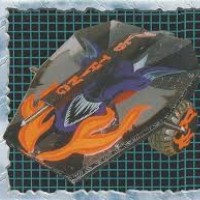 The Thing II team from the previous series return with a similar robot Wild Thing. It kept the same basic wedge design, except with a lifting spike at the front to allow for self-righting. What really made this robot shine was the driving of Nick Adams. He was great at using the wedge to push and tip over robots, and the robot was so durable and reliable it just kept going on in it's fights. It reached the Top 8 before getting an unlucky draw against Hypno-Disc. It fought very bravely and took it to the wire, before losing a very close judges decision. In my eyes this version of Wild Thing was probably the best.
9
Spawn of Scutter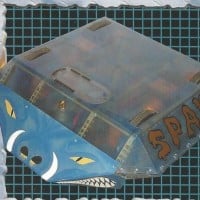 My personal favourite of Team Scutterbots' machines. This box-like wedge made (in my opinion) the best use of a pneumatic spike. Instead of using it to poke holes in other robots, they took more inspiration from the floor spikes in Series 3, by having it thrust the other robots away, as a sort of flipping device. This was put to great effect alongside the machine's speed and power. Also it's wedge at the back was invertible, meaning it could run upside down and still have a wedge on the floor, a nice touch indeed.
It was really unlucky to be drawn against Panic Attack in the Semi-Finals, otherwise I could've seen it getting maybe one step further.
10
Mortis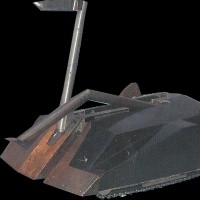 The infamous Cambridge lads return with the most technologically advanced version of Mortis, and also the most expensive (being valued at around £40,000). It's armour was essentially diamond coated and could withstand pretty much anything at the time, and it's axe and lifter made for an intuitive combo. Unfortunately technical gremlins struck the weapons systems, and as a result it lost it's Heat Final to Steg 2.
However, it's time to shine came in the War of Independence special. This was when we finally got to see Mortis working at it's upmost potential, managing to beat Panic Attack and absolutely dominate FrenZy. The team retired Mortis from combat after winning the special. A fitting swansong to one of the original Robot Wars greats.
The Contenders
11
Eric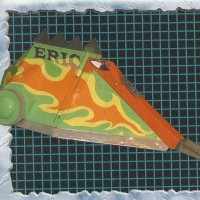 The Erickoning continues in Series 4, with it's more powerful lifter and new srimech.
BAdd New Item