Best The Voice Season Five Contestants
The Top Ten
1
Tessanne Chin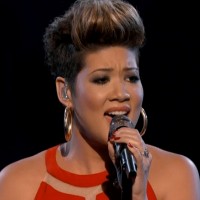 Tessanne Amanda Chin is a Jamaican recording artist, best known for winning Season 5 of NBC's reality TV singing competition The Voice as part of Adam Levine's team.
Flawless performances fuelled with emotion and heart. She connects with the audience and gives 110% each time. Her pitch is right on target and each performance is more powerful than the one before.
Beautiful voice... awesome person
Wishing you all the best Tessanne, you are not just a singer - you are an entertainer. Hope you win The Voice.
A kind, strong, amazing singer who loves what she does. Sing! She can't get ANY better.
2
Matthew Schuler
Go Matt all the way
Wow. He is powerful. His range is unlimited.
3
Jacquie Lee
A powerhouse who always owns the stage. She puts her heart on the stage and leaves it there all the time. A fabulous vocalist.
The most powerful voice of the show and an incredible range. The most talented girl of The Voice for sure!
Um Jacquie came in second for a reason so y'all better vote
Awesome 16 yr old
4
Holly Henry
She has a unique voice, although her stage present could use some work. But people want a good singer, performance on the radio
Unique. Simple as that...
5
Grey
Grey, you are awesome and bring power to the stage.you= talent
She will be a dark horse this season, I can tell.
An AWESOME singer who I wish made it farther.
6
Will Champlin
An awesome guy. He is a breathtaking singer, and blew my mind away when I first heard him.
No need to explain... He's amazing, plain and simple.
7
Caroline Pennell
Such an original Voice! I thought she was making it to the end for sure.
A sweet, loving girl who is so wonderful, it puts my mind in SOOTHED zone. I wish you stayed with us Caroline Fans!
Sounds so original and flawless
8
James Wolpert
James Wolpert is my favorite contestant!
A strong man who is energetic and powerful. High- Five!
9
Kat Robichaud
Nice try, Kat, Dru wanted you to win The Voice! Also Bad Kitty wanted you to win The Voice!
I love those kicks! Great job girlfriend!
Good, a masculine female,
10 Tamara Chauniece
The Contenders
11 James Irwin
12
Cole Vosbury
Oh, My Gosh. Seriously, Matthew the dying goat over this guy! He has the emotion and passion. He WILL win the voice this year because he is the best.
All hail the beard king!
A cool, Lousiana guy who sings great, and happens to look like Wly off of DUCK DYNASTY
13
Ray Boudreaux
A cute guy who will always be loved. Oh and of course his singing!
14 Preston Pohl
15 Monika Leigh
16
Brandon Chase
He made a good song better!
17
Nic Hawk
This guy won't win, but was moved by his story and will be upset if he sees he isn't there.
18 Briana Cuoco
19
Cilla Chan
Sure she isn't still on, but she is good,
20
Destinee Quinn
Her and Jason Kertson were the best. Its that simple. I liked a couple songs by Will, but come on. Admit it. Amazing!
Wow, a biker bar gal with a good voice!
21 Josh Logan
22 Olivia Henken
23 Sam Cerniglia
24 Timyra-Joi
25 Amber Nicole
PSearch List