Bill Kaulitz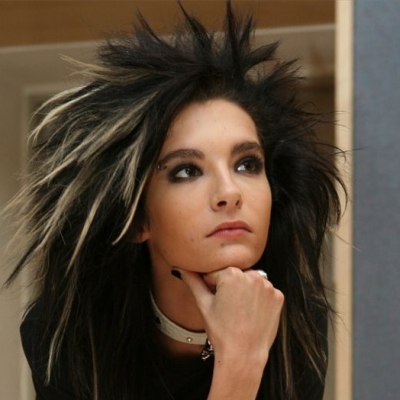 Found on fanpop.com
Info
Bill Kaulitz-Trümper, sometimes using the pseudonym Billy, is a German singer-songwriter born on September 1, 1989, best known for being the frontman, lead singer and writer of multi-platinum winning pop rock band Tokio Hotel. During the time his band was most popular in Germany, which was in the mid-to-late ...
read more
.
Comments
Top
Popular
Newest
He is the dream of most girls in this world, mostly because of his look, but also because of the deep sensuality he expresses when he sings some words. He's maybe not the best singer, but has a little something obviously. His voice has developped a lot back since he was 14 or 16. After his surgery he tried new things in the album Humanoid. His voice defenitly improoved. I just hope that the "famous thing" will not destroy anything or get him to the head(like it's already doing.. ). I wish him good luck and the best of his life. I wish him not to end like most of the people nowadays, and I hope nothing bad will happen to him.
Best regards to Bill and to Tokio Hotel.
(From a fan from Quebec, near Montreal)
Well, what can someone say about this man! He's a very beautiful and special person! As a singer he is very proffesional and he is a perfectionist! He puts all of his energy and passion on his work! His voice is just angelic! It's unique and expressive and travels you to other places! He has his own way of expressing feelings that can really touch your soul, because he writes songs about things out of life, things that everybody has been through and gives you strength to move on! And his music has helped me in some really hard situations in my life! Also he is one of the most beautiful people on earth, cause he is not only beautiful from the outside! Bill has a beautiful soul and you can see it in his eyes! He has very provoking appearance but he's so sweet and kind! He is not made up by managers and stuff! Through his music, lyrics and his own life he teaches you to "Whatever happens, believe in you, believe in life, believe in tomorrow, believe in anything you do every time! " as he ...more
He's different, and not afraid of showing who he is, showing his own style. He's so incredibly beautiful - both in the inside and on the outside, like an angel. He wants everybody the best and has good, strong heart. He loves his fans, and he is so grateful to whoever ever helped him. He is so sweet and his soul is clean, and he's always being polite, and protective about things that he loves. He supports all the great campains, wanting the world the best.
His voice is special as well, deep and warm and personal. He may not have the cleanest, most straight voice in the world, but it truly deserves to get on top of this list, because of it's deepness.

He simply has the strongest heart and the brightest soul in the universe. He deserves everything good - you can't hate him, not for a reason. There's nothing to hate about him.
Bill is the most amazing singer I've ever heard. He inspires a lot of my lyrics and songs, and gives me the courage to carry on and keep trying! His voice is so passionate when he sings and he gives his entire heart to us in his lyrics... We can all feel what he feels; his love, his sorrow, his joy and his pain. He gives us so much and now I'm trying to give something back! He has his own style and is not afraid to be different, and that makes me dare to be myself. I have him to thank for so much, and I hope that he understands how much he means to us. All Aliens love Tokio Hotel so much, and each member equially! Bill is just the one that sings out what the entire band has in their hearts. I love Bill Kaulitz and I love Tokio Hotel! They are simply the best band in the entire world, and their fans are the best ever! =D
Bill Kaulitz is PERFECT! All he does is Awesomeness: He makes Awesome songs, he Has Awesome Style, He doesn't need singing lessons to be able to sing, he sings perfectly, He cares For the fans, does ANYthing to make them happy while there waiting for the new album(VipCall, BTKAPP), He's So Unique, so pure, so Hot! Haha, He can Pull ANYTHING off! He Supports PETA He doesn't really make himself the center of attention Bill Always makes a way to include Tom, Gustav and Georg, his Songs are so deep, so sweet, so cute, so real, and it makes Us BELIEVE in ourselves, no matter what other people say... And us Aliens Are really thankful For that right? We LOVE you AND Tokio Hotel!
Whenever I hear Bill singing, it affects me deeply. First time I heard him sing in "Rette mich" I was hooked at once. He just sings from the bottom of his soul.
Tokio Hotel's songs have deep meanings and he never compromises with showing how much the lyrics mean to him.
He will always make me smile and cry with him and whenever he shares his voice with the world I and millions of other fans will sing along because we hear and feel every word and every note.
He doesn't need auto-tune because his voice is absolutely beautiful.
He doesn't need choreography or dancers because with just a few steps and swings he get's the whole audience to scream! Have you ever listened to a song and your heart started beating at how angelic it sounded? Well that's Bill for you! He hasn't let fame affect his personality and he is just so adorable. He makes a great role model and even though he smokes he refuses to do it in public just for us! He teaches us that being who you are is okay! The songs that he, Tom, Georg and Gustav write are beautiful! INSANELY addictive too. He has a natural amazing voice, he always puts up thank you videos to us fans and he is always so polite to interviewers. AN THIS ISN'T EVEN HALF OF WHY HE SHOULD BE. X
Bill, as I describe it? Is an extremely sweet, her voice is amazing, his way of being and expression are what most love their fans. Their dedication and talent are what led him to the top and above all persistence, hours and hours of practice are making it better every day. Also highlight its style, is something special from him and in my opinion is something I admire about him, for me is a fashion icon, breaks down the barriers of sense, although many people criticize him for his clothes but do not know that behind those clothes lies a kind, sweet and engaging. Bill Kaulitz is the best.
bill kaulitz is the most talented singer I have ever heard since I listened to tokio hotel (the best band in the world) I really love him for who he is, especially his eye rape hehe :) when you hear his angel voice you get lost in the moment.. he inspires me in every way. he is sexy and cute and hot ofcourse :).. bill kaulitz is a amazing person inside and out.. he deserves for all his success! :) I love you billy!
What to say about Bill Kaulitz? So many things that people don't mentioned anything that makes him a very good singer, maybe one of the best. He has imposed a new style of music, unbridled passion. It remains itself despite the money and celebrity that's why we love him, all the fans. Whatever he maybe look like a girl, he is an exceptional singer. He does not speak of all things that go up to people's heads, oh no! He talks about the realities of the world, life, etc.. This is why it deserves to be one of the best singers! Everyone will remember Bill Kaulitz!
what can I say about Bill? he has confronted the worst stuff in the world and he is still here with us. He is such a nice guy and his voice, his voice is recognizable everywhere you go. Like, he doesn't talk about crappy stuff like: "sex" or "party" he talks about the realities of life. And I believe that he deserves to be in the top 5. Sincerely.
Bill is amazing, he have wonderful voice, he is so cute, sexy, he is SIMPLY THE BEST SINGER OF ALL TIME! Hi is ANGEL! And of the end he says "THAT IT IS OK TO BE DIFFERENT"! And I support him, because that's true! And I love: "Meckie, Jumbie, Gummy Bear... (Bill Kaulitz) So, come on aliens VOTE for our ANGEL!
Bill Kaulitz has one of those voices that you can never get out of your head. His voice has the ability to be so clear and pure it breaks your heart one moment, and turn dark and sexy the next. His range is incredible, and his mastery of pitch leaves you breathless, wanting more. The fact he went through surgery to remove a vocal cyst years ago, and has carried on only makes his achievements all the more amazing. He's done so much and since such a young age, you can't help but be impressed.
THERE IS NO ONE LIKE BILL KAULITZ! HE IS HIS OWN PERSON! NO ONE CAN COMPARE TO THIS EXTREMELY TALENTED GUY! HE HAS A VOICE THAT COULD CUT THROUGH DIAMONDS! HE ADDS HIS PART TO TOKIO HOTEL JUST LIKE THE OTHERS DO. AND EACH MEMBER COMPLETES THIS BAND! I LISTEN TO BILL'S VOICE EVERYDAY, AND I WILL SUPPORT TOKIO HOTEL FOREVER NOW!
Bill is wonderful! I really love this guy! Everything that is unexplained causes millions of people, with a smile, a word, a song. It's amazing what it causes in my hear, just with his voice he manages to get me a smile. There is no explanation for what I feel for him, I really love this guy, no person like him. My biggest dream is to know, to talk with him and hear his beautiful voice in person. Bill Kaulitz I love you and you deserve to win! Argentina supports you and wants you here
His voice is like that of an Angel. It can be a lullaby and put you to sleep, it can be a cure to broken heart and help you get over things.. or it can be motivating and give you goosebumps all over. Their songs, though belong to more or less to the same genre, are very different in nature. WHen Bill sings its as if his voice is talking to you. His voice is worth listening to
He is a truly gifted singer. His voice can get stuck in your head and his songs are full of not just his emotion, but the emotion from his band members too.

I have only been listen to Tokio Hotel for a few months now, But I really do think he is one of the best singers I've ever listened too. He is able to sing in both English and German.
Bill Kaulitz is the best singer the universe, I know that Michael Jackson, Freddie Mercury, Sarah Brightman are a wonderful singers, but Bill is much more wonderful that all the singers of the universe!
Bill is the man more amazing of the world is the best singer!
When Bill sing my heart beats uncontrolled, her voice is more that all stars together, is more that the infinity of the ocean, is more that a sunset in the beach... Is the best singer, the things amazing of the universe can't compare with Bill, he's more
Bill Kaulitz is a man, is a singer wonderful
Tokio Hotel have the best musicians of the universe!
The best singer of the moment is without a doubt, Bill Kaulitz! His voice is well suited to any vocal technique. Exploring different intonation and intensities. In addition, Bill uses his vocal abilities of divine form, giving the music a sense appropriate to what the lyrics transmit.
He's the best Singer of all the times! he's perfect... his voice is like an angel singing 'bout true love! he gotta be the number one.. just because of his voice and because he wite the most beautiful songs I ever heard!
Bill Kaulitz is the most amazing guy I have ever met. He's the combination of an energetic boy and an ambitious man. He is unique in his own way, especially when he is on stage, the way he dresses himself without the need for a stylist. The songs he writes all have meaningful lyrics. He's a creative man and the best thing about him is he loves what he's doing, making music and he believes in it, which inspires fans so much.
He is the best singer in the world for me.
The most angelic voice.
The most beautiful expressionist.
The most experienced in being judged bu people.
He has never said a word about the judges.
He just sings. Sings with his passion, love and care.
And only for his fans. Like me and almost other 35.000.000 people in the world.
And he's only 22.
He's amazing... an angel on Earth.
He has a unique voice. The best he has, when he sing... Its like you can feel that song so deep inside. Personally I think the best singer need that... Just be natural, be himself and just been the happiest man ever because he does what he love and he does it perfectly.

He just know how to express a lot of ideas of millions of people, in one song. So he is the best singer I ever heard in my all life
I think he as an amazing voice. No matter if you think it's girly, I don't think that at all. He can communicate with fans through their music, he puts all he got into music, he is amazing and have an angel voice. definitely, one of the best.
I love his voice! It's so special and he doesn't sound like "everybody else". He's doing his own thing and he just seems to be an amazing person. He has a beautiful soul and he really cares about his fans. He definitely is the best singer!