Bono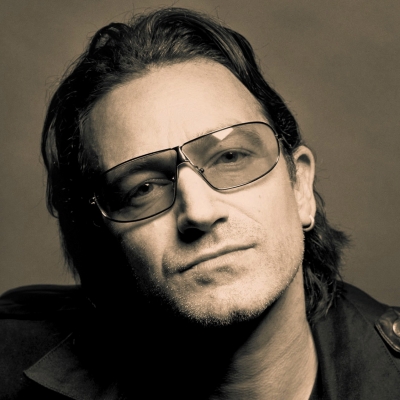 Found on thelegacyproject.co.za
Info
Paul David Hewson, known by his stage name Bono, is an Irish singer-songwriter, musician, venture capitalist, businessman, and philanthropist. His original nickname was Bono Vox which means "big voice".
Comments
Top
Popular
Newest
He's the best singer in my lifetime because he didn't know how to sing when he started out. He learned his craft with hard work and determination. Bono isn't just a singer but a writer, poet, musician, humanitarian, band leader, devoted husband, father, and a principled spiritual Christian who is the worlds most favorite worship leader. He's a pure genius and his opinions are sought after by world leaders and media powerhouses. Not a day goes by that he isn't in the news. He sings punk, rock, rasta, blues, country, opera, new age, pop, hip-hop, anything and everything is within his range. He has developed exponentially over his 32 year career, and still going strong. Bono breaks records in every facet of the music industry, and he got the fcc to let him say the f word on the grammys. I rest my case.
How on earth is Bono not first Place! He is the Best SINGER EVER! That is just Stupid! He should be at the top of that LIST! All of his songs are AMAZING and so is he! Vertigo, All Because of You, All I want is You, elevation, Where the streets have no name, Breathe, sunday Bloody Sunday, etc!
Always said U2 is the largest underground band in the world. I will borrow from Harley Davidson a comment. "If I have to explain it, you wouldn't understand" Bono yes his range is amazing and Live is even better than the recording.
Bono is more than the best singer.. His music is very inspiring, not just the tones, but also the lyrics.. He is singing with his heart and his mind. That's why I love him as a person and as a musician. His music got already influenced me a lot in many ways.
The most outstanding voice ever, mind-blowing charisma and amazing personality. Usually musicians creates music. He with his band creates magic. In one word: god.
Bono fills my head, ears, body and soul with his sounds. His voice is able to stir me and lift me up into joy when feeling low. He's a true man with passion and love in his voice. Bono is the number one for me.
Bono has such clean and cool voice. His voice comforts me, makes me happy. He can play with his voice easily unlike monotone singers. He deserves to be at top 10! Come on people vote for Bono!
Deserves to be in the top 10 of all time no doubt! This survey is a joke seeing great singers all the way in these positions, what kind of garbage do people listen to now a days? U2 Forever!
This list is ridiculous because of the variety of musical styles (rock, rap, dance) require a different kind of voice. I voted for Bono because he excels at a range of musical styles like rock, hard rock, country, blues, Irish, opera, etc. Freddie Mercury would be at the top of my list but he didn't sing a lot of different styles. - stevha
Best singer ever. Highly underrated. He is far better than those today, s junk singers such as katy perry, taylor swift, avril lavigne, chris brown, etc. His voice is god gifted & also puts much effort to make it better. Must be in top five.
He has unadulterated way of singing that is result of his conviction can't change the world but can change eternal world, our hearts. Sometimes his vocal gets feeling like it would be choirboy's voice, another time like a hailstorm... And that's mastery.
Greatest singer of all time - period. Unbelievable range, a baritone who can sing in the tenor range ridiculously well and with so much passion. His voice can be soft and gentle like Nora Jones or as loud and powerful as someone like Freddie Mercury. He has a brilliant falsetto to rival John Mayer and his voice is unique and beautiful. He can have a smooth voice or brilliant rasp but most importantly he is a a singer with the most emotion in there voice. The greatest vocal moment in history was the beginning of where the streets have no name at Slane Castle, his father had died recently and at that moment bono sounded like a god. Highly recommend anyone reading this to watch it. I don't think there has been or ever will be a greater singer, the only five who are remotely close are the late and great Freddie Mercury, George Michael, Whitney Houston and Roy Orbison and perhaps Adele
Bono By Far is Number One Without a Doubt
bono is actually latin for 'good voice'. that comes to no suprise, he's simply amazing
Bono has a charisma unlike any other artist in the world... he is just so confident, and so is his voice
The greatest singer around. Has an incredible range how he's not in the top 10 is beyond me.
Reason? COME ON PEOPLE! Just listen and you'll know the reason. BEST singer EVER and ever shall be! -Mary Brown Holland
From opera to the falsetto and everything in between, B Flat preferred of course, no one has had the presence and vocal range of this man.
Come on adults, don't let the kiddos and their 30 Second to Mars' hunky Jared be above Bono! Please! Please! Get up off you knees and VOTE!
Bono is way better than half these people. Lemon, unforgettable fire, a sort of home coming, drowning man, still haven't found what I'm looking for... He even sounds better live! Should at least be in top 20 if not 10!
embodies the endurance of U2 and the charity worthy of a Nobel Peace Prize
It wouldn't matter if he was 4ft tall, 300lbs and bald as an egg, he would still be one of the most beautiful souls walking this planet today. That inner beauty is what shines out in his voice, as charisma on stage, screen and through my headphones, and connects with people on a deep level. In the name of love, what more could be asked of a "mere" singer?
How is Bono not #1. The greatest singer of all time. You Know It.
Justin Bieber? Better than Bono? He wish. Why isn't bono rated much higher? Bono is so much better than Justin Bieber. Everyone, vote.
Sorry but Bono belongs in the top 10 of this list. He is the best front man I have ever seen live, and is a truly amazing performer.
Along with Matt Bellamy (Muse), Freddie Mercury (Queen), Tom Smith (Editors) and David Bowie the best singer of all time for me. Vocal range of 3.01 - Come on now!