Gackt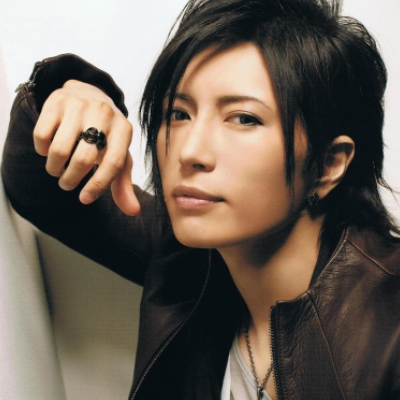 Found on lyricsmode.com
Comments
Top
Popular
Newest
Hell, he's one of the best male singers ever, he can bring the music to you like no other with the force of his voice and instrumental performance. Not only he writes his own music and lyrics, but also is a great performer and determined to give the best sound that is there! Despite the fact that he has a very low voice the high pitch notes are flawless, in other words he's definitely one of the best! Plus I don't know any other singers that could break the language barrier like he does by making people who find japanese odd to listen to his music and actually like it!
Gackt has seriously got one of the most greatest unique voices ever, and I'm a fan of Michael Jackson and Queen. One sentence of his voice will inflict you with intense emotion immediately. The only reason he's not popular outside Japan is because, quite simply, he's Japanese (even though Japan has the second largest music industry in the world). If other people could hear his powerful, great-ranged vocal ability, they would agree he deserves a top spot.
He is not popular in the world but When I heard Gackt For The first Time I think he have the best and dangerous voice you can fell his sadnees and happiness when he sing. He must be more Popular and his voice better than the one of MJ, Hyde and all singers in this world. and I don't know how Hyde is in 29 and Gackt still in 50.
He is the best ever. He can reach the highest or the lowest notes in a second. His vibrato is unbelievable. He sings with his heart, so you can understand the essence of his music even if you don't understand his lyrics. Just fabulous.
Gackt has one of the most powerful, emotive, passionate voices I have ever heard, transcending language barriers. As a result, he has fans from all over the world, many of them incapable of speaking a word of Japanese, but still capable of adoring his voice.
The emotion you feel from so many of his songs is indescribable. His voice and lyrics come together in a remarkable way- absolutely perfectly. There's something about him that pulls you into a trance where you can feel his voice, something amazing.
the most stunning voice I have ever heard! his voice regularly brings me to tears of joy and sorrow, so much feeling. please anyone who has the oportunity to, listen to some of his music, you will not regret it! GACKT is the best we love you!
When I have to talk about him... I can't find my words... because is hard to write feelings in a few words.
Just give a try and listen to one of his songs... or maybe many...
He deserve the best!
And to the person who said Hyde is not good enough to be higher on the list, you're wrong. He is good enough to be on any list. Gackt might have a more... Powerful voice, but Hyde has that little something that makes him my favorite singer (Yes, I'm a Laruku fan... And a VAMPS fan... Okay who am I kidding! I like everything that involves Hyde...! ). Gackt is still great. I'm not saying he isn't.
Gackt's voice is so amazing! My favourite band is The GazettE, but since I am also a big Gackt fan - I couldn't help voting for him instead! From Malice Mizer to his solo career - Gackt is awesome!
He should be more known but I guess good music is not for everyone
He is an Artist not just a singer
A great inspiration to many many people around the globe and further more
Gackt is one of my favorite singers. His voice has one of the largest ranges I've ever heard and his songs have a passion in them that I've rarely heard other artists employ.
Gackt is just ... Wonderful. Being active in the Japanese Music world since the 90's and plus the fact that forming one of the best visual-kei group doesn't hurt either.
GACKT is a amazing man who leads amazing life. He can always make you laughs or make you cry. Listen to Last Song, and you'll get the feelings of him.
He's Such An Artist And Such A Inspiration To Everyone He Is Around. Loving, Caring, And A Talented Man. In My Opinion, He Should Be Number One. ( :
. . He has a wonderful voice with a range that can sing any genre. Name it, he's done it. Other than the range, he conveys a song's emotion most perfectly that breaks language barriers. It doesn't matter if you don't understand Japanese, you'll know what the song says, just through his execution of it.
Definitely the best from Japan and, if not the best from the world, he sure is one of the maximum singers of all time.
He inspires me. He gives me strength to live.
Mega strong and talented person, insanely beautiful man.
Absolutely the best singer ever Past, present or future. No one will ever top gackt's voice and genius EVER!
He has an incredible voice, his lyrics are so deep, and is an inspiration, he is man who never give up.
Gackt is so low! He was in Bunraku, people! Watch the movie! He has one of the greatest Vocals in the world! Trust me.
Yes! I found him on the worst singers list. I was baffled. Just listen to his Malice Mizer era, he sounds like a angel! Also, his solo work is cool too, but I rather his Malice Mizer times. He's not my favorite singer, but he has one of the best voices in the J-music scene...
his voice and acting are amazing! the best singer and performer, and charming man
I just love him, he is amazing and has a beautiful voice!
He has a wonderful voice, and can beat anyone....Maybe not HYDE...
But still!
Love ya!
XD
Related Lists
Best Gackt Songs