Jared Leto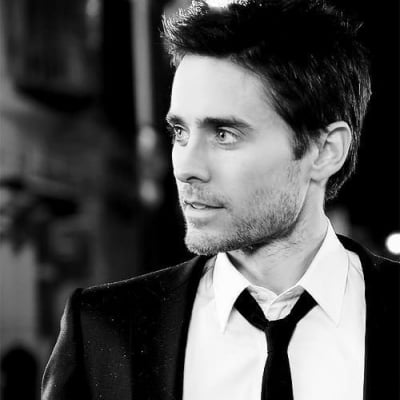 Uploaded by catwalk
Info
Jared Joseph Leto is an American actor, singer-songwriter, and director. He is well known for being the lead singer of Thirty Seconds to Mars.
Comments
Top
Popular
Newest
Jared leto is simply a person you do not want to miss. His singing is charged of glory and passion. He is an extremist if we can say so, extreme low range and extreme high range. He may sing anything at all, with any band at all and you still recognize who is Jared Leto. In fact we cannot say what singing style is Jared Leto, cause Jared Leto is his own. He is just different. Cause Jared doesn't shoot for something, he colonizes it. He gives it his all, he neve stops working to achieve perfection. His voice is like no other, I with a great musical range can say so. No one has ever sung before like Jared Leto, he is just unique in very special ways. Jared's voice has a meaning, and creates something deep within you, besides consciousness with his lyrics. Besides being a singing prodigy, he is a great human being, unlike most rockstars. He will always stop and get a picture with you anywhere anytime.

I've heard everything. Rock, Metal, Pop, Reggae, even Rap, and have never ever ...more
I don't know. His voice is just perfect. I like the color of his voice and 30 seconds to Mars altogether. I think he's and excellent singer and deserves to be respected and known for it. He writes great songs and preforms them remarkably. People shouldn't talk before they hear one or two of his songs and hear the range and strength of his voice.
Jared has an amazing voice. When you listen to the unplugged version of 'the Kill' for example you can hear how deep and emotional his voice can be. He sings with passion and dedication. He might not be one of the best singers in the technical way, but he's one of the best singers when it comes to being authentic and emotional.
Jared Leto is very good live it's not always bout the vocals, it's about entertainment live, unless he is in a studio. Jared Leto really does well with his clarity and vibrato. He can get very high and low vocals. They sound very smooth and fluent and crisp. When he sings lower in sounds flawless same with his high vocals. He has good techniques and good range. He can scream to without it sounding cheesy.
First of all I think that no other singer has a better voice than Jared because for some it's just some guy singing in a band but it's much more, it's feelings that you can hear, and his voice on acoustic covers like Where the Streets Have No Name it's just amazing.
Then, I think that it's not someone who'll do like other singers you know, he's dressed in his very fantastic wayand haircuts are changing all the time and it's a funny person, it's someone who would ignore his Family (The Echelon) just because he is in a rush. And my final word is that this Echelon system is something that no other band could give to their "fans" because they call us family, they like us, they're talking to you just like if he knew you for some time and he never grow olds!
It's an amazing man also because he has the guts to defend his dreams, to go to Haïti and to show that these families need real support, to warn the world against pollution and ice melting (and went to Greenland for it), and ...more
Jared has the most wonderful voice in the world. When I listen to his voice I can feel what he is feeling, he can give emotions like no one else can do. You can feel the passion for what he loves in his way of singing, he can make you dream and he can make you believe in your dreams. Jared is an amazing artist, the most talented man in the world, in my opinion. He has not only an amazing voice, but, most important of all, he has a big heart and a wonderful soul. Everything he says and everything he does is an inspiration, thanks to him I learned to believe that my dreams are not impossible. He is my inspiration and my hero, I love him, not only for his talent as a singer, but, above all, for the wonderful, loving person he is. I love his way to see the life and I can never thank him enough for everything he does and for who he is! Definitely the best singer, and not only, of all times!
Jared being sexy as well as a genius is the best singer of all time. His voice when singing This Is War just gives me chills. He explores the different levels he can sing and it's just truly breath-taking. When I saw them live for the first time, I didn't sing as much as I thought I would, I was just mesmerized by this amazing man in front of me and the sound around me.
Jared can sing any style of music and make it his own. He pours emotion into everything he sings, everything he screams, everything he whispers. He tugs at your heart with his words and with the sound of his voice. Jared's singing voice has reached so many people of all ages and somehow communicated to very large numbers around the world that they are not alone. Jared's soulful voice, the scream, the whisper - they reach people on a deeper level, sometimes a level that is hard to comprehend, and the world looks like a better place for us having heard his voice. Thus, the Echelon was born. Jared Leto and his band 30 Seconds to Mars have a worldwide family now, and we are the Echelon. We believe that Jared is the #1 Singer, the Best Singer of All Time. His voice is not only beautiful, but his voice saves lives!
His voice is the most inspiring voice in the world. It's only his lyrics, that make me feel better, they make me want to jump and touch the sky. WHen I listen to his music, I have a feeling that I can do anything that I want, I can do everything to follow my dreams no matter what. I know, that every member of the Echelon will understand me, cause Jared have created a really big family. Thank you, Jared, and not only you, but also Shannon and Tomo, because with your music I will fight for what I believe in.
He sings amazing. More than amazing. When you listen to his voice, it's like - it's an unbelievable great feeling you can't describe. Whatever he sings, it's brilliant. He can sing everything: from punk rock to completely unique. All in all, his vocal rang is great, and when he sings, you can hear stories. You feel all the pain - or the happiness from a song which has a story. And that's in all songs of 30 Seconds To Mars. And when you still don't believe me, take some time to listen to his voice. Then you can share my opinion.
Jared Leto is easily one of the greatest singers of all time. Though the others on the list are also great, nobody is quite as unique. Leto's vocal range is unknown, but everyone knows it has a very unpredictable effect as he can go from punk rock to rock ballad in just seconds. Not only is his range eye opening, but the emotion felt through his songs is clearly what puts this artist near the top of the list in my opinion. Never before have I felt so many emotions on one album before, before listening to Thirty Seconds to Mars with Leto's unique voice. This artist clearly deserves more attention, love, and respect as he is underrated along with his band.
Jared has a truly unique one of a kind sound. You can not put his vocals in one category. To me a great singer takes people on a journey and when singers only have one range the ability to sing only one kind of music it gets old that is why Jared is so amazing he is constantly pushing the envelope developing a new sound pushing his vocal range to new heights. He can also make a crowd feel like they are right there with him involve them not only when at a concert but on videos. He makes people feel the passion in the music and relate to it just by singing. TO me that is something that is unique to him as well. So for these reasons and about a million more my vote goes to Jared Leto and 30 seconds to mars.
Alright, how could possibly someone doubt Jared's unique talent?! He's the most awesome guy in the entire universe and his talent is completely indescribable. Whenever he's on stage, nothing else matter either for him either for the Echelon. His energy and passion and contribution to music deserves everyone's respect. Jared will always be a hero to me no matter what the others think. Jared is like my older brother! (':
Jared Leto as the most amazing voice I have ever heard in my life. He puts so much handwork, passion, energy and talent into every song he writes and sings. I sometimes find myself tearing put because his voice is so beautiful to listen too. When I hear his voice I feel like I'm having an out of body experience and the world just melts away and it's only me and his songs. Jared deserves this then any artist out there
When I hear Jared's voice it feels like I'm in heaven and I can forget the world around me. Nothing counts apart from him and his voice. He fills people with enthusiasm. His lyrics are true and they have a meaning. I don't no anyone who has such an amazing voice like Jared Leto. He let his heart rule and he speaks one's mind. I love his voice, I love Jared Leto and I love 30 Seconds To Mars because he (they) can touch my heart.
Hm. What can I say? He has an amazing voice. That you recognize anywhere. He writes all his songs, and sings them as the part of himself with a magnetism that grips me as incomparable. He'll lull you with Alibi, shake you with The Kill, make you jump with Closer to the Edge, take you to battle with This is War. Can't get that elsewhere. Oh, and Nobody ever made screaming sound like music before. Not before Jared Leto.
Since the very first songs of his band - 30 Seconds To Mars- he had the really good vocal skills cause all we know that to get popularity and respect from the people damn hard if you have nothing besides your appearance, without any talent. But it's for sure this person is dam talented and in so many spheres but now about the voice voice has risen through all his career as a frontman of 30 Seconds to Mars and now it's just the one of the most beautiful and stronger voices in the whole world for sure ;) so my "voice" is certainly for Jated Leto's voice
Jared is a very talented man with his own original style. His voice moves me. Sometimes I can not hold back the tears. There is something about him that makes me want to listen to him and listen. As well as singing quietly and calmly, and when he screams. I feel the big emotions, such a truthfulness. In the case of other artists rarely I feel something like in his case. I always recommend to anyone to listen to MTV Unplugged or Alibi or Hurricane acoustic version or Stay for example. But every song is really great. His lyrics are wonderful, meaningful, changed me. He inspires me like no one else. Gets me completely.
What can I say about Jared? This man is MULTITALENTED! His voice is amazing... He touches my heart and soul...! But he's more than a fantastic singer... His performances are the best... When he's on the stage he rocks it! He gives everything! Everything he does he does it with passion! He's also a great actor, songwriter, director, model... But most of all he's the sexiest man alive! :))
We have seen the whole musical career of Jared, and I may say that he has made big improvements in his voice, not only in his range but in the way he writes. The first CD "30 seconds to mars" was not that amazing as "this is War". I gave my vote to Jared cause he ist a dude who achieves everything he wants, not only as a singer but as an actor, and Director. Great job Jared
He is amazing singer! I love all 30 Seconds To Mars's songs! He have an amazing voice... So VOTE JARED LETO! He is the BEST MAN I've ever seen! Just remember Moscow concert(10/12/10) IT WAS AMAZING! Good luck Jared! I wish you win!
I've seen 30 seconds to mars 8 times... Met them all.. Jared is so talented, just a taste of what he's about.. Charity work, profits from songs went to charity.. Acting, writing, producing, directing... Dedicated to the core! And yea his range is absolutely unbelieveable.. Just listen to Alibi (this is war, album)... All his albums are different sounds which he pulls off completely. He's clever, down to earth and his fans he calls his (family) mean everything to him.. Very funny n witty and eye candy which is always a plus! Hail to mr Leto! :)) x
Jared's vocal range is incredible! Truly deserves to be recognised for his vocal ability. What makes him even more amazing is the fact that he does not define himself to just one genre. Jared can sing songs from a range of different genres with ease which is something many artists today cannot do. If you have ever had the pleasure of watching 30 Seconds to Mars live, you can clearly see how passionate Jared is and how hard this man works! Jared would definitely be one of the best today!
His voice is absolutely amazing! Jared is not only an extraordinary singer, but he is the most wonderful person in the world! He is director, actor, artist, musician, photographer, humanitarian and dreamer; Jared has the biggest heart and the most wonderful soul in the world. I'm so proud that he is my inspiration and my hero, he changed my life! I admire him and I love him. He deserves only the best and in my opinion he should be definitely #1
Incredible vocalist. Brilliant range. Every word he sings passionately. He always gives 110% with every performance he does as a whole nevermind just vocally. Love his voice. I found that at least in one occasion during listening to Alibi one of the album tracks that I easily got lost in the song with his vocals alone. A brilliant vocalist is a brilliant intepreter of the lyrics and he certainly does that
Related Lists
Best Jared Leto Movies
Top 10 Reasons Why Jared Leto's Joker is Fantastic

Top Ten Actors Who Should Replace Jared Leto's Joker