Top Ten Most Recognized Venues in Sports
Not a list of the best sports venues, rather a list of which sports venues, when mentioned, immediately conjur up specific imagery to the seasoned sports fan. Perhaps its the city that hosts the venue, or a unique feature of said venue(s) that sticks in our collective conscious. Maybe its been home to many memorable sporting events, and in some cases, the venue no longer exsists. I've included 10 venues that, to me, are hallowed ground. Some I've been to, some I have not, but very much want to go there, if possible. Please add any I may have missed that have a special place in your heart.

The Top Ten

1 The Forum -  Montreal Canadiens, Montreal Maroons

Home to 24 Stanley Cup Champions. Home to some of the greatest players the sport of hockey has ever seen. Truly hallowed ground. Sadly, it closed in 1996, and I will never see a game there.

2 Yankee Stadium - New York Yankees

Whether its old or new Yankee, it's a place that even the novice sports fan has heard of, and it immediately calls up memories of some of the greatest players the sport of baseball have ever seen. Times a runnin', I gotta find a way to see a game at Yankee.

3 Indianapolis Motor Speedway - "The Brickyard" Indianapolis 500

I've seen many races, quite a few live, but never been to the Indianapolis 500. This, of course, is an Americans perspective, many European race fans would want to see the Grand Prix of Monaco, perhaps. And while I actually prefer Formula 1 racing, there's just something about Indy that's very appealing to us here.

4 Michigan Stadium - "The Big House" Michigan Football

Saw a game here, and its an electric environment. I can easily see why so many top recruits choose Michigan when visiting this monster stadium.

5 Fenway Park - Boston Red Sox

Any baseball fan dreams of seeing a game here. Its been home to some of the sports highest highs, and biggest heart breaks. With its famous "Green Monster" and short right field line, it is iconic. The game will suffer a lot when they finally close this treasure. I have to find a way to get to Fenway

All you need is the Green Monster and people know what they're seeing

6 The Colosseum - Rome, Italy

The Flavian Amphitheater. Built in 70-80 A.D., It hasn't hosted any sporting events in quite some time, but it is highly recognized.

7 Ohio Stadium - "The Horseshoe" Ohio State Football

I suppose I can't include the Big House w/o also including the Horseshoe. that's no slight, this venue deserves all the hype it garners. I saw a game here as well. The Atmosphere is incredible, but what I remember most is partying with the great students of this university before the game. Great time! The OSU Marching Band is incredible as well. College football doesn't get any better, and top recruits come in droves to this storied program. And stadium

8 Wimbledon - Tennis

I will watch professional Tennis occasionally, with Roland Garros and Arthur Ashe stadiums being particular favorites, but nothing can match the history and nostalgia associated with Wimbledon.

9 Wembley Stadium - English National Team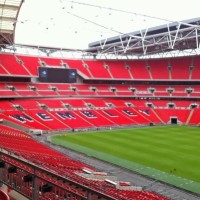 Wembley Stadium is a football stadium located in London, England, and serves as the home of the England national football team. Reopened in 2007 after extensive renovation, it has a seating capacity of 90,000, making it the largest stadium in the UK. The venue is known for its distinctive "Wembley Arch," a steel arch that stands 440 feet high. Apart from football, the stadium hosts a range of events including concerts, NFL games, and boxing matches.
Any football (soccer) player dreams of playing here. I consider it the home of football, and it is home to the 3 Lions.
10
Estadio do Maracana - Brazilian National Team
Rio de Janeiro. The 1950 World Cup final housed a staggering 199,000+ fans here. The current capacity is listed as 78,000+, which sounds a bit more reasonable. I would love to see a match here, home of "the beautiful game".
The Contenders
11
Madison Square Garden - New York
People from all around the WORLD have heard of this arena. It has had some of the great sports moments in modern history, and it is only at 22?
12
AT&T Stadium - Texas, United States
Aka Jerryworld. This stadium is pretty much built to satisfy Jerry Jones's massive ego.
I love this stadium and it's my favorite.
13
The Alps and The Pyrenees - Tour De France
I thought maybe the Champs - Elysees in Paris, to watch the winner cross the finish line, but this race is usually decided in the grueling climbing stages in the Mountains. While not a traditional sports venue, these mountains remain one just the same, and have seen some of the greatest athletes in history climb here since 1903 ( Interrupted only by the two World Wars)
14
Neyland Stadium - Tennessee Football
What was once the largest stadium in the south has became a safe haven for the most high-demanding, psychotic fans in college football.
Heck yeah! I see those checkerboard end zones and know its gonna be a good one. Go Vols!
15
Staples Center - Los Angeles Lakers/Clippers
Thought about including Staples in the original 10. It didn't miss by much...
16 Rupp Arena - Kentucky Wildcats
17
Melbourne Cricket Ground - East Melbourne, Australia
The Australian Cricket team has arguably been the best in the world throughout history and although Australia has several cricket grounds this is undoubtedly their main one and is the worlds largest cricket stadium. It is also the home ground of Australian Rules football a sport that is almost unknown outside Australia but ridiculously popular in Australia a typical game of the AFL the countries professional league has crowds of 35-40 thousand. Only the NFL and a couple of European association football leagues (In England and Germany) can boast more. The Melbourne Cricket Ground has also been used to host the Olympics, Commonwealth Games and many other sports events. I am not from Australia indeed they are my countries number one rival in almost every sport we play but I just had to add this stadium.
18
Allen Fieldhouse - University of Kansas Basketball
One of the most iconic arenas in college basketball. One of the best home court advantages and has history since the original 13 rules are located there and the court itself is named after James Naismith
19 Camp Nou - Barcelona
20
Boston Garden - Boston Celtics, Boston Bruins
Home cooking for 5 of the Bruins Stanley Cup Championships, and a staggering 16 Celtics NBA Championships. Sadly, it closed in 1995. It obviously had a nice run
21 Wrigley Field - Chicago Cubs
22 Pauley Pavilion - UCLA Bruins Basketball
23 Lambeau Field - Green Bay Packers
24 Cameron Indoor Stadium - Duke Blue Devils
25 Gillette Stadium - Foxbourogh, MA
PSearch List