Best Footballers of the 70s
The Top Ten
1
Diego Maradona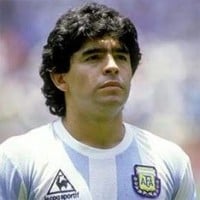 Diego Armando Maradona (October 30, 1960 - November 25, 2020) was an Argentine professional footballer. He was known for "The Goal of the Century" and the "Hand of God" goal. He died of cardiac arrest on November 25, 2020 at the age of 60.
By far the greatest scored the greatest goal ever as well
He is the best
Maradon is amazing but he's 80s
"Hand of God"
2
George Best

George Best was a Northern Irish professional footballer who played as a winger for Manchester United and the Northern Ireland national team.
Pele called him the greatest footballer in the world and stated he should have been Brazillian. Need anymore be said?
Can yours soccer player dribble like George best
The others here couldn't lace George's boots.
Best footballer ever
3
Pele

Edson Arantes do Nascimento, known as "Pelé", is a retired Brazilian professional footballer who played as a forward. He is one of the best players in football, hence why he's nicknamed the "king of football".
I wrote a paper in High School about Pele.1984 ish
Anything they could make a ball out of.. sock what ever was a soccer ball/foot ball was game me and my buddy could make moves and had fun with the sport. Long story before Hackie Sacks.. at the end he had the drive and pure passion to do what he did. Don't matter where you came from, passion.. Enjoy
Pele is easily the greatest Athlete of all time, and defintely the best soccer player of the 20th century.
Pele is the best because he was the youngest and the most talented soccer player.
He his better than best for me and I think we need him to be better placed
4
Kenny Dalglish
the best he is better than any other
5
Jimmy Johnstone
Enshrined the ethos of the 1967 Lisbon Lions. Celtic legend and under appreciated footballer.
Jinky on the wing was amazing,his dribbling was superb,the guy was special,he toyed with reall madrid at alfredo destefanos testimonial.only 2 weeks after winning the European cup wit celtic in 67,they won every tournament they entered tat year with a domestic treble same year.and the rest is istory
6
Johan Cruyff

Hendrik Johannes Cruijff (1947-2016) was a Dutch professional football player and coach. As a player, he won the Ballon d'Or three times, in 1971, 1973, and 1974.
Pele was better through the 60s from what I know so overall the 70s is Cruyff for me
Should be number 1
Meeh... I dunno... pretty good?
Simply world class 👌
7 Zico (Arthur Antunes Coimbra)
8
Franz Beckenbauer

Franz Anton Beckenbauer is a German former professional footballer and manager. Early in his playing career he was nicknamed Der Kaiser because of his elegant style, dominance and leadership on the field, and also as his first name "Franz" is reminiscent of the Austrian emperors.
Ranking Beckenbauer behind Best and especially Johnstone is disgraceful.
In his prime, he was the best defender in the world and at the same time one of the best midfielders. As one of the most complete players to ever grace the game, he combined speed, elegance, superb tacklings, powerful long shots and amazing passes.
He was known for being a smart tactician and his interpretation of the "sweeper" heavily influenced football.
When it comes to trophies, Beckenbauer cannot be forgotten: As a player, he led West Germany to a WC title in 1974 and an EC title in 1972. He won the Champions League 4 times (1974,75,76 and 83) and became German Champion 5 times. He was even determined as the 3rd best footballer of the 20th century by the FIFA in 2000, behind Pele and Cruyff, but in front of Maradona. He's clearly one of the greatest ever, only few players in the history of this sport can compare with his skills and fame. Nicknamed "The Emperor" (Der Kaiser) he established an era of ...more
Bayern Munchen 427/60
New York Cosmos 105/19
Hamburger SV 28/0
New York Cosmos 27/2
West Germany 103/14
9 Fausto Rossi
10 Mario Kempes
The Contenders
11
Gerd Muller

One of the greatest scorers in football history, Ballon d'Or 1970.
The 'bomber' netted 1,461 goals in his career (more than Pele in less matches) and won all the tophies (team and personal as top scorer) in all the tournaments he took part (both with Bayern M. and the National team).Top scorer of the World Cup 1970 (10 goals).
1861 Nördlingen 31/51
Bayern Munchen 453/398
Fort Lauderdale Strikers 71/38
West Germany 62/68
12
Kevin Keegan

Joseph Kevin Keegan is an English former football player and manager. A forward, he played for several clubs including Liverpool and Hamburger SV.
13
Michel Platini

Michel François Platini is a football administrator, who served as the president of the Union of European Football Associations from 2007 until 2015, after which he was banned for 8 years following an ethics investigation by the FIFA Ethics Committee on 21 December 2015, and formerly a French football ...read more.
French midfield playmaker brilliant technically
Nancy 181/98
Saint-Etienne 104/58
Juventus 147/68
France 72/41
14
Marco van Basten

Marcel "Marco" van Basten is a Dutch football manager and former football player, who played for Ajax and Milan, as well as the Netherlands national team, in the 1980s and early '90s as a forward.
15
Karl-Heinz Rummenigge

Bayern Munich 310/162
Internazionale 64/24
Servette FC 50/34
West Germany 95/45
16 Oleg Blokhin
17
Luigi Riva
One of the greatest ever! The best scorer of italian national team, Cagliari's legend!
The man known as "roar of thunder"!
The best Italian striker of all time, the legendary "roar of thunder"!
Legnano 22/5
Cagliari 315/164
Italy 42/35
18 Peter Lorimer
19 Stan Bowles
20 Roberto Rivelino
21
John Giles
Could easily play for the current Barcalona team
22
Allan Simonsen
European footballer of the year 1977
23
Bobby Charlton

Sir Robert "Bobby" Charlton is an English former football player, regarded as one of the greatest midfielders of all time, and an essential member of the England team who won the World Cup in 1966, the year he also won the Ballon d'Or.
Inspirational player great shot & header of a ball
A brilliant goal scoring midfielder
24
Elias Figueroa
One the best deffenders of all times.
P. S. There is a little mess in this list: Van Basten was a kid in the 70s,Messi wasn't even born(! ),there's no player named Fausto Rossi-it's Paolo and Diego Maradona was just starting his career (youth world champion with the National team). This decade belongs to Cruyff.
25
Jack Grealish
He is awesome. he does everything you want a midfielder to do. He passes he ball in good positions, he picks out good passes, his shot accuracy is brilliant, and most importantly he is a great leader.
PSearch List