Philippines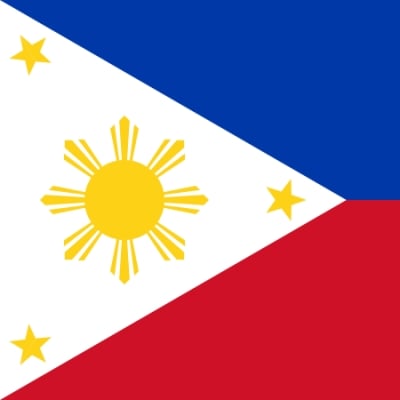 Found on wikimedia.org
Info
The Philippines was established in March 16, 1521 and named in honor of a Spanish King whose name is King Philip of Spain II. It is located at Asia, specifically at Southeast Asia. The capital is Manila. 89% of the people there currently are native, while 11% of people there are foreigners.
Comments
Top
Popular
Newest
I have seen lots of beautiful girls in the Philippines they are kind, very friendly, cute and they have very captivating smiles. They are well - mannered and they know how to talk to people very well, they show respect and they are funny also. They have good moral character and they really know how to make people laugh..
I love the Philippines.
I am Vietnamese but I still think that Philipines Gives birth to a lot of beautiful women who own the mixed features between the West and the Asia. Oh How I love the actresses. Their facial features are perfect in my very personal view
Very hygienic people. Once, twice, trice, or even 6 times of taking a bath everyday, and they're beauty is pure and natural.
Filipina girls are amazing. Well, of course, all countries got all kinds of face from dirt ugly to stunning... Philippines has it's share of those too. I've went there a lot of times and I can't help but be attracted to the girls, they are pretty in a simple way and yet they would look hot and sexy with just a little effort... Sometimes it seems they don't even notice it! And I love the how optimistic and hospitable they are, they always make me want to laugh along with them. They are warm people who love to smile, and I think they are the strongest souls in the world, with all those terrible calamities and national state, those people still live on their life as happily as they can.
I agree that Philippines has the most beautiful women in Asia because Filipinos have very natural beauty. It has been tested and proven through prestigious beauty pageants in the world. They value and are contented on what God has given to them. And because of their religion, they prefer more the natural beauty rather than having plastic surgery. They accept who and what they are. They are simple yet gorgeous. They always smile which makes them more beautiful. They are modest, easy to get along with, hospitable, talented, intelligent, kind-hearted, sweet, and they value more their families especially their parents. Filipino women are beautiful not just physically but deep within their hearts, indeed.
I'm a Filipino lady and I'm very proud of where I came from. :-D
Yes not all, but majority of filipinos are easy to get along with.. All countries have people who are easy to get along with and of course who are also not.. But I can say that majority of filipinos are easy to get along with..
I'm glad you are proud, but not all are nice and easy to get along with..
I like the natural color of there skin, almond eyes, kissable lips and most of all the kindness sweetness and conservative lady. I think the woman in this country is the most beautiful not only Asia but in the world.
Beautiful inside and out, good sense of humor, not all people have that talent, yes all countries has girls with sense of humor but filipina's way to make you laugh is different.. And having a sense of humor is beautiful.. They know all house chores and good cooks too.. They are very versatile and can easily adapt new environment, they can learn and speak all kinds of language fast.. Especially English.. Most of them are educated and they have patience when it comes to education no matter how hard it is because education is a treasure for them..
I'm white guy and I love my fiance that lives in the phil. I'm so lucky to have her shes very sweet, caring and beautiful. can't wait to marry her
Beauty and brains that's what they are made off. Bring them in corporate world and they will rule the world. They are gorgeous inside out. They have a big difference with other asians in terms of their communication skills, they are beyond what surgery or make-up can do. They are so hygienic and smells nice. They're beauty is sophisticated and timeless elegance. Compare to other asians, they are just admirable with their natural features, they don't hide from those beauty products. They can be pretty without the need of spending so much for make ups. They are amazing! - from a man who found a filipina wife.
I love filipina I'm from Arab country
Because we don't do plastic surgery to make us beautiful.. We're pretty in our own natural way. And we don't need to put make up on. Not only we have the pretty face but, we also have a kind heart..
Filipinos have natural beauty. I have travel around Asia and I have seen the deference in Asia Beauty. indeed their beauty is not due to plastic surgery but natural. I really love them.
The Philippines became the third and only Asian country to win all four pageants.
Women from the Philippines are the most beautiful asian beauty I have seen in my life. They are not only beautiful, they are full of substance. Most of them are very smart, sweet, caring and friendly. They are always smiling and always ready to help. They can be the best wife/girlfriend any man could possible wish to have. Once they become mother, they see to it that the home and most especially children are being well taken cared off. They can balance well both family and career. Lastly, women from the Philippines has the most genuine and beautiful smile in the world!
I would call them to be on the natural side compared to east asian countries where plastic surgery and looking like clones is normal..
Without make up they look natural and beautiful, with make up they look even more superb. They are also funny, always smiles and can make you laugh.
I believe that the Philippines has the most beautiful woman in Asia not to mention the number of international beauty queen winners we have rather than any other Asian countries. For me the Philippines is filled with many gorgeous, kind and hospitable ladies who can fluently speak English and the type of ladies who would rather stick on what god created them to be, but not just that if you like latin beauty than the Philippines would be the closest country in Asia with this type of looks.
Philippines is the top 15th most beautiful country in the world. And top 1 most beautiful country in Asia! Because of their natural and original beauty. Simple but beautiful! They don't undergo any plastic surgery.
They don't ware much make up.. They are not afraid to show their natural beauty...many girls in the philippines always smiling and they are very simple
Philippines has different kinds of faces because Philippines is the most diverse country in Asia.. no need for plastic surgery or tons of make up, even without make up, still beautiful.. Especially their personality.. They are also has a very good sense of humor..
So sexy women, I can't get them out of my head! They sing like angels, they are caring and very family orientated, they speak the best English (Only for any different language country) I can understand them 24/7 and It's the best Asian country. Vietnam is really nice as well but Philippines is 25% higher also Thailand is pretty but Philippines is the unbeatable Asian country
Filipinas are really beautiful and talented as well. The beauty of a filipina is a unique mix of different ethnicity that makes it more attractive and seductive.
No plastic surgery but pretty, I agree on this list
Philippines are very beautiful woman... They are talented, intelligent...
ANGEL LOCSIN IS THE MOST BEAUTIFUL GIRL WITH NATURAL AND ORIGINAL BEAUTY IN THE PHILIPPINES!
The philippine woman is the original.. You can see the difference of woman in philippine to other country..