Top 10 Best College Basketball Coaches of All Time
The Top Ten
1
Mike Krzyzewski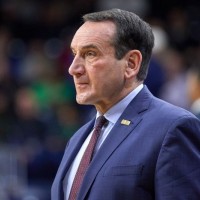 How is this a question he is so dominant. 5 champs, 12 final fours, 3 Olympics, 2 world cups, he is without a shadow of doubt the greatest college basketball coach and arguably the best basketball coach in history
Greatest Coach in history. If he was coaching a 8 year olds basketball team then they would have a chance of beating eighth graders by 30 points
Coach K has also coached gold medal winning teams in the Olympics, throw that in with 5 national titles and he is the man.
2
John Wooden
John Wooden was the best college basketball coach ever. He built a true dynasty at UCLA. Coach K, Knight, Dean Smith, and Adolph Rupp round out the Top 5.
If the measure of a great golfer is winning majors and a great football team is winning the Superbowl and a great baseball team is winning the World Series - than John Wooden is the greatest Coach of all time by a 2 - 1 margin - not even close - He didn't just win games over patsy's to make his record look good - he beat the best without a loss 11 times - Coach K is a great coach but he has only done it 4 times.
There are some other great coaches on this list but come on! 11 National titles, won with big teams, small teams, won with class. Love some of the others but no one is close to Coach.
3
Roy Williams
Roy had a lot of help from ineligible players, should be several spots lower.
Has some up and down years but still always manages to recruit well
4
Bill Self
Ties UCLA with most Confrence Regular Season titles in a row: 13 Now that is an absolute milestone in sports today. Considering how hard it is to dominate anymore. 13 is more than just about every other coach has wins at Allen Fieldhouse.
He has more conference titles than most coaches have wins at Allen Fieldhouse. It's an absolute milestone considering that it hasn't been done since the John Wooden era at UCLA
Only owns one national championship at Kansas but make the final four just about every year.
5
Bob Knight
Isaiah Thomas once said "Bobby Knight had the courage to coach me, he didn't try to be my friend, or father, he just tried to coach me and make me the best player I could be". Of all the star players Knight has coached, Thomas would know best. Personally, I hated Coach Knight when I was younger, buying into the tyrant persona nurtured by the media, but as time went on it was easy to see the conflict between Knight and the Media was the reason behind all that, and I came to respect the man a great deal. His teams played the game with ruthless efficiency, and fundamentally sound basketball. His former players would almost unanimously defend his tough love tactics, but of course their will always be a few that cannot flourish under such rigid scrutiny, and these would ultimately lead to Knights undoing at Indiana. The game changed, and so did the kids playing it. Knight became a target of the media, and eventually, the administration at Indiana. Did the game pass Knight by? Yes, I believe it did. But for the countless players at Indiana that learned how to be men, and winners at life, they owe a great deal to Bobby Knight. Woodens record speaks for itself, and his domination of the sport in the 60's and early 70's is undeniable. But Wooden had far more talented teams than Knight, who coached teams to outwork their opponents.
6
Jim Boeheim
Better in everyday than Calhoun. More consistency over a longer period. Switched conferences and still dominates.
Only consisting one national championship with carmelo anthony. a massive recruiter though
7
Jim Calhoun
Besides some recruiting violations, Calhoun has won two national championships.
8
John Calipari
Probably the best recruiter in college basketball even with violations that took away memphis's trophy. there like the philadelphia eagles, miami heat, and New York Yankees for college basketball which means its hard to tell if he's a good coach or not.
9
Thad Matta
One of the only coaches that seems to find a way to win 20 games every year. Has made 2 final fours and won 4 Big 10 tourney championships. Won't be considered one of the great active coaches until he gets that NCAA Tourney victory.
Hasnt won a championship but is very consistent. also great at recruiting centers. (greg oden, kosta koufus, BJ Mullins, Jared Sullinger)
10 Dean Smith
The Contenders
11
Adolph Rupp
What? I guess it's all about what have you done for me lately
12 Rick Pitino
13 Billy Donovan
14
Jim Valvano
This man did more with less than any coach. Yes, N.C. State got good talent but compared to UNC and Duke, not so much. His teams always played tough schedules and got better towards the end of the season, when it counted. What he was fired for, was nothing compared to what coaches get away with nowadays. Jim was truly a great man and coach.
Great NC State coach, and if you don't know who he is, look him up. He's also very inspiring.
15
Jay Wright
A great balanced coach at villanova.
16
Gene Keady
Um why isn't this guy higher on the list he was amazing to watch sculpt a good Purdue basketball team into a great one because of him my dad named our family's cat Keady.
17
Jamie Dixon
Manages to always have success at pittsburgh.
18 Tom Izzo
19 Bob Huggins
20
Bo Ryan
Best coach of Wisconsin
21
Jerry Tarkanian
10 Straight Conference titles 4 Final 4's 1990 Champions.
Over 700 wins... Easily Top 15 coach of all time.
22 Rick Barnes
23 Mark Turgeon
24
Phog Allan
The John Wooden of his era. A good coach leaves his legacy. And he really left his legacy at Kansas. Allen Feildhouse,Beware of the Phog, etc. Really the first good coach. Set the path for legends to follow. He was a legendary coach. Needs to be top 3 behind Coach K and John Wooden.
25
Phog Allen
Allen Fieldhouse. Pay heed all who enter beware of the Phog. Not only was he a legendary coach but he became a KU basketball icon. They named their homecourt after him. Part of being a great coach is leaving your legacy and Phog Allen did that. He was the John Wooden of his era. He needs to be top 3 behind coach K and John Wooden.
Phong Allen was the first good coach. He invented March Madness. He was a legend. He set the stage for future legendary coaches like Coach K,John Wooden,Dean Smith,Roy Williams,and so on. So beware of the Phog.
PSearch List