Top 10 Best Defensive Players in NBA History
The guys who weren't just flashy scorers (if at all) but really knew how to intimidate an offense.

The Top Ten

1 Bill Russell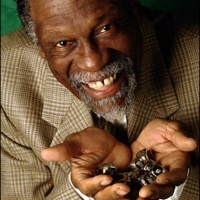 William Felton "Bill" Russell was an American retired professional basketball player. Russell played center for the Boston Celtics of the National Basketball Association from 1956 to 1969.
He pretty much gave birth to blocking in which he would have too much blocks for wikipedia to remember if the nba recorded blocking as a stat back then, the second best rebounder ever, maybe first, but still bill russell is at least in the top 5 of the greatest nba players ever. He's might be better than michael jordan overall.
It is believed by many that if blocks were a recorded stat during his playing time, that Bill Russell would've averaged double digits in blocks per game, add that to the 15.1 points per game, and the 22.5 rebounds per game, more than likely Bill Russell averaged a triple double throughout his career.
I'm a pretty short guy in basketball terms, but this guy taught me how to be a great defensive player. Never overpursuing (putting yourself out of position to make a play), getting in the right spot for a rebound and ultimately shutting down any consistent points against you.
Simply amazing. If blocks were a recorded stat back then, I don't even know how many he would've averaged. And if the Defensive Player of the Year award had been around then, who knows how many he would've won?
2
Hakeem Olajuwon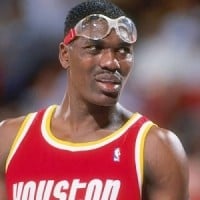 Hakeem Abdul Olajuwon, formerly known as Akeem Olajuwon, is a Nigerian-American retired professional basketball player.
Hakeem was a complete and versatile defenders. You could not run pick an roll with Hakeem. He could legit guard any player on the floor, even the fastest point guards and shut them down and get turnovers off them. Very agile and quick player with long arms. Combined that quickness and instincts from playing soccer goalie as a youth helped him find steals in the lane and strip balls in the paint. That why he was top 10 in steals all time, getting 2 -2.6 steal per game a year for five years. Compare that Kobe Bryant at 2.2 SPG only once. That quickness also allowed him surprise players and get into position for blocks, recover from being out of position of being potentially beat to get blocks.
Hakeem had some of the best footwork and athleticism ever seen in a big man, and these natural talents have him a clear advantage over almost all other November in his day. He currently ranks top 10 in steals (not just centers, everyone! ) and holds the NBA record for most career blocks. He was a 2-time NBA Defensive Player of the Year and 5x All-Denfensive First Team. Simply put, he was the most dominant defensive player not only of his time, but perhaps of all-time.
Hakeem was a super underrated defender and player overall. People discredit Hakeem just because Bill Russell and Wilt Chamberlain didn't have their blocks record. Hakeem is still very good. Maybe the best pick and roll defender ever.
He rebounds, steals, and blocks pretty much everything your team tosses on the hoop. Well, all I could say is good luck stacking up against a player with Hakeem's size and skill.
3
Dennis Rodman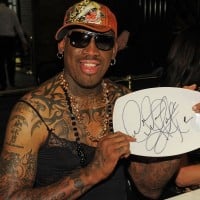 Dennis Keith Rodman is an American retired professional basketball player who played for the Detroit Pistons, San Antonio Spurs, Chicago Bulls, Los Angeles Lakers, and Dallas Mavericks in the National Basketball Association.
Dennis has shut down everybody on the inside/short/mid-range when the NBA was at it's most competitive. A stat that is not measured is forcing the best players to pass the ball to someone else because they were being to well guarded and reducing the team's overall point totals and Rodman did that to EVERYONE and every Team. Now, Larry Bird did torch Rodman from the outside in his rookie season, but Rodman learned quickly and became the Best Defender and one of the best Rebounders of all time.
Personally, Rodman just got on my nerves after his decision to "be himself". With Detroit, he was awesome, but then he just got so annoying and stupid. But you CANNOT deny this guy's ability to play defense. He's got 2 DPotY awards to show for it.
Actually much bigger than Jordan, but smaller than most of the centers he was matched up against. Defense and rebounding was basically all he did but he did it extremely well. Great roll player.
Undoubtly! He shuts down all 5 positions! Amazing Defensive skills 5 Champioship rings wont lie. He is not a bench player but rather the focal point of defense in whichever team he is playing. Tireless work ethic is Rodman's asset!
4
Michael Jordan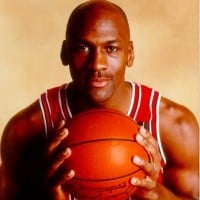 Michael Jeffrey Jordan, also known by his initials, MJ, is an American retired professional basketball player.
I saw Jordan's entire career. I grew up in Boston and was a huge Celtics and Larry Bird fan. I also played basketball my whole life thru college. Michael Jordan is by far the best basketball player of all time, people can argue for #2 but there is a big gap between #2 and #1.
Every night, when it came time to take over the game, he took the game over. Every single night! There was no answer for this guy, plain and simple. The Detroit Pistons of the late 80's were probably the greatest defensive team of all time and Isaiah Thomas said Jordan made them look like high school kids. His defense doesn't get the recognition it deserves because they usually put Pippen on the other teams best defender. That wasn't because Pippen was a better defender, it was to keep Jordan fresh for the offensive end. But when Jordan locked you down that was it! Your scoring streak and hot hand quickly cooled! He was smothering on defense, quicker and more explosive than Pippen. If somebody had a good game ...more
Jordan is the greatest player of all time we get that, but ranking him ahead of someone like Ben Wallace? We get he can score and won championships, but he never won a defensive player of the year award and lets be honest, he was good at D but Scottie and Rodman were definitely the catalysts of the Chicago Bulls defense.
His determination with his intelligence and steals makes him best in my opinion... Besides his intuition and blocks for a shooting guard was extraordinary
The only person to come close to this man was Kobe, and he based his entire game off Jordan. Without a doubt the GOAT and no one needs to ask why.
5
Gary Payton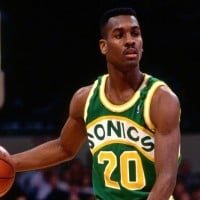 Gary Dwayne Payton Sr. is an American retired professional basketball player. He started at the point guard position. He is best known for his 13-year tenure with the Seattle SuperSonics, and holds Seattle franchise records in points, assists, and steals.
The Glove is definitely the best defensive guard in NBA history, locked down 3 positions at point guard, and didn't take risks. If you watched tape you would know he's a better defender than Jordan.
He is a beast he held Jordan to 23 points if not best defensive player, best defensive point guard!
His shoes always on the floor and moving and his mind was completely in the game.
Only point guard to win defensive player of the year. Enough said.
6
Scottie Pippen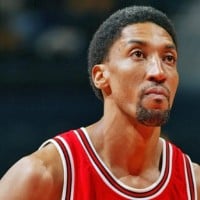 Scottie Maurice Pippen is an American retired professional basketball player who played in the National Basketball Association.
Best all around defender ever, on and off the ball. Scottie is so underrated! He was the best defender on a team that had Jordan and Rodman! That's saying a lot! Chuck Daily said Scottie was the best player on the Dream Team! Players and coaches, who would know, are the ones who rank him so highly. Fans tend to underrate Scottie, partly because he played next the the greatest player ever.
Pippen racked up the steals and blocks but his help defense was legendary. He could be all over the court harrassing everybody. I still remember when he was the catalyst in shutting down Utah's pick and roll and holding the Jazz to 54 points in the '98 Finals. He took charge after charge on Karl Malone. No one would ever have the guts to step in front of someone as big as Malone but Pippen did it multiple times.
Scottie Pippen could shut the best top scoring players down regardless of how good they were. Michael Jordan was a great defensive player, but he took a backseat to Pippen. I still think Scottie was the best defensive player I have seen. He was all over the court, and he stuck to you like glue.
Best defender for me... Ultimate blocker, amazing defensive activity, he can cover more than one situation at a time, he is able to hang tight with whoever he's playing and recover and help on a defensive set so the other team can't operate and lastly... Scottie is able to be a one-man wrecking crew!
7
Dikembe Mutombo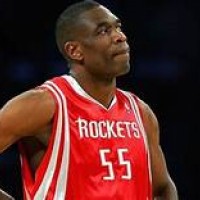 4 DPotY awards! Big Ben is the only other player to accomplish that.
He invented the finger wag because of all the shots he blocked
8
Ben Wallace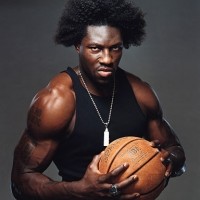 Ben Camey Wallace is an American retired professional basketball player. A native of Alabama, Wallace attended Cuyahoga Community College and Virginia Union University and signed with the Washington Bullets as an undrafted free agent in 1996. In his NBA career, Wallace played with the Washington Bullets/Wizards, Orlando Magic, Detroit Pistons, Chicago Bulls and Cleveland Cavaliers.
4 DPotY awards! Dikembe Mutombo was the only other player to get 4! But the difference is that Mutombo got his 4 over a stretch of 7 seasons, while it only took Ben 5 seasons to do so, as both pairs of awards were back to back. I'm so glad to see Big Ben back in Detroit, even if he is getting old.
Best defensive center of all time. Had the quickness to pick pocket guards, strength to hold back over sized centers like Shaq, and led his team to an NBA championship just off his defense. Very underrated player and should be higher on this list.
Any Players who blow by the team defense must be on watch for Ben Wallace since he would came out of nowhere. The only person who taught me that Defense can be fun in Basketball.
All modern era defensive metrics (Defensive wins shares, defensive +/-, etc) show Ben Wallace and Mutombo as clear standouts, no surprise they are the only two with 4 DpotY awards.
9
Wilt Chamberlain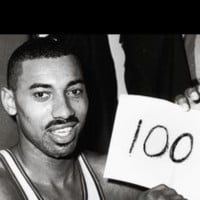 Wilton Norman "Wilt" Chamberlain was an American basketball player. He was born on August 21, 1936 in Philadelphia and died on October 12, 1999 in Los Angeles due to heart failure.

Wilt Chamberlain set the books by scoring the most points scored in a single game (100), most rebounds in a game (55), and most consecutive field goals (18).

He played for the Philadelphia/San Francisco Warriors, Philadelphia 76ers, and the Los Angeles Lakers. His biggest rival was former Boston Celtics center Bill Russell, but they are also good friends. He won 2 NBA Titles, 1 with the 76ers and one with the Lakers. ...read more.
Damn, the amount of disrespect shown towards the Big Dipper is unbelievable. All you millennials don't have a clue about how great of a player Wilt was on the defensive side of the floor. This brother probably blocked 4000+ shots, but the NBA being the stubborn fools they are didn't have the courtesy to count blocks or steals, especially when guys liks Russell, Thurmond were playing. Nonetheless, Wilt goes unnoticed when it comes to recognizing defensive ability!
7'1" + 9'6" standing reach + 46" vertical, world record touching 13'6" next closest is 13'0" with plenty of guys touching 12'10". Wilt is physically an outstanding outlier in the history of humanity. No surprise he was averaging in the vicinity of 10 blocks per game for his CAREER to go along with 23 rebounds per game.
Only about 20-percent of his NBA games were taped, and those were mostly when he was older and on the Lakers.
Stat counters reviewing those few old games have concluded that he averaged about 8.8 Blocks Per Game, and in one game he blocked 26.
Wilt was superhuman.
Blocks were always an official "internal" stat for the Philadelphia 76'ers. For the 138 games that Wilt played for that organization, he AVERAGED an amazing 8.8 blocks per game, though it was not recognized by the NBA at the time.
10
Kevin Garnett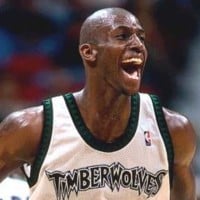 Kevin Maurice Garnett is an American professional basketball player for the Minnesota Timberwolves of the National Basketball Association.
No one can match KG's intensity on defense! He turned Boston, which was the worst defensive team into one of the best defensive teams ever. He is one of the best defensive leaders in NBA History.
Defensive anchor! This guy has both offensive and defensive fundamentals!
This is best defensive player ever consistent defensive player KG blocks, steals, rebounds, all sorts of stuff. The crowd is like KG did this and that. Steals now Blocks now and Rebounds Now
The Contenders
11
Lebron James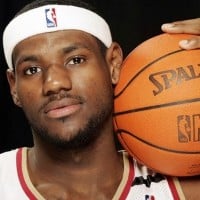 LeBron Raymone James is an American professional basketball player for the Los Angeles Lakers of the National Basketball Association. LeBron has played for the Cleveland Cavaliers, Miami Heat, and the Lakers.
Lebron's athleticism makes him a great on ball and off ball defender. His footwork is not the best but because of speed against guards and strength against big men, he can guard all 5 positions and guard them like an all defensive 1st teamer. If he could hand check like Jordan and pippen, he would be remembered as one of the best on ball defenders ever. He can intercept passing lanes because of his speed and can take it to the other end with no trouble. Lets also not forget he is the best chasedown blocker ever with his super human chasedown block on iggy.
So much Lebron hate... Smh. He has been asked to be the top scorer, rebounder and passer on his team while guarding the opponents best player at ANY position, 1 through 4. All that while being annointed at 16 as a potential challenger to MJ for the GOAT. AND in the era of booming social media where every move is analyzed with a fine tooth comb. Lebron deserves way more credit than he's even getting NOW.
That is incredible is one of the worst defensive players I ever seen in the league. His best defensive move is the shot block from behind, but one on one he his the worst, every player can shot over Lebron.
LeBron James is one of two players in recent memory(Magic) that can effectively guard any player on the defensive side of the ball and score on any player on offense. LeBron in his defensive stance is one of the most intimidating sights in the league.
12
Tim Duncan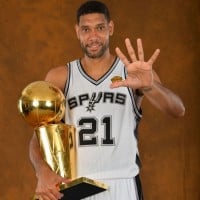 Timothy Theodore "Tim" Duncan is an American professional basketball player who has played his entire career for the San Antonio Spurs of the National Basketball Association.
In the last 30 years, Spurs teams with Duncan had 3 of the 4 top best defense team rating allowing the lowest amount of buckets in 100 possessions. Duncan had the #1 individual defensive rating for seasons four seasons. He has x8 all defense 1st team x7 all defense 2nd team. Even the current old version is a solid defender. Just watch him carefully and he always made the right rotation, at the right time, and got one or two hands straight up to effects the shot. A strong man to man defender but excellent team help defender.
Spurs been top 5 Defense and in playoffs every year of his career, enough said... Oh yeah, 3 titles too
One of the smartest players out there.
13
Kareem Abdul-Jabbar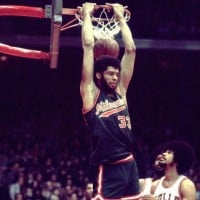 Kareem Abdul-Jabbar is an American retired professional basketball player who played 20 seasons in the National Basketball Association for the Milwaukee Bucks and Los Angeles Lakers.
Kareem is the best...Plain and simple. He owned the key and rarely they exist highlights of non-centers making him look bad, except for the Doc J. 13 times all Defense, Won rebounding titles, embarrased Patrick Ewing who was much younger, Blocked shots of both The Dream AND Ralph Samson in the same game! Blocked Wilt's shot, then dunked in his face.Not too many people want to mention that though. For all his accomplishments, he still gets hate on for his defense
One of the greatest shot-blockers of all time. His career total of blocks is the 3rd highest of all time, and it doesn't even include his first 4 seasons, as the league did not start recording blocks until the 1973-74 season. Disappointing that he didn't earn any DPotY awards. He deserved at least one.
In a one-on-one elimination tournament among all NBA players in history, it would simply boil down to Kareem vs. Wilt.
Either of them would simply back the defender down and dunk/finger roll/skyhook over the opponent.
Anybody else trying to defend them would be futile, as they showed numerous times during actual games.
Just because Dr. J exposed him and when he was older he was beat off plays doesn't mean he was bad defender overall.
14
Nate Thurmond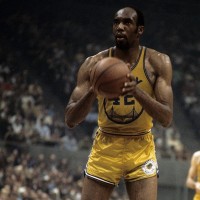 Nathaniel Thurmond was an American basketball player who spent the majority of his 14-year career in the National Basketball Association with the Golden State Warriors. He played the center and power forward positions.
Here lies the greatest defensive player of all-time. Ask ANY center that played against him and you will hear them all say Nate was the toughest. Only man able to block Kareem's sky hook. First man to record a quadruple double and would have had many more if blocks were recorded in his time. Even at 35, when he played against Celts in eastern finals in 76, Cowens said it was like having a curtain in front of him.
15
Kawhi Leonard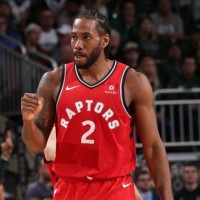 Kawhi Anthony Leonard is an American professional basketball player for the Los Angeles Clippers of the National Basketball Association. He has played for the San Antonio Spurs, Toronto Raptors, and the Clippers.
YOU GONNA SAY HE AIN'T #1 HE LOCKED UP Lebron in the finals and took finals MVP and his huge hands and long wingspan makes him such a great defender. Also the stats prove it lead the league in steals in the 2015 NBA seasonand can play monster defense both off and on the ball!
He's not just the best defender right now, maybe the best of all time, that's saying a lot!
How? He # 1 automatically
Should be higher!
16
Kobe Bryant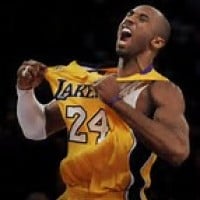 Kobe Bryant (1978 - 2020) was an American retired professional basketball player. He played his entire 20-year career with the Los Angeles Lakers of the National Basketball Association. Kobe Bryant has won 5 NBA championships with the Lakers and was the all-time leading scorer in Lakers franchise history. He Retired in 2016. He died in a helicopter crash in Calabasas, California at age 41.
Kobe is the greatest perimeter lock down defender ever. Hi could defend 3 positions, that's why he was 12 times All defensive team.
Kobe's defense has won playoff series for his team! Locked up CP3 and Westbrook.
What he did to Reggie Miller in game 1 of the finals was something none of the 90s defenders could do. Would have continued it if Jalen Rose wasn't hunting for Kobe's ankle.
He blocks with left hand... Remember that ray allen, deron williams and the new guy in portland!
How is he not higher than Lebron.. Kobe will D his own man.. and help others... All of Lebron's great defensive plays have been him helping out someone else's man.
17
Michael Cooper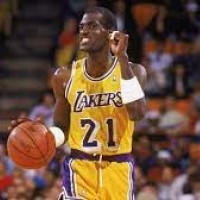 Toughest defender according to Larry Bird.
On the 1980's "Showtime" Lakers, his job was to stop the young MJ, and he did a great job.
18
Moses Malone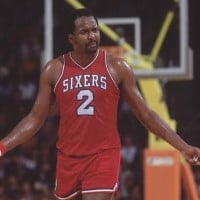 Moses Eugene Malone was an American basketball player who played in both the American Basketball Association and the National Basketball Association from 1974 through 1995. The center was named the NBA Most Valuable Player three times and was a 12-time NBA All-Star and an eight-time All-NBA selection.
19
Dwyane Wade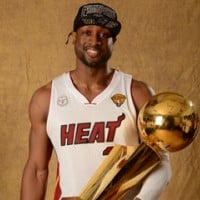 Dwyane Tyrone Wade Jr. is an American professional basketball player for the Miami Heat of the National Basketball Association.
A very underrated defensive player. His unreal athelitcism for a two helped him get a lot of blocks and steals. He also had a great transition game and lockdown potential.
Most blocks in history for a guard! Enough said!
20
Alonzo Mourning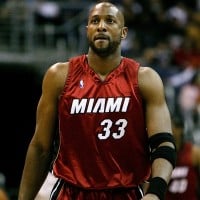 Wow. If you've seen this guy play defense, then you know why he's on the list. He's also got 2 DPotY awards to show for it.
21
Jerry West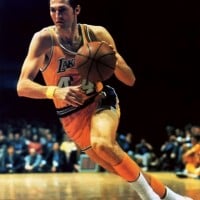 Jerry Alan West is an American retired basketball player who played his entire professional career for the Los Angeles Lakers of the National Basketball Association.
Should be ranked higher than Jordan and kobe but not higher than payton all time in defense. Some folks need to go back to AP NBA History and get their facts straight. This guy was the best defensive guard besides Payton and maybe a case can be made for some that aren't even on this list.
Steals were not recorded during his playing days, but he is likely in the top 3 all-time.
22
Maurice Lucas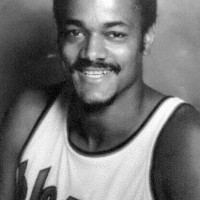 23
Draymond Green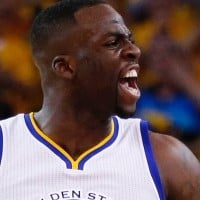 Draymond Jamal Green Sr. is an American professional basketball player for the Golden State Warriors of the National Basketball Association.
Good defensive player, high basketball IQ allows him to read plays and be in good position to try and stop them. Hustles to make defensive plays.
With consistent defensive performance, he should be in the top 20 by the end of the 2015-2016 season.
24
Bruce Bowen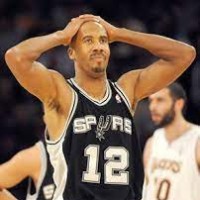 The guy is good. He completely stopped Lebron James in the 2007 finals. Steve Nash, Kobe Bryant, Ray Allen, and even Dirk Nowitzki say that he is the most irritating guy to defend them.
Bruce had as good defense as Jordan but was better because he never got caught with his cheating. He disrupted people so well.
Bruce Bowen was born to defend. He couldn't much of anything else, but man could he put a lockdown on players.
Locked up LeBron and Dirk. Who else can say that
25
David Robinson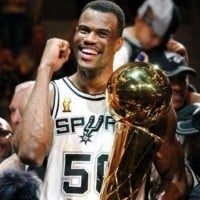 David Maurice Robinson is an American former professional basketball player, who played center for the San Antonio Spurs in the National Basketball Association for his entire career.
DpotY, that season he had 4.5 blocks per game to go along with 2.3 steals per game, and yes that is an all-time NBA record for Bpg + Spg in a season (not counting Wilt and Russel). Consistently around 3.5 Bpg and 1.6 Spg for 6 other seasons. Really should be around #10-11 ahead of easily ahead of Lebron, Kobe, Garnet, Jerry West, Bruce Bowen, Wade, and Nash... and probably Moses Malone and Artest as well
DPotY 91-92, in that year he averaged 4.5 Bpg + 2.3 Spg which is all-time NBA record for Bpg + Spg in a season (not counting Wilt and Russel). Also averaged 3.5 Bpg + 1.6 Spg for the OTHER 6 of his first 7 seasons. Really should be around #10-11.
PSearch List