Switchfoot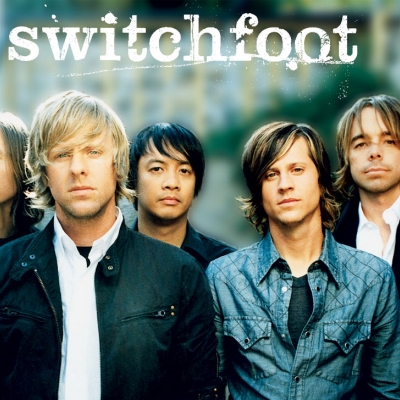 Found on boldbrightbeautiful.com
Comments
Top
Popular
Newest
Switchfoot is definitely the best! They have amazing music with wonderful, thoughtful lyrics. They should definitely be #1. They make rock music, but unlike Skillet (which I have no idea why they are at the top) who play loud, obnoxious rock that doesn't sound good with a lead singer with a croaky voice, they make beautiful rock. It sounds great. They're also really awesome people.
They are my favourite band and are the soundtrack to my high school life. I do not understand why they are so low in the list. They have amazing lyrics that appeal to both Christians and people of other faiths. There lyrics really make you think. That mixed with their outstanding musicality makes them a band I want to listen to again and again.
Okay, I can see why you would put Skillet, Red and Relent K up in the top zone but Switchfoot should be there too, like just listen to Meant to live, Stars or Your Love is a song. I mean they have a trillion good songs and even though they might not be a Rock Band should get higher than this
Switchfoot's music has inspired me in my life through their lyrics and the way they perform. They have so much passion, especially live, and they really are the nicest guys on the planet. They make positive impacts on people's lives and they make music that touches hearts. Greatest band I've ever known...
The writing is second to none and is the pilot of this band. The complex layers of their song musically is the framed jet. The jet fuel is their passion for what they are singing, the causes they support and the love for giving their fans an exceptional show! Thanks Jon and the rest, you are THE BEST act in Christian Rock.
Oh my... How come switchfoot is in this position? I do understand why skillet, red, and relient k is on the top, but for sure switchfoot should be at lest the fifth among them. Try listening to their songs. Their rhythms are fantastic!
Its hard to choose from all these great bands but all the time I've put into listening to switchfoot brings me back all through my middle and high school life into adult hood and their lyrics are so real and meaningful that any of us could truly feel. This is your life, are you who you want to be? Gives me the chills. - xoaiyana
My goodness! Switchfoot are an incredible rock band! They should at least be in top 5... They all have very inspiration lyrics in their songs and I'm seeing them live this year... Their stuff just gets better and better
Such a good band, Great tunes and great lyrics they should be a lot higher on this list. I have listened to them for ages and they never get old. I could ramble on about how good they are but the best way for you to see would be to check them out yourself which I highly recommend doing.
All of their songs seem to connect to my life in the perfect way right when I need it right at that moment, like God has put them for there for me right when I need it. Maybe it's just because all of their lyrics are written out of faith, hope, and love and it transpires to our ears.
Switchfoot adds a whole new level of enjoyment. They let you feel and think about the way you look at life and yourself through the music itself and the very lyrics that they sing. In my opinion they have the makings of being number 1.
Switchfoot is such a moving rock group. The lyrics are so heart-felt. They are a genuine article with a lead singer that sounds like honey in your ears. Definitely should be high on the list.
Look, Switch foot is and will always be the best Christian band. They beat all of these guys at their own styles... seriously. That's some legit music from Switch foot.
I have to say that switchfoot is the best. They sing with love and faith and not just nonsense. The lyrics are very well written by John Foreman and they resemble a lot to my life and school.
Their songs makes me cry; they are so touching... I don't understand why they are #6, they should be #1... I have listened to all of their songs and they are just amazing and fantastic. Everyone should listen to their songs.
Always putting out excellent, complex music that you can listen to a hundred times and still hear something new. Plus Jon Foreman (the lead singer) has a unique voice, unlike a lot of Christian bands.
Their music is beautifully complex, and truly a joy to listen to. There lyrics are true poetry and all the ideas they put into their songs are mind blowing. They deserve to be called the best christian rock band of all time.
Switchfoot is #1. There songs are so deep and beautifully composed. Their songs have helped me through a lot. Not to mention how loving they are to the people who come to their concerts. John Foreman is a great song writer.
They are awesome! From the quality of their music to the lyrics. They might not come out straight up and tell you to live for Jesus, but they challenge and encourage everyone who listens to them.
Switchfoot is an excellent band both lyrically and musically, and they're one of the few still on the secular scene that hasn't compromised their Christian faith. I highly recommend them.
They are great!

I love how complex there music is and they always have a alternative heavy edgy sound.

Gotta love it!
Switchfoot are one of the few bands around that actually know what they are doing. They have a great range of music with a lot of diversity. They're music is God glorifying and they have something for everyone.
Switchfoot is any day better than skillet and red or relient K... Cause even I'm a guitarist any the variations which they play are complex.. And not easy to play so. They are the best!
I've follow this band for years, the excellence on their music and the deeps of their lyrics makes this band one of the best bands on the last 10 years.
Not only does switchfoot have some of the best sounding music, they also have some of the deepest lyrics ever. Like learning the breathe, where I belong, and the loser have some of the deepest lyrics.
Related Lists
Best Switchfoot Songs
Best Switchfoot Albums
Best Songs From Switchfoot's Oh! Gravity

Best Songs From Switchfoot's Hello Hurricane