Best Country Singers of All Time
The Top Ten
1
Johnny Cash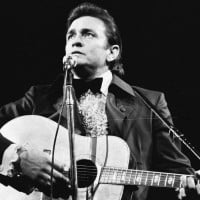 John R. "Johnny" Cash (1932-2003) was an American singer-songwriter, guitarist, actor, and author, who was widely considered one of the most influential musicians of the 20th century and one of the best-selling music artists of all time, having sold more than 90 million records worldwide. He died of ...read more.
The most imposing and influential artist in the history of country music. He created his own genre, consisting of the blunt emotional honesty of folk, the rebelliousness of rock & roll, and the world-weariness of country. When it comes to country music, Johnny Cash stands alone at the very top and will remain there as long as this old world keeps on turning.
From Big River to the American Recordings he stayed relevant all those years. He brought Country to Prime time network TV. All the while encouraged artists from all genres of music.
Cash is the greatest and most influential singer of all time he truly walked the line
Johnny has billions of good songs and is far better than all Taylor Swifts teenage heartbreak songs about whoever she just dated.
2
George Strait
Incredible. Unique at a time in music that introduced us to other amazing artists. Bravo, George!
I mean, He is the KING of country him not being number one is just disrespectful.
This is a hard one considering Johnny Cash, Alan Jackson, Toby Kieth, among many others I think I like his songs the best
NUMBER ONE. Period. The king. He IS country music. Johnny Cash is the blues. While one could make the argument that Johnny Cash is the most influential, perhaps the best artist of all time, I just can't say he is the best country artist of all time. George Strait is the standard that all true country fans hold the new generation of country musicians to. The only reason country music is so out of shape now is because of teenage girls. When someone ask what is country music, the best answer is George Strait. Besides The King, I see a lot of people on this list like George Jones and Merle Haggard and think wow that's the definition of country. I see Johnny Cash and I think, wow what a legend. Call me ignorant, but I consider him a huge influence and an important staple in the history of music, but not the definition of country. That goes to the King himself.
3
Waylon Jennings
He sang like I would have wanted to. He picked songs that spoke to us. His voice was distinctive and unique.
My favorite artist of all time. Best artist I've ever heard. My favorite album of his would have to be Waylon Live, and I live by the lyrics of I've always been crazy.
Waylon, the official ground break in country music. He has his own style unlike any other. More recordings and releases than anyone but George Jones, which could be the only possible singer in front of Waylon. Sure Johnny Cash was awesome, but if he hadn't recorded his last album on his death bed he would not have been as popular with the young listeners and probably deserve the 5th spot. You can't take anything away from Hank Sr. except for having passed at the tender age of 27. It is mostly young people doing these voting's and how could they understand that Taylor Swift after a few years couldn't possibly make an all time list?
Waylon was a giant among men. He changed country music (for the good) forever. He didn't fight the system for anything other than the right to play his music his way. He payed a very high price for standing up to the powers that be in Nashville. Waylon Jennings was a modern day David against Nashville playing the part of Goliath. I am certain no one else on this list sang with the passion Waylon did. His music had him and that's a quote from the man himself.
4
George Jones
He was the first game-changing country singer, people still love his songs. If not for him country music would not be the same.
A voice that draws you in and transfers the feelings of his song.
If the purpose of music is to move the heart and stir deep emotions to remind us we are not alone in our despair, no singer has ever been able to do so with the pure power of a human voice like George Jones.
George Jones was the best pure singer. Every note and word felt authentic and he had a beautiful voice. His singing was as smooth as silk and his phrasing is innovative and captivating. I bet if you asked most of the singers on this list who was the best singer, they'd pick George Jones. Many of them did. Johnny Cash had a stock answer to that oft-asked question, "Who is your favorite singer? " "You mean," he teased, "apart from George Jones? " George Jones was also highly respected outside of country music. Frank Sinatra said that Jones was the second best singer in the world (Sinatra thought Tony Bennett was the best).
5
Sara Evans

I like her song Suds in the Buckets
6
Merle Haggard

Merle Ronald Haggard was an American country singer, songwriter, guitarist, and fiddler. Along with Buck Owens, Haggard and his band the Strangers helped create the Bakersfield sound.
How is Merle so low? I may not be much of a country fan, but Merle haggard is objectively amazing in every way, shape, and form
Did he ever sing a bad song? Every thing he sang was good. I for one wished he was here still cranking them out.
Most of the singers in this list aren't straight country grass roots. They are in the mid of country and lite rock. They are all good in their own right. I do really like all the older singers that sing more through life experiences. Merle is one of the best and I can listen to him more than the rest. But there is only one Ring of fire
The Number 1. A common man for the common people...that's his music...common sense and happenings.
7
Garth Brooks

Troyal Garth Brooks is an American singer and songwriter. His integration of rock and roll elements into the country genre has earned him immense popularity in the United States.
I put Garth at #1. The lyrics and music to his songs are so meaningful. Nothing beats If Tomorrow Never Comes and the Dance. Most of today's performers sound alike and look alike with no "heart" in their songs.
Here's the thing about Garth Brooks. He isn't just a one note performer like some supposed "King of Country". He has more than just the stereotypical country songs and he is more than just a stereotypical country singer. He infuses his songs with a sense of realism and truth. His performance adds another layer of authenticity that is rarely seen in country from the nineties on.
This man has such a big impact on my life, he seems to write songs that everyone could relate to and many sings could ever do that. His songs get to me even the odd time a shead a tear listening to some of his songs they just mean so much to me. Hands down the best country singer that has ever walked the face of this earth. Its great to see to that he is coming back to Ireland!
Without doubt the reason I love country music, my personal no1.
Seen him in Vegas last year and he was inspirational, I hope he tours again I would love to see him in all his glory.
8
Alan Jackson
Alan Jackson is one of the most respected country music singers there is today, but he could also very well be the most underrated one as well. Garth Brooks always got the limelight is one of the most respected country music singers there is today, but he could also very well be the most underrated one as well. Garth brooks always got the light despite being absent for 13 years and winning entertainer of the year 2016, simply by putting out one album. Other artist have rose to fame packaging a different product with the title country music when it is not. Alan Jackson has been the purest country singer in the past 30 years, even George Strait has had his last couple albums take a different mainstream sound too them his last couple albums take a different mainstream sound too long. He makes it work, but Alan Jackson has never wavered from his country road he makes it work, but Alan Jackson has never wavered from his country roots despite pressure from Nashville. Alan Jackson, Has been ...more
Alan Jackson Deserves to be #3 on this list. He is the best country singer to come out in the past 30 years bar none. And I might add, the only one not playing gunsel country.
Alan Jackson... the best ever with Don Williams coming in second. They were singers that just came out on the stage to sing the song that told the stories of what most of us could rely to. Our life. Real country life Thank you for the memories.
He's one of my favorite country singers aside from Garth brooks, George Straight, Tim Mcgraw, and Don Williams. I'm just a teen but I want country musics because of them. Alan Jackson's songs has a beautiful message and you can fathom it clearly because of his clear voice when he sing...one of the best and real country singers!
9
Willie Nelson

Willie Hugh Nelson is an American musician, singer, songwriter, author, poet, actor, and activist. The critical success of the album Shotgun Willie, combined with the critical and commercial success of Red Headed Stranger and Stardust, made Nelson one of the most recognized artists in country music.
He is a gifted sonwriter write several of the best country songs ever such as Crazy, Nightlife and Red headed Stranger. He voice and style is so unique.
Gotta admire a guy who has been one of the top country artists for over forty years in a musical career that began over a half century ago, and to top it off, like myself, he is a connoisseur of the finest herb.
Willie always. Has written #1 hits for all genres and hasn't done so bad for himself Texas style.
His might not be the most conventionally beautiful nor does it have the most polished but his voice is the greatest in music. It is raw and it is natural. George jOnes said that he tried to bring forth memories that made him feel the way his narrator felt, Willie doesn't have this technique but he has the same finished product, a voice that portrays all the emotion his song has to convey. Add that to some of the most perfect lyrics in music (I'm looking at you, you were always on my mind) and there is no beating it.
10
Carrie Underwood

Carrie Marie Underwood is an American singer, songwriter, and actress. She rose to fame as the winner of the fourth season of American Idol, in 2005. Her debut album, Some Hearts, was released in 2005.
Carrie Underwood is amazing! She has a really amazing voice! Her songs are incredible and it always makes my day. She is my favorite and she is my idol! Love you Carrie!
NUMBER ONE ALL THE WAY She is the best of all time (female, at least)
Personally my favorite country singer of all time. Love love love Carrie Underwood!
Carrie Underwood has such a powerhouse of a voice within her. Though people are always trying to sing just like her, no one can sing the way she does. She turns ordinary songs into incredible voice masterpieces. She is such a real person, too - her faith and her values shine through her music.
The Contenders
11
Conway Twitty
Conway should be way up further in the votes: only George Strait has beat him in number one hits of all time if George Strait had to compete against the same musicians that Conway did for his number ones George Strait would not have nearly as many number one hits as he has
He was a wonderfully kind and generous person as well as remarkably good performer and singer at Christmas time he opened up his home to come to see the Christmas lights and was always ready to help someone out with their music career a remarkable man. And will always be remembered.
I often wonder how many more # 1 hits he may have had, had he lived. Miss you CT.
Conway twitty was the best country singer of all times... He was the most handsome man that ever lived and also when alive was the sexiest man alive... No one else could even touch him... He was just simply the best...
12
Hank Williams

Hiram King "Hank" Williams, was an American singer-songwriter and musician. His band was called "The Driftin' Cowboys"
If he would have lived and continued his success He would have been the absolute best. In his short lifetime he wrote songs that they are still sing 70 years later. From 1949 till his death in 1952, he had 24 songs on Billboard charts and Tony Bennett hit the charts with two covers of Hanks works. He hit the charts with 6 songs after his death.His songs are still being covered today.
Short career probably hurt hanks rating. Nobody can put the heart and soul into a song like Hank
Simply the best from "Nobody's lonesome for me" to "Your cheating heart".
Hank to me was the founder of country music and the roots of all honky-tonk.
13
Ray Price

Noble Ray Price was an American country music singer, songwriter, and guitarist. His wide-ranging baritone is regarded as among the best male voices of country music, and his innovations, such as propelling the country beat from 2/4 to 4/4, known as the "Ray Price beat", helped make country music more ...read more.
This man is not #25, he should be in the top 3. Invented modern country music in 1956, and had the biggest voice of any singer in the genre. Has been around since the time of Hank and still going. This position in the list reflects a great ignorance.
He is the best singer and very easy to dance to his music also best band
Ray price had respect for country music and most of all his fans. Not like some of the so called new country singers. Isure hope we keep real county alive it was in my life growing up and still is every day.
The purity of his voice is really not matched by anyone above.
14
Tim McGraw

Samuel Timothy "Tim" McGraw is an American singer, songwriter and actor. He has been married to singer Faith Hill since 1996, and is the son of the late baseball player Tug McGraw. McGraw has released fourteen studio albums.
I must say, Tim McGraw is definitely one of my favorite country singers of all time!. He is a noble christian, a devoted husband and father, and even has a remarkable wife with the same soothing voice. He is also a wonderful actor as well as an artist. If you haven't heard any of his songs, I highly suggest you do.
First things first. If you don't like the guy to post a comment about him being bad moron and you look especially like a jackass because your completely wrong. Everything about Tim McGraw is fantastic in my opinion. The only possible thing bad is that he doesn't write his own songs but he has a couple he co wrote which is fine. Tim McGraw is fantastic end of story.
Saw he and Faith live, and they were both amazing. Tim has the best voice in country music, and I think he has stayed quite faithful to country music, and helped bring in a new audience.
Nothing but classics from the early 90s to the late 2000's. The face of his era, and one of the greatest of all time.
15
Brad Paisley
The amazing scope of topics covered in his emotive songs, peppered with witticism and backed with his strong and sweet vocals absolutely brings him into the discussion of the GOAT! Let's not romanticize the old greats for old time's sake, Brad has DOMINATED country music for the past 20 years, and long may that continue!
Brad is amazing! I love his voice its super incredible! Love you Brad!
He's not the best country artist of all time, but you could definitely argue he's one of the best guitarists in all of country music.
Definitely the best of modern times
16
Kenny Chesney

Kenneth Arnold "Kenny" Chesney is an American country singer and songwriter. He has recorded 20 albums, 14 of which have been certified gold or higher by the RIAA.
He should be number 1. Great voice and great live. Has great songs that tell many stories. Cares about his fanbase and does charity work. Great voice!
Kenny chesney has more number ones than everyone above him on this list except for Alan Jackson and George strait and there is no way Carrie underwood is better and half the people above him are not even relevant anymore. As well he is no doubt top 5, arguably #1
Saying kenny chesney isn't in the top 10 in blasphemy but saying he isn't as good as brad paisley is just dumb. Not only should kenny be top 10, he should be #1 on the list. There's no way in any world that carrie underwood, brad paisley, alan jackson, and darth brooks are even on kenny's level.
He is the best! He has no bad songs. He sings from the heart, and has never changed. He is still that same old country boy he use to be.. In my opinion, he almost has what it takes to keep up with Chash, Hank, Willie, and Strait. Keep it up! HE IS THE BEST.
17
Blake Shelton

Blake Tollison Shelton is an American country singer and television personality. In 2001, he made his debut with the single "Austin".
Blake Shelton is awesome! I love his songs so much, mostly "Came here to forget", "God's country", and "Nobody but you" Love you Blake!
I think that he is on the top list because he sings from the heart and always will. Other artists are above him because he isn't the best of all time but he is the one of the best. There always will be someone that is better then you even if you don't think that.
Not all of his music stays true blue to the roots of country. But in my honest opinion all his music catches my ear and I can't stop listening. Top 10 at least for me. Came here to forget baby!
BLAKE can sing anything...there is no one in country music to come close to BLAKE...his voice it's SUPERB...he is the best at singing live
18
Hank Williams Jr.
Simply put,the greatest. Did it his way. Not only a great singer but also a great writer of music. Will never be another like Hank Jr.
He is not riding on his dad's coat tails you are wrong he is the best old country music singer in my opinion and I should know because I listen to country gold every saturday night with rowdy yates and I am only a tween
Best because it proved he could sing his daddy's music and his own style and he still reaches out to some of the younger generation
Hank Jr. has a truly wonderful voice, I've heard them all and he ranks up there with Elvis and George Jones
19
David Allen Coe
He is one of the original outlaw country singers and a amazing songwriter
Damn right he is
Why is coe in the wood pile?
Should be in top ten
20
Taylor Swift

Taylor Alison Swift is an American singer-songwriter. ...read more.
Taylor Alison Swift is simply amazing with wonderful songs including Shake it Off, Mean, End Game and also Gorgeous, and my personal favorite A Place in this World and Invisible. Taylor Swift is my role model with her great singing voice.
The only reason she is down here is because she doesn't do country anymore. She makes pop music which is also extremely awesome and worth listening to. But let's be honest, her country music was also amazing. Anyone could relate to them and they had a beautiful meaning behind them. Taylor Swift it too underrated. Even though she changed from country to pop, she still has the same beautiful personality inside, maybe she changed for the better?
Wow, did someone actually just try to claim that Taylor Swift is above Elvis? She's a good example of what's wrong with music today: she writes songs to try and make money, to try and get attention. Real artists do it for the soul, for the craft, and for the musicianship.
Agreed, she has pretty much abandoned country, although it's hard to say what passes for country music nowadays. I do have a soft spot in my heart for her though, since she was named after James Taylor.
21
Keith Whitley
I would place Keith at about #5 personally, primarily because his grace on country music was so short, If he had lived longer, country might have been way different!
If based purely on vocals, best singer in my opinion so much emotion from every song, and instantly recognizable. George Jones would also be up there in that category, Keith lived his songs, was an awesome personality & still inspires new artists in spite of his short career.
I had a demo tape when he started out that my brother gave me, he said listen to this and tell me what you think. I got back with him and told him this guy keeps it up he would be bigger than Merl. When they found him and said that he had passed my heart felt like it broke. What a voice.
If it wasn't for a short career he would definitely be top 5.
What About Earl Thomas Conley? " I Have Loved You Girl ", Holding Her and Lovin You" and a bunch of other big hits.
22
Marty Robbins
Maybe Marty Robbins was a singer, not just a Country singer. he was a better vocalist than anyone on this list
If you actually compare the quality of their voices, no one comes close to Marty Robbins. He had perfect control as well as the most beautiful tone to his voice. If you want to know how good an artist is, take away all the instruments and electronic support and listen to just the voice. That's where Marty Robbins stands heads above all the rest.
Marty's voice was so beautiful, his songwriting talents are so often overlooked. Marty wrote many great songs and some of the best country songs of all time: Big Iron, White sport coat, my woman my wife, you gave me a mountain, don't worry, devil woman and of course "El Paso. Marty Robbins the "Legend "
Any one who knows a whit about music would put Marty Robbins at no. 1 on the list. His voice was beautiful, he knew how to emote, phrase, write; I could go on and on! Marty had class! When he walked on stage, he was mesmerizing right off the bat! George Jones? Come on; he could't carry Marty's music! Marty could sing with an orchestra as well a a lone guitar because he had a voice that stood on it's own! I get so "out of shape" when other singers are placed above him! Who decides these ratings, anyway?
23
Trace Adkins
Marty Robbins was the Greatest Singer of all time. Please don't insult his memory.
Every light in the house is on... You're gonna miss this... No thinkin thing... Great artist
You're gonna miss this. One of the best country songs I've ever heard.
Legend in his time
24
Dolly Parton

Dolly Rebecca Parton is an American singer-songwriter, actress, author, businesswoman, and humanitarian, known primarily for her work in country music.
This is the most ridiculous list I have ever seen. Dolly should at least be in the top 5. Her voice and song writing are legendary as is her longevity. Not to mention what a smart business woman she is. Today's singers don't have the unique style or voice that Dolly, Loretta, Tammy and others have. Today the singers all sound the same - men included.
Seriously, 27th with Alan Jackson, Carrie Underwood, and some of the newer country singers in front of her... She is one of the reasons there is a Carrie Underwood and Alan Jackson. Don't get me wrong Carrie and Alan are pretty awesome.. But Dolly at 27? I'm not even going to read rest of this article... It's too stupid.. But, I do think you got number 1 correctly with Mr Cash... After that, this list is crap... Dolly and Garth should be in top 5...
Clearly none of you have seen her live. I hate country but this woman can sing.
Big mistake - Dolly is at the top. Who made the horrible ranking?
25
Jamey Johnson
If you say Jamey Johnson shouldn't be on this list of all people, you obviously have terrible taste in county music. He is actually a country artist.
Jamey is a throw back a total bad ass who followed in the great Waylon Jennings footsteps this guy is the real deal
A great throw back artist should be higher in my opinion. If this guy would keep producing songs he could be great.
No way should this guy be on this list. Are you kidding me?!
PSearch List