Regine Velasquez - Philippines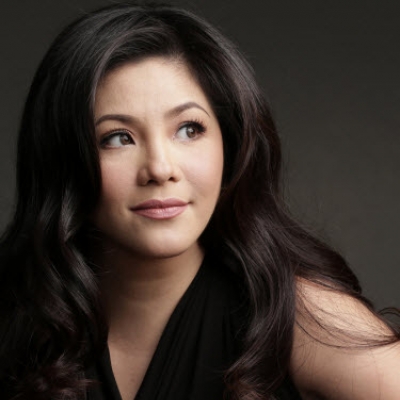 Uploaded by theOpinionatedOne
Info
Regine Velasquez-Alcasid, dubbed as the Asia's Songbird is a Filipina recording artist, host, producer, philanthropist, commercial endorser, actress, and an Asian pop culture icon. She is widely known for possessing an extensive vocal range.
Comments
Top
Popular
Newest
She's really awesome! It could not deny the fact that she's incredible and incomparable singer of all time. Indeed, she was being titled as the Asia's Song Bird because of her very powerful voice and superb power on stage.

Regine is known as The Asia's Songbird. you've got to listen to her when sings live... the rest of the entry from the Philippines in this list, can definitely say that one time or another Regine is one of their favorites singer and even an inspiration that led them where they are... Sarah Geronimo and Charice are just few young singers that are greatly influenced by regine's singing... needless to say all of these women whose albums and concerts are sold out but when you say Best female singer, REGINE VELASQUEZ definitely the BEST IN Asia!
Regine has the best voice in the whole wide world she sings so clean low notes or even high notes and she has been sold millions copy of her albums here and out of the Philippines everyone knows it no one can argue with that and she has the highest chest voice here in Philippines meaning she is the only female singer who made different style way of singing in her live performances and even in her albums she can sing live even she is in bad condition her vocal chord is extra ordinary among the singers
Simply the best!

Without the help of YouTube ever since, still regine conquers Asia with her album listen without prejudice that gone sold more than 2million copies across Asia and hailed as the best selling album in China by a non Chinese artist until the year 1999 hence it was sold 700,000, and no southeast Asian artist can beat the 8.5 million album units sold of regine across Asia, still the voice to beat, THE LIVING LEGEND A STANDARD INDEED, Asia'S SONGBIRD REGINE VELASQUEZ
Her voice is so sweet and she can really reach high notes whereas other singers would use falsetto. I guess there are other singers who can do that as well, but the quality of her tone and how she delivers her songs are incomparable to that of others. Really and truly, Asia'S SONGBIRD!.
By the way there are also a lot of other singers who are not in this list, probably because they are not well known, but their talents are really, really befitting this top ten list.
She's the ultimate female singer I ever heard in music industry, she has that supernova pitch voice, and she sing with enthusiasm, and everybody loved to hear. Regine Velasquez is one of the most powerful singer in the world. She's a legend.
If we are talking about singing it's gotta be Regine Velasquez. All of the people knows her in the Philippines and she's like the icon and the idol of the current popular singers/performers/artists including Charice and Sarah G. She's already the benchmark in terms of singing by any amateur and professional singers. Not only she is popular to Filipino artist but also internationally. She's made a collaboration with Jacky Cheung, Coco Lee, Paul Anka, David Hasselhoff and many others. SHe's also an idol to AI's finalist like Ramielle Malubay and Jasmine Trias and etc. Her concerts abroad were all sold out and speaking of standing ovation, she's the one to beat with more than 5 standing ovations in a concert (local/international concert).
For me she deserve to be the best female in Asia, who didn't know the famous Asia SONG BIRD? She really work hard to be what/where/who she now... she's not only have a golden voice but also a golden heart for helping people who need help specially those children who suffer in cancer... that's why I really admire her... not only on her talent but also on her PERSONALITY...
simply regine can sing effortlessly, and when she covers, she makes sure that it would be much beautiful than the original,.. , she is the goddess of beautiful voice, she can stunned all, even those international singers, no doubt regine rather called goddess of soulful songbird in the whole wide world - javian
Regine is the best among the rest!
Because Regine can beat any diva Regine is the Asia's song bird
Of course, Regine is a natural voice in any kind of sides she sang she can do it by her own natural talent Regine is the best, Regine is the first singer that peach a high vocal range, Regine is a living legend!
Regine is so amazing total performer. she always throw jokes, very down to earth and dedicated to her job. her range is incomparable that's why for me she's the best singer in the Asia even in the world! Her versions of songs she sang was so beautiful. for me I appreciate those renditions she made than the original.
Regine Velasquez has the most recognizable voices. She can hit high notes and has commanding presence onstage. She can deliver the emotions of a song to a level no audience can deny. By sheer empathy and effective delivery of the lyrics the transformation of words and melody is symphonic. She is the singer to beat this side of Asia, and beyond.
Today, Velasquez is the Best Selling Artist Of All Time in the Philippines. She has sold more than 7,000,000 albums in the Philippines and also in Asia with more than 500,000 sales. Arguably, she is the "Most Successful Recording Artist" who influences our belter songstress of today. - MosesG20
Because I truly believe that Regine Velasquez will be forever outstanding best singer and she is now the best singer that I ever met. Regine is now the legend and no one can beat her. Her powerful voice that can really touch the person who listening to her. I really amazed to her and more power...
Flawless... Her low notes are solid, soothing and very angelic, while her high notes are crystal clear, and extremely powerful.. What's so unique about Regine is when she sing those high notes it's always full throated, and always in solid chest notes... No head tones which make her rendition the most difficult to sing...
Well, I know... She is the best singer to me next to Whitney Houston. RIP. Regine did sang "I will always love you" (a song of Whitney) and I think she sings like Whitney or better. And as proof... Regine Velasquez is Asia's Songbird. Even though she had been a mother, still her voice is wonderful... So, for me, she the BEST!
No need for Regine to prove her supremacy in terms of vocal prowess. She is very humble and never talked or claimed that she is the best if not the greatest singer alive in terms of vocal capabilities. Undeniably she sets the standards of singing in the Philippines. Sweet voice that brings you to heaven. She will be forever the epitome of singing in the philippines. Hail the ASIA'S SONGBIRD.
Numerous concerts, multi platinum album sold.. It was proven that she's the Asia's Songbird because of her VOCAL POWER.. Definitely she's the only one who can really reach a high notes... Effortless for her... Regine is the best singer in the world.. Not just here in Asia.. She was known in the whole world because of her Vocal power..
SONGBIRD OF Asia

Search her on YouTube her highest notes only she can do that! She killed a lot of songs sung by international singers, singing like their her own and giving it more power
Wherever you are in the Philippines, there is only one name known when it comes in singing with the highest notes that nobody can do so. And she is MS. REGINE VELASQUEZ, her voice is really extra ordinary! I think she deserves to sing with Celine Dion and Mariah Carey..
Music standards in the Philippines came with such high standards because of Regine Velasquez... She really is the greatest singer in Asia... Trully genuine voice... Paired with great personality and beautiful heart. Such a wonderful person. Whenever I see her perform I'm transcended to another dimension. PERFECT! Heavenly voice...
No one sings like regine velasquez. She sings from heart and pierces the hearts as well of her listeners. She has the voice of an angel that will make feel like you're in heaven. Yet she has a very powerful voice that can reach even the highest mountains. She is magnificent in one word.
Regine is certainly one of the best singer not only in Asia but across the globe. Her wide range and distinctively powerful voice is immeasurable, thousands of people tried to imitate but none of them has victoriously made.
Greatest singer of all time.. the unbeatable voice. goddess of voice.. the living legend.. one in a millennium. she can hit highest notes effortlessly and sustain it. the incomparable regine.. the songbird..
Try to listen the different songs of regine and try also to watch also her concert and you will say that her right place in on top 1.
Regine Velasques is the asias songbird, it means that she already lose all good singers in asia.
Charice is so young and she will never lose regine in terms of beating the high notes, also Sarah, sarah is the number 1 fan of ms. Regine.
Idont care if who is Agnes Monica, but for me still regine is the number 1.