The White Stripes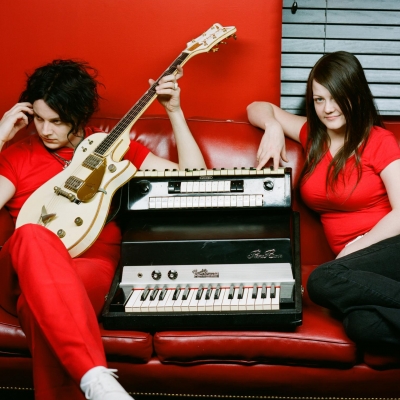 Found on uofmusic.com
Info
The White Stripes are an American rock duo, formed in 1997 in Detroit, Michigan. The duo consists of only a couple married at the time, Jack White, whose real name was Jack Gillis (songwriter, lead vocalist, guitarist, bassist and keyboardist) and Meg White (drummer and backing vocalist). After they ...
read more
.
Comments
Top
Popular
Newest
It's ridiculous that the Stripes are this low... Jack White has proved himself to be a modern day Hendrix or Clapton, and through Meg wasn't the best drummer, it coincided perfectly with the detailed riff's that Jack laid out.

And as another person pointed out, The Black Keys, The Strokes, and I even dare to say Muse wouldn't be here without the Stripes.

LONG LIVE THE WHITE STRIPES
A completely unique band with musical legend Jack White who fuses blues with rock amongst other genres. His energy and enthusiasm is unmatched, just look at the work he has done reviving the vinyl industry at third man records. Look at the song "screwdriver" which is the ultimate white stripes song in my opinion.
Just purely amazing, ballsy, fresh, original, and Jack White is as mad a person and a musician as you will find anywhere.
One of the only bands on here that doesn't have a bunch of shrieking emo fangirls going "they're so unique and legendary and I can totally relate to their lyrics in my soul they're the soundtrack to my life, I've suffered so much, I'm a privileged white girl, wah I got rejected" and all of that bull. Newsflash; Three Days Grace is not some sort of unclassifiable group of geniuses. And they will never be legendary. Neither will the rest of your whiny little heroes (coughcough My Chemical Romance, Linkin Park, Rise Against, etc.). Also, hate to say it, but Three Days Grace=Nickelback but whinier.
These guys are literally the reason I love music. With only two people they managed to make a better sound that band with three times their number. Jack White is also the best guitarist and raw musician of his generation, or any generation for that matter.
Jack White was the reason why I got into music in the first place. No one's songs hit as close to home as The White Stripes do. If you can look past the band's simplistic set up, and recognize the true meaning of music, they have so much to offer.
While not might favorite band of the 2000's, I think history will show that this band becomes the greatest. The simple yet powerful music Jack White makes is the best I've heard since a little group called Nirvana popped up in the early 90's.
This should be #1... Jack White is the best musician of the 2000's alone. Jack and Meg combine classic delta blues with garage rock. This is one of the only legitimate white blues bands ever to be created and should be remembered for ever.
Okay having any of those so called "Musicians" ahead of this band and RADIOHEAD who released the best album of the decade (Kid A no duh), and ahead of Arcade fire and Animal Collective, etc is just ridiculous.
I have so my respect for Jack White; musicians like him are so rare now a days. It amazes me the sound that he can make with just him and a somewhat decent drummer.
Jack white has kept blues rock alive and he is the greatest guitar player of the 21st century and the white stripes are the greatest two piece band of all time.
Why is that when I hear their music I always think it's from the 70s or 80s but they aren't? Cause they know how to tribute and make rock music its own
Jack White is god! He is the only true rock star of the 21st century. The White Stripes are the reason for the rock revival in the early 00s.
Actually I vote for Jack White. Whether as "The White Stripes", "The Raconteurs", "The Dead Weather", it all turns out 100% White...
Jack is one of (if not) the best guitarist of the 2000s, and he created a riff that thousands of sportsfans sang, without even knowing the name of the song. And alongside Meg he created possibly the most unique band of the century, nothing less then a pure genius
This band totally defined the 2000s music with only two musicians I can't believe they are not number one!
A band that brought rock back to basics. They proved all you need is a guitar, drums, amp, and mic.
No other band on this list compares to the raw, exhilarating force these two can produce.
Jack White could be in the top 20 best guitarists of all time. They should be in the top 3
One of the greatest of all time deserve to be number 1, Jack White is a visionary.
All the bands above this one on the list are just a joke compared to this band
Jack white is really good especially when it comes to white stripes
Jack is good, but Meg is the worst drummer that has walked the earth - emilk
The best heavy-blues-band ever founded! Nothing more to say!
How are they not number one? Thirty seconds to mars? What?