Top Ten Best Cities In Germany
The Top Ten
1
Hamburg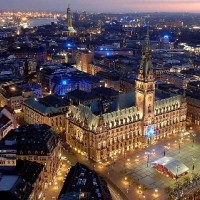 Hamburg is amazing because of it's food and it is just so pretty
Awesome public infrastructure! Best place ever.
One of the best cities worldwide! It's very open-minded.
Its night life is one of the best. I can't forget Reeperbahn.
2
Berlin

A very different Capital than those of other countries. Its not pretty like Rome but it has many different people from all over the world living there. There is nothing you can't do and there are many attractive sights to see as a tourist. Its also very different from other cities in Germany and that makes it so interesting. The history the culture everything is mixed into one city and its worth a visit.
Yep same here. I am german but I do not like Berlin at all. Ugly compared to other capitals like Paris and London.
Berlin is very big and very beautiful and great city. There are many interesting places, like Rechstag, Brandenburg gate, Berliner Dom, Berlin wall, Museum ireland, Art museum, Kaiser Wilhelm Church. And there are many beautiful streets and building like Kurfurstendam street. I love this city.
Get this to number one
3
Munich

Capital of Bavaria, is the most beautiful, livable and friendly city of Germany. Beautiful architecture and nice people. Very rich city.
A great city. Lovely people and very green. I love this city.
The most beautiful city in Germany.
Ahhh, munich. Very beautiful.
4
Cologne

The right size, the right location (In the heart of Europe! ), not too polished not too dirty, non-pretentious, and the best people!
So so beautiful and lively and open-minded and so many things to do.
5
Stuttgart

Beautiful city, traditional, very modern. Small but industry is great. Has good transportation with train, bus or street car. People are friendly, the city is clean.
Small city, but huge impact on Germanys economy. Modern and very friendly. The city is clean and well organized, many good shops at Königstraße.
6
Frankfurt

A German city with a well defined modern skyline, but also has a cool old town! There is a beautiful juxtaposition between the towering skyscrapers and the restored old town in this city. It's flashy and cosmopolitan, but also historic.
The buildings are so cool and so tall
My only friend on Steam lives there.
Best city, great to live in, rich in culture, bank metropole. Just flashy
7
Düsseldorf
What are talking about German is in big recession big time.
Best city in the worldd
8 Dortmund
9
Essen
Love this city so much, I've lived here since 7 years and I'm still not bored
10
Bremen

Love this city, so open, friendly and beautiful!
The Contenders
11 Hanover
12
Nuremberg
Four of these are my favourite!
13
Dresden
Very very beautiful..
Dresden is a beautiful city, federal state capital of Saxony. Beautiful buildings and quite modern architecture mixed with baroque influences. People are not that nice as e.g. in Munich or Stuttgart but surely find beautiful women all over Dresden, especially in the city center. Nice city!
Why is it down here? :(
14
Leipzig
One of the fastest growing cities in Germany with a great mixture of growing job market, available and affordable housing in good quality, easy accessible lakes close to the city, relaxed nightlife and a lot of contemporary and classical culture. I think this to be one of the few big cities in Germany that still got the opportunity to grow and to develop without causing much growing pains for its citizens and companies.
A city where you actually can find real nazis
15 Magdeburg
16 Göttingen
17 Bonn
18 Darmstadt
19 Regensburg
20
Heidelberg
HEIDELBERG MOST LOVLEY CITY WITH THE RIVER AND CASTLE AND kONIGSTUHLEWONNDERFUL PLACE FOR A HOLIDAY
21
Kiel
Kieler Woche, Kieler Sprotten, nice ships and very nice city
22
Konigsberg
I hate the soviets for taking away this beautiful city!
Used to be great. Today it's known as Kaliningrad - a stereotypical Russian city full with ugly commieblocks.
23
Freiburg
So beautiful! houses, city, history
24
Aachen
For me the best.
25 Lübeck
PSearch List