Top 10 Cutest Pokemon
The Top Ten
1
Eevee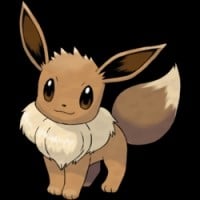 Eevee, known in Japan as Eievui, is a Pokémon species in Nintendo and Game Freak's Pokémon franchise.
Eevee is without a doubt the cutest little pokemon out there, nothing can top that little ball of fluffy cuteness :')
Eevee has got to be a pokemon that was designed for the sole purpose of being uber cute. I swear, the people who design pokemon must have sat down and went, "okay, lets make a pokemon that everyone will go aww at! "
That's pretty much what Skitty was for, but I see where you're going.
Of course Eevee is the cutest just look at it, so fluffy and yet people are saying that her fluffy coat makes it ugly, whats up with that?
Love this pokemon so much no wonder she's number one! It has so many evolutions!
2
Pikachu

Pikachu are a species of Pokémon, fictional creatures that appear in an assortment of video games, animated television shows and movies, trading card games, and comic books licensed by The Pokémon Company, a Japanese corporation.
Pikachu is the cutest thing I mean what else is better.
I think that pikachu should be number one because its awesome. He the cutest on the first episode
Pikachu is totally the most awesome Pokemon in the world, why do you ask? Because he has been my first favourite Pokemon, he is loyal, brave, kind, smart and the best thing about is that he'll never give up on you. Over the years Pikachu has learnt new moves such as iron tail, volt tackle and electric ball, he's gotten a lot stronger, faster and smarter as a battler as well as still being cute.
Oh gosh, pikachu is the cutest little ball of lethal electricity ball EVER!
I love pikachu's tail because it makes electricity(I meant cheeks...)
3
Mew

Mew is one of the fictional species of creatures from Nintendo's and Game Freak's Pokémon media franchise created by Satoshi Tajiri.
Mew is my no.1 fave pokemon and if there was such a thing as a cuteometer Mew would overload it with cuteness!
it IS THE MOST CUTEST THING IVE EVER SEEN, COME ON, YOU GOTTA THINK THIS THING IS CUTE!
Mew is so cute even know it is ultra powerfull they should put mew as a non evert pokemon in the next games.
He is just simple and cute and his personality adds even more cuteness!
4
Pichu

Pichu is an Electric type Baby Pokémon introduced in Gen. 2. It evolves into Pikachu. It is in the in undiscovered egg group, since it's a baby Pokémon. It is No. 172 in the Pokedex. It can be called a joke character in Super Smash Bros. Melee, because of its awful stats and weak moves. After its ...read more.
Oh my gosh pichu is so cute he's in my party all the time and I never evolve him!
Yeah! I knew I could do it! I added Pichu, Celebi, and Eevee to the list because they weren't on there and I thought they were cute. I was right! Now they're all three tied for 1st place!
Pichu rules I like him because he's cute. And my favorite too I like all the 3 'chus Includes pikachu. And he is strong too!
Pichu is lord thunder he is far more powerful than his evolutions for he is the true god of thunder
5
Vulpix

Vulpix, known in Japan as Rokon, is a Pokémon species in Nintendo and Game Freak's Pokémon franchise.
its so CUTE! I really like eevee but I'm still votin for VILPIX! even its evalution is beautiful and graceful and stuff! LOVE IT! probably in my top 25 pokemon!
I love vulpix its so cute it evolves in to a nice Ninetails so you should vote for vulpix trust me you'll be satisfied ask any of your friends or just ask anyone who likes pokemon I truly love vulpix but its not my favorite pokemon in the world my favorite pokemon is weavile don't take my opinion everyone has their own so follow your heart
It's simply Adorable It's got that spunky look, and it's cute at the same time. Definitely one of the cutest Pokemon around.
I like vulpix because I like the picture of vulpix and ninetales together!
6
Togepi

Togepi, known in Japan as Togepy, is a Pokémon species in Nintendo and Game Freak's Pokémon franchise.
that little adorable egg pokemon is really cute!
Togepi is just the most adorablely cutest Pokemon. I love the little head poking out of the shell. I mean come on... Who doesn't like a baby animal, even if it's a Pokemon, if they were real I would deinatly have a Togepi. I WANT ONE SO MUCH! I think Togepi should be higher on this list :D Come one Togepi lovers VOTE VOTE VOTE! Please
Togepi has to be the second cutest, or even the first. She is so cute, its size, voice and feelings. This Pokemon is to cute! If I could choose it in the beggining of the game I would choose her! Its evolutions are even cute too. It deserves to be first or second.
I like Togepi because Togepi have it's spiky shell to roll like a doughnut
7
Jigglypuff

Jigglypuff, known in Japan as Purin, is a Pokémon species in Nintendo and Game Freak's Pokémon franchise.
Forget about igglybuff, I know over 500 people that tyhink that jigglypuff is the cutest Pokemon&every one of them is a huge Pokemon fan
Jigglypuff should be on top 5 it is the cutest Pokemon and its eyes are adorable
Jigglypuff is one cute pokemon with big eyes. Its rocks!
You people must be crazy, think of the Pokemon above these? Togepi would be cuter if it wasn't in a diaper made out of an egg. And Pachirisu is just as ice-squirrel copy off of Pikachu. Their names are very similar too. Igglybuff and Jigglypuff aren't HALF as cute as Jigglypuff. It has the cutest name, when you hear "Jigglypuff" you automatically know that it's cute. It's eyes are adorable, they're huge and round and blue. Like, seriously. Pretty much all the Pokemon above have boring and black little bead eyes that look like they belong on a teddy bear. Jigglypuff is like a pink little round pillow. It's so huggable and I LOVE IT! It can sing too, it's got a way better voice than Justin Bieber. If Jigglypuff was real it'd be a celebrity. It beat my Yveltal in a Pokemon match COME ON! It's super strong. It puts people to sleep with its soothing lullabies.
It's a fluffy pink ball thing that sings. I don't know why it's so adorable
8
Piplup

Piplup, known in Japan as Pochama, is a Pokémon species in Nintendo and Game Freak's Pokémon franchise.
I love PIPLUP especially in the anime when he uses bubble beam piiplluupp! And his eyes when they are mad makes me super happy
Penguins are awesome and Piplup is just the cutest thing ever. It's final form is both elegant and adorable. Oh, and it's movies are great too.
I love Piplup simply cause he is adorable and so CUTE. And he's evolution are also awesome. He's not totally look like a monster!
How is Eevee number 1? Piplup is much cuter than that annoying thing. Also, piplup is a penguin and penguins are the cutest things on Earth, and the Pokemon Earth.
9
Skitty

Skitty, known in Japan as Eneco, is a Pokémon species in Nintendo and Game Freak's Pokémon franchise.
Skitty is cute! Its eyes are adorable. The problem is I don't have a skitty >_< I wanna have Pokemon in real life *sigh*
Wee, skitty is so cute, especially it's color! Waah.. I wish it's not just a cartoon/anime pet! I want to take care one!
I want 1 too, but even if there was such thing, my mother will scold me and say I am just 13
its tail is cuter than aipom's tail
Little stubby feet, cute cactus tail, cute face, that's why I love her.
10
Oshawott

Oshawott, known in Japan as Mijumaru, is a Pokémon species in Nintendo and Game Freak's Pokémon franchise.
Oshawott is so ADORABLE! He's got the cutest voice EVER, TOO! Oshawott's rank should be higher than 18!
OSHAWOTT! His name is fun to say and so cute! My favorite starter and one of my favorite Pokemons. I like oshawott, if you see this video on YouTube called oshawott eating, it's so cute.
Oshawott has always been my favorite Pokemon. I have like 10 posters of him in my room and I have oshawott dolls. I LOVE OSHAWOT. He's so cute and he's really strong too!
It's one of the cutest starters. All starters cute though but Oshawott, he's so bubbly and happy who keeps playing with his scalchop. That's adorable.
The Newcomers
?
Eternatus

?
Zamazenta

The Contenders
11
Emolga

Emolga, known in Japan as Emonga, is a Pokémon species in Nintendo and Game Freak's Pokémon franchise.
Emolga is the sweetest thing! If that adorable smile doesn't convince you, I don't quite know why, but just say yes to the eyes.
WhenI first saw Emolga, I flipped. Not only is Emolga an awesome electric type, but he's an adorable flying squirrel. Pokemon can't get better than that.
Emolga is adorable, cute, sweet and also the drama queen!
I don't care what you say Emolga is just the best and cutest pokemon I have ever seen
12
Cyndaquil

Cyndaquil, known in Japan as Hinoarashi, is a Pokémon species in Nintendo and Game Freak's Pokémon franchise.
Awesome fire-butt cuteness! I love his cute little eyes :) He's by far my favourite Pokemon
Cyndaquil is awesome! It has awesome eyes and the flame only makes it look even cooler. It is the cutest starter!
Cyndaquil has the cutest eyes in the entire world! The problem with most cute Pokemon is that they start cute but then end up really not cute at all, but cyndaquil evolves into Quilava, which also looks pretty cute!
Cyndaquil is so cute that's why it's my Johto starter and I evolve it to a Typhlosion it becomes cute to though anyways cyndaquil is so cute that I want to squish it and also when its eyes close it's so cute also on its fiery tail and finally its evolution I like specially Cyndaquil Quilava and Typhlosion
13
Shinx

Shinx, known in Japan as Kolink, is a Legendary Pokémon species in Nintendo and Game Freak's Pokémon franchise.
Shinx has to be at least in the top 5 I mean come on! Plus its final evolved form is really powerful, exactly what you would want in a Pokemon when you start training it from a low level.
I can't beleve shinx is no 1st cutest pokemon it is so cute
it is one of my favorite pokemon in sonnih and I LOVE its evolion
Seriously?! #16?! Shinx decently should be #1! Look at him! He is adorable! A Dora Dora Dora dora Dora adorable
14
Charmander

Charmander, known in Japan as Hitokage, is a Pokémon species in Nintendo and Game Freak's Pokémon franchise.
Charmander was everything I ever wanted as a child: it embodied the raw fury of fire and the primal strength of a dinosaur. Plus, it evolves into Charizard! It's hard to top that.
Why would you say that charmander is the BEST POKEMON EVER I have never loved any other pokemon other than its evolutions he has always been my starter and always will be #CHARMANDER RULES
I can't even- Why is this little bugger not top? I mean, just.. No words to describe the cute/badass ratio that Pokemon got SO RIGHT here!
Come on guys this is one of ash's strongest pokemon that he chose to evolve cause of what the old owner that had charmander did to him he abondoned him and ash chose to keep him and whenever he says charr! Charmander! It makes me feel fiery! And it was one of the few pokemon that belonged to ash that made ash cry! In the episode that charizard had to go to that training place!
15
Mudkip

Mudkip, known in Japan as Mizugorou, is a Pokémon species in Nintendo and Game Freak's Pokémon franchise.
Dude... Why isn't Mudkip in the top 10?! Mudkip is my FAVORITE! Especially after you take a look at that one cute Pokemon card with kippy playing in the mud! That fin on it's head, and those cheek spikes are absolutely IRRESISTIBLE!
Mudkip=cute little boss who easily picks up hot chicks and babes. He should be number 1 on this list because of his outstanding beauty.
Mudkip is the starter I chose for pokemon mystery dungeon rescue team DX.
Mudkip is one of my personal favourites in Pokemon. I love water type Pokemon because I've always been a fan of swimming and being underwater along with my love for marine biology. And I find it very cute, especially with his fins for some reason.
16
Sylveon

Sylveon, known in Japan as Nymphia, is a Pokémon species in Nintendo and Game Freak's Pokémon franchise.
This is the best pokemon to exist and it wll always be the best!
Sylveon is an evolution of Eevee that is so adorable and so unique.
I love all these Pokemon because they're all so cute! And these are my favourite Pokemon
Oml I just LOVE the color combination,the skinny legs, pastel blue eyes with no pupils
17
Pachirisu

Pachirisu, known in Japan as the same name, is a Pokémon species in Nintendo and Game Freak's Pokémon franchise.
He's ADORABLE...
On Pokepark (or anything else) he talks so cute too, it makes me want to hug him!
A jolly, little, rounded, cheeky squirrel! How can't this be the most adorable. Aso the pastel blue is so cute
Its little tail is so cute and curly. Its just cute!
Oh cman guys! It should be on top ten! When I opened this page, I thought it would ranked up nearly at one or but I had to scroll down more to find the name...
18
Squirtle

Squirtle, known in Japan as Zenigame, is a Pokémon species in Nintendo and Game Freak's Pokémon franchise.
Squirtle is the best pokemon ever in my opinion as well as the cutest I love others such as pachirisu and togepi, as well but yeah I vote squirtle.
If your a real Pokemon lover and have ever played Pokemon yellow, or watched the anime you would know that the Squirtle Squad was the cutest, most badass team of Pokemon that ever existed. When squirrel uses bubble, or spins in its shell, or even when it faints and has those spiral eyes, it is irresistibly cute!
My favorite Pokemon of all time! Its good at battles and its cute too. Seeing it withdraw into its shell makes me want to have it and steal it from anyone! LOVE SQUIRTLE!
Why isn't Squirtle at the top look at him he's a TURTLE for heavens sake
19
Chikorita

Chikorita, known in Japan as Chicorita, is a Pokémon species in Nintendo and Game Freak's Pokémon franchise.
What the? Chico is the cutest Pokemon! Just look at her... Why can, t you see it? Do you see the softness, charming, inncocent she is? It makes you wanna Just her and hug her. She, s the cutest Pokemon and the cutest thing in the whole universe!
She's so adorable what a cutie! In mystery dungeon I played as a male torchic, but she was such a sweet partner!
The only starter that has the whole evolution getting cuter and cuter
Oh my god chikorita in #56? Just look at her happy eyes and cutest voice. When ash picks him and when he says "Chikoo! " it makes me happy inside. He/she is very very cute. 0.0
20
Dedenne

Dedenne, known in Japan as the same name, is a Pokémon species in Nintendo and Game Freak's Pokémon franchise.
Its soo cute and soo small just like a potato with ears and tail :3
This little guy is so cute! He holds his little tail with his small paws and looks like a evolved pichu! So cute!
Its adorable appearance is backed up by the fact that it's also fairy type! Adorable!
I can't believe that nobody but me noticed Dedenne! This little guy is by far the cutest.
21
Azurill

Azurill, known in Japan as Ruriri, is a Pokémon species in Nintendo and Game Freak's Pokémon franchise.
I don't understand why this isn't in the top ten?! Azurill has got to be the cutest Pokemon ever and it's only serious contender in the cute competition is eevee, vulpix or ninetales. This has to go up in rank!
Azurill is one of the cutest, most adorable Pokemon that I have ever seen yet... The bouncy ball-like tail of it is so squishy and bouncy that I named my own azurill squishy! But yet there are some that are cuter than this lifebuoy like mouse, but he's cute...
OMG how can this lil dud stay at top 20? My favorite pokemon aaaahh
Azurill is a cute little Pokemon its tail is like a jelly XDD
22
Igglybuff

Igglybuff, known in Japan as Pupurin, is a Pokémon species in Nintendo and Game Freak's Pokémon franchise.
Awh! Igglybuff is SO cute! Sure, she does look like some pink ball of fur, but that's why I like Igglybuff! Sheesh, she's even cuter than a baby ocelot or a newborn puppy or something!
Igglybuff has the cutest face ever! I mean seriously LOOK AT THOSE EYES! They stare into my soul and fill it with warmth and love!
It's like a puff of floating cotton candy with an adorable face and little stubby limbs! So cute!
This is the most adorable thing I've ever seen in my life.. Those big eyes killed me..
23
Celebi

Celebi, known in Japan as the same name, is a Legendary Pokémon species in Nintendo and Game Freak's Pokémon franchise.
Celebi so cute and in movies it can fly so fast, and I love the color green on him. And he is my favorite Legendary Pokemon!
Celebi is the cutest thing ever! when it ate the berry in Pokemon 4ever, that was a cutness OVERLOAD!
In my personal opinion, I find Celebi much cuter then mew. Mew has that big nose that doesn't quite sit right with me. While Celebi has those big eyes and the most adorable voice!
Its the most cutest pokemon ever
How do you not like it
Its cute eyes its graceful ness AMAZING
Have you seen its really epic movie yet the voice of the forest please vote this adorable creature
24
Furret

Furret, known in Japan as Ootachi, is a Pokémon species in Nintendo and Game Freak's Pokémon franchise.
I think that she is the cutest one of all. And the shiny one is pink, my favorite color.
Furret reminds so much of a real ferret witch makes it even better of a pokemon.
For all the walking he does, he deserves to be much higher on this list.
I love him so much he is so cute cool awesome and even better he is my 1st fave I hope you like him to
25
Jirachi

Jirachi, known in Japan as the same name, is a Legendary Pokémon species in Nintendo and Game Freak's Pokémon franchise.
A cute little star that can grant wishes plus is super powerful!
Cutest genie ever. Imagine Jirachi with Will Smith's voice! Hell yeah!
If I were to see a Jirachi and wish for some thing I will wish for the ability to turn into any kind of pokemon
1 GOOD COMMENT = 1 happy-card (I don't know even why I said that) for jirachi
PSearch List