Greatest College Football Players of All Time
All-time best players ever to step on a college field.

The Top Ten

1 Herschel Walker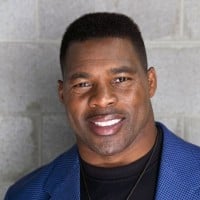 Herschel Walker is a former professional American football player, bobsledder, sprinter and mixed martial artist.
UGA before Herschel was an average team. UGA after Herschel was an average team until about 2002! From 1980-1982, Georgia lived in the top 5, won a National Title and had a shot to win 3 National Titles.

I saw Herschel play Penn State for the National Title his junior year. Penn State would have blown out Georgia without Herschel, but he single handedly kept Georgia in the game. I had never seen a team lean on 1 guy so much.

Herschel Walker is the greatest college football player of all time.
Herschel Walker accomplished what he did against SEC Defenses. He was faster than a speeding bulletin, more powerful than locomotive and able leap tall players with single bound. Put his highlight reel up and it's not close...Herschel was is and always will be the best running back to ever play football at any level.
Dislocated his shoulder in the sugar bowl his freshman year. They pop it back in, he goes back out and rushes for 150 yards! And that's against a defense with eight/nine in the box!
2
Archie Griffin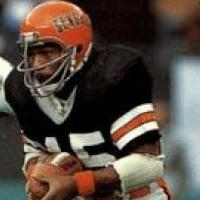 No better than Archie. The guy taught upcoming running backs how to run hard every play, yet still have elusive moves. 2 time Heisman winner. It speaks for itself.
Only 2 time Heisman in the history of the game. You've got to respect this Buckeye.
He is the only person to win the Heisman twice. He disservice to be number one.
3
Jim Brown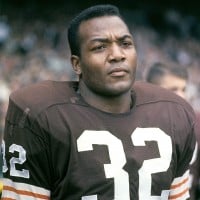 James Nathaniel Brown was a former professional American football player and actor. He was a running back for the Cleveland Browns of the National Football League from 1957 through 1965.
4
Tim Tebow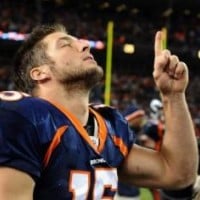 Timothy Richard Tebow is an American professional baseball outfielder in the New York Mets organization and a former professional American football player in the National Football League.
Clear choice!
First of all, he should be higher than walker because he broke his rushing TD record while playing quarterback! Was a Heisman finals 3 years in a row and was the first sophomore to ever win it. Was a part of 2 national championships and was the first player to ever throw and rush 20 touchdowns in a single season, he was the epitome of dual threat quarterbacks. And to top it off, he had the best morals and personality, carrying his team, and delivered one of the best s peaches in football history.
His stats in high school were impeccable, his stats in college were amazing, even his stats although limited on the pro level were respectable. NFL is a business and one of entertainment, although his character was/is one that is poster quality as a role model for youth in real life, it did not fit the bill for the powers that be in the leading entertainment industry known as the NFL. Say what you want, Tebow belongs in the Top 3... Tears or not. Passion dies have a place.
5
Bo Jackson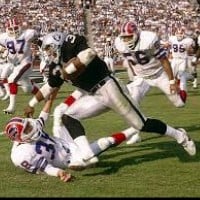 Vincent Edward "Bo" Jackson is a former baseball and American football player. He is the only athlete in history to be named an All-Star in both baseball and football, and one of few to do so in two major sports.
I'm a Alabama fan but I agree this guy is arguably the best college football player of all time and should be number one on this list.
His speed and power where unmatched, got denied the natty 3 strait years, best sports player ever.
He should be in the top ten, not Tim tebow. Tim tebow sucks, that sore loser and cry baby.
6
Red Grange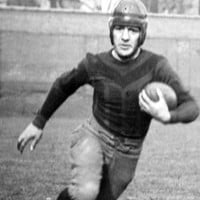 Harold Edward "Red" Grange, nicknamed "The Galloping Ghost" or "The Galloping Red Ghost", was a college and professional American football halfback for the University of Illinois, the Chicago Bears, and for the short-lived New York Yankees.
Forgotten but by far one of the toughest and greatest players to touch the field. He turned the NFL into a serious league
Should be top 5. He doesn't have the numbers, but that's because he played in the the 1920s.
Single greatest player to ever wear a uniform in college football.
7
Jim Thorpe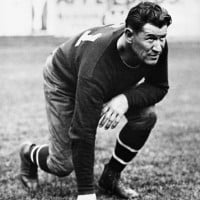 James Francis "Jim" Thorpe was an American athlete and Olympic gold medalist. A member of the Sac and Fox Nation, Thorpe became the first Native American to win a gold medal for the United States.
He lead college football in Rushing Yards and Touchdowns 4 Times
8
Barry Sanders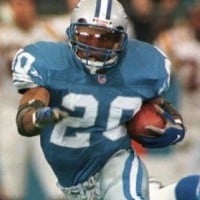 Barry Sanders is a former American football running back who spent his entire professional career with the Detroit Lions of the National Football League.
No one like Barry. He carried teams like no other, every other player wanted to play like Barry.
He was a Freak show on the field and when went to the pros was even better
Barry terrific is the third best running back, first is Bo Jackson, secound ladainian Tomlinson, then Barry terrific, We dem boyz
9
Dick Butkus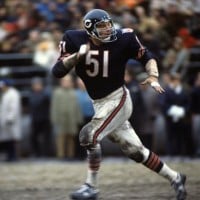 Ohio State fan here...but I have to say Butkus the best ever..
Best name ever
10
Earl Campbell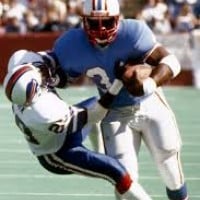 Earl Christian Campbell is a former American football running back who played professionally in the National Football League for the Houston Oilers and New Orleans Saints.
The Tyler Rose made an name for himself as a tough but popular running back from Texas and in 1977 was a Heisman Trophy winner. his college career was great and his coach Darrell Royal said it best: "Earl was good enough as a freshman to go into pro football. He wouldn't have been a star right away, but no one would have had the guts to cut him, because you could see the raw talent here." Truly a great runner good enough to shine on national television thanks to ABC Sports and he went on to shine in the pros.
Its Joeysworld
The Contenders
11
Johnny Manziel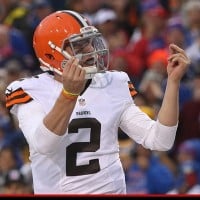 Jonathan Paul Manziel is an American professional Canadian football quarterback for the Montreal Alouettes of the Canadian Football League. He was drafted by the NFL's Cleveland Browns with the 22nd overall pick of the 2014 NFL Draft. Towards the end of the 2015 season, Manziel endured numerous scandals, including the infamous story that he was in Las Vegas instead of in Cleveland with the team that... read more
No matter your opinion of Manziel, the stats & results speak for themselves, there was no one more exciting to watch at the college level. I know I'm biased as an Aggie, but Johnny Football was the most electrifying college athlete in his time at A&M. On and off the field. Broke Tim Tebows record his Redshirt Freshman season & was the first "Freshman" Heisman & should have won it his sophomore season...
Most exciting player to watch... Even if you are not a fan of his team or his (over-hyped, over-spun) off season activities. This guy does what others can not, have not and likely will not.
An outstanding CFB player, but that was classic Browns drafting him. He will be a legendary bust and his celebrations will always be used against him.
12
Charles Woodson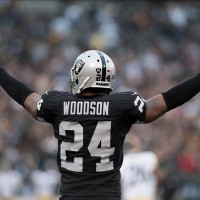 Charles Woodson is a former American football cornerback and free safety. He played college football for Michigan, where he led the Wolverines to a national championship in 1997. Woodson, a "two-way player" who played both offense and defense, won the Heisman Trophy in the same year, becoming the second, behind Leon Hart of Notre Dame to win the award.
Defense gets no love and half of the college football players, play on that side of the ball. They say defense wins championships and that's true, but why do we not award them the Heisman more often?

Last guy to do it on defense was Charles Woodson. Dominant cornerback! Great at coverage, would dare you to throw his way and when you did, he's pick you off. Great punt return and also played a little wide receiver. Its actually sad that he had to play offense to have a shot at the Heisman, because his defensive play alone should have won him the award.

Beat out Peyton Manning for the award and that was no fluke. Peyton was a great college QB but choked in the big games like he still does today. 0-4 vs Florida, enough said there. Woodson on the other hand led Michigan to a 12-0 season and their first National Title in 48 years!
The single Greatest defensive player of all time. There will never be a player like him. When teams played Michigan in 1997 they had to rely on the running game because Quarterbacks literally feared to throw the ball onto his side of the field. Should be top 3.
13
Anthony Davis
Watch him play against Notre Dame. Any questions
14
Peyton Manning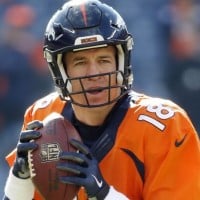 Peyton Williams Manning is a former American football quarterback who played 18 seasons in the National Football League for the Indianapolis Colts and Denver Broncos.
Quit saying we dem boyz it sounds stupid and immature.
15
Marcus Mariota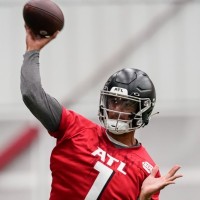 Marcus Ardel Tafuna Taulauniu Mariota is an American football quarterback for the Las Vegas Raiders of the National Football League.
Should've won the Heisman twice lacking a National Championship but still an amazing player.
One of the top 3 easy
Mariota should be higher and I watched him back in the day when he was in college
16
Vince Young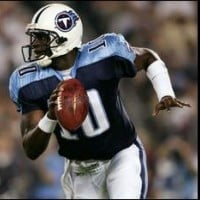 Vincent Paul Young, Jr. is a former American football quarterback who played in the National Football League for six seasons.
He rallied his team from behind from 12 points half way through the 4th to beat what was hyped to be the best college football team ever.
Watch Vince on the highlight reel as a long horn... nothing but magic deserves another shot in nfl best college Qb of all time
He is beast at QB
17
Doc Blanchard
He won the HEISMAN and came in second place two times. If he had been able to play as a freshman, he would have inevitably been a finalist. He was one half of the most famous college backfield in history, and helped make Army into a college dynasty in the 1940's. He has to be in the top ten ever, and not being so reflects the lack of historical knowledge of the voters.
18
Deion Sanders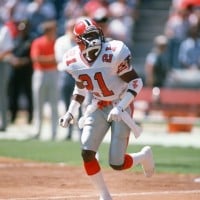 Deion Luywnn Sanders, Sr. is a former American football and former American baseball player, who works as an analyst for CBS Sports and the NFL Network.
Fastest player ever... Bar none!
Cool player we dem boyz
19 Anthony Carter (Michigan)
20
Gale Sayers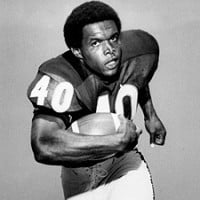 Gale Eugene Sayers, also known as "The Kansas Comet", is a former American college and professional football player who was a running back in the National Football League for seven seasons during the 1960s and early 1970s.
21
Michael Vick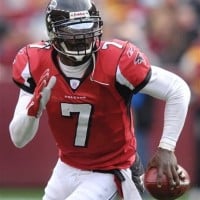 Michael Dwayne Vick (born June 26, 1980) is a former American football quarterback who played 13 seasons in the National Football League, primarily with the Atlanta Falcons and the Philadelphia Eagles. He played college football at Virginia Tech and was selected by the Falcons as the first overall pick ...read more.
Vick should seriously be higher. Vick was one of my favorite players and had a cannon of an arm even though most people don't know it.
Best college player ever. The combination of running and was actually number 1 in passing efficiency in 1999.
The fastest quarterback of all time.
22
Reggie Bush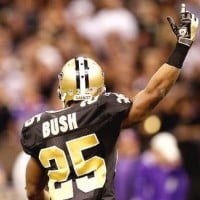 Reginald Alfred "Reggie" Bush Jr. is an American football running back who is currently on the Buffalo Bills roster.
Most exciting player in college football history.
How is he not in the top 10 or 5 by far the best college running back ever
23
Roger Staubach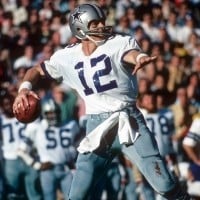 Roger Thomas Staubach, nicknamed Captain America and Captain Comeback, is a former American football quarterback in the National Football League.
24
Nile Kinnick
Yes he was amazing
25
Tommy Frazier
Look at the record. Look at the scores. Look at the tape. The playbook was even given out against Florida in the national championship. Still couldn't stop him. Greatest of all time!
24? Whoever did this is an idiot
Best college player ever
PSearch List