Top Ten Best Dallas Cowboys Players
The Top Ten
1
Roger Staubach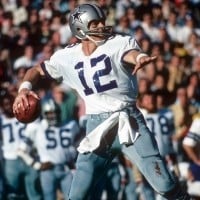 Roger Thomas Staubach, nicknamed Captain America and Captain Comeback, is a former American football quarterback in the National Football League.
He put Dallas on the map
2
Emmitt Smith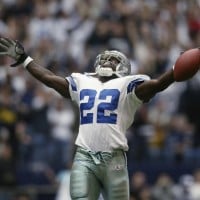 Emmitt James Smith III is a former college and professional American football running back who became the National Football League's all-time leading rusher during his fifteen seasons in the league during the 1990s and 2000s.
Why Emmitt is the best Cowboy ever? Here's proof. 11 times he rushed for 1,000 yards or more in a season (all 11 in a row), the 1993 NFL MVP, 8 times he played in the Pro Bowl, 4 time NFL Rushing yardage champion, 3 Super Bowl rings, Dallas Cowboys Ring of Honor, 1990 NFL offensive Rookie of the Year, Super Bowl XXVIII MVP, NFL 1990s All-Team Member, NFL 100th Anniversary All-Time Member, and Inducted into The Pro Football Hall of Fame in 2010. That's proof.
Its Joeysworld
Emmitt smith is like the great RB of the Dallas cowboys but tony Dorsett, is the best.
3
Michael Irvin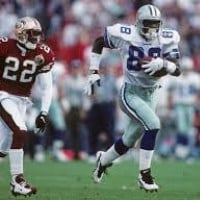 No tears here, he's the greatest wide receiver the Cowboys ever had.
Its Joeysworld
4
Troy Aikman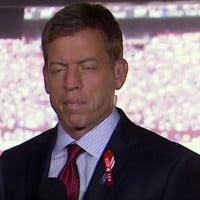 Troy Kenneth Aikman is a former American football quarterback who played for the Dallas Cowboys in the National Football League.
Troy Aikman is the best QB, and my favorite Dallas Cowboys.
5 Larry Allen
6
Tony Dorsett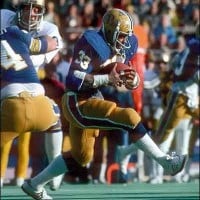 He was a first round draft choice of the Cowboys in 1977, became NFL Offensive Rookie of the Year and played for the team through 1987. He played for Denver the following year before he was forced to retire due to injuries. He is a member of the Pro Football Hall of Fame and the College Football Hall of Fame.
Had that explosiveness that you don't see as much. Just watch his 99 yarder against Minnesota. He had exactly what a running back needed to succeed. This is why he is in the NFL Hall of Fame.
Tony is my dad's favorite Dallas cowboy.
7
Deion Sanders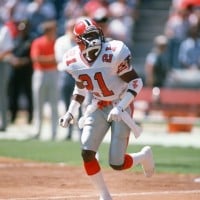 Deion Luywnn Sanders, Sr. is a former American football and former American baseball player, who works as an analyst for CBS Sports and the NFL Network.
Nope, the "fastest Dallas Cowboy of all time", and in fact the "fastest football player of all time" is Bob Hayes.
Deion Sanders is the fastest cowboy of all time!
8
Bob Lilly
Nicknamed "Mr. Cowboy" defensive tackle and photographer. After a college career at Texas Christian University (TCU), he played for the Dallas Cowboys from 1961 to 1974. He was inducted into the Pro Football Hall of Fame in 1980. Was A awesome Defensive Player
I saw Bob physically pick up Fran Tarkentin and instead of slamming him to the ground, he just held him until nervous refs whistled the play over. A gentle giant and a great athlete.
9 Randy White
10
Tony Romo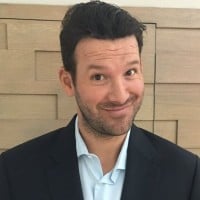 Antonio Ramiro Romo is an American football television analyst and former quarterback who played 14 seasons with the Dallas Cowboys of the National Football League.
The Contenders
11
Jason Witten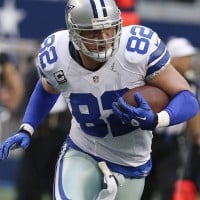 Christopher Jason Witten (born May 6, 1982) is an American football tight end for the Las Vegas Raiders of the National Football League. He played 16 seasons for the Dallas Cowboys of the National Football League (NFL). He played college football for the University of Tennessee, and was drafted by the Cowboys in the third round of the 2003 NFL Draft. Witten ranks second in all-time career receptions and receiving yards by an NFL tight end, trailing only Tony Gonzalez.
I really don't understand why he isn't considered one of the best tight ends of all time, he is on pace to smash every tight end record out there. He opitimizes everything a tight end should be.
12
Ed Too Tall Jones
Ed is very nice. I know someone who works at a hotel. One day, that person called me and told me that Ed Too Tall Jones was at the hotel. I went to go meet him. He seemed very nice. He said that his family lived in Jackson, Tennessee. Then, he gave me a picture of him with his signature on it. One day, he came back to the hotel. He gave me an autographed Cowboys visor. So when you think of the Dallas Cowboys, think of number seventy-two! Also, check out the top tens list for the top ten elements on the periodic table. I read it. It was totally awesome!
13
Chuck Howley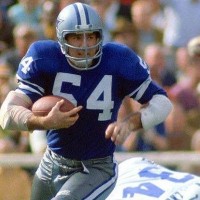 14 Drew Pearson
15
Danny White
Blue colored brought his lunch pail to work everyday type person. I would hate to this day to have this guys mad at me. Saw him at Steelers game last year still looked like he could play.
16 Daryl Johnston
17 Mel Renfro
18
Charles Haley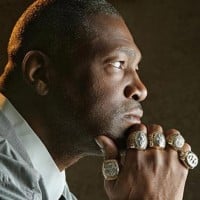 Charles Haley is the best linebacker for the Dallas cowboys.
19
DeMarcus Ware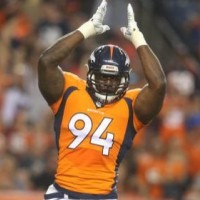 20
Jay Novacek
As a tight end, he was very important and often here he was underrated in the Cowboys amazing run of 3 world championships between 1992 and 1995. 2 seasons he caught for 60 or more receptions and 4 seasons he caught for 50 or more receptions. In 4 seasons he had 600 or more receiving yards and played in 5 straight Pro Bowls 1991-1995. 1992 was his best year as he caught 68 receptions for 630 yards and 6 touchdown passes. How 'Bout Them Cowboys.
Its Joeysworld
21
Demarcus Lawrence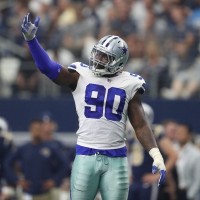 22
Dak Prescott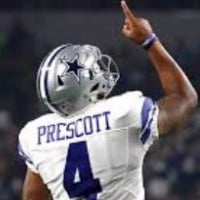 Rayne Dakota "Dak" Prescott is an American football quarterback for the Dallas Cowboys of the National Football League.
He may be a rookie, but he has already got murica's team a playoff spot!
23 Harvey Martin
24
Sean Lee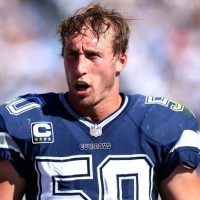 One of the greatest at his position at linebacker when he stayed healthy.
25 Rayfield Wright
PSearch List