Top 10 Most Overrated NFL Players of All Time
The Top Ten
1
Tom Brady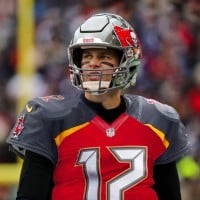 Thomas Edward Patrick Brady, Jr., is a retired American football quarterback for the Tampa Bay Buccaneers of the National Football League. Brady is known for being the only quarterback in history to win 7 Super Bowls, and was often considered one of the best quarterbacks of all time. Brady was also frequently considered to be the biggest steal in NFL history as a late 6th round pick... read more
Tom, like Troy Aikman, is a system Quarterback. Any competent QB can step into the spot and take order from Belichick and the Patriots will not miss a step...it matter not a bit who the man at QB is...if you doubt this remember how many men played QB for the Cowboys in those days and nothing changed?

Well this is a similar system scenario...as evidence remember Matt Cassel...the only time he showed any ability as an NFL Quarterback was the season Brady was injured when Matt replaced him and led the Patriots to an 11-3 record. More proof that it doesn't matter who is at the help if the same system is in place...Cassel has not has success since he left New England and the system.

And have you noticed how Tom Brady struggles under pressure when the system does not have the answers!
Tom Brady may be the most overrated in history. It's not to say he is bad, but he has no business being considered as an all-time great. He typically has all day to throw to wide open receivers thanks to dominant offensive line play and Belicheck's play calling. In the few games where he gets pressure, he looks below average.

They have won three superbowls, but he played a game manager role in those seasons and they haven't won a championship since they were caught taping their opponents. In those runs, his luck was also key. He had a loss to the Raiders saved by the infamous "Tuck Rule" call and he was bailed out by Bledsoe in his first run. Their kicker in those early years was very clutch too.
2
Tony Romo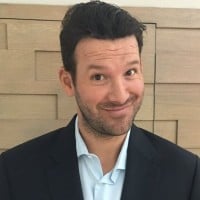 Antonio Ramiro Romo is an American football television analyst and former quarterback who played 14 seasons with the Dallas Cowboys of the National Football League.
Tony Romo is the epitome of an overrated athlete. In his time as a starter, he had the best offensive line in the league and still managed to get injured all the time. He had some of the best offensive weapons that the NFL has ever seen such as Jason Witten, Terrell Owens, Dez Bryant, and DeMarco Murray and only had good stats because of the talent around him. He had one of the best defenses in the league to make sure that the Cowboys could win even if he had a horrible game (which happened all the time). Even with all that help, he STILL failed to even lead his team to the NFC Championship Game. Romo is the definition of a stats-over-wins QB. He threw for a lot of yards and touchdowns and went to four pro bowls in his career ONLY because of the team that was around him. And yet, he is the biggest choke artist that the sport has ever seen. I hate Romo with a burning passion and yet, I'll kind of miss of him. With him as the starting quarterback, there was zero chance of the Cowboys winning anything. And as an Eagles fan, seeing this overhyped pretty boy fail each year was something I really got to look forward to.
3
Tim Tebow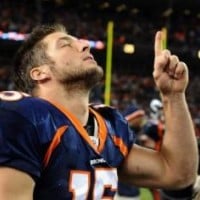 Timothy Richard Tebow is an American professional baseball outfielder in the New York Mets organization and a former professional American football player in the National Football League.
In 20 years of watching football, I have never seen a worse starting quarterback who was allowed to play a full season. The guy can't throw. I've seen half backs in flea flicker plays throw with more accuracy. His stats pretty much echo this weakness. His completion percentage is the lowest I have ever seen for a starter and his yards per attempt are low as well (possibly the lowest of any starter in the last 20 years). He didn't help his team one bit. The team would have done better with literally, any #2 quarterback they could have found in free agency.
Not a good passer or great Quarterback but a decent runner and blocker. He could be a starter if he would be willing to play his natural position of Fullback. Could probably be a decent lineman if he learned the position with the fervor he usually saves for preaching
4
Michael Vick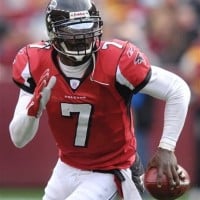 Michael Dwayne Vick (born June 26, 1980) is a former American football quarterback who played 13 seasons in the National Football League, primarily with the Atlanta Falcons and the Philadelphia Eagles. He played college football at Virginia Tech and was selected by the Falcons as the first overall pick in the 2001 NFL Draft. During his six years with the Falcons, Vick was regarded as having transformed... read more
RECAP OF Michael VICK: Was having a great career with the Atlanta Falcons, goes to prison for 21 months for killing dogs, while he is in prison falcons release him, gets out of prison and gets signed by the eagles, has a great year in 2010, then just goes downhill. Eagles release him, jets sign him, doesn't play well for them, free agent. Steelers sign him as a backup, plays 4 games, plays average. Dog fighting has ruined the career of a potential hall of fame quarterback
Only one good phase of his game and that is running the ball. Not much of a passer. He does play hard though.
He had 2 great seasons one with Falcons & one with Eagles after that not that good so yea I agree with that.
5
Joe Namath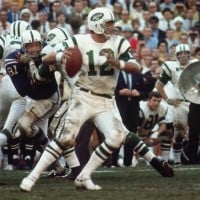 Joseph William Namath, nicknamed "Broadway Joe", is a former American football quarterback and actor.
Some things need to be edited from my previous comment: he threw 173 TDS not 175. Also Johnny Unitas wasn't very instrumental to the colts in his short play time. I apologize for the gaffes. However I do believe Namath is very overrated. He was popular back then due to his personality and is popular now because he won that game. Had he not he would've been remembered as an over confident egotistical player who choked in the big game. Although he saved the merger, he was not by any means a great quarterback. Probably below average.
Before I'm negative, I'll give credit where it's due. He won the super bowl proving the AFL could beat the NFL and kept the merger alive. I'll give him that. However, 175 TDS to 220 INTS. That's right more picks than TDS. Also, he had a passing rating of 65.5 and completed barely 50% of his passes. Also in Super Bowl III, he didn't throw any TDS. The only scores were field goals and one rushing touchdown by the running back. So in the biggest game of his career, he didn't do much to help his team. Also, had the colts brought in Johnny Unitas, the colts would have probably won. While he did lead to the merger, he wasn't very good at his position.
6
Aaron Rodgers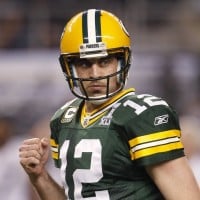 Aaron Charles Rodgers is an American football quarterback for the Green Bay Packers of the National Football League.
Everybody claims he is better than Brett Favre, but Rodgers hasn't thrown over 500 touchdowns, 70, 000 yards, 10, 000 attempts, 6000 completions. Aaron Rodgers also hasn't won 3 MVP awards in a row, played in 297 games in a row, or played in a NFC Championship game at 40 years old. He is good because he inherited Favre's old team. Favre inherited a team that hadn't done anything since Lombardi. Rodgers will never be better than Brett Favre
Should be number 1. People keep saying he's one of the best and never has a good team while Drew Brees consistently has way worse teams and has only had one pro bowl receiver and yet puts up way better numbers.
People keep claiming he is the best of all time probably currently not one of the best QB's win 4 super bowls play 20+ years then will shut up.
7
Herschel Walker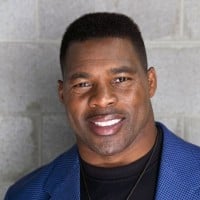 Herschel Walker is a former professional American football player, bobsledder, sprinter and mixed martial artist.
8
Archie Manning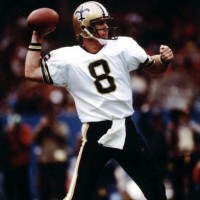 9
Russell Wilson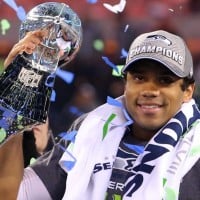 Russell Carrington Wilson is an American football quarterback for the Denver Broncos, and formerly for the Seattle Seahawks of the National Football League.
He threw the pick to Malcolm Butler. He fumbles too much. Russell gets to much credit when Marshawn Lynch runs for 150 yards or when Earl Thomas and Sherman get 2 picks each. Now that Marshawn has retired, we will see the real Russell Wilson. Once the defense falls apart, which it eventually will, Wilson will not be seen as elite.
Very overrated. Lynch and the Legion of Boom beat a team and Wison gets all the credit. With Marshawn gone Wilson is tying with the Cardinals and losing to the Saints. Ok and mediocre at best. He tried to prove that he was good in the Super Bowl and instead of giving it to Marshawn, Wilson threw a pick to Malcolm Butler.
I don't think he's even elite. He can't really throw the ball, it's just that he has receivers that can catch. The only reason Russell Wilson won a super bowl is because of the Seahawks' D
10
Joe Montana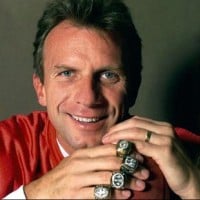 Joseph Clifford "Joe" Montana, Jr., nicknamed Joe Cool and The Comeback Kid, is a retired American football quarterback.
Had a stacked team. Joe Montana was still one of the greatest of all time, but when you have a team as good as Joe Montana had and when you have Jerry Rice as your #1 receiver, it's going to be easier for you to perform well.
If he was all that great he wouldn't need comebacks.
Not in the Top 10 best ever...
The Contenders
11
Ben Roethlisberger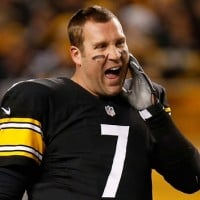 Benjamin Todd Roethlisberger, Sr., nicknamed Big Ben, is an American football quarterback for the Pittsburgh Steelers of the National Football League.
12
Jay Cutler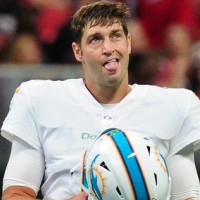 Jay Christopher Cutler is a retired American football quarterback that of the National Football League. Cutler played 11 seasons in the NFL (2006-2016). During his announcement that Cutler declared retirement, he announced plans to be a television sportscaster for the FOX Network.
Awful Quarterback who didn't need to come out of his brief retirement for what he should of done at best commentary like Tony Romo is doing. Cutler should be higher for thinking he had anything left in him.
The Bears lose because of their quarterback play. I would trade him to the Browns or the Jets for a draft pick.
Jay Cutler isn't respected much because of his passes and picks. He'll probably do better next year.
13
Eli Manning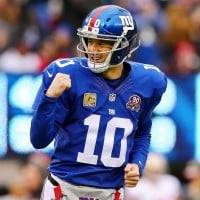 Elisha Nelson "Eli" Manning is a former American football quarterback who played his entire career for the New York Giants of the National Football League. He is the younger brother of former NFL quarterback Peyton Manning.
Eli is easily overrated because he chokes way to much he's only made it to 2 super bowls and the only reason is because he had a a team around him like he literally had odell an it's only 2 bowls, but at least he's beating overrated baker.
At least Payton is actually good. Eli chokes, wines, can kinda throw, and won a Super Bowl or two a few years ago. People still talk like he is one of the best in 2013
Should not be in the Hall of Fame.
14
Donovan McNabb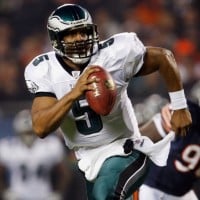 Donovan Jamal McNabb is a former American football quarterback who played in the National Football League for thirteen seasons.
Definitely overrated. He had Owens and Westbrook but McNabb got most of the credit. He got booed when he was drafted. Should be number two or three behind Jay Cutler and Tony Romo.
McNabb is better than Michael Vick, but he should be number two behind Tony Romo.
15
William Perry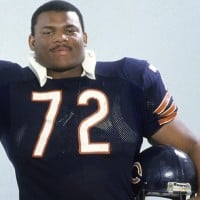 16
Brett Favre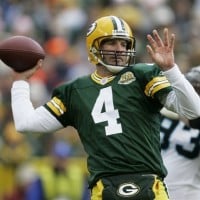 Brett Lorenzo Favre is a former American football quarterback who spent the majority of his career with the Green Bay Packers of the National Football League.
Longevity made his career 10 best seasons not that great compared to other quarterbacks. One superbowl win in 20 years of playing in the nfl. At the end of his career he was a distraction rather than a player... Won three mvps but he's an interception machine worst than quarterbacks such as Mark Sanchez, Michael Vick, and JaMarcus Russell. Jamarcus Rusell actually had 23 interceptions in his career, and Favre has matched or had more interceptions in a season 4 times than Russell has in his whole career. Postseason record is decent 13-11 but that's not that great for a QB who is considered to be a top 10 QB of all time. Romo is overrated as hell but Favre is considered to be one of the greatest QB's of all time so how I did this was basically how "great your considered to be"/how good you actually are...
By far the most overrated athlete of our time. He played with the best supporting cast and coaching in his career in a statistic friendly offensive system that required little skill from the quarterback position. In playoff games he resembled a below average player on a dominant team that would win if the team pulled through with his numerous mistakes and poor judgement. In comparison to the greats like Montana, Aikman, Bradshaw, Manning...Favre was lucky to be playing for a great team.
17
Robert Griffin III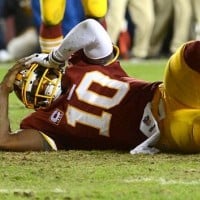 Robert Lee Griffin III, nicknamed RG3, is an American football quarterback for the Baltimore Ravens of the National Football League.
That's all people talk about is RGIII and I'm sick of it. Look at his stats this year
18
Bo Jackson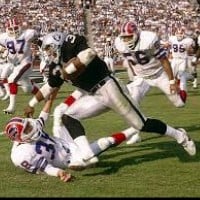 Vincent Edward "Bo" Jackson is a former baseball and American football player. He is the only athlete in history to be named an All-Star in both baseball and football, and one of few to do so in two major sports.
19
Johnny Manziel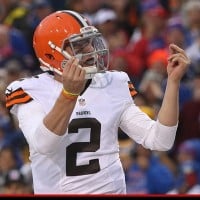 Jonathan Paul Manziel is an American professional Canadian football quarterback for the Montreal Alouettes of the Canadian Football League. He was drafted by the NFL's Cleveland Browns with the 22nd overall pick of the 2014 NFL Draft. Towards the end of the 2015 season, Manziel endured numerous scandals, including the infamous story that he was in Las Vegas instead of in Cleveland with the team that... read more
Look know johnny manziel is very overrated but I can say that he is a mobile QB but doesn't have a great arm or good accuracy Though, I don't like johnny manziel because he is very arrogant and think he's better than everybody but he's not, What he did in college is great but he is in the nfl now and there are guys that have more experience and that are faster, stronger and are mentally trained. manziel does not fit that trait. And that's all I have to say about johnny football,
Manziel is horrible. He has done nothing in the nfl. All he does is flip the bird
Ladies and Gentleman the Ryan Leaf of our time.
20
Darrelle Revis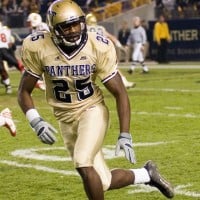 Darrelle Shavar Revis is an American football cornerback who currently plays for the New York Jets in the National Football League.
21
Chad Johnson
Very overrated. People are saying he is a Hall of Famer, but the only case you can make is against Michael Irvin's stats. Will always be remembered for his antics.
He sucked straight up!..
22
Peyton Manning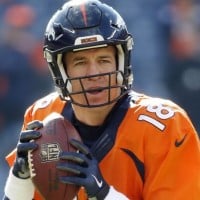 Peyton Williams Manning is a former American football quarterback who played 18 seasons in the National Football League for the Indianapolis Colts and Denver Broncos.
Had Harrison Wayne or Thomas his whole career and yeah brady had moss and gronk, but he made afc championships in years where he had little talent around him (06 and 13) while manning had 2 good years 06 and 13 coincidently and won in 06... choked in 13 despite having dt and decker. Those 2 years were the only 2 he should've got mvp to be honest. Great player but brady is way better. And by the way brady isn't overrated. Watch the beginning of 2017... he carried them at age 40. In 2011 one of the worst defenses he had and he took em to a super bowl and of it weren't for a lucky catch and the pats just missing the Hail Mary he would've won... with a 31st ranked pass d or something like that. He's the most consistent and most valuable and that's why Brady's the GOAT
Manning has been consistently good in the regular season for longer than anyone and has posted monster stats during his career. There might not be a better QB to have in the game during good weather against a bad defense in a no-pressure situation. However given that many fans and the dumber sports writers consider him the best ever, and also given his consistently poor performances when the games really count he is the most overrated player in the NFL.
23 Phil Simms
24
Terrell Owens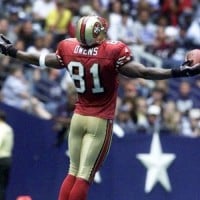 Terrell Eldorado Owens is an American football wide receiver who played for the Seattle Seahawks, San Francisco 49ers, and Philadelphia Eagles of the National Football League.
Terrell Owens was great but he did more harm than good to his teams. If he was actually great, Owens wouldn't have played for five teams. Plus, Randy Moss is better than him any day. He his a top 100 player ever, though. I would probably put Terrell at 92 or 93. I would take Owens over Hines Ward and Chad Ochocinco and Reggie Wayne, and Don Maynard, and Roddy White, though.
Only a little overrated. He is still probably one of the top 95 nfl players ever.
He is all talk. I would take Hines Ward B4 I take him. He cries like a lil girl when he don't get the ball
25
Dick Butkus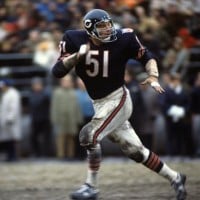 Dick butkus lacks speed, agility, and raw athleticism. In an age where 4.5 was unheard of he prospered. In today's game his signature arm tackle would not work and his ability to make tackles outside of the tackles would be exploited. He played in the infancy of the game. The offense and defensive schemes ware the schemes taught to pee wee football players today. he would get destroyed
PSearch List