Top 10 NFL Players of the 60s
The Top Ten
1
Jim Brown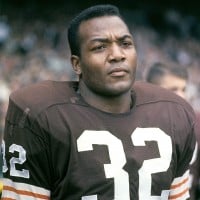 James Nathaniel Brown was a former professional American football player and actor. He was a running back for the Cleveland Browns of the National Football League from 1957 through 1965.
2
Johnny Unitas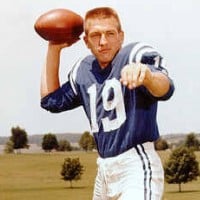 John Constantine Unitas, nicknamed "Johnny U", or "The Golden Arm", was an American professional football player from the 1950s through the 1970s.
Johnny U brought joy to Baltimore when he led them to championships in the 1950s, and in the 1960s, he continued to win games and break many NFL records in the process. His first great achievement was his 47-game streak of at least one touchdown pass, and from there, he set numerous records and received awards. Among those awards were his two NFL MVPs in 1964 and 1967. In 1964, he passed for 2,824 yards, with an impressive average of 9.26 yards per pass attempt, and threw 19 touchdowns with only 6 interceptions. This solidified why Johnny U is considered the best quarterback of the 1960s.

Its Joeysworld
The Peyton Manning of his time!
3
Deacon Jones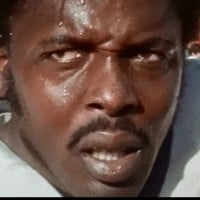 David D. "Deacon" Jones was an American football defensive end in the National Football League for the Los Angeles Rams, San Diego Chargers, and the Washington Redskins.
He once said he wanted to be different than those other David Jones in a phone book, so he added Deacon in the phone book and with it lots of pages to be written in the NFL scrapbook of memorable honors and he himself coined a new stat in Pro Football called Sack. In his career, he had a lot of unofficial sacks. He had a career high of 22 in 1964 and 1968. Sacks didn't make it to the official Stats department until 1982. But by then he had retired but he left behind a lot of quarterbacks feeling black and blue.
Its Joeysworld
4
Gale Sayers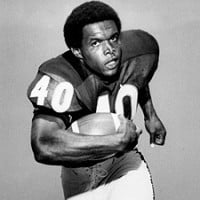 Gale Eugene Sayers, also known as "The Kansas Comet", is a former American college and professional football player who was a running back in the National Football League for seven seasons during the 1960s and early 1970s.
He was the light in a team that went nowhere, his 1965 debut set the NFL on fire. October 17, 1965 was one in a series of amazing games for the Kansas Comet. Here Sayers carried 13 times for 64 yards and a touchdown, caught 4 passes for 63 yards and a touchdown AND had a 98-yard kickoff return for a touchdown in a 45-37 bears victory over the Minnesota Vikings. At season's end he was the Newspaper Enterprise Association, Associated Press and the United Press International Rookie of the Year.
its Joeysworld
5
Dick Butkus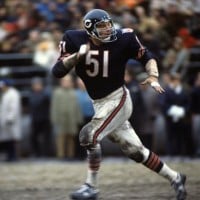 Dick was awesome in any decade, but the 60s was the best, but 1969 is my favorite Dick Butkus year, why? The 1969 Bears went 1-13 BUT Butkus played at a highest level. He was named to the New York Daily News ALL-NFL Team and on November 9, 1969 he sacked Pittsburgh Steeler quarterback Dick Shiner in the end zone for a safety, his first points ever as a pro. The Bears won that game 38-7. Butkus had 25 tackles and was rewarded as the Associated Press NFL Defensive Player of the Week. At year's end he was named the Newspaper Enterprise Association NFL Defensive Player of the year.
Its Joeysworld
6
Bart Starr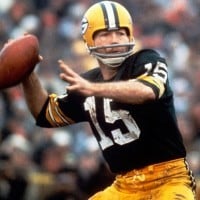 Hall of Fame linebacker Joe Schmidt said about Starr: "Nothing seems to rattle him, You can never get him mad, and that's what we like to do, get the quarterback all excited. You can hit Starr as hard as you want and he never seems to lose his cool". Truly one of the game's great clutch passers, he was Tom Brady before Tom Brady was even born.
Its Joeysworld
7
John Mackey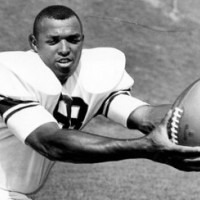 John Mackey was an American football tight end who played for the Baltimore Colts and the San Diego Chargers.
John wasn't the first Tight End who changed the game, but he was the first Tight End who use speed and quickness to change the game. His rookie year of 1963 was a sign of things to come as he averaged over 20 yards a catch, scored 7 touchdowns and made the Pro Bowl. In his career, he missed only 1 game. His contributions to the game earned him the NFL 50th Anniversary ALL-Time Team and after being inducted into the Pro Football Hall of Fame he was named to the NFL 100th Anniversary ALL-Time Team.
Its Joeysworld
8 Bob Lilly
9
Jim Taylor
The story of Jim Taylor is as legendary as anyone putting on the Packers uniform. 1962 was his best year and he played oh so super with Paul Hornung out for most of the season with an injury. He rushed for 1,474 yards and won his lone NFL rushing title and scored a then NFL record 19 touchdowns. His great season was rewarded as being named as the Associated Press NFL MVP, the Jim Thorpe Award as the NFL Players' MVP and made ALL-Pro in the Associated Press, United Press International and Newspaper Enterprise Association, some season.
Its Joeysworld
10
Dick ''Night Train'' Lane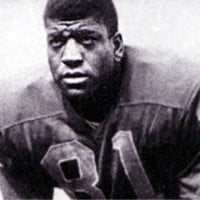 Richard "Dick" Lane nicknamed "Night Train", was an American football player, best known as a cornerback for the Los Angeles Rams, Chicago Cardinals and Detroit Lions.
The Contenders
11
Merlin Olsen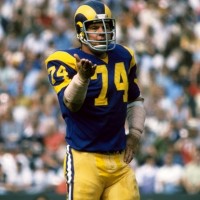 12
Carl Eller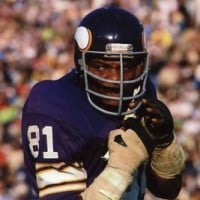 Carl Eller is a former professional American football player in the National Football League who played from 1964 through 1979. He was born in Winston-Salem, North Carolina and attended the University of Minnesota.
Carl was a big part of the Minnesota Vikings 1969 first NFL Championship team. In his career he was durable missing only 3 games, and played in the 1968 and 1969 Pro Bowls and here he was also a first team ALL-Pro from 1968 and 1969. He was a major factor in a defense unit called The Purple People Eaters. Carl a member of the Pro Football Hall of Fame and one of its very best.
Its Joeysworld
13
Bobby Bell
One of the greatest linebackers of this decade, he was just as good as a linebacker as Dick Butkus in this era. Bell played in 6 straight AFL ALL-Star Games (1964-1969), 1969 NFL Defensive Player and in which it happened to be Bell's Kansas City Chiefs first World Championship, along with being named to the NFL's 100th Anniversary Team, AND his number 78 was retired by the Chiefs, and a member of the Pro Football Hall of Fame.
Its Joeysworld
14
Sonny Jurgensen
Sonny, one name that Redskins fan will never forget, when he was on his game, he was unstoppable. As an Eagle in 1961 he passed for 3,723 yards and a whopping 32 Touchdown passes. Then as a Redskin in 1967, he passed for 3,747 yards on 288 completions, 2 years later thanks to new head coach Vince Lombardi the leaner Sonny passed for 3,102 yards on 274 completions as the Redskins had their first winning season since 1955. Sonny we love you.
Its Joeysworld
15
Forrest Gregg
16 Bob Brown
17
Leroy Kelly
When he arrived in Cleveland in 1964, he was on a team that already had a running back that was oh so great named Jim Brown. He played on a world championship team. Then when Brown retired, he stepped on stage and never looked back. He played in the Pro Bowl from 1966 to 1971, and was a two time rushing champion in 1966 and 1967. But he can do more, because he was an excellent kickoff returner (23.5 yards per return) and a solid punt returner (10.5 yards per return). His great runs we're weekly viewed on syndicated TV on This Week in Pro Football. Leroy Kelly, truly successfully carrying on the Browns running game tradition.
Its Joeysworld
18
Mike Ditka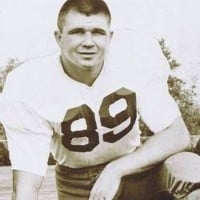 19
Dave Robinson
Dave represent speed, quickness to an already star studded Packers staff in the 1960s. He played in the 1966, 1968 and 1969 Pro Bowl. Robinson intercepted 21 passes, but his defining moment happened at the 1966 NFL Championship when he forced Dallas Cowboy Quarterback Don Meredith to a hurried pass into the arms of Packers Tom Wilson. A member of the 1960s NFL ALL-Decade Team. NFL Hall of Famer Jack Christiansen once said "trying to pass over Robinson, with his arms and reaction, is like trying to pass over the Empire State Building".
Robinson, one of the NFL's best in the 1960s
Its Joeysworld
20
"Bullet" Bob Hayes
Fastest human being to ever walk the planet, though a bit inconsistent. At his best, he is the only sprinter who could have beaten Usain Bolt at his best. His anchor leg in the 4X100 relay final at the 1964 Olympics is the single fastest speed anybody has ever gone. He was thrilling in every game he played in, but his post-football life was not good. May he RIP.
21 Paul Hornung
22 Jerry Kramer
23
Willie Davis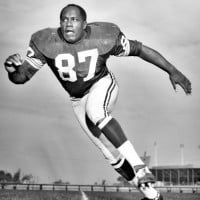 24
Ray Nitschke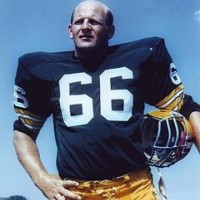 25 Larry Wilson
PSearch List